Abstract
Nereia lophocladia (Order Sporochnales) is a critically endangered marine brown alga with a distribution seemingly restricted to the northern side of Muttonbird Island, Coffs Harbour (DPI 2012). Over a 22-year period (1980 to 2002), sporophytes of N. lophocladia were observed on five occasions, first in 1980 with subsequent records confirmed in 1983, 1986, 1990 Millar and Kraft (Aust Syst Bot 7:1–46, 1994) and 2002 (Yee 2007). In January 2008, the NSW Fisheries Scientific Committee (FSC) listing of the species was upgraded from Vulnerable to Critically Endangered under Part 7A of the Fisheries Management Act 1994 (FSC 2008), citing the 'large reduction in abundance within a timeframe appropriate to the life cycle and habitat characteristics of the taxon'. By 2011 there were suggestions the species may have become locally extinct from its Type Locality Millar (Eur J Phycol 45(sup1): 45–107 2011) given that the species had not been observed over a 13-year period from intermittent targeted surveys conducted within its known distribution range. The alga was rediscovered during targeted surveys in September 2015, representing the first confirmed sighting of the critically endangered species at its Type Locality in 13 years, with findings that document a significant expansion of the species distribution range (Yee and Finley 2015).
Access options
Buy single article
Instant access to the full article PDF.
US$ 39.95
Tax calculation will be finalised during checkout.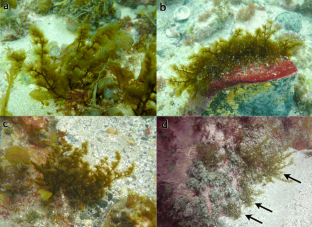 References
DPI (2012) Marine brown alga Nereia lophocladia. Primefact 192 (2nd Edition), June 2012. http://www.dpi.nsw.gov.au/data/assets/pdf_file/0010/46546/Marine-Brown-Alga Primefact-192.pdf. Accessed 29 Sept 2015

FSC (2008) Final Determination 36 – Nereia lophocladia, Brown alga. http://www.dpi.nsw.gov.au/__data/assets/pdf_file/0015/251340/FD36-Nereia-lophocladia.pdf. Accessed 29 Sept 2015

Millar AJK (2011) The world's second recorded extinction of a seweed: the brown alga Nereia. Oral paper 1A.11 presented at Fifth European Phycological Congress, Rhodes, Greece, 4–9 September 2011, in (2011) Oral Papers. Eur J Phycol 46(sup1):45–107

Millar AJK, Kraft GT (1994) Catalogue of marine brown algae (Phaeophyta) of new South Wales, including Lord Howe Island, south western Pacific. Aust Syst Bot 7:1–46

Yee NR (2007) Phylogenetic studies of the marine brown algal order Sporochnales (Phaeophyceae), PhD Dissertation, University of Melbourne

Yee NR, Finley LA (2015) Targeted surveys for the critically endangered marine brown alga Nereia lophocladia. Report JN15111 prepared for DI-Lnds, 21 September 2015

Womersley HBS (1987) The marine benthic flora of southern Australia. Part II. pp. 481, 169 figs, 1 table, 8 plates, 4 maps. Adelaide: South Australian Government Printing Division
Acknowledgments
We thank the National Marine Science Centre at Coffs Harbour, Marine Parks and DPI Fisheries and DPI Lands for providing funding and survey logistical support. The 2015 Survey was conducted under NSW DPI permits SIMP 2015/001 and PO1/0059(A)-2.0. A Commonwealth PhD Scholarship to AJK Millar led to the initial discovery of the alga at Coffs Harbour in 1980; a Fisheries Scientific Committee Student Scholarship to NR Yee financed a 2005 survey undertaken by A. Millar. We thank an anonymous reviewer for editorial comments provided.
Additional information
Communicated by P. Martinez Arbizu
About this article
Cite this article
Yee, N.R., Finley, L., Roberts, A. et al. Re-discovery of the critically endangered marine brown alga, Nereia lophocladia (Order Sporochnales) at Coffs Harbour, NSW, Australia. Mar Biodiv 49, 527–529 (2019). https://doi.org/10.1007/s12526-017-0796-y
Received:

Revised:

Accepted:

Published:

Issue Date:
Keywords
Seaweed

Threatened

Brown alga

Sporochnales

Nereia