Abstract
Three specimens of the rare scyphozoan Stellamedusa ventana Raskoff & Matsumoto, 2004 were collected during a vertical plankton tow on April 2013 in a shallow bay on the Eastern Tropical Pacific that was sampled eight times from 2011 to 2013. Previously observed only in Monterey Bay, California and the Sea of Cortéz; this new record for Bahía Salinas, Costa Rica represents a range extension of ~ 2900 km. This and other shallow water sightings in Monterey Bay suggest that this species is not restricted to mesopelagic environments, although shallow observations might be a consequence of local upwelling events.
Access options
Buy single article
Instant access to the full article PDF.
US$ 39.95
Tax calculation will be finalised during checkout.
Subscribe to journal
Immediate online access to all issues from 2019. Subscription will auto renew annually.
US$ 79
Tax calculation will be finalised during checkout.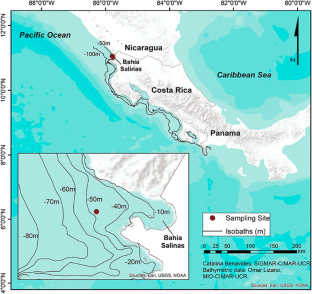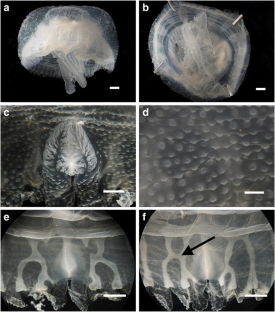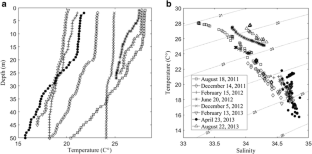 References
Alfaro E, Cortés J (2012) Atmospheric forcing of cool subsurface water events in Bahía Culebra, Gulf of Papagayo, Costa Rica. Int J Trop Biol Conserv 60(2):173–186

Angel MV (2003) The pelagic environment of the open ocean. In: Tyler PA (ed) Ecosystems of the world 28. Ecosystems of the deep oceans. Elsevier Science B.V, Amsterdam, pp 39–79

Bakun A (1990) Global climate change and intensification of coastal ocean upwelling. Science 247:198–201

Bayha KM, Dawson MN (2010) New family of allomorphic jellyfishes, Drymonematidae (Scyphozoa, Discomedusae), emphasizes evolution in the functional morphology and trophic ecology of gelatinous zooplankton. Biol Bull 219:249–267

Brewer RH (1989) The annual pattern of feeding, growth and sexual reproduction in Cyanea (Cnidaria: Scyphozoa) in the Niantic River estuary, Connecticut. Biol Bull 176:272–281

Chelton DB, Freilich MH, Esbensen SK (2000) Satellite observations of the wind jets off the Pacific coast of central America. Part I: case studies and statistical characteristics. Mon Weather Rev 128:1993–2018

Chernyshev AV, Isaeva VV (2002) Formation of chaotic patterns of the gastrovascular system in the ontogenesis of the medusa Aurelia aurita. Russ J Mar Biol 28(5):347–351

Clarke AJ (1988) Inertial wind path and sea surface temperature patterns near the Gulf of Tehuantepec and Gulf of Papagayo. J Geophys Res 93(C12):15491–15501

Fiedler PC, Talley LD (2006) Hydrography of the eastern tropical pacific: a review. Prog Oceanogr 69:143–180

Goy J, Morand P, Etienne M (1989) Long-term fluctuations of Pelagia noctiluca (Cnidaria, Scyphomedusae) in the western Mediterranean Sea. Prediction by climatic variables. Deep-Sea Res 36(2):269–279

Graham WM, Field JG, Potts DC (1992) Persistent "upwelling shadows" and their influence on zooplankton distributions. Mar Biol 114:561–570

Graham WM, Pagés F, Hamner WM (2001) A physical context for gelatinous zooplankton aggregations: a review. Hydrobiologia 451:199–212

Jiménez C (2001) Seawater temperature measured at the surface and at two depths (7 and 12 m) in one coral reef at Culebra Bay, Gulf of Papagayo, Costa Rica. Int J Trop Biol Conserv 49(2):153–161

Kramp PL (1961) Synopsis of the medusae of the world. J Mar Biol Assoc UK 40:1–469

Larson RJ, Madin LP, Harbison GR (1988) In situ observations of deepwater medusae in the genus Deepstaria, with a description of Deepstaria reticulum, new species. J Mar Biol Assoc UK 68:689–700

Lucas CH, Jones DOB, Hollyhead CJ, Condon RH, Duarte CM, Graham WM, Robinson KL, Pitt KA, Schildhauer M, Regetz J (2014) Gelatinous zooplankton biomass in the global oceans: geographic variation and environmental drivers. Glob Ecol Biogeogr 23(7):701–714

Lynam CP, Hay SJ, Brierley AS (2004) Interannual variability in abundance of North Sea jellyfish and links to the North Atlantic oscillation. Limnol Oceanogr 49(3):637–643

Matsumoto GI, Raskoff KA, Lindsay DJ (2003) Tiburonia granrojo, n. sp., a mesopelagic scyphomedusa from the Pacific Ocean representing the type of a new subfamily (class Scyphozoa: order Semaeostomae: family Ulmaridae: subfamily Tiburoniiae subfam. nov.) Mar Biol 143:73–77

McCreary JP, Lee HS, Enfield DB (1989) The response of coastal oceans to strong offshore winds: with application to circulation in the Gulfs of Tehuantepec and Papagayo. J Mar Res 47:81–109

Mianzan H, Cornelius P (1999) Cubomedusae and Scyphomedusae. In: Boltovskoy D (ed) South Atlantic zooplankton. Backhuys Publishers, Leiden, The Netherlands, pp 513–559

Purcell JE (1997) Pelagic cnidarians and ctenophores as predators: selective predation, feeding rates, and effects on prey populations. Ann Inst Oceanogr Paris 73(2):125–137

Purcell JE (2005) Climate effects on formation of jellyfish and ctenophore blooms: a review. J Mar Biol Assoc UK 85:461–476

Purcell JE, Arai MN (2001) Interactions of pelagic cnidarians and ctenophores with fish: a review. Hydrobiologia 451:27–44

Raskoff KA, Matsumoto GI (2004) Stellamedusa ventana, a new mesopelagic scyphomedusa from the eastern Pacific representing a new subfamily, the Stellamedusinae. J Mar Biol Assoc UK 84:37–42

Richardson AJ (2008) In hot water: zooplankton and climate change. ICES J Mar Sci 65:279–295

Robison BH (2004) Deep pelagic biology. J Exp Mar Biol Ecol 300:253–272

Widmer CL (2006) Life cycle of Phacellophora camtschatica (Cnidaria: Scyphozoa). Invertebr Biol 125(2):83–90

Zeman SM, Brodeur RD, Daly EA, Sutherland KR (2016) Prey selection patterns of Chrysaora fuscescens in the northern California Current. J Plankton Res :1–11. doi:10.1093/plankt/fbw065
Acknowledgements
We thank Eleazar Ruíz and Antonio Pérez Pérez for their valuable help during the sampling process, and Catalina Benavides for providing the map showing the collection site. We also thank Alan Shanks, George Matsumoto, Russell Hopcroft and two anonymous reviewers for their comments and corrections to this manuscript. Funding was provided by the Vicerrectoría de Investigación from the University of Costa Rica through the project 808-B1-194: "Zooplankton composition, abundance, biomass and diversity in Bahía Salinas, North Pacific of Costa Rica".
Additional information
Communicated by R. R. Hopcroft
About this article
Cite this article
Corrales-Ugalde, M., Morales-Ramírez, Á. New record of Stellamedusa ventana Raskoff & Matsumoto, 2004 in the Eastern Tropical Pacific. Mar Biodiv 49, 515–519 (2019). https://doi.org/10.1007/s12526-017-0781-5
Received:

Revised:

Accepted:

Published:

Issue Date:
Keywords
Zooplankton biogeography

New record

Ulmariidae

Scyphozoa

Gulf of Papagayo