Abstract
Ten species of Carangoides from the Red Sea are reviewed. Imposter Trevally, Carangoides talamparoides Bleeker, is reported from the Red Sea for the first time on the basis of four small specimens and three adults trawled off Jizan, southern Saudi Arabia. Previously known from the Gulf of Oman east to Guam, its distribution range is extended to the Red Sea. Carangoides talamparoides superficially resembles C. malabaricus and may be easily confused, but it differs generally in lower gill raker counts, 25–31 (vs. 32–38), longer snout, the length 10.0–13.6% fork length in adults (vs. snout shorter, 8.5–10.8% fork length in adults); and premaxilla with slightly concave anterodorsal margin laterally (vs. premaxilla with distinctly concave margin laterally); greenish yellow blotch dorsoposteriorly on orbit membrane (vs. no blotch on orbit membrane); and white tongue (vs. tongue mainly dark). Description is provided for Red Sea specimens of Carangoides talamparoides and brief accounts for nine other Red Sea congeners. A key and table are also provided to help distinguish Red Sea Carangoides species, and a molecular phylogenetic analysis of the COI barcoding region is presented for all available Red Sea species and other Indo-Pacific species of the genus Carangoides.
This is a preview of subscription content, log in to check access.
Access options
Buy single article
Instant access to the full article PDF.
US$ 39.95
Price includes VAT for USA
Subscribe to journal
Immediate online access to all issues from 2019. Subscription will auto renew annually.
US$ 99
This is the net price. Taxes to be calculated in checkout.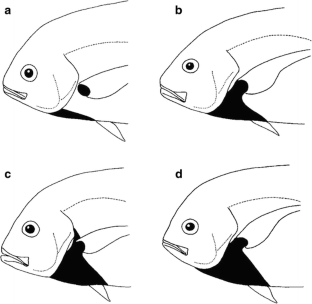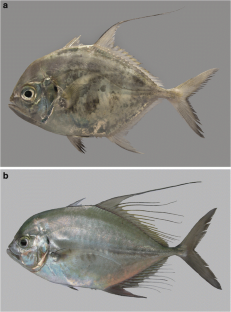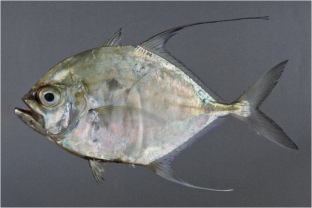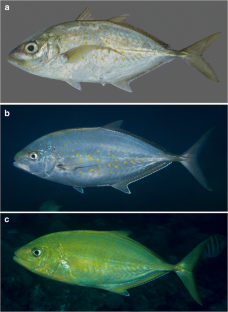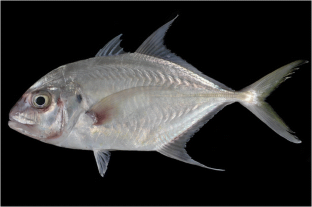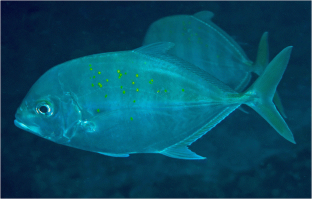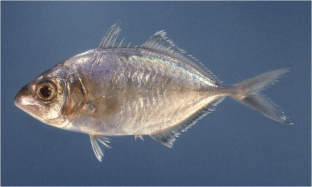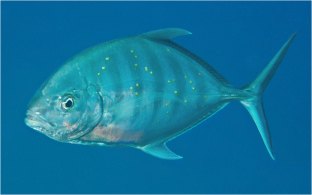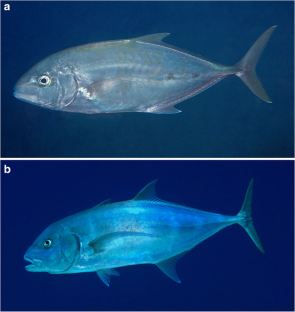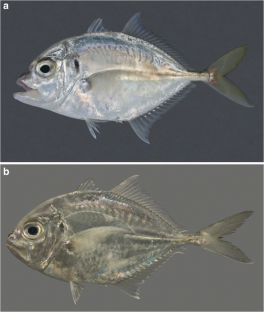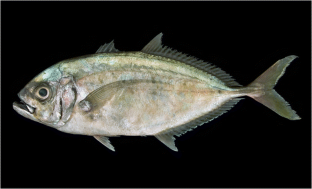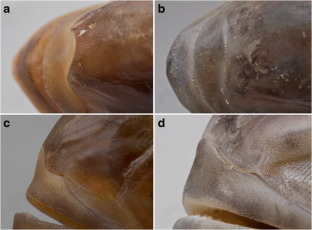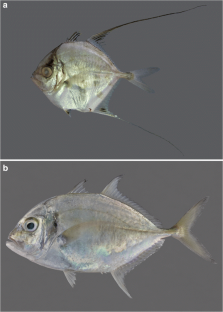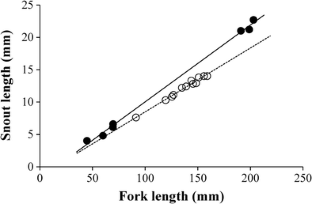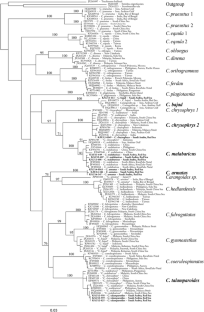 References
Balanov AA, Markevich AI (2011) First occurrence of Carangoides equula (Temminck et Schlegel, 1844) (Carangidae) in Russian waters. J Ichth 51(8):666–669

Bamber RC (1915) Reports on the marine biology of the Sudanese Red Sea, from collections made by Cyril Crossland, M.A., b.Sc., F.Z.S. – XXII. The fishes. J Lin Soc London; Zool 31(210):477–485

Baranes A, Golani D (1993) An annotated list of deep-sea fishes collected in the northern Red Sea, gulf of Aqaba. Isr J Zool 39:299–336

Ben-Tuvia A (1968) Report on the fisheries investigations of the Israel south Red Sea expedition, 1962. Bull Sea Fish Res Stn Israel 52:21–55

Bleeker P (1851) Over eenige nieuwe geslachten en soorten van Makreelachtige visschen van den Indischen Archipel. Natuur Tijd Nederl Ind 1(4):341–372

Bleeker P (1852) Bijdrage tot de kennis der Makreelachtige visschen van den Soenda-Molukschen Archipel. Verh Batav Gen Kunst Weten 24(5):1–93

Bleeker P (1857) Achtste bijdrage tot de kennis der vischfauna van Amboina. Acta Soc Reg Scient Indo-Neêrl 2(7):1–102

Bloch ME, Schneider JG (1801) M. E. Blochii, Systema Ichthyologiae Iconibus cx Ilustratum. Post obitum auctoris opus inchoatum absolvit, correxit, interpolavit Jo. Gottlob Schneider, Saxo. Berolini. Sumtibus Auctoris Impressum et Bibliopolio Sanderiano Commissum. lx + 584 pp

Bogorodsky SV, Alpermann TJ, Mal AO, Gabr MH (2014) Survey of demersal fishes from southern Saudi Arabia, with five new records for the Red Sea. Zootaxa 3852(4):401–437

Borsieri C (1904) Contribuzione alla conoscenza della fauna ittiologica della Colonia Eritrea. Annali Mus Civ Stor Nat di Genova (3) 1(41):187–220

Clark E, Ben-Tuvia A, Steinitz H (1968) Observation on a coastal fish community, Dahlak archipelago, Red Sea. Bill Sea Fish Res Stn Isr 49:15–31

Cuvier G, Valenciennes A (1833) Histoire naturelle des poissons. Tome neuvième. Suite du livre neuvième. Des Scombéroïdes, volume 9, Levrault, Paris, xxix + 512 pp

Debelius H (2011) Red Sea reef guide, fifth edn. IKAN-Unterwasserarchiv, Frankfurt, pp 321

Dor M (1984) Checklist of the fishes of the Red Sea. CLOFRES II. The Israel Academy of Sciences and Humanities, Jerusalem, i-xxii + 437 pp

Folmer O, Black M, Hoeh W, Lutz R, Vrijenhoek R (1994) DNA primers for amplification of mitochondrial cytochrome c oxidase subunit I from diverse metazoan invertebrates. Mol Mar Biol Biotechnol 3(5):294–299

Forsskål PS (1775) Descriptiones animalium avium, amphibiorum, piscium, insectorum, vermium; quae in itinere orientali observavit […]. Post mortem auctoris edidit Carsten Niebuhr, Hauniae, 164 pp

Fowler HW, Steinitz H (1956) Fishes from Cyprus, Iran, Iraq, Israel and Oman. Bull Res Counc Isr 5B(3–4):260–292

Geiger MF, Herder F, Monaghan MT, Almada V, Barbieri R, Bariche M et al (2014) Spatial heterogeneity in the Mediterranean biodiversity hotspot affects barcoding accuracy of its freshwater fishes. Mol Ecol Res 14(6):1210–1221

Golani D, Bogorodsky SV (2010) The fishes of the Red Sea—reappraisal and updated checklist. Zootaxa 2463:1–135

Goren M, Dor M (1994) An updated checklist of the fishes of the Red Sea. CLOFRES II. The Israel Academy of Sciences and Humanities, Jerusalem, i-xii + 120 pp

Gushiken S (1988) Phylogenetic relationships of the perciform genera of the family Carangidae. Jap J Ichth 34(4):443–461

Hebert PDN, Stoeckle MY, Zemlak TS, Francis CM (2004) Identification of birds through DNA barcodes. PLoS Biol 2(10):1657–1663

Ivanova NV, de Waard J, Hebert PDN (2006) An inexpensive, automation-friendly protocol for recovering high-quality DNA. Mol Ecol Notes 6:998–1002

Ivanova NV, Zemlak TS, Hanner RH, Hebert PDN (2007) Universal primer cocktails for fish DNA barcoding. Mol Ecol Notes 7(4):544–548

Jordan DS, Snyder (1907) Notes on fishes of Hawaii, with descriptions of new species. Bull Bur Fisher 26(623)(for 1906):205–218

Joshi KK, Nair RJ, Samad EMA, Thomas S, Kakati VS, Jasmine S, Varghese M, Paul SM, Sukumaran S, George RM, Manisseri MK (2011) The carangids of India - a monograph. Central marine fisheries research Insitute, Kerala, India, i-x + 437 pp

Katoh K, Standley DM (2013) MAFFT multiple sequence alignment software version 7: improvements in performance and usability. Mol Biol Evol 30(4):772–780

Khalaf MA (2004) Fish fauna of the Jordanian coast, Gulf of Aqaba, Red Sea. Mar Sci 15:23–50

Khalaf MA, Disi AM (1997) Fishes of the Gulf of Aqaba. Marine Science Station Aqaba, Aqaba 252 pp

Klausewitz W (1967) Die physiographische Zonierung der Saumriffe von Sarso. Meteor Forsch.-Ergebn. D (2):44–68

Klunzinger CB (1871) Synopsis der Fische des Rothen Meeres. II. Theil. (Schluss). Verh Zool-Bot Ges Wien 21:441–688

Klunzinger CB (1884) Die Fische des Rothen Meeres. Eine kritische Revision mit Bestimmungstabellen. I. Teil. Acanthopteri veri Owen. Stuttgart, IX + 133 pp

Kottelat M (2013) The fishes of the inland waters of southeast Asia: a catalogue and core bibiography of the fishes known to occur in freshwaters, mangroves and estuaries. Raffl Bull Zool, suppl 27:1–663

Lacépède BGE (1801) Histoire naturelle des poissons. Volume 3. Plassan, Paris 558 pp

Lieske E, Myers RF (2004) Coral reef guide. Red Sea to gulf of Aden. HarperCollins Publishers, London, South Oman, pp 384

Marshall NB (1952) The 'Manihine' expedition to the Gulf of Aqaba 1948–1949. IX. Fishes. Bull Brit Mus (Nat Hist), Zool 1(8):221–252

Masters BC, Fan V, Ross HA (2011) Species delimitation – a geneious plugin for the exploration of species boundaries. Mol Ecol Res 11(1):154–157

Ormond RFC (1980) Aggressive mimicry and other interspecific feeding association among Red Sea coral reef predators. J Zool Lond 19(2):247–262

Randall JE (1983) Red Sea reef fishes. Immel publishing, London, pp 192

Rüppell WPES (1830) Atlas zu der Reise im nördlichen Afrika. Fische des Rothen Meers. Frankfurt am Main (Heinrich Ludwig Brönner), part 3:95–141

Rüppell WPES (1852) Verzeichniss der in dem Museum der Senckenbergischen Naturforschenden Geselleschaft aufgestellten Sammlungen. Vierte Abtheilung: Fische und deren Skelette. Frankfurt am Main, IV + 40 pp

Smith MM (1973) Identity of Caranx armatus (Pisces: Carangidae). Copeia 1973(2):352–355

Smith-Vaniz WF (1984) Carangidae. In: Fischer W, Bianchi G, eds. FAO Species Identification Sheets for Fishery Purposes. Western Indian Ocean (Fishing Area 51). Vol. 1: without pagination. FAO, Rome

Smith-Vaniz WF (1999) Carangidae. In: Carpenter KE, Niem VH, eds. FAO species identification guides for fishery purposes: the living marine resources of the Western Central Pacific. Vol. 4: Bony fishes, part 2 (Mugilidae to Carangidae). Rome, FAO, 2659–2756

Suzuki K (1962) Anatomical and taxonomical studies on the carangid fishes of Japan. Rep Fac Fish Univ Mie 4(2):43–232

Swofford DL (1998) PAUP*. Phylogenetic analysis using Parsimony (* and other methods). Version 4. Sinauer Associates, Sunderland, Massachusetts

Temminck CJ, Schlegel H (1844) Pisces. In: Fauna Japonica sive descriptio animalium, quae in itinere per Japoniam, jussu et auspiciis superiorum, qui summum in India Batava imperium tenent, suscepto, annis 1823–1830 collegit, notis, observationibus et adumbrationibus illustravit Ph. Fr. de Siebold, parts 5–6:73–112

Tortonese E (1935) Pesci del mar Rosso. Boll Mus Zool Anat Comp Univ Torino 3(63):153–218

Tortonese E (1983) List of fishes observed near Jeddah (Saudi Arabia). J Fac Mar Sci 3:105–109

Ward RD, Zemlak TS, Innes BH, Last PR, Hebert PDN (2005) DNA barcoding Australia's fish species. Philos Trans R Soc Lond Ser B Biol Sci 360(1462):1847–1857

Whitley GP (1934) Studies in ichthyology. No. 8. Rec Austr Mus 19(2):153–163

Williams F, Heemstra PC, Shameem (1980) Notes on indo-Pacific carangid fishes of the genus Carangoides Bleeker. II. The Carangoides armatus group. Bull Mar Sci 30(1):13–20

Williams F, Venkataramani VK (1978) Notes on indo-Pacific carangid fishes of the genus Carangoides Bleeker. I. The Carangoides malabaricus group. Bull Mar Sci 28(3):501–511
Acknowledgements
Susanne Dorow and Jennifer Steppler are gratefully thanked for technical assistance at SMF and thanks are also due to Matthias Juhas and Stephanie Simon (SMF) for assisting in molecular genetic analyses. We further acknowledge the Grunelius-Möllgaard Laboratory at SMF for lab support. We thank Sven Tränkner (SMF), Laith Jawad, Dadid Darom, Andrey Ryanksiy, Andrey Golubev, and J.E. Randall for providing photographs and permission for reproduction herein. The scientific research cooperation between King Abdulaziz University (KAU), Faculty of Marine Sciences (FMS), Jeddah, Saudi Arabia, and the Senckenberg Research Institute (SRI), Frankfurt, Germany, in the framework of the Red Sea Biodiversity Project, during which the present material was collected, was funded by KAU GRANT NO. "I/1/432-DSR". The authors acknowledge, with thanks, KAU and SRI for technical and financial support as well as Ali Al-Aidaroos, Mohsen Al Sofiyani (KAU) and Fareed Krupp (SRI and Qatar Natural History Museum, Doha) for their help in the realization of the present study.
Ethics declarations
Other material examined
(Saudi Arabia, off Jizan): Ulua mentalis. KAUMM 431 [KAU14-295] (1, 108.5 mm); SMF 35858 [KAU14-548] (1, 122.5 mm); SMF 35859 [KAU14-463] (1, 139.5 mm).
Additional information
Communicated by M. Sonnewald
Electronic supplementary material
About this article
Cite this article
Bogorodsky, S.V., Smith-Vaniz, W.F., Mal, A.O. et al. Review of Carangoides (Perciformes: Carangidae) from the Red Sea, with a new record of Imposter Trevally Carangoides talamparoides Bleeker, 1852. Mar Biodiv 47, 1251–1271 (2017). https://doi.org/10.1007/s12526-017-0776-2
Received:

Revised:

Accepted:

Published:

Issue Date:
Keywords
Carangid fishes

Species diversity

Red Sea

DNA barcoding