Abstract
Additional data, resulting from examination of newly collected material from the Red Sea, east coast of Africa, Arabian Gulf, Pakistan, and western coast of India, and a phylogenetic analysis of the COI barcoding region, confirms Crenidens crenidens (Forsskål) and C. indicus Day as valid species. The latter species was earlier regarded as a subspecies of C. crenidens. In addition, the analyses herein show that specimens from the Red Sea form a distinct monophyletic sub-clade within C. crenidens, characterized by low genetic divergence from specimens from the southwestern Indian Ocean. Close comparison of 34 morphological characters showed that specimens from South Africa and Mozambique differ from Red Sea specimens only in having slightly longer pelvic fins [4.6–4.9 in standard length (SL) vs. 4.8–6.1 in SL]. Examination of additional specimens of both species provided more assessment of inter- and intraspecific variation in meristic and morphometric characters. A new set of characters that help to distinguish C. indicus from C. crenidens is proposed: the former species has a deeper body and caudal peduncle; more scales between fifth dorsal-fin spine and lateral line; scales on top of head extending forward to vertical through posterior margin of pupil; longer pelvic fins; lips with tiny cirri; caudal fin blackish distally; and usually with obvious black spot at pectoral-fin axil. Crenidens indicus was previously reported from central Oman, Arabian Gulf, to Pakistan; herein its presence from the western coast of India, Gujarat and Mumbai (= Bombay), is confirmed. Descriptions of C. crenidens and C. indicus based on material examined, photographs of alive and fresh fishes and an updated key to the three known species of Crenidens are provided.
This is a preview of subscription content, log in to check access.
Access options
Buy single article
Instant access to the full article PDF.
US$ 39.95
Price includes VAT for USA
Subscribe to journal
Immediate online access to all issues from 2019. Subscription will auto renew annually.
US$ 99
This is the net price. Taxes to be calculated in checkout.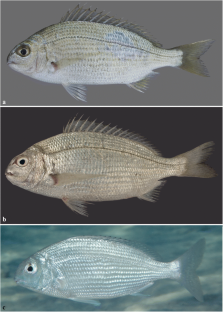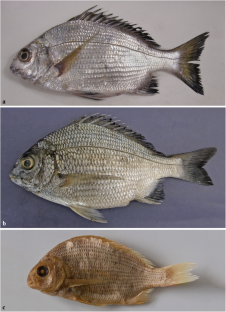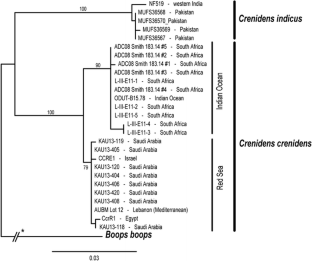 References
Bañón R, Arronte JC, Armesto Á, Barros-García D, de Carlos A (2016) Halosaur fishes (Notacanthiformes: Halosauridae) from Atlantic Spanish waters according to integrative taxonomy. Zootaxa 4184(3):471–490

Bariche M, Torres M, Smith C, Sayar N, Azzurro E, Baker R, Bernardi G (2015) Red Sea fishes in the Mediterranean Sea: a preliminary investigation of a biological invasion using DNA barcoding. J Biogeogr 42(12):2363–2373

Bauchot ML, Smith MM (1984) Sparidae. In: Fisher W, Bianchi G (eds) FAO species identification sheets for fisheries purposes. Western Indian Ocean, Fishing Area 51, vol 4. FAO, Rome, 1–11

Bilecenoglu M, Taskavak E, Mater S, Kaya M (2002) Checklist of the marine fishes of Turkey. Zootaxa 113:1–194

Bogorodsky SV, Alpermann TJ, Mal AO (2016) Redescription of Cheilinus quinquecinctus Rüppell, 1835 (Pisces: Perciformes, Labridae), a valid endemic Red Sea wrasse. Zootaxa 4158(4):451–472

Budker P, Fourmanoir P (1954) Poissons de la Mer Rouge et du Golfe de Tadjoura (Missions Budker: 1938-39 et Chedeville 1953). Bull Mus Nat Hist, Paris 26(3):322–325

Carpenter KE, Krupp F, Jones DA, Zajonz U (1997) FAO species identification guide for fishery purposes. The living marine resources of Kuwait, eastern Saudi Arabia, Bahrain, Qatar, and the United Arab Emirates. FAO Rome, 293 pp

Chabanaud P (1932) Poissons recueillis dans le Grand Lac Amer (Istme de Suez) par M. le Prof Gruvel in 1932. Bull Mus Nat Hist Natur, Paris, series 2, 4:822–835

Chabanaud P (1934) Poissons recueillis dans le lac Timsah (Isthme de Suez) par le Prof Gruvel en 1933. Bull Mus Nat Hist Natur, Paris, series 2, 6:156–160

Cuvier G, Valenciennes A (1830) Histoire naturelle des poissons. Tome Sixième. Livre sixième. Partie I. Des Sparoïdes; Partie II. Des Ménides, vol 6, i-xxiv + 559 pp

Day F (1873) The sea fishes of India and Burma. In: Day F (ed) Report on the sea fish and fisheries of India and Burma. Office of Superintendant of Government Printing, Calcutta, pp cliii–cccxxxii

Dayrat B (2005) Towards integrative taxonomy. Biol J Linn Soc 85:407–415

Dor M (1984) Checklist of the fishes of the Red Sea. CLOFRES. Israel Academy of Sciences and Humanities, Jerusalem. Checklist of the fishes of the Red Sea. CLOFRES i-xxii, 437 pp

Eschmeyer WN, Fricke R, Van der Laan R (2017) Catalog of Fishes. Available from: http:// researcharchive.calademy.org/research/ichthyology/catalog/fishcatmain.sp. Accessed 31 May 2017

Folmer O, Black M, Hoeh W, Lutz R, Vrijenhoek R (1994) DNA primers for amplification of mitochondrial cytochrome c oxidase subunit I from diverse metazoan invertebrates. Mol Mar Biol Biotechnol 3(5):294–299

Forsskål PS (1775) Descriptiones animalium avium, amphibiorum, piscium, insectorum, vermium; quae in itinere orientali observavit […]. Post mortem auctoris edidit Carsten Niebuhr, Hauniae, 164 pp

Fourmanoir P (1957) Poissons Téléostéens des eaux malgaches du canal de Mozambique. Mém Inst Scient de Madagascar, Série F, Océanog 1:1–316

Fricke R (2008) Authorship, availability and validity of fish names described by Peter (Pehr) Simon Forsskål and Johann Christian Fabricius in the 'Descriptiones animalium' by Carsten Niebuhr in 1775 (Pisces). Stut Beitr zur Natur A, Neue Serie 1:1–76

Geiger MF, Herder F, Monaghan MT, Almada V, Barbieri R, Bariche M et al (2014) Spatial heterogeneity in the Mediterranean biodiversity hotspot affects barcoding accuracy of its freshwater fishes. Mol Ecol Res 14(6):1210–1221

Golani D, Bogorodsky SV (2010) The fishes of the Red Sea—reappraisal and updated checklist. Zootaxa 2463:1–135

Golani D, Orsi-Relini L, Massuti E, Quignard J-P (2002) CIESM Atlas of Exotic Species inthe Mediterranean. vol 1. Fishes. (Briand F, Ed). CIESM Publication, Monaco, 254 pp

Goren M, Dor M (1994) An updated checklist of the fishes of the Red Sea. CLOFRES II. The Israel Academy of Sciences and Humanities, Jerusalem, pp i–xii + 120 pp

Gruvel A (1936) Contribution a l'etude de la bionomie generale et de l'exploration de la faune du Canal de Suez. Mem Inst Egypte 29:1–255

Guindon S, Gascuel O (2003) A simple, fast, and accurate algorithm to estimate large phylogenies by maximum likelihood. Syst Biol 52(5):696–704

Guindon S, Dufayard J, Lefort V, Anisimova M, Hordijk W, Gascuel O (2010) New algorithms and methods to estimate maximum-likelihood phylogenies: assessing the performance of PhyML 3.0. Syst Biol 59(3):307–321

Günther A (1874) Descriptions of new species of fishes in the British museum. Ann Mag Nat His (Ser 4) 14:368–371

Hebert PDN, Stoeckle MY, Zemlak TS, Francis CM (2004) Identification of birds through DNA barcodes. PLoS Biol 2(10):1657–1663

Heemstra PC, Heemstra E (2004) Coastal fishes of southern Africa. NISC and SAIAB:i–xxiv+ 488 pp

Hubbs CL, Lagler KF (1964) Fishes of the Great Lakes region. Bull Cranbrook Inst Sci 26:1–213

Ivanova NV, de Waard J, Hebert PDN (2006) An inexpensive, automation-friendly protocol for recovering high-quality DNA. Mol Ecol Notes, 6:998–1002

Ivanova NV, Zemlak TS, Hanner RH, Hebert PDN (2007) Universal primer cocktails for fish DNA barcoding. Mol Ecol Notes, 7(4):544–548

Iwatsuki Y, Heemstra PC (2010) Taxonomic review of the western Indian Ocean species of the genus Acanthopagrus Peters, 1855 (Perciformes: Sparidae), with description of a new species from Oman. Copeia 2010:123–136

Iwatsuki Y, Heemstra PC (2011) Polysteganus mascarenensis, a new sparid fish species from Mascarene Islands, Indian Ocean. Zootaxa 3018:13–20

Iwatsuki Y, Maclaine J (2013) Validity of Crenidens macracanthus Günther 1874 (Pisces: Sparidae) from Chennai (madras), India, with taxonomic statuses of the congeners. Ichth Res 60:241–248

Iwatsuki Y, Akazaki M, Taniguchi N (2007) Review of the species of the genus Dentex (Perciformes: Sparidae) in the western Pacific defined as the D. hypselosomus complex with the description of a new species, Dentex abei and a redescription of Evynnis tumifrons. Bull Nat Mus Sci (Ser A) 1:29–49

Klausewitz W (1989) Evolutionary history and zoogeography of the Red Sea ichthyofauna. Fauna of Saudi Arabia 10:310–337

Klunzinger CB (1870) Synopsis der Fische des Rothen Meeres. I. Theil. Percoiden-Mugiloiden. Verhandlungen der K.-K. zoologisch-botanischen Gesellschaft in Wien 20:669–834

Klunzinger CB (1884) Die Fische des Rothen Meeres. Eine kritische Revision mit Bestimmungstabellen. I. Teil. Acanthopteri veri Owen. Stuttgart, IX + 133 pp

Lessios HA (2008) The great American schism: divergence of marine organisms after the rise of the central American isthmus. Annu Rev Ecol Evol Syst 39:63–91

Marshall NB (1952) The 'Manihine' expedition to the Gulf of Aqaba 1948-1949. IX. Fishes. Bull Brit Mus (Nat Hist), Zool 1(8):221–252

Masters BC, Fan V, Ross HA (2011) Species delimitation – a geneious plugin for the exploration of species boundaries. Mol Ecol Res 11(1):154–157

Messing J (1983) New M13 vectors for cloning. Methods Enzymol 101:20–78

Norman JR (1929) Note on the fishes of the Suez Canal. Proc Zool Soc London 4:615–616

Pellegrin J (1907) Liste des poissons recueillis à Madagascar par M. F. Geay. Description d'une espèce nouvelle. Bull Mus Nat Hist Natur (Série 1) 13(3):201–206

Pons J, Barraclough TG, Gomez-Zurita J, Cardoso A, Duran DP, Hazell S, Kamoun S, Sumlin WD, Vogler AP (2006) Sequence-based species delimitation for the DNA taxonomy of undescribed insects. Syst Biol 55:595–609

Por FD (1978) Lessepsian migration. Springer-Verlag, Berlin, New York 228 pp

Posada D (2008) jModelTest: Phylogenetic model averaging. Mol Biol Evol, 25(7):1253–1256

Psomadakis PN, Osmany HB, Moazzam M (2015) Field identification guide to the living marine resources of Pakistan. FAO species identification guide for fishery purposes. FAO, Rome, 386 pp

Puillandre N, Lambert A, Brouillet S, Achaz G (2012) ABGD, automatic barcode gap discovery for primary species delimitation. Mol Ecol 21(8):1864–1877

Randall JE (1995) Coastal fishes of Oman. Crowford House Publishing Pty Ltd, Bathurst, p i-xvi + 439 pp

Rüppell WPES (1852) Verzeichniss der in dem Museum der Senckenbergischen Naturforschenden Gesellschaft aufgestellten Sammlungen. Vierte Abtheilung: Fische und deren Skelette, Frankfurt am Main, p IV + 40 pp

Siddiqui PJ, Amir SA, Masroor R (2014) The sparid fishes of Pakistan, with new distribution records. Zootaxa 3857(1):71–100

Smith JLB (1949) The sea fishes of southern Africa. Central News Agency, Ltd., Cape Town, p xii + 550 pp

Smith JLB, Smith MM (1986) Family no. 183: Sparidae (pp 580–584). In: Smith MM, Heemstra PC (eds) Smiths' sea fishes. Macmillan South Africa, Johannesburg 1047 pp

Sommer C, Schneider W, Poutiers J-M (1996) The living marine resources of Somalia. FAO species identification guide for fishery purposes. FAO, Rome 376 pp

Steindachner F (1902) Über zwei neue Fischarten aus dem Rothen Meere. Anzeiger der Akademie der Wissenschaften in Wien 39(25):336–338

Swofford DL (1998) PAUP*. Phylogenetic analysis using parsimony (* and other methods). Version 4. Sinauer Associates, Sunderland

Tillier JE (1902) Le Canal de Suez et sa faune ichthyologique. Mem Soc zool Fr 15:279–318

Tortonese E (1935) Pesci del mar Rosso. Boll Mus Zool Anat Comp Univ Torino 3(63):153–218

Tortonese E (1983) List of fishes observed near Jeddah (Saudi Arabia). J Fac Mar Sci 3:105–109

Ward RD, Zemlak TS, Innes BH, Last PR, Hebert PDN (2005) DNA barcoding Australia's fish species. Philos Trans R Soc London [Biol] 360(1462):1847–1857

Will KP, Mishler BD, Wheeler QD (2005) The perils of DNA barcoding and the need for integrative taxonomy. Syst Biol 54:844–851

Zajonz U, Khalaf M, Krupp F (2000) Coastal fish assemblages of the Socotra Archipelago. In: Apel M, Hariri K (eds) Conservation and Sustainable Use of Biodiversity of Socotra Archipelago. Marine Habitat, Biodiversity and Fisheries Surveys and Management. Progress Report of Phase III, 127–170
Acknowledgments
Susanne Dorow and Jennifer Steppler are gratefully thanked for technical assistance at SMF and thanks are also due to Matthias Juhas and Stephanie Simon (SMF) and Fumiya Tanaka (MUFS) for assisting in molecular analyses. Sven Tränkner (SMF) kindly provided close-up images of specimens and we further acknowledge the Grunelius-Möllgaard Laboratory at SMF for lab support. We kindly appreciate the support of Roger Bills, Bafo Konqobe and Mzwandile Dwani (all SAIAB) by providing loans of specimens and colleagues at SAIAB are also thanked for donating tissue subsamples for molecular analyses. Shirleen Smith (USNM) is thanked for inspection of some specimens. Kent Carpenter and Millicent Sanciangco (both Old Dominion University) are thanked for their support. We thank to Gulab D. Khedkar (Paul Hebert Centre for DNA Barcoding and Biodiversity Studies, Dr. B.A. Marathwada University, Aurangabad, India) for permission to use his photograph and genetic data of the specimen from Gujarat, India. The scientific research cooperation between King Abdulaziz University (KAU), Faculty of Marine Sciences (FMS), Jeddah, Saudi Arabia, and the Senckenberg Research Institute (SRI), Frankfurt, Germany, in the framework of the Red Sea Biodiversity Project, during which the present material was collected, was funded by KAU GRANT NO. "I/1/432-DSR". The authors acknowledge, with thanks, KAU and SRI for technical and financial support as well as Ali Al-Aidaroos, Mohsen Al Sofiyani and Mohamed M. Gabr (KAU), Fareed Krupp (SRI and Qatar Natural History Museum, Doha) for their help in the realization of the present study, and also Pirzada Jamal Siddiqui (PMNH) for financial support and sampling facilities in Pakistan.
Additional information
Communicated by M. Sonnewald
Electronic supplementary material
Information on specimens and sequences used in the maximum likelihood phylogenetic analysis of mitochondrial cytochrome c oxidase I (COI). (DOC 71 kb).
About this article
Cite this article
Bogorodsky, S.V., Iwatsuki, Y., Amir, S.A. et al. Morphological and molecular divergence between Crenidens crenidens (Forsskål, 1775) and C. indicus Day, 1873 (Perciformes: Sparidae) and notes on a Red Sea endemic lineage of C. crenidens . Mar Biodiv 47, 1273–1285 (2017). https://doi.org/10.1007/s12526-017-0764-6
Received:

Revised:

Accepted:

Published:

Issue Date:
Keywords
Sparidae

Crenidens

Seabreams

DNA barcoding

Phylogenetic analysis

Geographical distribution