Abstract
Two species of the giant deep-sea amphipod genus Eurythenes are reported from two bathyal habitats in Japanese waters based on a morphological examination and DNA analyses. The new species E. aequilatus collected off Hokkaido in the Sea of Okhotsk comprises a distinctive lineage within the known Eurythenes species and genetic groups. This finding sheds light onto the overlooked role of the marginal deep sea in the species diversification history of Eurythenes. Eurythenes specimens collected from the south off Okinawa Island in the Philippine Sea were identified as E. magellanicus, confirming the presence of a population in the western North Pacific. Past and present trans-oceanic dispersal of this species is briefly discussed based on the mitochondrial DNA sequences obtained from the Okinawa specimens of E. magellanicus.
Access options
Buy single article
Instant access to the full article PDF.
USD 39.95
Price excludes VAT (USA)
Tax calculation will be finalised during checkout.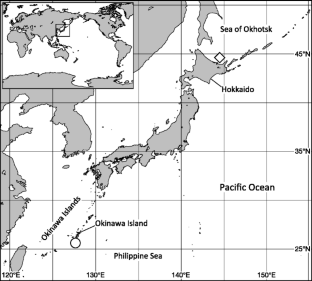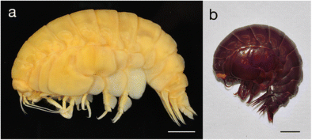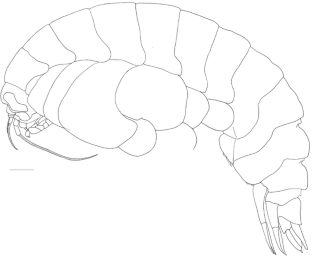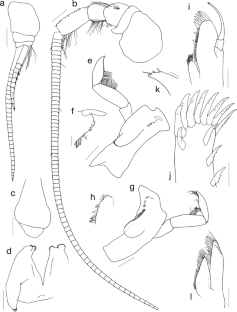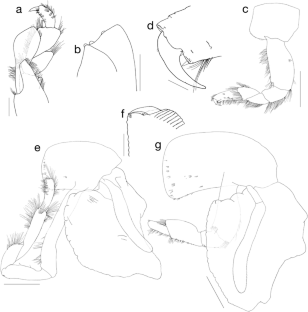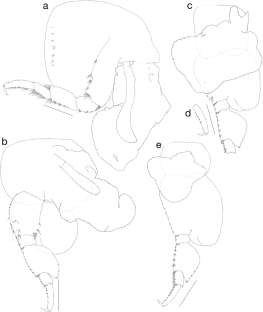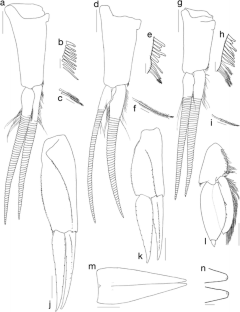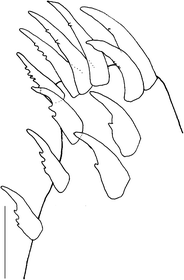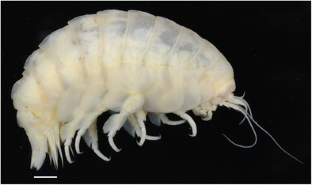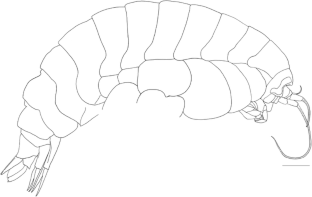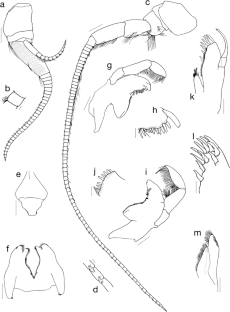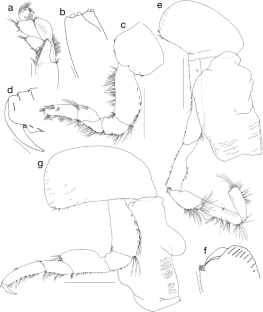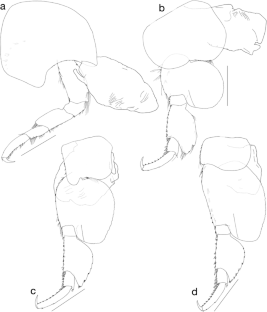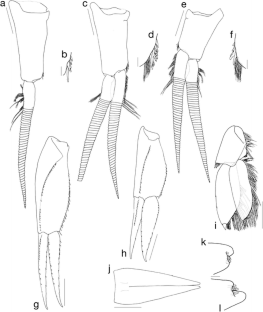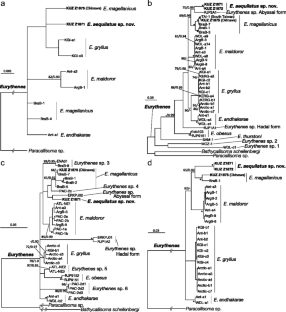 References
Aramaki T, Watanabe S, Kuji T, Wakatsuchi M (2001) The Okhotsk-Pacific seawater exchange in the viewpoint of vertical profiles of radiocarbon around the Bussol' strait. Geophys Res Lett 28:3971–3974. doi:10.1029/2001GL013227

Baldwin RJ, Smith KL (1987) Temporal variation in the catch rate, length, color and sex of the necrophagous amphipod, Eurythenes gryllus, from the central and eastern North Pacific. Deep Sea Res Part I Oceanogr Res Pap 34:425–439. doi:10.1016/0198-0149(87)90146-4

Corrigan LJ, Horton T, Fotherby H, White TA, Hoelzel AR (2014) Adaptive evolution of deep-sea amphipods from the superfamily Lysiassanoidea in the North Atlantic. Evol Biol 41:154–165. doi:10.1007/s11692-013-9255-2

De Broyer C, Lowry JK, Jażdżewski K, Robert H (2007) Census of Antarctic marine life. Synopsis of the Amphipoda of the Southern Ocean. Edited by Calude de Broyer. Volume 1: part 1. Catalogue of the Gammaridean and Corophiidean Amphipoda (Crustacea) of the Southern Ocean, with distribution and ecological data. Bull Inst R Sci Nat Belg Biol 77:1–324

d'Udekem d'Acoz C, Havermans C (2015) Contribution to the systematics of the genus Eurythenes S.I. Smith in Scudder, 1882 (Crustacea: Amphipoda: Lysianassoidea: Eurytheneidae). Zootaxa 3971:1–80. doi:10.11646/zootaxa.3971.1.1

Escobar-Briones E, Nájera-Hillman E, Álvarez F (2010) Unique 16S rDNA sequences of Eurythenes gryllus (Crustacea: Amphipoda: Lysianassidae) from the Gulf of Mexico abyssal plain. Rev Mex Biodivers 81:177–185

Eustace RM, Ritchie H, Kilgallen NM, Piertney SB, Jamieson AJ (2016) Morphological and ontogenetic stratification of abyssal and hadal Eurythenes gryllus sensu lato (Amphipoda: Lysianassoidea) from the Peru–Chile Trench. Deep Sea Res Part I Oceanogr Res Pap 109:91–98. doi:10.1016/j.dsr.2015.11.005

France SC, Kocher TD (1996) Geographic and bathymetric patterns of mitochondrial 16S rRNA sequence divergence among deep-sea amphipods, Eurythenes gryllus. Mar Biol 126:633–643. doi:10.1007/bf00351330

Hasegawa M, Kurohiji Y, Takayanagi S, Sawadaishi S, Yao M (1986) Collection of fish and Amphipoda from abyssal sea-floor at 30° N–147° E using traps tied to 10.000 m wire of research vessel. Bull Tokai Reg Fish Res Lab 119:65–75

Havermans C (2016) Have we so far only seen the tip of the iceberg? Exploring species diversity and distribution of the giant amphipod Eurythenes. Biodiversity 17:12–25. doi:10.1080/14888386.2016.1172257

Havermans C, Sonet G, d'Udekem d'Acoz C, Nagy ZT, Martin P, Brix S, Riehl T, Agrawal S, Held C (2013) Genetic and morphological divergences in the cosmopolitan deep-sea amphipod Eurythenes gryllus reveal a diverse abyss and a bipolar species. PLoS One 8:e74218. doi:10.1371/journal.pone.0074218

Hill KL, Weaver AJ, Freeland HJ, Bychkov A (2003) Evidence of change in the sea of Okhotsk: implications for the north Pacific. Atmos Ocean 41:49–63. doi:10.3137/ao.410104

Katoh K, Standley DM (2013) MAFFT multiple sequence alignment software version 7: improvements in performance and usability. Mol Biol Evol 30:772–780. doi:10.1093/molbev/mst010

Kawabe M, Fujio S (2010) Pacific ocean circulation based on observation. J Oceanogr 66:389–403. doi:10.1007/s10872-010-0034-8

Lanfear R, Frandsen PB, Wright AM, Senfeld T, Calcott B (2017) PartitionFinder 2: new methods for selecting partitioned models of evolution for molecular and morphological phylogenetic analyses. Mol Biol Evol 34:772–773. doi:10.1093/molbev/msw260

Lilljeborg W (1865) On the Lysianassa magellanica H. Milne Edwards, and on the Crustacea of the suborder Amphipoda and subfamily Lysianassina found an the coast of Sweden and Norway. The Royal Acad. Press, Upsala. doi:10.5962/bhl.title.6806

Lowry JK, Stoddart HE (1995) The Amphipoda (Crustacea) of Madang lagoon: Lysianassidae, Opisidae, Uristidae, Wandinidae and Stegocephalidae. Rec Aust Mus Suppl 22:97–174. doi:10.3853/j.0812-7387.22.1995.122

Nagano A, Ichikawa H, Miura T, Ichikawa K, Konda M, Yoshikawa Y, Obama K, Murakami K (2007) Current system east of the Ryukyu Islands. J Geophys Res Oceans 112:C06009. doi:10.1029/2006JC003917

Nakano T (2012a) A new species of Orobdella (Hirudinida, Arhynchobdellida, Gastrostomobdellidae) and redescription of O. kawakatsuorum from Hokkaido, Japan with the phylogenetic position of the new species. ZooKeys 169:9–30. doi:10.3897/zookeys.169.2425

Nakano T (2012b) A new sexannulate species of Orobdella (Hirudinida, Arhynchobdellida, Orobdellidae) from Yakushima Island, Japan. ZooKeys 181:79–93. doi:10.3897/zookeys.181.2932

Rambaut A, Drummond AJ (2013) Tracer v1.6. Home page at: http://tree.bio.ed.ac.uk/software/tracer/. Accessed 24 May 2015

Ritchie H, Jamieson AJ, Piertney SB (2015) Phylogenetic relationships among hadal amphipods of the superfamily Lysianassoidea: implications for taxonomy and biogeography. Deep Sea Res Part I Oceanogr Res Pap 105:119–131. doi:10.1016/j.dsr.2015.08.014

Ronquist F, Teslenko M, van der Mark P, Ayres DL, Darling A, Höhna S, Larget B, Liu L, Suchard MA, Huelsenbeck JP (2012) MrBayes 3.2: efficient Bayesian phylogenetic inference and model choice across a large model space. Syst Biol 61:539–542. doi:10.1093/sysbio/sys029

Scudder SH (1882) Nomenclator Zoologicus. An alphabetical list of all generic names that have been employed by naturalists for recent and fossil animals from the earliest times to the close of the year 1879. In two parts: I. Supplemental list. II. Universal index. U.S. National Museum, Washington

Stamatakis A (2014) RAxML version 8: a tool for phylogenetic analysis and post-analysis of large phylogenies. Bioinformatics 30:1312–1313. doi:10.1093/bioinformatics/btu033

Stoddart HE, Lowry JK (2004) The deep-sea lysianassoid genus Eurythenes (Crustacea, Amphipoda, Eurytheneidae n. Fam.). Zoosystema 26:425–468

Talley LD (2001) Okhotsk Sea circulation. In: Steele JH, Thorpe SA (ed) Encyclopedia of ocean sciences, 1st edn. Academic Press, Oxford, pp 2007–2015. doi:10.1006/rwos.2001.0384

Tanabe AS (2008) Phylogears v2.0.2014.03.08. Home page at: http://www.fifthdimension.jp/. Accessed 24 May 2015

Thoppil PG, Metzger EJ, Hurlburt HE, Smedstad OM, Ichikawa H (2016) The current system east of the Ryukyu Islands as revealed by a global ocean reanalysis. Prog Oceanogr 141:239–258. doi:10.1016/j.pocean.2015.12.013

Thurston MH, Petrillo M, Della Croce N (2002) Population structure of the necrophagous amphipod Eurythenes gryllus (Amphipoda: Gammaridea) from the Atacama Trench (south-east Pacific Ocean). J Mar Biol Assoc UK 82:205–211. doi:10.1017/S0025315402005374

Tomikawa K, Nakano T, Sato A, Onodera Y, Ohtaka A (2016a) A molecular phylogeny of Pseudocrangonyx from Japan, including a new subterranean species (Crustacea, Amphipoda, Pseudocrangonyctidae). Zoosyst Evol 92:187–202. doi:10.3897/zse.92.10176

Tomikawa K, Tanaka H, Nakano T (2016b) A new species of the rare genus Priscomilitaris from the Seto Inland Sea, Japan (Crustacea, Amphipoda, Priscomilitaridae). ZooKeys 607:25–35. doi:10.3897/zookeys.607.9379

Umezu T (1982) Deep-sea pelagos. Part II. Collection by RV KAIYO-Maru for radionuclide analysis. Aquabiology (Tokyo) 4:2–9

Umezu T (1984) Deep-sea biomass in North Pacific polar frontal zone 40° N–150° E: collected by KOC-net from 150–4500 m depth in May 1981. Bull Tokai Reg Fish Res Lab 113:115–139

Zhang Z, Zhao W, Tian J, Yang Q, Qu T (2015) Spatial structure and temporal variability of the zonal flow in the Luzon Strait. J Geophys Res Oceans 120:759–776. doi:10.1002/2014JC010308

Zhao X, Zhou C, Zhao W, Tian J, Xu X (2016) Deepwater overflow observed by three bottom-anchored moorings in the Bashi Channel. Deep Sea Res Part I Oceanogr Res Pap 110:65–74. doi:10.1016/j.dsr.2016.01.007
Acknowledgments
The authors are grateful to Keiichi Kakui (Hokkaido University), Atsushi Kaneko (Okinawa Churaumi Aquarium, OCA), and Kenta Yamada (OCA) for providing valuable specimens of Eurythenes species. We also express our sincere thanks to Hidetoshi Nagamasu (The Kyoto University Museum) for his helpful advice on a specific name for the new species, and to Cédric d'Udekem d'Acoz (Royal Belgian Institute of Natural Sciences) and one anonymous reviewer for their constructive comments and suggestions on this manuscript. Thanks are extended to the captain and crew of the R/V Soyo-Maru (Japan Fisheries Research and Education Agency). This study was partly supported by JSPS KAKENHI grant numbers JP25242015, JP25840140, and JP15J00720.
Additional information
Communicated by A. Brandt
This article is registered in ZooBank under urn:lsid:zoobank.org:pub:780459CE-5D7B-4ADE-B146-E1BFA6468A79
Electronic supplementary material
Below is the link to the electronic supplementary material..
About this article
Cite this article
Narahara-Nakano, Y., Nakano, T. & Tomikawa, K. Deep-sea amphipod genus Eurythenes from Japan, with a description of a new Eurythenes species from off Hokkaido (Crustacea: Amphipoda: Lysianassoidea). Mar Biodiv 48, 603–620 (2018). https://doi.org/10.1007/s12526-017-0758-4
Received:

Revised:

Accepted:

Published:

Issue Date:

DOI: https://doi.org/10.1007/s12526-017-0758-4
Keywords
Eurytheneidae

Molecular phylogeny

Cryptic species

Pacific Ocean

Long-distance dispersal