Abstract
Pseudopolydora antennata was originally described by Claparède (Mem Soc Phys Hist Nat Geneve 20:1–225, 1869) from Teredo burrows in wood from the Gulf of Naples, but has also been recorded in South Africa, the Persian Gulf, South Australia, Japan and the Caribbean. This suggests that the species either has a cosmopolitan distribution, is an alien or, in some locations, represents a complex of morphologically similar species. We demonstrate, with molecular analyses and morphological examinations, that this species is a complex of at least five pseudocryptic species. Two species in South Africa (Pseudopolydora eriyali n. sp. in both the cool and the warm temperate bioregions and Pseudopolydora uphondo n. sp. from the subtropical bioregion) and two in Japan (Pseudopolydora tsubaki n. sp. from central east Japan and Pseudopolydora ushioni n. sp. from southwestern Japan) are consistently confirmed by nuclear 18S and 28S and mitochondrial 16S rRNA gene analyses. Morphological examination demonstrates that these four newly described species and Pseudopolydora hutchingsae n. sp. from South Australia differ from each other and Pseudopolydora antennata from Europe and the Marshall Islands with respect to the ratio of length to number of chaetigers, number of branchiate chaetigers, shapes of prostomium and modified spines, and methyl green staining patterns on the anterior dorsum, caruncle, prostomium, peristomium, and ventral and lateral sides of the body.
Access options
Buy single article
Instant access to the full article PDF.
USD 39.95
Price excludes VAT (USA)
Tax calculation will be finalised during checkout.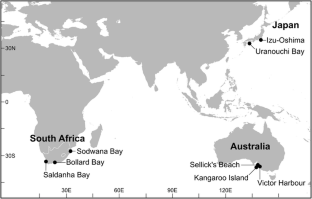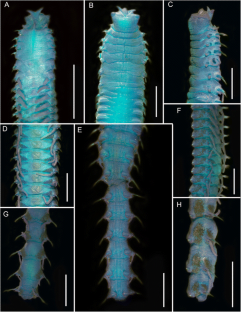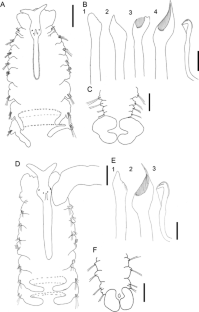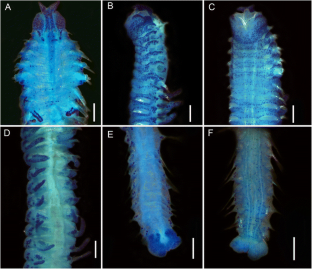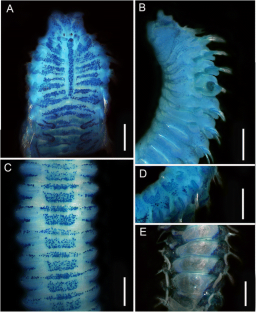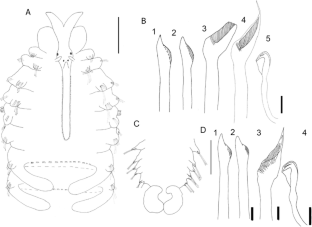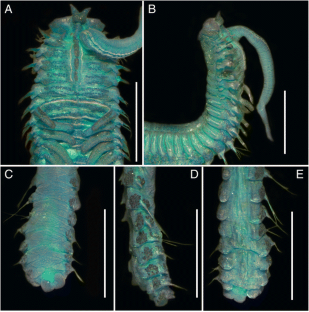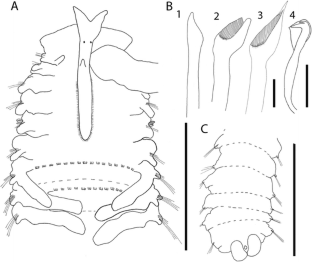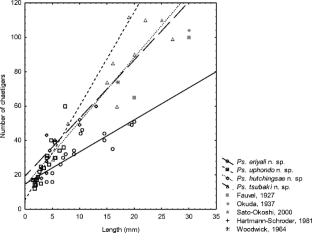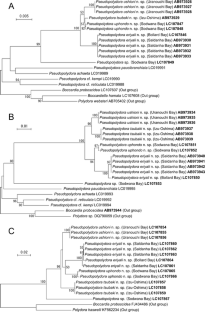 References
Abe H, Kondoh T, Sato-Okoshi W (2016) First report of the morphology and rDNA sequences of two Pseudopolydora species (Annelida: Spionidae) from Japan. Zool Sci 33:650–658

Barroso R, Klautau M, Solé-Cava AM, Paiva PC (2010) Eurythoe complanata (Polychaeta: Amphinomidae), the 'cosmopolitan' fireworm, consists of at least three cryptic species. Mar Biol 157:69–80

Bellan G (2008) Pseudopolydora antennata (Claparède, 1869). In: Read G, Fauchald K (ed) (2016). World Polychaeta database. http://www.marinespecies.org/polychaeta/aphia.php?p=taxdetails&id=131166. Accessed 22 Feb 2017

Bickford D, Lohman DJ, Sodhi NS, Ng PKL, Meier R, Winker K, Ingram KK, Das I (2007) Cryptic species as a window on diversity and conservation. Trends Ecol Evol 22:148–155

Blake JA, Kudenov JD (1978) The Spionidae (Polychaeta) from southeastern Australia and adjacent areas with a revision of the genera. Nat Mus Victoria Mem 39:171–280

Bleidorn C, Kruse I, Albrecht S, Bartolomaeus T (2006) Mitochondrial sequence data expose the putative cosmopolitan polychaete Scoloplos armiger (Annelida, Orbiniidae) as a species complex. BMC Evol Biol 6:47

Carazzi D (1893) Revisione del genera Polydoa Bosc, e cenni su duo specie che vivono sulle ostriche. Mitt Zool Stn Neapel 11:4–45 pl. 2

Çinar M (2013) Alien polychaete species worldwide: current status and their impacts. J Mar Biol Assoc UK 93:1257–1278

Claparède E (1869) Les Annélides Chétopodes du Golte de Naples. Seconde Partie. Annélides sédentaires. Mem Soc Phys Hist Nat Geneve 20:1–225

Czerniavsky V (1881) Materialia ad zoographiam Ponticam comparatam. Bull Soc Imp Nat Moscou 56:338–420

Day JH (1955) The Polychaeta of South Africa. Part 3. Sedentary species from Cape shores and estuaries. J Linn Soc Lond Zool 42:407–452

Day JH (1967) A monograph on the Polychaeta of southern Africa. Part 2. Sedentaria. Trustees of the British Museum (Natural History), London

Delgado-Blas VH, Salazar-Silva P (2011) Taxonomic catalogue of the Spionidae (Annelida: Polychaeta) of the grand Caribbean. Zootaxa 2782:39–66

Dumitrescu E (1960) Contributions à la connaissance des Polychètes de la Mer Noire, spécialement des eaux prébosphoriques. Trav Mus Natl Hist Nat Grigore Antipa 2:69–85

Fauvel P (1927) Polychètes sédentaires. Addenda aux errantes, Archiannélides, Myzostomaires. Faune Fr 16:1–494

Friedrich H (1937) Polychaetenstudien. I–III. 1. Hesionides arenaria n.sp. n.gen., ein neuer Polychaet aus der Otoplanenzone der Nordsee. 2. Polydora ligni Webster 1880 in der Ostsee. 3. Über einige Klein-Polychaeten von Helgoland. Kieler Milchw Forsch 1:343–351

Hartman O (1940) Boccardia proboscidea, a new species of spionid worm from California. J Wash Acad Sci 30:382–387

Hartmann-Schröder G (1981) Die Polychaeten der tropisch-subtropischen Westküste Australiens (zwischen Exmouth im Norden und Cervantes im Süden). Mitt Zool Mus Inst Hamburg 78:19–96

Hutchings PA, Turvey SP (1984) The Spionidae of South Australia (Annelida: Polychaeta). Trans R Soc S Aust 108:1–20

Imajima M, Hartman O (1964) The polychaetous annelids of Japan. Allan Hancock Found. Publ Occas Pap 26:1–452

Klautau M, Russo CAM, Lazoski C, Boury-Esnault N, Thorpe JP, Sole-Cava AM (1999) Does cosmopolitanism result from overconservative systematics? A case study using the marine sponge Chondrilla nucula. Evolution 53:1414–1422

Knowlton N (1993) Sibling species in the sea. Annu Rev Ecol Syst 24:189–216

Linnaeus C (1758) Systema Naturae per regna tria naturae, secundum classes, ordines, genera, species, cum characteribus, differentiis, synonymis, locis. Editio decima, reformata. Laurentius Salvius: Holmiae. ii, 824 pp

Maggiore F, Keppel E (2007) Biodiversity and distribution of polychaetes and molluscs along the dese estuary (lagoon of Venice, Italy). Hydrobiologia 588:189–203

Manchenko GP, Radashevsky VI (1998) Genetic evidence for two sibling species within Polydora cf. ciliata (Polychaeta: Spionidae) from the sea of Japan. Mar Biol 131:489–495

Manchenko GP, Radashevsky VI (2002) Genetic differences between two sibling sympatric Dipolydora species (Polychaeta: Spionidae) from the sea of Japan, and a new species description. J Mar Biol Assoc UK 82:193–199

Milne R, Griffiths C (2014) Invertebrate biodiversity associated with algal turfs on a coral-dominated reef. Mar Biodivers 44:181–188

Mohammad M-BM (1971) Intertidal polychaetes from Kuwait, Arabian Gulf, with descriptions of three new species. J Zool 163:285–303

Mustaquim J (1988) Electrophoretic variation of isozymes in Polydora ciliata complex (Polychaeta: Spionidae). Comp Biochem Physiol 91B:197–205

Nygren A (2014) Cryptic polychaete diversity: a review. Zool Scr 43:172–183

Okuda S (1937) Spioniform polychaetes from Japan. J Fac Sci, Hokkaido Imperial University, Ser 6 Zool 5:217–254

Palumbi S, Martin A, Romano S, McMillan WO, Stice L, Grabowski G (1991) The simple fool's guide to PCR, version 2.0. Department of Zoology and Kewalo Marine Laboratory, University of Hawaii, Honolulu 47 pp

Radashevsky VI, Hsieh HL (2000a) Polydora (Polychaeta: Spionidae) species from Taiwan. Zool Stud 39:203–217

Radashevsky VI, Hsieh HL (2000b) Pseudopolydora (Polychaeta: Spionidae) species from Taiwan. Zool Stud 39:218–235

Radashevsky VI, Pankova VV (2006) The morphology of two sibling sympatric Polydora species (Polychaeta: Spionidae) from the sea of Japan. J Mar Biol Assoc UK 86:245–252

Radashevsky VI, Pankova VV (2013) Shell-boring versus tube-dwelling: is the mode of life fixed or flexible? Two cases in spionid polychaetes (Annelida, Spionidae). Mar Biol 160:1619–1624

Radashevsky VI, Simon C, Sato-Okoshi W (2013) Spionidae. In: Kupriyanova EK, Wong E, Hutchings PA (eds) Invasive Polychaete Identifier - an Australian perspective. Version 1.1, 04 Dec 2013. http://polychaetes.australianmuseum.net.au/

Rundle HD, Nosil P (2005) Ecological speciation. Ecol Lett 8:336–352

Sato-Okoshi W (2000) Polydorid species (Polychaeta: Spionidae) in Japan, with descriptions of morphology, ecology and burrow structure. 2. Non-boring species. J Mar Biol Assoc UK 80:443–456

Sato-Okoshi W, Abe H (2012) Morphological and molecular sequence analysis of the harmful shell boring species of Polydora (Polychaeta: Spionidae) from Japan and Australia. Aquaculture 368–369:40–47

Sato-Okoshi W, Abe H (2013) Morphology and molecular analysis of the 18S rRNA gene of oyster shell borers, Polydora species (Polychaeta: Spionidae), from Japan and Australia. J Mar Biol Assoc UK 93:1279–1286

Schmidt H, Westheide W (1999) Genetic relationships (RAPD-PCR) between geographically separated populations of the "cosmopolitan" interstitial polychaete Hesionides gohari (Hesionidae) and the evolutionary origin of the freshwater species Hesionides riegerorum. Biol Bull 196:216–226

Schmidt H, Westheide W (2000) Are the meiofaunal polychaetes Hesionides arenaria and Stygocapitella subterranea true cosmopolitan species?—results of RAPD-PCR investigations. Zool Scr 29:17–27

Scholin CA, Herzog M, Sogin M, Anderson DM (1994) Identification of group- and strain-specific genetic markers for globally distributed Alexandrium (Dinophyceae). II. Sequence analysis of a fragment of the LSU rRNA gene. J Phycol 30:999–1011

Siewing R (1955) Petitia amophthalma, n.gen., n.sp., ein neuer Polychaet aus den Sandlueckensystem. Vie Milieu 6:413–425

Simon CA (2009) Pseudopolydora species associated with mollusc shells on the south coast of South Africa, with the description of Ps. dayii, sp nov. J Mar Biol Assoc UK 89:681–687

Southern R (1921) Fauna of the Chilka Lake and also of fresh and brackish waters in other parts of India. Mem Indian Mus Calcutta 5:563–659

Tamura K, Dudley J, Nei M, Kumar S (2007) MEGA4: molecular evolutionary genetics analysis (MEGA) software version 4.0. Mol Biol Evol 24:1596–1599

Templeton R (1836) A catalogue of the species of annulose animals, and of rayed ones, found in Ireland, as selected from the papers of the late J. Templeton, Esq., of Cranmore, with localities, descriptions, and illustrations, vol 9. Magazine of Natural History, London, pp 233–243

Teramoto W, Sato-Okoshi W, Abe H, Nishitani G, Endo Y (2013) Morphology, 18S rRNA gene sequence and life history of a new Polydora species (Polychaeta: Spionidae) from northeastern Japan. Aquat Biol 18:31–45

Thunberg CP (1793) Teckning och Beskrifning på en stor Ostronsort ifrån Japan. Kong Vetensk Akad Handl 14:140–142

Westheide W, Hass-Cordes E (2001) Molecular taxonomy: description of a cryptic Petitia species (Polychaeta: Syllidae) from the island of Mahé (Seychelles, Indian Ocean) using RAPD markers and ITS2 sequences. J Zool Syst Evol Res 39:103–111

Westheide W, Schmidt H (2003) Cosmopolitan versus cryptic meiofaunal polychaete species: an approach to a molecular taxonomy. Helgol Mar Res 57:1–6

Woodwick KH (1964) Polydora and related genera (Annelida, Polychaeta) from Eniwetok, Majuro, and Bikini Atolls, Marshall Islands. Pac Sci 18:146–159

Zhou J, Ji W-W, Li X-Z (2010) Records of Polydora complex spionids (Polychaeta: Spionidae) from China's coastal waters, with emphasis on parasitic species and the description of a new species. Mar Fish 32:1–15
Acknowledgements
CAS would like to thank the staff at the Australian Museum, especially Pat Hutchings, Steve Keable (the collections manager) and Sue Lindsey (of the microscopy unit). WS-O is most grateful to Kenji Okoshi for his collaboration in collecting samples from Izu-Oshima, Japan. Further thanks go to Hannelore Paxton for translating articles and Erica Keppel for kindly loaning us some of her specimens. This work was supported by travel grants awarded to CAS by the Oppenheimer Memorial Trust and the H.B and M.J. Thom Awards. Research funds were provided to CAS by the National Research Foundation (Thuthuka Programme) and Stellenbosch University, and fieldwork in Sodwana Bay was funded by SeaKeys. Research funds were provided to WS-O from the Ministry of Education, Science, Sports and Culture of Japan (21580216, 15K07540). CAS also thanks Sne Kunene and Natasha Mothapo (Stellenbosch University) for their help with naming the South African species. The authors thank the two anonymous reviewers for their many useful recommendations that greatly improved this manuscript.
Additional information
Communicated by D. Fiege
This article is registered in ZooBank under: urn:lsid:zoobank.org:pub:69A163E0-822D-4 BC5-B230-ED5F1586E513
The species are registered in ZooBank under:
Pseudopolydora eriyali: urn:lsid:zoobank.org:act:A63B4F2A-4D72-4FEE-A37F-E2EFC0FADE27
Pseudopolydora uphondo: urn:lsid:zoobank.org:act:F6539278-DBC5-44 AC-BCD3-F5D6F9F493FE
Pseudopolydora tsubaki: urn:lsid:zoobank.org:act:CA1E4451-388D-4B4C-A782-D5766DC35132
Pseudopolydora ushioni: urn:lsid:zoobank.org:act:1494F6E0-8200-4EF8-AE4C-B0ED82541231
Pseudopolydora hutchingsae: urn:lsid:zoobank.org:act:A3720C20-FB90-439F-BA1B-2AFC6B511C7A
About this article
Cite this article
Simon, C.A., Sato-Okoshi, W. & Abe, H. Hidden diversity within the cosmopolitan species Pseudopolydora antennata (Claparède, 1869) (Spionidae: Annelida). Mar Biodiv 49, 25–42 (2019). https://doi.org/10.1007/s12526-017-0751-y
Received:

Revised:

Accepted:

Published:

Issue Date:

DOI: https://doi.org/10.1007/s12526-017-0751-y
Keywords
Pseudocryptic species

Methyl green

Pseudopolydora eriyali n. sp.
Pseudopolydora uphondo n. sp.
Pseudopolydora hutchingsae n. sp.
Pseudopolydora tsubaki n. sp.
Pseudopolydora ushioni n. sp.

18S, 28S, 16S rRNA analyses