Abstract
Coastal environments may be impacted by several anthropogenic activities such as sewage discharges, fish-farming and hydrocarbons along with seaside tourism activities, all proved to have an effect on benthic and, particularly, meiobenthic assemblages. An ecological survey was conducted along the Apulian coast (South Italy) to explore potential relationships between the degree of human disturbance and meiobenthic communities which are still unexplored. Sediment samples were collected in triplicate from 3 stations along each of 16 transects and at a different depth gradient (from ∼10 to 50 m). The levels of taxa richness and biodiversity of the meiobenthic and nematode assemblages were overall high. The Water Framework Directive and Marine Strategy Framework Directive suggest the creation of specific thresholds to define the EcoQ (Ecological Quality) status of marine coastal systems. The thresholds applied on the meiobenthos showed the worst conditions at Brindisi harbour and at the mussel farm infrastructure of Castro. An overall moderate impact was also detected at the multiple-use Marine Protect Area of Porto Cesareo, likely due to the overwhelming number of tourists leading to an increase of organic enrichment (sewage discharge) negatively affecting the benthic communities assemblages. The main representatives of the nematode assemblages were taxa known as typical of muddy sediments. When EcoQ was assessed with the nematode thresholds, the worst EcoQ was found at Brindisi Harbour, Torre Specchia, and Alimini Lakes. The ecological conditions revealed by meiobenthic and nematode assemblages were generally consistent and seem to highlight a greater alteration of the meiobenthic communities assemblages along the Adriatic than the Ionian coasts.
This is a preview of subscription content, log in to check access.
Access options
Buy single article
Instant access to the full article PDF.
US$ 39.95
Price includes VAT for USA
Subscribe to journal
Immediate online access to all issues from 2019. Subscription will auto renew annually.
US$ 99
This is the net price. Taxes to be calculated in checkout.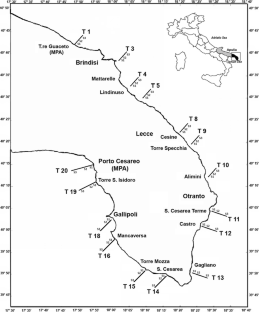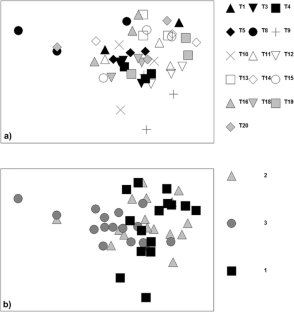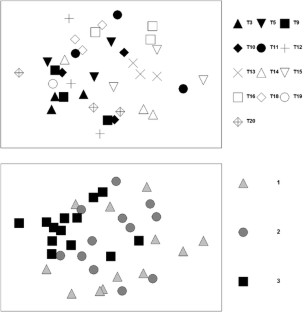 References
Albertelli G, Covazzi-Harriague A, Danovaro R, Fabiano M, Fraschetti S, Pusceddu A (1999) Differential responses of bacteria, meiofauna and macrofauna in a shelf area (Ligurian Sea, NW Mediterranean): role of food availability. J S Res 42:11–26

Anderson MJ (2001) A new method for non-parametric multivariate analysis of variance. Austral Ecol 26(1):32–46

Anderson MJ (2004) DISTLM v. 5: a FORTRAN computer program to calculate a distance-based multivariate analysis for a linear model. Department of Statistics, University of Auckland, New Zealand 10, 2016

Anderson MJ, Gorley RN, Clarke KR (2008) PERMANOVA+ for PRIMER: guide to software and statistical methods. PRIMER-E, Plymouth

Balsamo M, Albertelli G, Ceccherelli VU, Coccioni R, Colangelo MA et al (2010) Meiofauna of the Adriatic Sea: current state of knowledge and future perspective. Chem Ecol 26:45–63. doi:10.1080/02757541003705492

Balsamo M, Semprucci F, Frontalini F, Coccioni R (2012) Meiofauna as a tool for marine ecosystem biomonitoring. In: Cruzado A (ed) Marine ecosystems, InTech Publ, vol 4, pp 77–104

Bianchelli S, Pusceddu A, Buschi E, Danovaro R (2016) Trophic status and meiofauna biodiversity in the northern Adriatic Sea: insights for the assessment of good environmental status. Mar Environ Res 113:18–30. doi:10.1016/j.marenvres.2015.10.010

Bongers T (1990) The maturity index: an ecological measure of environmental disturbance based on nematode species composition. Oecologia 83:14–19. doi:10.1007/BF00324627

Bongers T, Alkemade R, Yeates GW (1991) Interpretation of disturbance-induced maturity decrease in marine nematode assemblages by means of the maturity index. Mar Ecol Prog Ser 76:135–142. doi:10.3354/meps076135

Borja A, Prins TC, Simboura N, Andersen JH, Berg T, Marques JC, Neto JM, Papadopoulou N, Reker J, Teixeira H, Uusitalo L (2014) Tales from a thousand and one ways to integrate marine ecosystem components when assessing the environmental status. Front Mar Sci 1:1–20. doi:10.3389/fmars.2014.00072

Clarke KR, Gorley RN (2006) Primer v6: user manual/tutorial. PRIMER-E, Plymouth

CoNISMa (2001) Qualità dei sistemi marini costieri e proposte localizzate di aree marine protette. Relazione Consorzio Nazionale Interuniversitario per le Scienze del Mare. Regione Puglia

Danovaro R, Gambi C, Mirto S, Sandulli R, Ceccherelli VU (2004) Meiofauna. Biol Mar Mediterr 11:55–97

De Leonardis C, Sandulli R, Vanaverbeke J, Vincx M, De Zio S (2008) Meiofauna and nematode diversity in some Mediterranean subtidal areas of the Adriatic and Ionian Sea. Sci Mar 72:5–13. doi:10.3989/scimar.2008.72n15

Fonseca G, Gallucci F (2016) The need of hypothesis-driven designs and conceptual models in impact assessment studies: an example from the free-living marine nematodes. Ecol Indic 71:79–86. doi:10.1016/j.ecolind.2016.06.051

Frontalini F, Semprucci F, Coccioni R, Balsamo M, Bittoni P, Covazzi-Harriague A (2011) On the quantitative distribution and community structure of the meio and macrofaunal communities in the coastal area of the central Adriatic Sea (Italy). Environ Monit Assess 180:325–344. doi:10.1007/s10661-010-1791-y

Giere O (2009) Meiobenthology, the microscopic fauna in aquatic sediments. Springer, Berlin

Gourbault N, Decraemer W (1994) Two new species of Epsilonema from south Indopacific (Nemata, Epsilonematidae). J Nematol 26:384–391. doi:10.11646/zootaxa.4121.4.2

Guilini K, Bezerra TN, Eisendle-Flöckner U, Deprez T, Fonseca G, Holovachov O, Leduc D et al. (2016) NeMys: world database of free-living marine nematodes. Accessed at http://nemys.ugent.be on 2016–10-13

Höss S, Traunspurger W (2003) Nematodes. In: Markert BA, Breure AM, Zechmeister HG (eds) Bioindicators and biomonitors: principles, concepts and applications, vol 6. Trace Metals and other Contaminants in the Environment, Netherlands, pp 529–554

Höss S, Claus E, Von der Ohe PC, Brinke M, Güde H, Heininger P, Traunspurger W (2011) Nematode species at risk e a metric to assess pollution in soft sediments of freshwaters. Environ Intern 37:940–949. doi:10.1016/j.envint.2011.03.013

Kennedy AD, Jacoby CA (1999) Biological indicators of marine environmental health: meiofauna - a neglected benthic component? Environ Monit Assess 54:47–68. doi:10.1023/A:1005854731889

McIntyre AD, Warwick RM (1984) Meiofauna techniques. In: Holme NA, McIntyre AD (eds) Methods for the study of marine benthos. Blackwell, Oxford, pp 217–244

Moens T, Braeckman U, Derycke S, Fonseca G, Gallucci F, Ingels J, Leduc D, Vanaverbeke J, Van Colen C et al (2013) Ecology of free-living marine nematodes. In: Schmidt-Rhaesa A (ed) Handbook of zoology: Gastrotricha, Cycloneuralia and Gnathifera, vol 2, Nematoda. de Gruyter, Berlin, pp 109–152

Moreno M, Semprucci F, Vezzulli L, Balsamo M, Fabiano M, Albertelli G (2011) The use of nematodes in assessing ecological quality status in the Mediterranean coastal ecosystems. Ecol Indic 11:328–336. doi:10.1016/j.ecolind.2010.05.011

Pielou EC (1969) An introduction to mathematical ecology. Wiley, New York

Platt HM, Warwick RM (1983) Free-living marine nematodes. Part I. British Enoploids. Synopses of the British Fauna. Cambridge University Press, Cambridge

Platt HM, Warwick RM (1988) Free-living marine nematodes. Part II. British Chromadorids. Synopses of the British Fauna. Cambridge University Press, Cambridge

Pusceddu A, Gambi C, Manini E, Danovaro R (2007) Trophic state, ecosystem efficiency and biodiversity of transitional aquatic ecosystems: analysis of environmental quality based on different benthic indicators. Chem Ecol 23:505–515. doi:10.1080/02757540701760494

Raes M, Vanreusel A (2006) Microhabitat type determines the composition of nematode communities associated with sediment-clogged cold-water coral framework in the porcupine Seabight (NE Atlantic). Deep-Sea Res Part I 53:1880–1894. doi:10.1016/j.dsr.2006.08.012

Raes M, De Troch M, Ndaro SGM, Muthumbi A, Guilini K, Vanreusel A (2007) The structuring role of microhabitat type in coral degradation zones: a case study with marine nematodes from Kenya and Zanzibar. Coral Reefs 26:113–126. doi:10.1007/s00338-006-0184-8

Sandulli R, Carriglio D, Deastis S, Marzano A, Gallo D'addabbo M, Gerardi D, De Zio GS (2004) Meiobenthic biodiversity in areas of the Gulf of Taranto (Italy) exposed to high environmental impact. Chem Ecol 20:S379–S386. doi:10.1080/02757540310001639791

Sandulli R, De Leonardis C, Vanaverbeke J (2010) Meiobenthic communities in the shallow subtidal of three Italian marine Protected areas. Ital J Zool 77:186–196

Sandulli R, Semprucci F, Balsamo M (2014) Taxonomic and functional biodiversity variations of meiobenthic and nematode assemblages across an extreme environment: a study case in a blue hole cave. Ital J Zool 81:508–516. doi:10.1080/11250003.2014.952356

Seinhorst JW (1959) A rapid method for the transfer of nematodes from fixative to anhydrous glycerine. Nematologica 4:67–69. doi:10.1163/187529259x00381

Semprucci F, Boi P, Manti A, Covazzi Harriague A, Rocchi M, Colantoni P, Papa S, Balsamo M (2010a) Benthic communities along a littoral of the central Adriatic Sea (Italy). Helgol Mar Res 64:101–115. doi:10.1007/s10152-009-0171-x

Semprucci F, Colantoni P, Baldelli G, Rocchi M, Balsamo M (2010b) The distribution of meiofauna on back-reef sandy platforms in the Maldives (Indian Ocean). Mar Ecol Evol Persp 31:592–607. doi:10.1111/j.1439-0485.2010.00383.x

Semprucci F, Colantoni P, Sbrocca C, Baldelli G, Rocchi M, Balsamo M (2011) Meiofauna in sandy back-reef platforms differently exposed to the monsoons in the Maldives (Indian Ocean). J Mar Syst 87:208–215. doi:10.1016/j.jmarsys.2011.04.002

Semprucci F, Frontalini F, Covazzi-Harriague A, Coccioni R, Balsamo M (2013a) Meio- and macrofauna in the marine area of the Monte St. Bartolo Natural Park (central Adriatic Sea, Italy). Sci Mar 77:189–199. doi:10.3989/scimar.03647.26A

Semprucci F, Colantoni P, Baldelli G, Sbrocca C, Rocchi M, Balsamo M (2013b) Meiofauna associated with coral sediments in the Maldivian subtidal habitats (Indian Ocean). Mar Biodivers 43:189–198. doi:10.1007/s12526-013-0146-7

Semprucci F, Balsamo M, Frontalini F (2014) The nematode assemblage of a coastal lagoon (Lake Varano, southern Italy): ecology and biodiversity patterns. Sci Mar 78:579–588. doi:10.3989/scimar.04018.02A

Semprucci F, Frontalini F, Sbrocca C, Armynot du Châtelet E, Bout-Roumazeilles V et al (2015a) Meiobenthos and free-living nematodes as indicators at the time of the water framework Directive, a study case in the Adriatic Sea. Environ Monit Assess 187:251. doi:10.1007/s10661-015-4493-7

Semprucci F, Losi V, Moreno M (2015b) A review of Italian research on free-living marine nematodes and the future perspectives in their use as ecological indicators (EcoInd). Mediterr Mar Sci 16:352–365. doi:10.12681/mms.1072

Semprucci F, Balsamo M, Sandulli R (2016) Assessment of the ecological quality (EcoQ) of the Venice lagoon using the structure and biodiversity of the meiofaunal assemblages. Ecol Indic 67C:451–457. doi:10.1016/j.ecolind.2016.03.014

Shannon CE, Weaver W (1949) The mathematical theory of communication. University of Illinois, Urbana

Soetaert K, Muthumbi A, Heip C (2002) Size and shape of ocean margin nematodes: morphological diversity and depth related patterns. Mar Ecol Prog Ser 242:179–193. doi:10.3354/meps242179

Tietjen JH (1992) Abundance and biomass of metazoan meiobenthos in the deep-sea. In: Rowe GT, Pariente V (eds) Deep sea food chains and global carbon cycle. Kluwer, Dordrecht, pp 45–62

Torre CM, Selicato M (2013) The support of multidimensional approaches in integrate monitoring for SEA: a case of study. Earth Syst Dynam 4:51–61. doi:10.5194/esd-4-51-2013

Van Hoey G, Borja A, Birchenough S, Buhl-Mortensen L, Degraer S et al (2010) The use of benthic indicators in Europe: from the water framework Directive to the marine strategy framework Directive. Mar Pollut Bull 60:2187–2196. doi:10.1016/j.marpolbul.2010.09.015

Vanaverbeke J, Gheskiere T, Steyaert M, Vincx M (2002) Nematode assemblages from subtidal sandbanks in the southern bight of the North Sea: effect of small sedimentological differences. J Sea Res 48:197–207. doi:10.1016/S1385-1101(02)00165-X

Vanaverbeke J, Soetaert K, Heip C, Vanreusel A (1997) The metazoan meiobenthos along the continental slope of the Goban spur (NE Atlantic). J Sea Res 38:93–107. doi:10.1016/S1385-1101(97)00038-5

Vanreusel A, Fonseca G, Danovaro R, Cristina da Silva M, Esteves AM, Ferrero T et al (2010) The contribution of deep-sea macrohabitat heterogeneity to global nematode diversity. Mar Ecol 31:6–20. doi:10.1111/j.1439-0485.2009.00352.x

Vincx M, Bett BJ, Dinet A, Ferrero T, Gooday AJ, Lambshead PJD, Pfannkuche O, Soltwedel T, Vanreusel A (1994) Meiobenthos of the deep Northeast Atlantic. Adv Mar Biol 30:1–88. doi:10.1016/S0065-2881(08)60061-9

Warwick RM, Platt HM, Somerfield PJ (1998) Free-living marine nematodes. Part III. British Monohysterids. Synopsis of British fauna (new series) No. 53. Field Studies Council, Shrewsbury

Wentworth CK (1922) A scale of grade and class terms for clastic sediments. J Geol 30:377–392

Zeppilli D, Sarrazin J, Leduc D, Martinez Arbizu P, Fontaneto D, Fontanier C et al (2015) Is the meiofauna a good indicator for climate change and anthropogenic impacts? Mar Biodivers 45:505–535. doi:10.1007/s12526-015-0359-z
Acknowledgements
The study was financially supported by the CoNISMa, project: "Interreg Italia/Grecia (Rete di gestione delle acque della regione meridionale del Mare Adriatico e del Mar Ionio – Tutela Ambiente Marino)". We are grateful to the staff of the Department of Zoology (University of Bari) for their help during the sample analysis. We warmly thank the anonymous reviewers, and the Scientific Editor Dr. Daniela Zeppilli for their helpful comments that have greatly improved the manuscript.
Additional information
Communicated by D. Zeppilli
Electronic supplementary material
About this article
Cite this article
Semprucci, F., Balsamo, M., Appolloni, L. et al. Assessment of ecological quality status along the Apulian coasts (eastern Mediterranean Sea) based on meiobenthic and nematode assemblages. Mar Biodiv 48, 105–115 (2018). https://doi.org/10.1007/s12526-017-0745-9
Received:

Revised:

Accepted:

Published:

Issue Date:
Keywords
Meiobenthos

Nematodes

Monitoring

Fauna

Ecological assessment

Shallow subtidal habitats