Abstract
Knowledge of the Haplosyllis species in the Saudi Arabian Red Sea is rather limited, since the so-called cosmopolitan Haplosyllis spongicola and Haplosyllis djiboutiensis apparently present all along the region are the only reported species. However, both are revealed to be species-complexes, the former mostly composed of European species and the later distributed in the Indo-Pacific area. Recently, several new species have been described following more comprehensive taxonomic studies in the respective areas. Haplosyllis leylae sp. nov. can be framed within the "djiboutiensis" complex. The new species, which is herein fully described and illustrated, can be clearly distinguished by the combined presence of numerous small dorsal granules, the low number of articles on each dorsal cirrus, and the chaetal morphology. A dichotomous key of the Indo-Pacific species of Haplosyllis and new information on Haplosyllis eldagainoae are also included.
This is a preview of subscription content, log in to check access.
Access options
Buy single article
Instant access to the full article PDF.
US$ 39.95
Price includes VAT for USA
Subscribe to journal
Immediate online access to all issues from 2019. Subscription will auto renew annually.
US$ 99
This is the net price. Taxes to be calculated in checkout.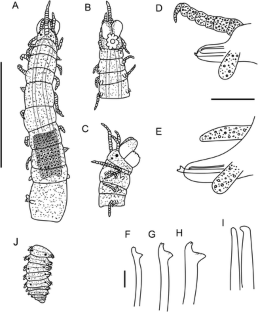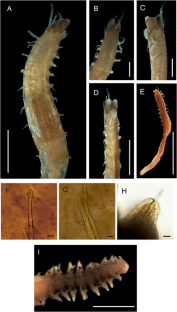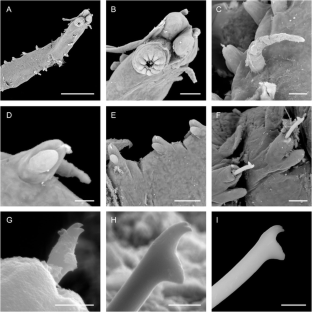 References
Amoureux L (1983) Annélides Polychètes du golfe d'Aqaba (Mer Rouge). Description d'un génère nouveau et de deux espèces nouvelles. Bull Mus Natl Hist Nat B Adansonia 3:723–742

Amoureux L, Josef G, O'Connor B (1980) Annélides Polychètes de l'éponge Fasciospongia cavernosa Schmidt. Cah Biol Mar 21:387–392

Ben-Eliahu MN (1972) Polychaeta Errantia from the Suez Canal. Isr J Zool 21:189–237

Ben-Eliahu MN (1977) Polychaete cryptofauna from rims of similar intertidal vermetid reefs on the Mediterranean coast of Israel and in the Gulf of Elat: Syllinae and Eusyllinae (Polychaete Errantia: Syllidae). Isr J Zool 26:1–58

Ben-Eliahu MN, Safriel UN (1982) A comparison between species diversities of polychaetes from tropical and temperate structurally similar rocky intertidal habitats. J Biogeogr 9:371–390

DiBattista JD, Choat JH, Gaither MR et al (2016) On the origin of endemic species in the Red Sea. J Biogeogr 43:13–30

Fauvel P (1919) Annélides Polychètes de Madagascar, de Djibouti et du Golfe Persique. Arch Zool Exp Gen 58:315–473

Fauvel P (1927) Rapport sur les Annélides Polychètes errantes. Zoological results of the Cambridge expedition to the Suez Channel, 1924. Trans Zool Soc Lond 22:411–439

Fauvel P (1955) Annélides Polychètes de la III Croisière de la Calypso en Mer Rouge en 1952. Ann Inst Oceanogr 30:101–120

Hartman O (1974) Polychaetous Annelids of the Indian Ocean including an account of species collected by members of the International Indian Ocean Expeditions, 1963-64 and a catalogue and bibliography of the species from India. J Mar Biol Assoc India 16:191–252

Hartmann-Schröder G (1960) Polychaeten aus dem Roten Meer. Kiel Meeresforsch 16:69–125

Head SM (1987) Introduction. In: Edwards AJ, Head SM (eds) Red Sea. Pergamon Press, Oxford, pp 1.1–1.8

Kiseleva MI (1971) Qualitative composition and quantitative distribution of Polychaeta in the Red Sea. In: Vodyanitzkii VA (ed) Benthos of the Red Sea's Shelf. Naukova Dumka, Kiev, pp 44–76

Lattig P, Martin D (2009) A taxonomic revision of the genus Haplosyllis Langerhans, 1887 (Polychaeta: Syllidae: Syllinae). Zootaxa 2220:1–40

Lattig P, Martin D (2011) Two new endosymbiotic species of Haplosyllis (Polychaeta: Syllidae) from the Indian Ocean and Red Sea, with new data on H. djiboutiensis from the Persian Gulf. Ital J Zool 78(1):112–123

Lattig P, San Martín G, Martin D (2007) Taxonomic and morphometric analyses of the Haplosyllis spongicola complex (Polychaeta: Syllidae: Syllinae) from Spanish Seas, with re-description of the type species and descriptions of two new species. Sci Mar 71:551–570

Lattig P, Martin D, Aguado MT (2010a) Four new species of Haplosyllis (Polychaeta: Syllidae: Syllinae) from Indonesia. J Mar Biol Assoc UK 90(4):789–798

Lattig P, Martin D, San Martín G (2010b) Syllinae (Syllidae: Polychaeta) from Australia. Part 4. The genus Haplosyllis Langerhans, 1879. Zootaxa 2252:1–36

Magnino G, Gaino E (1998) Haplosyllis spongicola (Grübe) (Polychaeta, Syllidae) associated with two species of sponges from east Africa (Tanzania, Indian Ocean). PSZNI Mar Ecol 19:77–87

Magnino G, Sarà A, Lancioni T, Gaino E (1999) Endobionts of the coral reef sponge Theonella swinhoei (Porifera, Demospongiae). Invertebr Biol 118:213–220

Martin D, Britayev TA, San Martín G, Gil J (2003) Interpopulation variability and character description in the sponge-associated Haplosyllis spongicola complex (Polychaeta: Syllidae). Hydrobiologia 496:145–162

Mohammad MBM (1976) Relationships between the biofouling and growth of the pearl oyster Pinctada fucata (Gould) in Kuwait, Arabian Gulf. Hydrobiologia 51:129–138

Mohammad MBM (1980) Polychaete Annelids from Kuwaitian Islands, Arabian Gulf, with descriptions of four new species. Zool J Linnean Soc Lond 69:31–42

Monro CCA (1937) The John Murray Expedition 1933–34. Polychaeta. Sci Rep Zool 4:243–321

San Martín G (2003) Annelida, Polychaeta II: Syllidae. CSIC Press, Madrid

Sheppard C, Price A, Sheppard ALS (1992) Marine ecology of the Arabian Region. Patterns and processes in extreme tropical environments. Academic, London

Wehe T, Fiege D (2002) Annotated checklist of the polychaete species of the seas surrounding the Arabian Peninsula: Red Sea, Gulf of Aden, Arabian Sea, Gulf of Oman, Arabian Gulf. Fauna of Arabia 19:7–238
Acknowledgements
The author Patricia Lattig holds a post-doctoral contract under the JAE-DOC program of the Consejo Superior de Investigaciones Científicas in the Museo Nacional de Ciencias Naturales of Madrid (MNCN-CSIC). This paper has been partially supported by the projects CTM2014-57949-R funded by the Spanish Ministry of Economy and Competitiveness, and the projects CTM2010-22218 and CTM2013-43287-P funded by the Spanish State Research Plan, and the Consolidated Research Group of Marine Benthic Ecology of the Generalitat de Catalunya (2014SGR120). The scientific research cooperation between King Abdulaziz University (KAU), Faculty of Marine Sciences (FMS), Jeddah, Saudi Arabia, and the Senckenberg Research Institute (SRI), Frankfurt, Germany, in the framework of the Red Sea Biodiversity Project, during which the present material was collected, was funded by KAU GRANT NO. I/1/432-DSR. The authors acknowledge, with thanks, KAU and SRI for technical and financial support.
Additional information
This article is registered in ZooBank under urn:lsid:zoobank.org:pub:6EC80EFA-7DCB-4979-A928-A3A0505F8392
Communicated by M. M. El-Sherbiny
About this article
Cite this article
Cepeda, D., Martin, D., Britayev, T.A. et al. Haplosyllis (Annelida: Syllidae) from Saudi Arabian Red Sea, with the description of a new endosymbiotic species and a dichotomous key for the Indo-Pacific species. Mar Biodiv 47, 1123–1129 (2017). https://doi.org/10.1007/s12526-017-0675-6
Received:

Revised:

Accepted:

Published:

Issue Date:
Keywords
Polychaeta

Haplosyllis

Red Sea

New species

Taxonomy

Dichotomous key