Abstract
In order to assess human impacts and develop rational restoration goals for corals reefs, baseline estimates of fish communities are required. In Saudi Arabian waters of the Red Sea, widespread unregulated fishing is thought to have been ongoing for decades, but there is little direct evidence of the impact on reef communities. To contextualize this human influence, reef-associated fish assemblages on offshore reefs in Saudi Arabia and Sudan in the central Red Sea were investigated. These reefs have comparable benthic environments, experience similar oceanographic influences, and are separated by less than 300 km, offering an ideal comparison for identifying potential anthropogenic impacts such as fishing pressure. This is the first study to assess reef fish biomass in both these regions, providing important baselines estimates. We found that biomass of top predators on offshore Sudanese reefs was on average almost three times that measured on comparable reefs in Saudi Arabia. Biomass values from some of the most remote reefs surveyed in Sudan's far southern region even approach those previously reported in the Northwestern Hawaiian Islands, northern Line Islands, Pitcairn Islands, and other isolated Pacific islands and atolls. The findings suggest that fishing pressure has significantly altered the fish community structure of Saudi Arabian Red Sea reefs, most conspicuously in the form of top predator removal. The results point towards the urgent need for enhanced regulation and enforcement of fishing practices in Saudi Arabia, while making a strong case for protection in the form of no-take marine protected areas to maintain preservation of the relatively intact southern Sudanese Red Sea.
Access options
Buy single article
Instant access to the full article PDF.
USD 39.95
Price excludes VAT (USA)
Tax calculation will be finalised during checkout.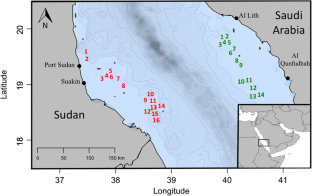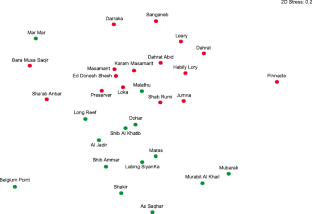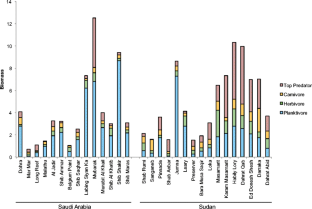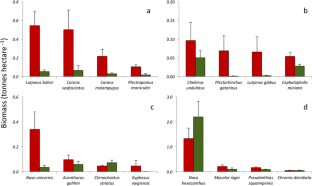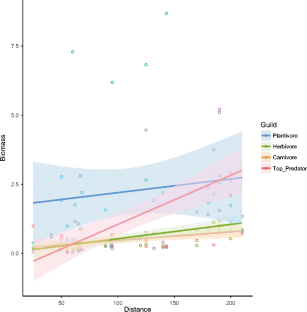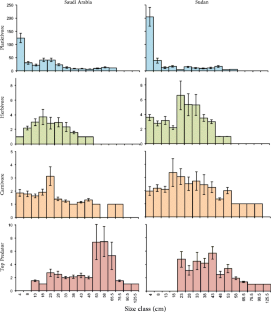 References
Aburto-Oropeza O, Erisman B, Galland GR, Mascarenas-Osorio I, Sala E, Ezcurra E (2011) Large recovery of fish biomass in a no-take marine reserve. Plos One 6(8):1–7

Bates D, Maechler M, Bolker B, Walker S (2015) Fitting linear mixed-effects models using lme4. J Stat Softw 67(1):1–48

Baum JK, Worm B (2009) Cascading top-down effects of changing oceanic predator abundances. J Anim Ecol 28:699–714

Berumen ML, Hoey AS, Bass WH, Bouwmeester J, Catania D, Cochran JEM, Khalil MT, Miyake S, Mughal MR, Spaet JLY, Saenz-Agudelo P (2013) The status of coral reef ecology research in the Red Sea. Coral Reefs 32(3):1–12

Brand F (2009) Critical natural capital revisited: ecological resilience and sustainable development. Ecol Econ 68(3):605–612

Burke L, Reytar K, Spalding M, Perry A (2011) Reefs at risk revisited. World Resources Institute, Washington, DC

Caldwell ZR, Zgliczynski BJ, Williams GJ, Sandin SA (2016) Reef fish survey techniques: assessing the potential for standardizing methodologies. Plos One 11(4):1–14

Chekchak T, Klaus R (2013) Toward a sustainable future for the Red Sea coast of Sudan: part 1. Coastal and marine habitats survey. Cousteau Society, New York

Cinner JE, Graham NAJ, Huchery C, Macneil MA (2012) Global effects of local human population density and distance to markets on the condition of coral reef fisheries. Conserv Biol 27(3):453–458

Clarke KR (1993) Non-parametric multivariate analyses of changes in community structure. Aust J Ecol 18(1):117–143

Clarke CR, Lea JSE, Ormond RFG (2013) Changing relative abundance and behaviour of silky and grey reef sharks baited over 12 years on a Red Sea reef. Mar Freshw Res 64(10):909–919

Coker DJ, Wilson SK, Pratchett MS (2014) Importance of live coral habitat for reef fishes. Rev Fish Biol Fish 24(1):89–126

Cole AJ, Pratchett MS, Jones GP (2008) Diversity and functional importance of coral-feeding fishes on tropical coral reefs. Fish Fish 9:1–22

Demartini EE, Friedlander AM, Sandin SA, Sala E (2008) Differences in fish-assemblage structure between fished and unfished atolls in the northern Line Islands, Central Pacific. Mar Ecol Prog Ser 365:199–215

DeVantier L, Turak E, Al-Shaikh K, De'ath G (2000) Coral communities of the central-northern Saudi Arabian Red Sea. Fauna of Arabia 18:23–66

DiBattista JD, Roberts MB, Bouwmeester J, Bowen BW, Coker DJ et al (2016) A review of contemporary patterns of endemism for shallow water reef fauna in the Red Sea. J Biogeogr 43(3):423–439

Ferretti F, Worm B, Britten GL, Heithaus MR, Lotze HK (2010) Patterns and ecosystem consequences of shark declines in the ocean. Ecol Lett 13:1055–1071

Friedlander AM, Demartini EE (2002) Contrasts in density, size, and biomass of reef fishes between the northwestern and the main Hawaiian Islands: the effects of fishing down apex predators. Mar Ecol Prog Ser 230:253–264

Friedlander AM, Parrish JD (1998) Habitat characteristics affecting fish assemblages on a Hawaiian coral reef. J Exp Mar Biol Ecol 224:1–30

Friedlander AM, Sandin SA, Demartini EE, Sala E (2010) Spatial patterns of the structure of reef fish assemblages at a pristine atoll in the central Pacific. Mar Ecol Prog Ser 410:219–231

Friedlander AM, Caselle JE, Ballesteros E, Brown EK, Turchik A, Sala E (2014) The real bounty: marine biodiversity in the Pitcairn Islands. Plos One 9(6):1–11

Frisch AJ, Ireland M, Rizzari JR, Lonnstedt O, Magenat KA, Mirbach CE, Hobbs J (2016) Reassessing the trophic role of reef sharks as apex predators on coral reefs. Coral Reefs 35(2):459–472

Froese R, Pauly D (2016) FishBase. http://fishbase.org. Accessed 27 January 2017

Gladstone W (1996) Unique annual aggregation of longnose parrotfish (Hipposcarus harid) at Farasan Island (Saudi Arabia, Red Sea). Copeia 1996:483–485

Gladstone W (2002) Fisheries of the Farasan Islands (Red Sea). In: Bell J (ed) Naga, the WorldFish Center Quarterly, vol 25, no 3–4. WorldFish, Penang, pp 30–34

Graham NAJ, McClanahan TR (2013) The last call for marine wilderness? Bioscience 63(5):397–402

Halpern BS, Walbridge S, Selkoe KA, Kappel CV, Micheli F et al (2008) A global map of human impact on marine ecosystems. Science 319(5865):948–952

Hariri KI, Nichols P, Krupp F, Mishrigi S, Barrania A, Ali AF, Kedidi SM (2002) Status of the living marine resources in the Red Sea and Gulf of Aden and their management. Strategic Action Programme for the Red Sea and Gulf of Aden, Regional Organisation for the Conservation of the Environment of the Red Sea and Gulf of Aden (PERSGA). The World Bank, Washington, DC

Hobson ES (1991) Trophic relationships of fishes specialized to feed on zooplankters above coral reefs. In: Sale PF (ed) The ecology of fishes on coral reefs. Academic Press, Inc., San Diego, pp 69–95

Hussey NE, Stroh N, Klaus R, Chekchak T, Kessel ST (2013) SCUBA diver observations and placard tags to monitor grey reef sharks, Carcharhinus amblyrhynchos, at Sha'ab Rumi, the Sudan: assessment and future directions. J Mar Biol Assoc UK 93(2):299–308

Jabado RW, Al-Ghais SM, Hamza W, Henderson AC, Spaet JLY, Shivji MS, Hanner RH (2015) The trade in sharks and their products in the United Arab Emirates. Biol Conserv 181(C):190–198

Jackson JBC (2001) What was natural in the coastal oceans? Proc Natl Acad Sci U S A 98(10):5411–5418

Jackson JBC, Kirby MX, Berger WH, Bjorndal KA, Botsford LW et al (2001) Historical overfishing and the recent collapse of coastal ecosystems. Science 293(5530):629–637

Jin D, Kite-Powell H, Hoagland P, Solow A (2012) A bioeconomic analysis of traditional fisheries in the Red Sea. Mar Resour Econ 27(2):137–148

Knowlton N, Jackson JBC (2008) Shifting baselines, local impacts, and global change on coral reefs. Plos Biol 6(2):215–220

Kürten B, Al-Aidaroos AM, Struck U, Khomayis HS, Gharbawi WY, Sommer U (2014) Influence of environmental gradients on C and N stable isotope ratios in coral reef biota of the Red Sea, Saudi Arabia. J Sea Res 85:379–394

Lieske M, Myers R (2004) Coral reef guide Red Sea. Collins, London

MacNeil MA, Graham NAJ, Cinner JE, Wilson SK, Williams ID, Maina J, Newman S, Friedlander AM, Jupiter S, Polunin NVC, McClanahan TR (2015) Recovery potential of the world's coral reef fishes. Nature 520:341–344

Mapstone BD, Ayling AM (1998) An investigation of optimum methods and unit sizes for the visual estimation of abundances of some coral reef organisms. Great Barrier Reef Marine Park Authority. http://hdl.handle.net/11017/310. Accessed 21 June 2016

McClenachan L (2009) Documenting loss of large trophy fish from the Florida Keys with historical photographs. Conserv Biol 23(3):636–643

Mora C, Aburto-Oropeza O, Bocos AA, Ayotte PM, Banks S et al (2011) Global human footprint on the linkage between biodiversity and ecosystem functioning in reef fishes. Plos Biol 9(4):1–9

Munday PL, Jones GP (1998) The ecological implications of small body size among coral-reef fishes. Oceanogr Mar Biol 36:373–411

Myers RA, Worm B (2003) Rapid worldwide depletion of predatory fish communities. Nature 423:280–283

Myers RA, Baum JK, Shepherd TD, Powers SP, Peterson CH (2007) Cascading effects of the loss of apex predatory sharks from a coastal ocean. Science 315(5820):1846–1850

Ngugi DK, Antunes A, Brune A, Stingl U (2012) Biogeography of pelagic bacterioplankton across an antagonistic temperature-salinity gradient in the Red Sea. Mol Ecol 21(2):388–405

Ormond RFG, Edwards AJ (1987) Red sea fishes. In: Edwards AJ, Heads SM (eds) Key environments: Red Sea. Pergamon Press, Oxford, pp 251–287

Pandolfi JM, Bradbury RH, Sala E, Hughes TP, Bjorndal KA, Cooke RG, McArdle D, McClenachan L, Newman MJH, Paredes G, Warner RR, Jackson JBC (2003) Global trajectories of the long-term decline of coral reef ecosystems. Science 301(5635):955–958

Pauly D (1995) Anecdotes and the shifting baseline syndrome of fisheries. Trends Ecol Evol 10(10):430

Pauly D, Christensen V, Dalsgaard J, Froese R, Torres F Jr (1998) Fishing down marine food webs. Science 279(5352):860–863

Price ARG, Ghazi SJ, Tkaczynski PJ, Venkatachalam AJ, Santillan A, Pancho T, Metcalfe R, Saunders J (2014) Shifting environmental baselines in the Red Sea. Mar Pollut Bull 78(1–2):96–101

R Core Team (2016) R: a language and environment for statistical computer. R Foundation for Statistical Computing. http://www.R-project.org/. Accessed 21 June 2016

Raitsos DE, Pradhan Y, Brewin RJW, Stenchikov G, Hoteit I (2013) Remote sensing the phytoplankton seasonal succession of the Red Sea. Plos One 8(6):1–9

Robbins WD, Hisano M, Connolly SR, Choat JH (2006) Ongoing collapse of coral-reef shark populations. Curr Biol 16(23):2314–2319

Roberts MB, Jones GP, McCormick MI, Munday PL, Neale S, Thorrold S, Robitzch VSN, Berumen ML (2015) Homogeneity of coral reef communities across 8 degrees of latitude in the Saudi Arabian Red Sea. Mar Pollut Bull 105(2):558–565

Roff G, Doropoulos D, Rogers A, Bozec Y, Krueck NC, Aurellado E, Priest M, Birrell C, Mumby PJ (2016) The ecological role of sharks on coral reefs. Trends Ecol Evol 31(5):395–407

Ruppert JLW, Travers MJ, Smith LL, Fortin M, Meekan MG (2013) Caught in the middle: combined impacts of shark removal and coral loss on the fish communities of coral reefs. Plos One 8(9):1–9

Russ GR, Alcala AC (1989) Effects of intense fishing pressure on an assemblage of coral reef fishes. Mar Ecol Prog Ser 56:13–27

Russ GR, Alcala AC (1996) Marine reserves: rates and patterns of recovery and decline of large predatory fish. Ecol Appl 6(3):947–961

Russ GR, Alcala AC (2004) Marine reserves: long-term protection is required for full recovery of predatory fish populations. Oecologia 138(4):622–627

Ruttenberg BI, Hamilton SL, Walsh SM, Donovan MK, Friedlander AM, Demartini EE, Sala E, Sandin SA (2011) Predator-induced demographic shifts in coral reef fish assemblages. Plos One 6(6):1–9

Sala E (2006) Top predators provide insurance against climate change. Trends Ecol Evol 21(9):479–480

Sanders MJ, Morgan GR (1989) Review of the fisheries resources of the Red Sea and Gulf of Aden. FAO, Rome

Sanderson EW, Jaiteh M, Levy MA, Redford KH, Wannebo AV, Woolmer G (2002) The human footprint and the last of the wild. Bioscience 52(10):891–904

Sandin SA, Williams I (2010) Trophic classifications of reef fishes from the tropical U.S. Pacific (Version 1.0). Scripps Institution of Oceongraphy Technical Report. http://escholarship.org/uc/item/5394f7m3. Accessed 21 June 2016

Sandin SA, Smith JE, Demartini EE, Dinsdale EA, Donner SD et al (2008) Baselines and degradation of coral reefs in the Northern Line Islands. Plos One 3(2):1–11

Sheppard CRC, Sheppard ALS (1991) Corals and coral communities of Arabia. In: Buttiker W, Krupp F (eds) Fauna of Saudi Arabia, vol 12. National Commission for Wildlife Conservation and Development, Riyadh, pp 3–170

Sheppard CRC, Price ARG, Roberts CM (1992) Marine ecology of the Arabian region. Academic, San Diego

Spaet JLY (2013) Predictable annual aggregation of longnose parrotfish (Hipposcarus harid) in the Red Sea. Mar Biodivers 43(3):179–180

Spaet JLY, Berumen ML (2015) Fish market surveys indicate unsustainable elasmobranch fisheries in the Saudi Arabian Red Sea. Fish Res 161:356–64

Spaet JLY, Nanninga GB, Berumen ML (2016) Ongoing decline of shark populations in the eastern Red Sea. Biol Conserv 201:20–28

Stallings CD (2009) Fishery-independent data reveal negative effect of human population density on Caribbean predatory fish communities. Plos One 4(5):1–9

Stehli FG, Wells JW (1971) Diversity and age patterns in hermatypic corals. Syst Biol 20(2):115–126

Stevens JD, Bonfil R, Dulvy NK, Walker PA (2000) The effects of fishing on sharks, rays, and chimaeras (chondrichthyans), and the implications for marine ecosystems. J Mar Sci 57(3):476–494

Stevenson C, Katz LS, Micheli F, Block B, Heiman KW, Perle C, Weng K, Dunbar R, Witting J (2007) High apex predator biomass on remote Pacific islands. Coral Reefs 26(1):47–51

Tesfamichael D, Elawad AN (2012) Reconstructing Red Sea fisheries of Sudan: foreign aid and fisheries. In: Tesfamichael D, Pauly D (eds) Catch reconstruction for the Red Sea large marine ecosystem by countries (1950–2010). Fisheries Centre Research Reports, Vancouver, pp 51–70

Tesfamichael D, Pauly D (2016) The Red Sea ecosystem and fisheries. Springer, New York

Tesfamichael D, Pitcher TJ (2006) Multidisciplinary evalution of the sustainability of Red Sea fisheries using Rapfish. Fish Res 78(2–3):227–235

Tesfamichael D, Rossing P (2012) Reconstructing Red Sea fisheries catches of Saudi Arabia: national wealth and fisheries transformation. In: Tesfamichael D, Pauly D (eds) Catch reconstruction for the Red Sea large marine ecosystem by countries (1950–2010). Fisheries Centre Research Reports, Vancouver, pp 153–178

Walsh SM, Hamilton SL, Ruttenberg BI, Donovan MK, Sandin SA (2012) Fishing top predators indirectly affects condition and reproduction in a reef-fish community. J Fish Biol 80(3):519–537

Ward-Paige CA, Flemming JM, Lotze HK (2010a) Overestimating fish counts by non-instantaneous visual censuses: consequences for population and community descriptions. Plos One 5(7):1–9

Ward-Paige CA, Mora C, Lotze HK, Pattengill-Semmens C, McClenachan L, Arias-Castro E, Myers RA (2010b) Large-scale absence of sharks on reefs in the greater-Caribbean: a footprint of human pressures. Plos One 5(8):1–10

Williams ID, Richards BL, Sandin SA, Baum JK, Schroeder RE, Nadon MO, Zgliczynski BJ, Craig P, McIlwain JL, Brainard RE (2011) Differences in reef fish assemblages between populated and remote reefs spanning multiple archipelagos across the central and western Pacific. J Mar Biol 2011:1–14

Williams GJ, Gove JM, Eynaud Y, Zgliczynski BJ, Sandin SA (2015) Local human impacts decouple natural biophysical relationships on Pacific coral reefs. Ecography 38(8):751–761
Acknowledgements
The authors thank MT Khalil and JEM Cochran for providing data management templates and the crucial a/b value database; MB Roberts and members of the KAUST Reef Ecology Lab for assistance in the field; the staff and crew of Dream Divers and Don Questo for facilitating sampling in Saudi Arabia and Sudan, respectively; and JLY Spaet and MT Khalil for their helpful conversations, their passion for conservation, and their comments on previous drafts of this manuscript. This work was supported by KAUST (baseline funding to MLB).
Additional information
Communicated by M. Sonnewald
About this article
Cite this article
Kattan, A., Coker, D.J. & Berumen, M.L. Reef fish communities in the central Red Sea show evidence of asymmetrical fishing pressure. Mar Biodiv 47, 1227–1238 (2017). https://doi.org/10.1007/s12526-017-0665-8
Received:

Revised:

Accepted:

Published:

Issue Date:

DOI: https://doi.org/10.1007/s12526-017-0665-8
Keywords
Biomass

Baselines

Underwater visual census (UVC)

Fish assemblage structure

Coral reefs

Saudi Arabia

Sudan