Abstract
Rhizostoma luteum was first described in 1827 by Quoy and Gaimard under the name Orythia lutea, based on nine specimens collected from the Strait of Gibraltar (southern Iberian Peninsula). After 60 years of no scientific records existing for this species, in 2013, a phylogenetic analysis confirmed that R. luteum differed from Rhizostoma pulmo and Rhizostoma octopus. In the present study, we report historical and recent records of living and stranded specimens of R. luteum since 1998. We reviewed historical accounts and photographic and videographic materials taken by citizens from the northeastern Atlantic Ocean and the Alboran Sea. Because of its similarity with the closely related Mediterranean R. pulmo, R. luteum was frequently misidentified in the Alboran Sea and, likewise, with another medusa from the order Rhizostomeae, Catostylus tagi, in the adjacent Atlantic Ocean coastal regions in the last two decades. The results of this investigation confirm the existence of the scyphomedusa R. luteum in the coastal waters of the west and south coasts of the Iberian Peninsula and west and north shores of Africa. Through a citizen science initiative and our own observations, we were able to confirm more than 150 observations of R. luteum over the past 17 years, demonstrating that this medusa is not such a rare species after all.
Access options
Buy single article
Instant access to the full article PDF.
US$ 39.95
Tax calculation will be finalised during checkout.
Subscribe to journal
Immediate online access to all issues from 2019. Subscription will auto renew annually.
US$ 79
Tax calculation will be finalised during checkout.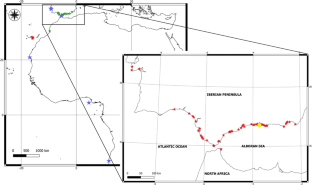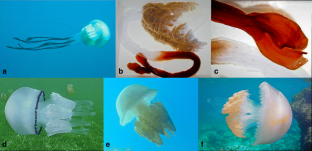 References
Agassiz L (1862) Contributions to the natural history of the United States of America. IV. Little, Brown & Company, Boston, p 151

Arai MN (1997) A functional biology of Scyphozoa. Chapman and Hall, London, p 316

Bayha KM, Dawson MN (2010) New family of allomorphic jellyfishes, Drymonematidae (Scyphozoa, Discomedusae), emphasizes evolution in the functional morphology and trophic ecology of gelatinous zooplankton. Biol Bull 219:249–267

Boero F (2013) Review of Jellyfish Blooms in the Mediterranean and Black Sea. Studies and Reviews. General Fisheries Commission for the Mediterranean. No. 92. FAO, Rome, p 53

Calvín JC (2003) Fondos Marinos de Murcia. Tipos, paisajes, flora y fauna, estado de conservación y mejores inmersiones. Calvín, Murcia, p 168

Doyle TK, Houghton JDR, Buckley SM, Hays GC, Davenport J (2007) The broad-scale distribution of five jellyfish species across a temperate coastal environment. Hydrobiologia 579(1):29–39. doi:10.1007/s10750-006-0362-2

Fuentes V, Straehler-Pohl I, Atienza D, Franco I, Tilves U, Gentile M, Acevedo M, Olariaga A, Gili JM (2011) Life cycle of the jellyfish Rhizostoma pulmo (Scyphozoa: Rhizostomeae) and its distribution, seasonality and inter-annual variability along the Catalan coast and the Mar Menor (Spain, NW Mediterranean). Mar Biol 158(10):2247–2266

García Gómez JC, Magariño Rubio S (2010) Bucear en el último confín de Europa, La Isla de Tarifa. Instituto de Estudios Campogibraltareños, p 327

Grenacher H, Noll FC (1876) Beiträge zur Anatomie und Systematik der Rhizostomeen. Abhandlungen der Senckenbergischen Naturforschung Gesellschaft, 10. Frankfurt am Main

Haeckel E (1879) Das System der Medusen: Erster Theil einer Monographie der Medusen. G. Fischer, Jena, p 672

Hamner WM, Madin LP, Alldredge AL, Gilmer RW, Hamner PP (1975) Underwater observations of gelatinous zooplankton: sampling problems, Feeding biology, and behavior. Limnol Oceanogr 20(6):907–917

Hofrichter R (2003) Das Mittelmeer II. Teil 1, Fauna, Flora, Ökologie. OMEGA, Heidelberg, pp 512–528

Holst S, Sötje I, Tiemann H, Jarms G (2007) Life cycle of the Rhizostome jellyfish Rhizostoma octopus (L.) (Scyphozoa, Rhizostomeae), with studies on cnidocysts and statoliths. Mar Biol 151:1695–1710

Houghton JDR, Doyle TK, Davenport J, Hays GC (2006) Developing a simple, rapid method for identifying and monitoring jellyfish aggregations from the air. Mar Ecol Prog Ser 314:159–170

Kogovšek T, Bogunović B, Malej A (2010) Recurrence of bloom-forming scyphomedusae: wavelet analysis of a 200-year time series. Hydrobiologia 645:81–96

Kramp PL (1955) The medusae of the tropical west coast of Africa. Atl Rep 3:239–324

Kramp PL (1959) Medusae mainly from the west coast of Africa. Mém Inst Sci Nat Belg 3:1–33

Kramp PL (1961) Synopsis of the medusae of the world. J Mar Biol Assoc UK 40:7–382

Lee PLM, Dawson MN, Neill SP, Robins PE, Houghton JDR, Doyle TK, Hays GC (2013) Identification of genetically and oceanographically distinct blooms of jellyfish. J R Soc Interface 10:20120920. doi:10.1098/rsif.2012.0920

Lilley MKS, Houghton JDR, Hays GC (2009) Distribution, extent of inter-annual variability and diet of the bloom-forming jellyfish Rhizostoma in European waters. J Mar Biol Assoc UK 89(1):39–48

Malej A, Vodopivec M, Lucic D, Onofri I, Pestorić B (2014) The lesser-known medusa Drymonema dalmatinum Haeckel 1880 (Scyphozoa, Discomedusae) in the Adriatic sea. Annales Ser Hist Nat 24:79–86

Mariottini GL, Pane L (2010) Mediterranean jellyfish venoms: a review on scyphomedusae. Mar Drugs 8:1122–1152

Mayer AG (1910) Medusae of the world. III. The Scyphomedusae. Carnegie Institution of Washington, Washington

Ocaña Martín A, Sánchez Tocino L, López González S, Viciana Martín JF (2000) Guía Submarina de Invertebrados No Artrópodos, 2nd edn. Editorial Comares, Granada, pp 77–80

Prieto L, Armani A, Macías D (2013) Recent strandings of the giant jellyfish Rhizostoma luteum Quoy and Gaimard, 1827 (Cnidaria: Scyphozoa: Rhizostomeae) on the Atlantic and Mediterranean coasts. Mar Biol 160:3241–3247

Quoy JRC, Gaimard JP (1827) Observations zoologiques faites à bord de l'Astrolabe, en mai 1826, dans le Détroit de Gibraltar. Ann Sci Nat Paris 10:175–237

Ranson G (1949) Résultats scientifiques des croisières du navire école belge "Mercator" IV. II Méduses. Mém Inst Sci Nat Belg 2(33):121–158

Russell FS (1970) The medusae of the British Isles II. Pelagic Scyphozoa with a Supplement to the First Volume on Hydromedusae. Cambridge University Press, Cambridge, p 284

Saldanha L (1997) Fauna submarina Atlântica: Portugal continental, Açores, Madeira. Publicações Europa-América, p 72

Schick KL (1998) Atlas submarino de la Costa del Sol. Schick, Marbella, pp 12–13

Silvertown J (2009) A new dawn for citizen science. Trends Ecol Evol 24:467–471

Stiasny G (1921) Studien über Rhizostomeen mit besonderer berücksichtigung der Fauna des Malaiischen Archipels nebst einer Revision des Systems. In: van Oort ED (ed) Capita Zoologica. Martinus Njhoff, Gravenhage

Stiasny G (1931) Die Rhizostomeen-Sammlung des British Museum (Natural History) in London. Zoöl Meded 14:137–178

Stiasny G (1936) Rhizostoma luteum (Quoy und Gaimard), im Tejo vor Lissabon nachgewiesen. Arch Mus Bocage 7:1–6
Acknowledgements
We would like to thank D. Enayati for his technical assistance and A. Villaescusa, A. Moreno, S. Flecha, M. Ferrer, J. Alonso and F. Martínez-García for their support in the field. We thank the Puerto Deportivo Marina del Este (La Herradura, Granada) for allowing us to sample inside their marina and for providing us with space to conduct our research. This work was financially supported by projects from PERSEUS (FP7-287600) and the Consejería de Medio Ambiente, Junta de Andalucía (Observatorio Global del Estrecho). Parts of this study are the results of a PhD thesis (Kienberger, in prep.). K. K. has received financial assistance from a PhD fellowship from the Rotary Club Geneva Lac, Switzerland and the Rotary Foundation, District 1990. A research grant to L. P. from the Ramón y Cajal Programme of the Spanish MIC is also acknowledged. We would also like to thank C. Mock for consulting on English editing, and Dr. S. Piraino and the four anonymous reviewers for their valuable observations that strengthened the original manuscript.
Additional information
Communicated by S. Piraino
Electronic supplementary material
Below are the links to the electronic supplementary material.
Video of a swimming specimen of R. luteum on September 23, 2014 at Marina del Este, La Herradura (northeastern Alboran Sea): bell diameter of 55 cm, longest terminal appendage 165 cm (record number 102). Source of the video: Darius Enayati. (MP4 5185 kb)
ST1 Summary of historical literature review. (PDF 83 kb)
ST2 Records of R. luteum, R. pulmo and C. tagi from 1993 to 2015. Abbreviations: s swimming; b beached. (PDF 294 kb)
About this article
Cite this article
Kienberger, K., Prieto, L. The jellyfish Rhizostoma luteum (Quoy & Gaimard, 1827): not such a rare species after all. Mar Biodiv 48, 1455–1462 (2018). https://doi.org/10.1007/s12526-017-0637-z
Received:

Revised:

Accepted:

Published:

Issue Date:
Keywords
Rhizostomeae

Scyphomedusa

Rhizostoma pulmo
Catostylus tagi

Citizen science

Alboran Sea