Abstract
Identification of hydrozoans of the family Cytaeididae L. Agassiz, 1862 is confused due to their morphological similarity, to the shortage of morphological characteristics, and to a lack of molecular data. In this study, sequences of nuclear and mitochondrial DNA markers were analyzed from hydroids of Cytaeis Eschscholtz, 1829 collected in the southern Red Sea on shells of Nassarius Duméril, 1805 (Gastropoda: Nassariidae), along with sequences of Cytaeis and Perarella Stechow, 1922 from GenBank. Analyses revealed the paraphyly of the family Cytaeididae, and indicate that the genus Cytaeis may actually belong to the family Bougainvilliidae Lütken, 1850 (Hydrozoa: Anthoathecata). Perarella species grouped within different families and far from Cytaeis species within phylogenetic trees. Additional studies are necessary to confirm the phylogenetic position and formally revise the taxonomy of Perarella. These results demonstrate the need to utilize molecular sequences in re-assessing the taxonomy and phylogeny of filiferan hydrozoans.
Access options
Buy single article
Instant access to the full article PDF.
USD 39.95
Price excludes VAT (USA)
Tax calculation will be finalised during checkout.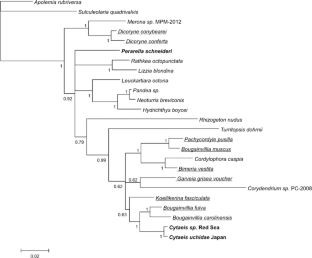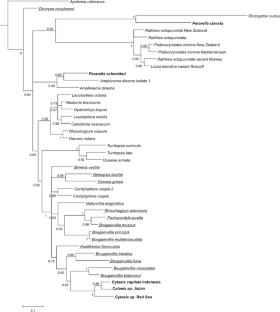 References
Batistić M, Garić R (2016) The case of Bougainvillia triestina Hartlaub 1911 (Hydrozoa, Cnidaria), a 100-year-long struggle for recognition. Mar Ecol 37:145–154. doi:10.1111/maec.12270

Bavestrello G (1987) Description of the hydroid Perarella propagulata sp. nov. (Cnidaria, Hydrozoa) and discussion of relation within the superfamily Bougainvillioidea Petersen. Modern trends in the systematics ecology and evolution of hydroids and Hydromedusae. Clarendon, Oxford, pp 19–27

Bavestrello G, Puce S, Cerrano C, Balduzzi A (2000) Life history of Perarella schneideri (Hydrozoa, Cytaedidae) in the Ligurian Sea. Sci Mar 64:141–146. doi:10.3989/scimar.2000.64s1141

Boero F, Bouillon J, Piraino S (1998) Heterochrony, generic distinction and phylogeny in the family Hydractiniidae (Hydrozoa: Cnidaria). Zool Verh 323:25–36

Bouillon J (1978) Hydroméduses de l'archipel des Sechelles et du Moçambique. Rev Zool Afr 92:117–172

Bouillon J (1980) Hydroméduses de la Mer de Bismarck. (Papouasie Nouvelle-Guinée). Partie3: Anthomedusae - Filifera (Hydrozoa - Cnidaria). Cah Biol Mar 21:307–344

Bouillon J, Boero F (2000) Synopsis of the families and genera of the Hydromedusae of the world, with a list of the worldwide species. Thalass Salentina 24:47–296

Bouillon J, Medel MD, Pagès F, Gili JM, Boero F, Gravili C (2004) Fauna of the Mediterranean hydrozoa. Sci Mar 68:5–438. doi:10.3989/scimar.2004.68s25

Broch H (1922) Hydrozoa benthonica.Beiträge zur Kenntnis der Meeresfauna Westafrikas. Friedrichsen, Hamburg. 1:19–50

Calder DR (1988) Shallow-water hydroids of Bermuda. The Athecatae. R Ont Mus Life Sci Contrib 148:1–107

Cartwright P, Nawrocki AM (2010) Character evolution in Hydrozoa (phylum Cnidaria). Integr Comp Biol 50:456–472. doi:10.1093/icb/icq089

Cartwright P, Evans NM, Dunn CW, Marques AC, Miglietta MP, Schuchert P, Collins AG (2008) Phylogenetics of Hydroidolina (Hydrozoa: Cnidaria). J Mar Biol Assoc UK 88:1663–1672. doi:10.1017/S0025315408002257

Collins AG (2000) Towards understanding the phylogenetic history of Hydrozoa: hypothesis testing with 18S gene sequence data. Sci Mar 64:5–22. doi:10.3989/scimar.2000.64s15

Collins AG (2002) Phylogeny of Medusozoa and the evolution of cnidarian life cycles. J Evol Biol 15:418–432. doi:10.1046/j.1420-9101.2002.00403.x

Collins AG, Winkelmann S, Hadrys H, Schierwater B (2005) Phylogeny of Capitata and Corynidae (Cnidaria, Hydrozoa) in light of mitochondrial 16S rDNA data. Zool Scr 34:91–99. doi:10.1111/j.1463-6409.2005.00172.x

Collins AG, Schuchert P, Marques AC, Jankowski T, Medina M, Schierwater B (2006) Medusozoan phylogeny and character evolution clarified by new large and small subunit rDNA data and an assessment of the utility of phylogenetic mixture models. Syst Biol 55:97–115. doi:10.1080/10635150500433615

Collins AG, Bentlage B, Lindner A, Lindsay D, Haddock SH, Jarms G, Norenburg JL, Jankowski T, Cartwright P (2008) Phylogenetics of Trachylina (Cnidaria: Hydrozoa) with new insights on the evolution of some problematical taxa. J Mar Biol Assoc UK 88:1673–1685. doi:10.1017/S0025315408001732

Dunn CW, Pugh PR, Haddock SH (2005) Molecular phylogenetics of the Siphonophora (Cnidaria), with implications for the evolution of functional specialization. Syst Biol 54:916–935. doi:10.1080/10635150500354837

Edgar R (2004) MUSCLE: multiple sequence alignment with high accuracy and high throughput. Nucleic Acids Res 32:1792–1797. doi:10.1093/nar/gkh340

Eschscholtz F (1829) System der Acalephen. Eine ausführliche Beschreibung aller medusenartigen Strahltiere. Ferdinand Dümmler, Berlin

Evans NM, Lindner A, Raikova EV, Collins AG, Cartwright P (2008) Phylogenetic placement of the enigmatic parasite, Polypodium hydriforme, within the Phylum Cnidaria. BMC Evol Biol 8:139. doi:10.1186/1471-2148-8-139

Hirohito Emperor of Japan (1988) The hydroids of Sagami Bay collected by His Majesty the Emperor of Japan. Biological Laboratory of the Imperial Household, Tokyo

ICZN (International Commission on Zoological Nomenclature) (1999) International Code of Zoological Nomenclature, 4th edn. International Trust for Zoological Nomenclature, London

Jäderholm E (1903) Aussereuropaische Hydroiden im schwedischen Reichsmuseum. Ark Zool 1:259–312

Kayal E, Bentlage B, Cartwright P, Yanagihara AA, Lindsay DJ, Hopcroft RR, Collins AG (2015) Phylogenetic analysis of higher-level relationships within Hydroidolina (Cnidaria: Hydrozoa) using mitochondrial genome data and insight into their mitochondrial transcription. PeerJ 3, e1403. doi:10.7717/peerj.1403

Keane T, Creevey C, Pentony M, Naughton T, Mclnerney J (2006) Assessment of methods for amino acid matrix selection and their use on empirical data shows that ad hoc assumptions for choice of matrix are not justified. BMC Evol Biol 6:29. doi:10.1186/1471-2148-6-29

Kramp PL (1965) The hydromedusae of the Pacific and Indian Oceans. Dana Rep 63:1–162

Lartillot N, Lepage T, Blanquart S (2009) PhyloBayes 3: a Bayesian software package for phylogenetic reconstruction and molecular dating. Bioinformatics 25:2286–2288. doi:10.1093/bioinformatics/btp368

Leclère L, Schuchert P, Cruaud C, Couloux A, Manuel M (2009) Molecular phylogenetics of Thecata (Hydrozoa, Cnidaria) reveals long-term maintenance of life history traits despite high frequency of recent character changes. Syst Biol 58:509–526. doi:10.1093/sysbio/syp044

Lütken C (1850) Nogle Bemaerkninger om Medusernes systematiske Inddeling, navnlig med Hensyn til Forbes's History of Brittish[sic] naked-eyed Medusae. Vidensk Medd Dan Naturhist Foren Kjöbenhavn 1850(1–3):15–35

Miglietta MP, Cunningham CW (2012) Evolution of life cycle, colony morphology, and host specificity in the family Hydractiniidae (Hydrozoa, Cnidaria). Evolution 66:3876–3901. doi:10.1111/j.1558-5646.2012.01717.x

Motz-Kossowska S (1905) Contribution à la connaissance des hydraires de la Méditerranée occidentale. I. Hydraires gymnoblastiques. Arch Zool Exp Gén (Serie 4) 3:39–98

Navas-Pereira D, Vannucci M (1991) The Hydromedusae and water masses of the Indian Ocean. Bol Inst Oceanogr 39:25–60. doi:10.1590/S0373-55241991000100003

Nawrocki AM, Schuchert P, Cartwright P (2010) Phylogenetics and evolution of Capitata (Cnidaria: Hydrozoa), and the systematics of Corynidae. Zool Scr 39:290–304. doi:10.1111/j.1463-6409.2009.00419.x

Peña Cantero AL (2015) Review of some little-known benthic hydroids (Cnidaria, Hydrozoa) from the Southern Ocean. Zootaxa 3972:369–392. doi:10.11646/zootaxa.3972.3.4

Peña Cantero ÁL, Sentandreu V, Latorre A (2010) Phylogenetic relationships of the endemic Antarctic benthic hydroids (Cnidaria, Hydrozoa): what does the mitochondrial 16S rRNA tell us about it? Polar Biol 33:41–57. doi:10.1007/s00300-009-0683-5

Prudkovsky AA (2012) Life cycle and feeding of Bougainvillia superciliaris (L.Agassiz, 1849) (Cnidaria: Hydrozoa: Filifera) in the White Sea. Invertebr Zool 9:71–90

Prudkovsky AA, Neretina TV (2016) The life cycle of Catablema vesicarium (A. Agassiz, 1862) (Hydrozoa, Pandeidae). Polar Biol 39:533–542. doi:10.1007/s00300-015-1805-x

Prudkovsky AA, Ivanenko VN, Nikitin MA, Lukyanov KA, Belousova A, Reimer JD, Berumen ML (2016) Green fluorescence of Cytaeis hydroids living in association with Nassarius gastropods in the Red Sea. PLoS ONE 11, e0146861. doi:10.1371/journal.pone.0146861

Puce S, Arillo A, Cerrano C, Romagnoli R, Bavestrello G (2004) Description and ecology of Cytaeis capitata n. sp. (Hydrozoa, Cytaeididae) from Bunaken Marine Park (North Sulawesi, Indonesia). Hydrobiologia 530(531):503–511. doi:10.1007/978-1-4020-2762-8_57

Rees WJ (1956) Revision of the hydroid genus Perigonimus. Bull Br Mus Nat Hist 3:337–350

Rees WJ (1962) Hydroids of the family Cytaeidae L. Agassiz, 1862. Bull Br Mus Nat Hist Zool 8:381–400

Russell FS (1953) The medusae of the British Isles. Cambridge University Press, London

Schuchert P (2007) The European athecate hydroids and their medusae (Hydrozoa, Cnidaria): Filifera part 2. Rev Suisse Zool 114:195–396

Schuchert P (2016) World Hydrozoa database. Accessed at http://www.marinespecies.org/hydrozoa on 2016-05-31

Schuchert P, Reiswig HM (2006) Brinckmannia hexactinellidophila, n. gen., n. sp.: a hydroid living in tissues of glass sponges of the reefs, fjords, and seamounts of Pacific Canada and Alaska. Can J Zool 84:564–572. doi:10.1139/z06-031

Siebert S, Pugh PR, Haddock SH, Dunn CW (2013) Re-evaluation of characters in Apolemiidae (Siphonophora), with description of two new species from Monterey Bay, California. Zootaxa 3702:201–232. doi:10.11646/zootaxa.3702.3.1

Stamatakis A (2014) RAxML Version 8: a tool for Phylogenetic Analysis and Post-Analysis of Large Phylogenies. Bioinformatics. doi:10.1093/bioinformatics/btu033

Stechow E (1922) Zur Systematik der Hydrozoen, Stromatoporen, Siphonophoren, Anthozoen und Ctenophoren. Arch Naturgesch 88:141–155

Uchida T (1964) A new hydroid species of Cytaeis, with some remarks on the interrelationships in the Filifera. Publ Seto Mar Biol Lab 12:133–144

Wollschlager J, Folino-Rorem N, Daly M (2013) Nematocysts of the invasive hydroid Cordylophora caspia (Cnidaria: Hydrozoa). Biol Bull 224:99–109

Zagmajster M, Delić T, Prevorĉnik S, Zakšek V (2013) New records and unusual morphology of the cave hydrozoan Velkovrhia enigmatica Matjašiĉ and Sket, 1971 (Cnidaria: Hydrozoa: Bougainvilliidae). Nat Sloveniae 15:13–22

Zheng L, He J, Lin Y, Cao W, Zhang W (2014) 16S rRNA is a better choice than COI for DNA barcoding hydrozoans in the coastal waters of China. Acta Oceanol Sin 33:55–76. doi:10.1007/s13131-014-0415-8
Acknowledgments
We are sincerely grateful to Dr Martyn E.Y. Low, Secretary of the International Commission on Zoological Nomenclature, for his thorough report on the taxonomic validity of cytaeidid and bougainvillid hydrozoan names. Fieldwork was supported by the King Abdullah University of Science and Technology Office of Competitive Research Funds under grant number CRG-1-2012-BER-002; molecular laboratory work was conducted with support from the Russian Foundation for Basic Research (#15-29-02601); data analyses and processing of the paper were supported by the Russian Scientific Foundation (#14-50-00029). The funders had no role in the study design, data collection and analyses, decision to publish, or preparation of the manuscript.
Additional information
Communicated by B. W. Hoeksema
About this article
Cite this article
Prudkovsky, A.A., Nikitin, M.A., Berumen, M.L. et al. On the paraphyly of Cytaeididae and placement of Cytaeis within the suborder Filifera (Hydrozoa: Anthoathecata). Mar Biodiv 47, 1057–1064 (2017). https://doi.org/10.1007/s12526-016-0534-x
Received:

Revised:

Accepted:

Published:

Issue Date:

DOI: https://doi.org/10.1007/s12526-016-0534-x
Keywords