Abstract
A new copepod species, Speleophriopsis mljetensis, collected from an anchialine cave Bjejajka on Mljet Island (Croatia) is described. The prosome of the new species is 5-segmented; the urosome has five somites in females and six in males; the genital double-somite is symmetrical and is longer than wide; the caudal rami are symmetrical, with seta I well developed; the antennules of both sexes are 27-segmented and symmetrical; the antennal exopod is 7-segmented; the maxillule possesses 15 armature elements on the praecoxal arthrite and the proximal basal endite has three slender setae and one stout claw-like seta, the fifth legs are symmetrical, 4-segmented and uniramous, and the distal segment is elongate and armed with seven and six elements in males and females, respectively. Speleophriopsis mljetensis is comparated with similar species S. balearicus and S. canariensis. The new species is mainly distinguished by the armature of the genital operculum, the fifth legs of both sexes, maxilliped distal segment armature and total length of both sexes. This is the second report of a speleophriid copepod, otherwise thought to be a Tethyan relict, from an Adriatic anchialine cave. In the Bjejajka Cave, the salinity varied between 1.5 at the surface to 39 psu at the bottom, and the temperature ranged between 14.2 and 16.6 °C. It might be assumed that it colonised Bjejajka anchialine cave from its natural deep-sea habitat. However, the distributions of speleophriids in the Mediterranean are difficult to explain; therefore, this finding is of particular importance, contributing to our knowledge of the global biogeography of these Tethyan relicts.
Access options
Buy single article
Instant access to the full article PDF.
USD 39.95
Price excludes VAT (USA)
Tax calculation will be finalised during checkout.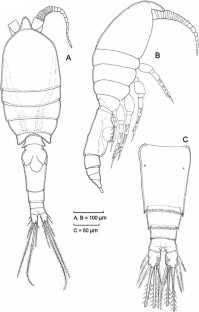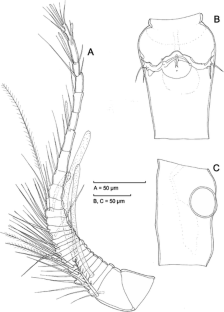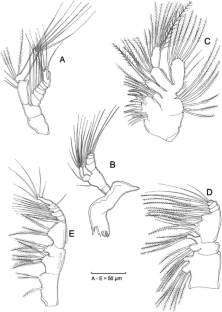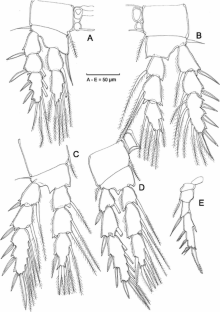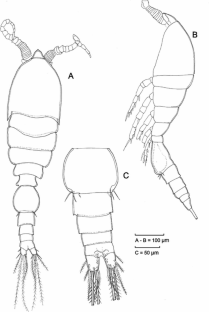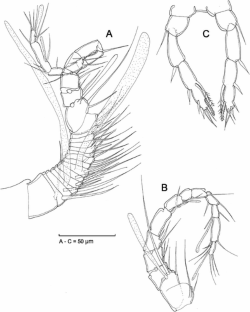 References
Bishop RE, Humphreys WF, Cukrov N, Žic V, Boxshall GA, Cukrov M, Iliffe TM, Kršinić F, Moore WS, Pohlman JW, Sket B (2015) 'Anchialine' redefined as a subterranean estuary in a crevicular or cavernous geological setting. J Crustacean Biol 35:511–514

Boxshall GA (1987) Three new genera and five new species of misophrioid copepods (Crustacea) from anchialine caves on Indo-West Pacific and North Atlantic Islands. Zool J Linn Soc 91:223–252

Boxshall GA (1989) Colonization of inland marine caves by misophrioid copepods. J Zool 219:521–526

Boxshall GA, Halsey SH (2004) An introduction to copepod diversity. The Ray Society, London, 966 pp

Boxshall GA, Iliffe TM (1986) New cave-dwelling misophrioids (Crustacea: Copepoda) from Bermuda. Sarsia 71:55–64

Boxshall GA, Iliffe TM (1990) Three new species of misophrioid copepods from oceanic islands. J Nat Hist 24:595–613

Boxshall GA, Jaume D (2000) Discoveries of cave misophrioids (Crustacea: Copepoda) shed new light on the origin of anchialine faunas. Zool Anz 239:1–19

Boxshall GA, Zylinski S, Jaume D, Iliffe TM, Suárez-Morales E (2014) A new genus of Speleophriid copepod (Copepoda: Misophrioida) from a cenote in the Yucatan, Mexico with a phylogenetic analysis at the species level. Zootaxa 3821:321–336

Cuculić V, Cukrov N, Kwokal Ž, Mlakar M (2011) Distribution of trace metals in anchialine caves of Adriatic Sea, Croatia. Estuar Coast Shelf Sci 95:253–263

Huys R (1988) Stygofauna of the Canary Islands: 11. Boxshallia bulbantennulata gen. et spec. nov. (Copepoda: Misophrioida) from an anchihaline lava pool on Lanzarote, Canary Islands. Stygologia 4:138–154

Huys R, Boxshall GA (1991) Copepod evolution. The Ray Society, London, 468 pp

Jaume D, Boxshall GA (1996a) A new genus and two new species of cave-dwelling Misophrioid copepods from the Balearic Islands (Mediterranean). J Nat Hist 30:989–1006

Jaume D, Boxshall GA (1996b) The persistence of an ancient marine fauna in Mediterranean waters: new evidence from misophrioid copepods living in anchihaline caves. J Nat Hist 30:1583–1595

Jaume D, Boxshall GA, Iliffe TM (1998) Two new genera of misophrioid copepods (Crustacea) from an anchihaline cave in the Bahamas. J Nat Hist 32:661–681

Jaume D, Boxshall GA, Humphreys WF (2001) New stygobiont copepods (Calanoida; Misophrioida) from Bundera Sinkhole, an anchialine cenote in north-western Australia. Zool J Linn Soc 133:1–24

Kršinić F (2005a) Speleohvarella gamulini gen. et sp. nov., a new copepod (Calanoida, Stephidae) from an anchialine cave in the Adriatic Sea. J Plank Res 27:607–615

Kršinić F (2005b) Badijella jalzici—a new genus and species of calanoid copepod (Calanoida, Ridgewayiidae) from an anchialine cave on the Croatian Adriatic coast. Mar Biol Res 1:281–289

Kršinić F (2008) Description of Speleophria mestrovi sp. nov., a new copepod (Misophrioida) from an anchialine cave in the Adriatic Sea. Mar Biol Res 4:304–312

Krstulović N, Šolić M, Šantić D, Maršić-Lučić J, Ordulj M, Šestanović S (2013) Microbial community structure in two anchialine caves on Mljet Island (Adriatic Sea). Acta Adriat 54:183–198

Sket B (1996) The ecology of anchihaline caves. Trends Ecol Evol 11:221–225

Žic V, Truesdale VW, Cuculić V, Cukrov N (2011) Nutrient speciation and hydrography in two anchialine caves in Croatia: tools to understand iodine speciation. Hydrobiologia 677:129–148
Acknowledgements
I would like to thank Branko Jalžić from the Croatian Natural History Museum (Zagreb) and members of the Croatian Biospeleological Society in Zagreb for collecting the material on which this work was based. Many thanks go to dr.sc. Nikola Tvrtković for his supported investigations of anchialine caves along the eastern Adriatic coast. I would also like to thank Geoff A. Boxshall and the anonymous reviewers for their suggestions on the improvement of this paper.
Additional information
Communicated by M. Schratzberger
This article is registered in ZooBank under urn:lsid:zoobank.org: pub:CF6E6599-0EAA-45B2-A217-7BF658B240C9.
About this article
Cite this article
Kršinić, F. A new species of Speleophriopsis (Copepoda: Misophrioida) from an anchialine cave in the Adriatic Sea, Mediterranean. Mar Biodiv 47, 941–947 (2017). https://doi.org/10.1007/s12526-016-0533-y
Received:

Revised:

Accepted:

Published:

Issue Date:

DOI: https://doi.org/10.1007/s12526-016-0533-y
Keywords
Adriatic Sea

Anchialine caves

Copepoda

Misophrioida

Stygofauna