Abstract
Isopods are micropredators of deep-water sharks; however, their associations are poorly described in the scientific literature. We present the association of three isopod genera Aega sp., Aegaphales sp., and Cirolana sp. with two species of deep-sea shark, the Cuban dogfish (Squalus cubensis) and the sharpnose sevengill (Heptranchias perlo). Although limited conclusions can be drawn from this observation, it provides a novel association of micropredatory isopods with two poorly studied species of deep-water shark.
This is a preview of subscription content, log in to check access.
Access options
Buy single article
Instant access to the full article PDF.
US$ 39.95
Price includes VAT for USA
Subscribe to journal
Immediate online access to all issues from 2019. Subscription will auto renew annually.
US$ 99
This is the net price. Taxes to be calculated in checkout.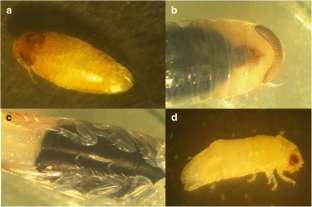 References
Bruce NL (2004) Reassessment of the isopod crustacean Aega deshaysiana (Milne Edwards, 1840)(Cymothoida: Aegidae): a world-wide complex of 21 species. Zool J Linnean Soc 142(2):135–232

Brusca RC, Wetzer R, France SC (1995) Cirolanidae (Crustacea: Isopoda: Flabellifera) of the tropical eastern Pacific. Oceanogr Lit Rev 11(42):1001

Bunkley-Williams L, Williams EH (1998) Isopods associated with fishes: a synopsis and corrections. J Parasitol 84(5):893–896

Moreira PS, Sadowsky V (1978) An annotated bibliography of parasitic Isopoda (Crustacea) of Chondrichthyes. Bol Inst Oceanogr 27(2):95–152

Sadowsky V, Moreira PS (1981) Occurrence of Squalus cubensis Rivero, 1936, in the Western South Atlantic Ocean, and incidence of its parasitic isopod Lironeca splendida sp. n. Stud Neotropical Fauna Environ 16(3):137–150
Acknowledgments
Thanks to N. Bruce for ID, The Cape Eleuthera Institute, Guy Harvey Ocean Foundation, Sigma Xi Scientific Research Society, PADI Foundation, and Experiment.com donors for funding, and to C Ward and K Magnenat for lab assistance.
Additional information
Communicated by A. Brandt
About this article
Cite this article
Shipley, O., Talwar, B., Grubbs, D. et al. Isopods present on deep-water sharks Squalus cubensis and Heptranchias perlo from The Bahamas. Mar Biodiv 47, 789–790 (2017). https://doi.org/10.1007/s12526-016-0519-9
Received:

Revised:

Accepted:

Published:

Issue Date:
Keywords
Scientific Literature

Ventral Surface

Cuban

Specific Report

Active Predator