Abstract
Detailed observations in the deep sea can reveal previously unknown behaviour, species interactions and fine-scale habitat heterogeneity. Here, the first in situ images of the black coral Schizopathes sp. (Anthozoa: Antipatharia) in the deep western Indian Ocean have been obtained from remotely operated vehicle video footage and time-lapse photography. In these images, there appears to be an association with the cusk eel Bassozetus (Family: Ophidiidae). In the primary observation, chance encounters revealed the fish interacted with the anitpatharian on multiple occasions over several days. Subsequent time-lapse camera footage showed the fish remained almost exclusively underneath the antipatharian for the duration of a 30-h deployment. Excursions from the cover of the antipatharian were for less than 2 min. The primary observation is supported by two similar encounters in the same region. Observed reduction in the tail-beat frequency of the fish under the antipatharian suggests reduced energy requirements for the ophidiid in this position. The observations demonstrate the role that even individual coral colonies play as a source of three-dimensional structure, providing habitat heterogeneity in the deep sea.
Access options
Buy single article
Instant access to the full article PDF.
USD 39.95
Price includes VAT (USA)
Tax calculation will be finalised during checkout.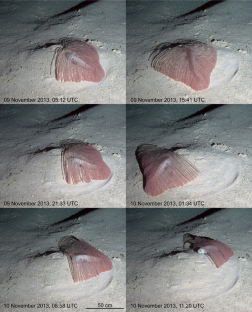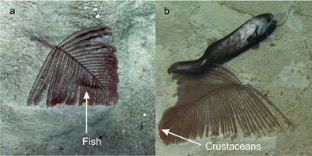 References
Angel MV (1973) The description of the female of the ostracod Bathyconchoecia sagittarius Deevey, 1968 (Myodocopida, Halocyprididae). Crustaceana 25:211–219

Braga-Henriques A et al (2012) Carrying behaviour in the deep-sea crab Paromola cuvieri (Northeast Atlantic). Mar Biodivers 42:37–46. doi:10.1007/s12526-011-0090-3

Buhl-Mortensen L, Mortensen PB (2004) Symbiosis in deep-water corals. Symbiosis 37:33–61

Buhl-Mortensen L et al (2010) Biological structures as a source of habitat heterogeneity and biodiversity on the deep ocean margins. Mar Ecol Evol Perspect 31:21–50. doi:10.1111/j.1439-0485.2010.00359.x

Cairns SD (2007) Deep-water corals: an overview with special reference to diversity and distribution of deep-water Scleractinian corals. Bull Mar Sci 81:311–322

Davis WP, Cohen DM (1968) A gobiid fish and palaemonid shrimp living on an antipatharian sea whip in the tropical Pacific. Bull Mar Sci 18:749–761

de Matos V, Gomes-Pereira JN, Tempera F, Ribeiro PA, Braga-Henriques A, Porteiro F (2014) First record of Antipathella subpinnata (Anthozoa, Antipatharia) in the Azores (NE Atlantic), with description of the first monotypic garden for this. Deep-Sea Res II 99:113–121. doi:10.1016/j.dsr2.2013.07.003

Deidun A, Andaloro F, Bavestrello G, Canese S, Consoli P, Micallef A, Romeo T, Bo M (2015) First characterisation of a Leiopathes glaberrima (Cnidaria: Anthozoa: Antipatharia) forest in Maltese exploited fishing grounds. Ital J Zool 82:271–280. doi:10.1080/11250003.2014.986544

Du Preez C, Tunnicliffe V (2011) Shortspine thornyhead and rockfish (Scorpaenidae) distribution in response to substratum, biogenic structures and trawling. Mar Ecol Prog Ser 425:217–231. doi:10.3354/meps09005

Dunn MR, Szabo A, McVeagh MS, Smith PJ (2010) The diet of deepwater sharks and the benefits of using DNA identification of prey. Deep-Sea Res I 57:923–930. doi:10.1016/j.dsr.2010.02.006

Gartner JV Jr, Crabtree RE, Sulak KJ (1997) Feeding at depth. In: Randall DJ, Farrell AP (eds) Deep-sea fishes. Academic, San Diego

Gates AR, Jones DOB (2012) Recovery of benthic Megafauna from anthropogenic disturbance at a hydrocarbon drilling well (380 m depth in the Norwegian Sea). PLoS ONE 7. doi:10.1371/journal.pone.0044114

Guinot D, Wicksten M (2015) Camouflage: carrying behaviour, decoration behaviour, and other modalities of concealment in Brachyura. In: Castro P, Davie P, Guinot D, Schram F, Klein CV (eds) Treatise on zoology - anatomy, taxonomy, biology. The Crustacea, vol 9, part C (2 vols) Brill, Brill Online. doi:10.1163/9789004190832_013

Hecker B, Blechschmidt G (1980) Final Historical Coral Report: Epifauna of the Northeastern US Continental Margin. Final report–Canyon assessment study in the Midand North Atlantic areas of the US outer continental shelf by B. Hecker, G. Blechschmidt and P. Gibson. US Department of Interior, Bureau of Land Management, Washington, DC. Contract No. BLM AA551-CT8-49. A1-A114

Hollister CD, Heezen BC (1967) The floor of the Bellingshausen Sea. In: Hersey JB (ed) Deep-sea photography. John Hopkins Press, Baltimore, pp 177–189

Jamieson AJ, Fujii T, Solan M, Matsumoto AK, Bagley PM, Priede IG (2009) Liparid and macrourid fishes of the hadal zone: in situ observations of activity and feeding behaviour. Proc R Soc Lond B 276:1037–1045. doi:10.1098/rspb.2008.1670

Jones DOB (2009) Using existing industrial remotely operated vehicles for deep-sea science. Zool Scr 38:41–47. doi:10.1111/j.1463-6409.2007.00315.x

Longmore C et al (2014) Ocean-scale connectivity and life cycle reconstruction in a deep-sea fish. Can J Fish Aqaut Sci 71:1312–1323. doi:10.1139/cjfas-2013-0343

Menzies RJ, George RY, Rowe GT (1973) Abyssal environment and ecology of the world oceans. Wiley, New York

Moore JA, Auster PJ (2009) Commensalism between juvenile cusk eels and pancake urchins on Western North Atlantic seamounts. Bull Peabody Mus Nat Hist 50:381–386

Moore ABM, Gates AR (2015) Deep-water observation of scalloped hammerhead Sphyrna lewini in the western Indian Ocean off Tanzania. Mar Biodivers Rec 8:e91. doi:10.1017/S1755267215000627

Morris K, Tyler PA, Murton B, Rogers AD (2012) Lower bathyal and abyssal distribution of coral in the axial volcanic ridge of the Mid-Atlantic Ridge at 45°N. Deep-Sea Res I 62:32–39. doi:10.1016/j.dsr.2011.11.009

Morris KJ et al (2014) A new method for ecological surveying of the abyss using autonomous underwater vehicle photography. Limnol Oceanogr Methods 12:795–809. doi:10.4319/lom.2014.12.795

Nielsen JG, Merrett NR (2000) Revision of the cosmopolitan deep-sea genus Bassozetus (Pisces: Ophidiidae) with two new species. Galathea Rep 18:7–56

Ohlberger J, Staaks G, Hölker F (2007) Estimating the active metabolic rate (AMR) in fish based on tail beat frequency (TBF) and body mass. J Exp Zool A 307:296–300

Opresko DM (1997) Review of the genus Schizopathes (Cnidaria: Antipatharia: Schizopathidae) with a description of a new species from the Indian Ocean. Proc Biol Soc Wash 110:157–166

Relini G, Relini M, Montanari M (2000) An offshore buoy as a small artificial island and a fish-aggregating device (FAD) in the Mediterranean. In: Jones MB, Azevedo JMN, Neto AI, Costa AC, Martins AMF (eds) Island, ocean and deep-sea biology, vol 152. Developments in hydrobiology. Springer, Dordrecht, pp 65–80. doi:10.1007/978-94-017-1982-7_7

Rodríguez-Cabello C, Sánchez F (2014) Is Centrophorus squamosus a highly migratory deep-water shark? Deep-Sea Res I 92:1–10. doi:10.1016/j.dsr.2014.06.005

Ruxton GD (2009) Non-visual crypsis: a review of the empirical evidence for camouflage to senses other than vision. Philos Trans R Soc Lond B 364:549–557. doi:10.1098/rstb.2008.0228

Shapiro OH et al (2014) Vortical ciliary flows actively enhance mass transport in reef corals. Proc Natl Acad Sci U S A 111:13391–13396. doi:10.1073/pnas.1323094111

Trueman CN, MacKenzie KM, Palmer MR (2012) Identifying migrations in marine fishes through stable-isotope analysis. J Fish Biol 81:826–847. doi:10.1111/j.1095-8649.2012.03361.x

Wagner D, Luck DG, Toonen RJ (2012) The biology and ecology of black corals (Cnidaria: Anthozia: Hexacorallia: Antipatharia). In: Lesser M (ed) Advances in marine biology, vol 63, vol 63. Advances in marine biology. Elsevier, San Diego, pp 67–132. doi:10.1016/b978-0-12-394282-1.00002-8

Watling L (2011) Notes on the habitat of the deep-sea caridean shrimp, Bathypalaemonella serratipalma Pequegnat. Crustaceana Monogr 14:707–714

Wicksten MK, Heathman T (2015) New host records for Bathypalaemonella serratipalma (Caridea: Bathypalaemonellidae) in the northern Gulf of Mexico. Mar Biodivers Rec 8:e96. doi:10.1017/S1755267215000779, 94 pages

Wicksten M, Nuttall M, Hickerson E (2014) Crustaceans from antipatharians on the banks of the northwestern Gulf of Mexico. Zookeys 457:45–54
Acknowledgments
ARG was funded by NERC though the SERPENT Project for this work. We thank L. Werre, J. Moirana, C. Wood, S. Murray and D. Hudson (BG Group) for funding the SERPENT study in the area. Thanks to the crew of the Deepsea Metro I for assistance at sea, especially Oceaneering International ROV supervisors (F. Lynch, R. Makowichuk). We thank Dennis Opresko for comments on the antipatharian identification. Thanks to Barbara Hecker for access to an additional image of an ophidiid in association with a coral. Thanks to the editor Ricardo Serrão Santos and two anonymous reviewers whose comments improved this manuscript.
Additional information
Communicated by R. Serrao Santos
Electronic supplementary material
Below is the link to the electronic supplementary material.
About this article
Cite this article
Gates, A.R., Morris, K.J., Jones, D.O.B. et al. An association between a cusk eel (Bassozetus sp.) and a black coral (Schizopathes sp.) in the deep western Indian Ocean. Mar Biodiv 47, 971–977 (2017). https://doi.org/10.1007/s12526-016-0516-z
Received:

Revised:

Accepted:

Published:

Issue Date:
Keywords
Antipatharia

SERPENT Project

Energy conservation

Ophidiidae

Tail-beat frequency

Time-lapse photography