Abstract
A combination of benthic surveys and photographic records was used to evaluate the abundance and diversity of sea slugs around the island of Koh Tao, Thailand. Observations and records spanning over 14 years yielded 87 different species, including seven Sacoglossa, four Cephalaspidea, three Anaspidea, one Pleurobranchomorpha, and 72 species of Nudibranchia. Of these, seven records are claimed to be first for the Gulf of Thailand, and a further 25 species are found to be first records for Thailand, according to current literature. Analysis of the relative abundance based on estimated frequency of sightings, and geographic distribution based on number of different dive sites, was carried out. Analyses revealed that although the diversity of species for an island of its size was relatively high, a majority of species had a low frequency of sightings. Furthermore, a number of records had limited geographic ranges or were isolated to specific ecological niches. Analysis of preferred substrate type for the different species showed that a significant proportion of species were isolated outside the coral reef areas and are, therefore, unlikely to be observed by the diving community. These records indicate a greater wealth of biodiversity of charismatic organisms in non-reef areas than previously thought, which can help to encourage non-coral reef tourism in an area where coral reefs are under threat in part due to over-use by SCUBA diving.
Access options
Buy single article
Instant access to the full article PDF.
USD 39.95
Price excludes VAT (USA)
Tax calculation will be finalised during checkout.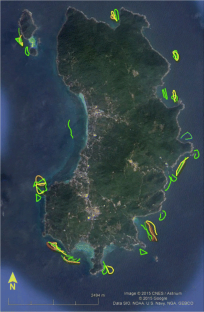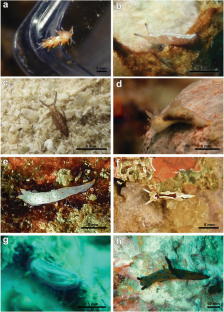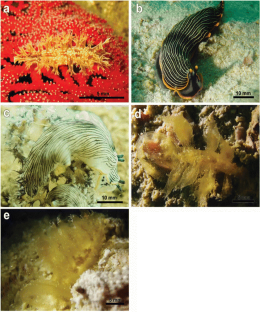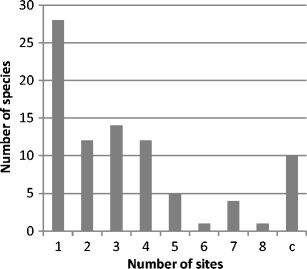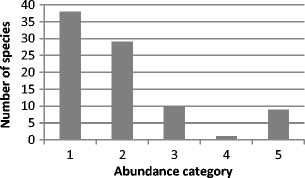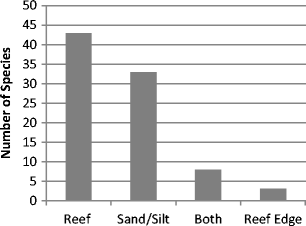 References
Bouchet P, Rocroi JP (2005) Classification and nomenclature of gastropod families. Malacologia 47:1–397

Brunckhorst DJ (1993) The Systematics and Phylogeny of Phyllidiid Nudibranchs (Doridoidea). Rec Aust Mus 16:1–107

Burghardt I, Schrödl M, Wägele H (2008) Three new solar-powered species of the genus Phyllodesmium Ehrenberg, 1831 (Mollusca : Nudibranchia : Aeolidioidea) from the tropical Indo-Pacific, with analysis of their photosynthetic activity and notes on biology. J Mollus Stud 74:277–292

Carefoot T (1987) Aplysia: its biology and ecology. In: Barnes M, ed. Oceanogr Mar Biol. 167–284

Chavanich S, Viyakarn V, Sanpanich K, Harris LG (2013) Diversity and occurrence of nudibranchs in Thailand. Mar Biodivers 43:31–36

Chinnadurai S, Bhave V, Apte D, Mohamed KS (2014) First record of long-tailed pelagic sea slug Stylocheilus longicauda (Gastropoda: Opisthobranchia) from southwest coast of India. J Mar Biol Assoc India. doi:10.6024/jmbai.2014.56.2.01794-12

Dayrat B, Conrad M, Balayan S, White TR, Albrecht C, Golding R, Gomes S, Harasewych MG, deFrias Martins AM (2011) Phylogenetic relationships and evolution of pulmonate gastropods (Mollusca): new insights from increased taxon sampling. Mol Phylogenet Evol 59:425–437

Evertsen J, Burghardt I, Johnsen G, Wagele H (2007) Retention of functional chloroplasts in some sacoglossans from the Indo-Pacific and Mediterranean. Mar Biol 151:2159–2166

Goddard J, Pearse J (2011) Long-term Faunal Changes in California Nudibranchs: Climate Change and Local Ocean Health

Gosliner TM, Behrens DW, Valdés A (2008) Indo-Pacific nudibranchs and sea slugs. A field guide to the world's most diverse fauna. Sea Challengers Natural History Books, California Academy of Sciences

Gosliner TM, Valdés A, Behrens B (2015) Nudibranch and Sea Slug Identification INDO-PACIFIC. New World Publications, Jacksonville, Florida, pp 345–347

Greene RW (1970) Symbiosis in Sacoglossan opisthobranchs: functional capacity of symbiotic chloroplasts. Mar Biol 7(2):138–142

Hamatani I (1993) A new cuthonid species (Nudibranchia, Aeolidacea), Cuthona yamasui n.sp., from Okinawa, Southwestern Japan, Venus. Jpn Journal Malacol 52(2):127–133

Hein MY, Lamb JB, Scott C, Willis BL (2014) Assessing baseline levels of coral health in a newly established marine protected area in a global scuba diving hotspot. Mar Environ Res. doi:10.1016/j.marenvres.2014.11.008

Hervé JF (2010) Guide des Nudibranches de Nouvelle Calédonie et autres Opisthobranches. Éditions Catherine Ledru, Nouméa, Nouvelle Calédonie

Jensen KR (1992) Anatomy of some Indo-Pacific Elysiidae (Opisthobranchia: Sacoglossa (=Ascoglossa), with a discussion of the generic division and phylogeny. J Molluscan Stud 58:257–296

Jensen KR (1997) Evolution of the Sacoglossa (Mollusca, Opisthobranchia) and the ecological associations with their food plants. Evol Ecol 11:301–335

Jensen KR (1998) Anatomy of some Opisthobranch Molluscs from Phuket, Thailand, with a list of Opisthobranchia recorded from Thailand. Spec Publ Phuket Mar Biol Center 18:243–262

Jensen KR (2006) Biogeography of the Sacoglossa (Mollusca, Opisthobranchia). Bonner Zoologische Beiträge 55(3):255–281

Johnson RF, Gosliner TM (2012) Traditional Taxonomic Groupings Mask Evolutionary History: A Molecular Phylogeny and New Classification of the Chromodorid Nudibranchs. PLoS ONE. 7(4)

Jörger KM, Stöger I, Kano Y, Fukuda H, Knebelsberger T, Schrödl M (2010) On the origin of Acochlidia and other enigmatic euthyneuran gastropods and implications for the systematics of Heterobranchia. BMC Evol Biol. doi:10.1186/1471-2148-10-323

Klussmann-Kolb A, Dinapoli A, Kuhn K, Streit B, Albrecht C (2008) From sea to land and beyond - New insights into the evolution of euthyneuran Gastropoda (Mollusca). BMC Evol Biol 8:57–73

Knutson VL, Gosliner TM (2014) Three new species of gymnodoris stimpson, 1855 (Opisthobranchia, Nudibranchia) from the Philippines 129–143

Kocot KM, Halanych KM, Krug PJ (2013) Phylogenomics supports Panpulmonata: Opisthobranch paraphyly and key evolutionary steps in a major radiation of gastropod molluscs. Mol Phylogenet Evol 69:764–771

Krug P, Vendetti JE, Rodriguez AK, Retana JN, Hirano YM, Trowbridge CD (2013) Integrative species delimitation in photosynthetic sea slugs reveals twenty candidate species in three nominal taxa studied for drug discovery, plastid symbiosis or biological control. Mol Phylogenet Evol 69:1101–1119

Lamb JB, True JD, Piromvaragorn S, Willis BL (2014) Scuba diving damage and intensity of tourist activities increases coral disease prevalence. Biol Conserv 178:88–86

Larpnun R, Scott CM and Surasawadi P (2011) Practical Coral Reef Management on a small island: Controlling Sediment on Koh Tao, Thailand. Catchment Management and Coral Reef Conservation: a practical guide for coastal resource managers to reduce damage from catchment areas based on best practice case studies, 88

Maeda T, Hirose E, Chikaraishi Y, Kawato M, Takishita K et al (2012) Algivore or Phototroph? Plakobranchus ocellatus (Gastropoda) Continuously Acquires Kleptoplasts and Nutrition from Multiple Algal Species in Nature. PLoS ONE. doi:10.1371/journal.pone.0042024

Marín A, Ros J (2004) Chemical defenses in Sacoglossan Opisthobranchs: Taxonomic trends and evolutive implications. Sci Mar 68(1):227–241

Medina M, Lal S, Vallès Y, Takaoka TL, Dayrat BA, Boore JL, Gosliner T (2011) Crawling through time: transition of snails to slugs dating back to the Paleozoic, based on mitochondrial phylogenomics. Mar Genomics 4:51–59

Mehrotra R, Scott CM, Rohrer JM, Hoeksema BW (2015) Predation on a sacoglossan gastropod by a mushroom coral. Coral Reefs 34(2):517

Mikkelsen PM (1996) The Evolutionary Relationships of Cephalaspidea S.L. (Gastropoda: Opisthobranchia): A Phylogenetic Analysis. Malacologia 37(2):375–442

Molinski TF, Dalisay DS, Lievens SL, Saludes JP (2008) Drug Development from Marine Natural Products. Nat Rev Drug Discov 8(1):69–85

Nabhitabhata J (2009) Checklist of Mollusca Fauna in Thailand. ONEP, Bangkok, Thailand, p 576

Nagahama T, Shin N (1998) Patterned jaw movements and the motor neuron activity during rejection of seaweed in Aplysia kurodai. J Comp Physiol 182(5):551–562

Nagahama T, Fujimoto K, Takami S, Kinugawa A, Narusuye K (2009) Effective amino acid composition of seaweeds including preference behaviors in Aplysia kurodai. Neurosci Res. doi:10.1016/j.neures.2009.03.007

Padula V, Delgado M (2010) A new species of Cerberilla (Gastropoda: Nudibranchia: Aeolidiidae) from northeastern Brazil. Nautilis 124(4):175–180

Rudman WB (1981) Further studies on the anatomy and ecology of opisthobranch molluscs feeding on the scleractinian coral Porites. Zool J Linn Soc Lond. doi:10.1111/j.1096-3642.1981.tb01136.x

Rudman, WB (2002) Cuthona yamasui Hamatani, 1993. [In] Sea Slug Forum. Australian Museum, Sydney. Available from http://www.seaslugforum.net/find/cuthyama

Rudman WB (2004) Anaspidea. [In] Sea Slug Forum. Australian Museum, Sydney. Available from http://www.seaslugforum.net/factsheet/anaspidea

SATLP (2009) Koh Tao Info; All You Need to Know about Turtle Island. 3rd Quarter 2009. Samui AdTack Limited Partnership (SATLP). Koh Samui. pp. 103

Scott C (2009) Koh Tao Ecological Monitoring Program Project Manual. Save Koh Tao: Marine Conservation, Koh Tao. 169 p

Sittithaweepat N (2001) Study of Species Richness and Distribution of Nudibranchs in Thai Coral Reef. Master Thesis, Kasetsart University, Thailand

Swennen C (1998) Two new gastropods, Elysia bangtawaensis and E. siamensis from southern Thailand. Bull Zoöl Mus Univ Amst 16(6):33–39

Swennen C (2001) Two new sacoglossans (Gastropoda; Opisthobranchia) from Thailand. Beaufortia 51(3):75–81

Swennen C (2007) Costasiella coronata, new species, and a revised diagnosis for the family Costasiellidae (Mollusca: Opisthobranchia: Sacoglossa). Raffles Bull Zool 55:355–362

Swennen C (2011) Large Mangrove-dwelling Elysia species in Asia, with Descriptions of Two New Species (Gastropoda: Opisthobranchia: Sacoglossa). Raffles Bull Zool 59(1):29–37

Szuster BW, Dietrich J (2014) Small Island Tourism Development Plan Implementation: The Case of Koh Tao, Thailand. Environ Asia 7(2):124–132

Too CC, Carlson C, Hoff PJ, Malaquias MAE (2014) Diversity and systematics of Haminoeidae gastropods (Heterobranchia: Cephalaspidea) in the tropical West Pacific Ocean: new data on the genera Aliculastrum, Atys, Diniatys and Liloa. Zootaxa 3794(3):355–392

Wägele H (2004) Potential key characters in Opisthobranchia (Gastropoda, Mollusca) enhancing adaptive radiation. Org Divers Evol 4:175–188

Wägele H, Johnson G (2001) Observations on the histology and photosynthetic performance of "solar-powered" opisthobranchs (Mollusca, Gastropoda, Opisthobranchia) containing symbiotic chloroplasts or zooxanthellae. Org Divers Evol 1:193–210

Wägele H, Klussmann-Kolb A, Verbeek E, Schrödl M (2013) Flashback and foreshadowing—a review of the taxon Opisthobranchia. Org Divers Evol. doi:10.1007/s13127-013-0151-5

Wetterings R (2011) A GIS-Based Assessment to the Threats to the Natural Environment on Koh Tao, Thailand. Kasetsart J (Nat Sci) 45:743–755

Willan RC (1987) Phylogenetic systematics of the Notaspidea (Opisthobranchia) with reappraisal of families and genera. Am Malacol Bull 5:215–241

Wongthong P, Harvey N (2014) Integrated Coastal Management and Sustainable Tourism: A Case Study of the reef based SCUBA dive industry from Thailand. Ocean Coast Manag 95:138–146

WoRMS Editorial Board (2014) World Register of Marine Species. Available from http://www.marinespecies.org at VLIZ. Accessed 2014-01-01
Acknowledgments
This study was carried out in conjunction with other research activities at the New Heaven Reef Conservation Program and received no outside funding. The authors would like to thank the large number of volunteer surveyors, especially M. Fitzkah, P. Urgell , S. Chaisri, S. Arnold, K. Harris, and S. Arunrugstichai. Many thanks for input and advice from Richard Willan, Kathe Jensen, Devrim Zahir, Kirsty Magson, Gene Mesher, Lindz Warren, Tine Kinn Kvamme, and Vie Panyarachun. Image credits: a), e), and f) Tine Kinn Kvamme. b), c), and j) Rahul Mehrotra. d) Chad Scott. g) Darren Milsom. h) Liam Kelly. i) Khumron Waipaka. k) Pau Urgell.
Additional information
Communicated by V. Urgorri
Appendix
Appendix
About this article
Cite this article
Mehrotra, R., Scott, C.M. Species inventory of sea slugs (Gastropoda: Heterobranchia) for Koh Tao, Thailand, with 25 first records for Thai waters. Mar Biodiv 46, 761–771 (2016). https://doi.org/10.1007/s12526-015-0424-7
Received:

Revised:

Accepted:

Published:

Issue Date:

DOI: https://doi.org/10.1007/s12526-015-0424-7
Keywords
Heterobranchia

Nudibranchia

Sacoglossa

Gulf of Thailand

Koh Tao