Abstract
Keratoisis is a genus of bamboo coral commonly reported in the northwest (NW) Atlantic as a result of fishing bycatch or by in situ observations. In 1999, a scientific trawl survey recovered fragments of Keratoisis sp. in southeast Baffin Bay (NW Atlantic), but colonies had never been seen in situ at this location until 2013, when a remotely operated vehicle (ROV) was used to survey this location. Here we report the presence of dense forests of Keratoisis sp. in a muddy environment at depths >900 m. Colonies were found as dense patches up to ~55 m long along the ROV track and were estimated to reach ~1 m in height. At this location, Keratoisis sp. appears to have branched root-like structures probably used for anchorage on mud. The majority of colonies were alive, but fragments of dead colonies were also observed, especially in the path of the 1999 bottom trawl tow. Based on visual observation, the dense stands of Keratoisis sp. in this environment seem to form structure and habitat for other invertebrates and fishes in an otherwise mainly muddy environment.
Access options
Buy single article
Instant access to the full article PDF.
USD 39.95
Price includes VAT (USA)
Tax calculation will be finalised during checkout.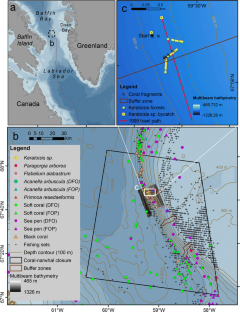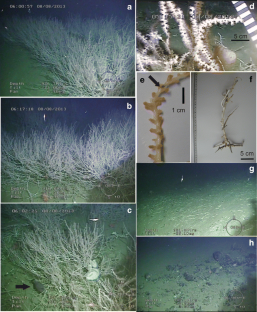 References
Baker KD, Wareham VE, Snelgrove PVR, Haedrich RL, Fifield DA, Edinger EN, Gilkinson KD (2012) Distributional patterns of deep-sea coral assemblages in three submarine canyons off Newfoundland, Canada. Mar Ecol Prog Ser 445:235–249. doi:10.3354/meps09448

Bayer FM, Stefani J (1987) New and previously known taxa of isidid octocorals (Coelenterata: Gorgonacea) partly from Antarctic waters. Proc Biol Soc Wash 100:937–991

Berntson EA, France SC (2001) Generating DNA sequence information from museum collections of octocoral specimens (Phylum Cnidaria: Class Anthozoa). Bull Biol Soc Wash 10:119–129

Bilewitch JP, Degnan SM (2011) A unique horizontal gene transfer event has provided the octocoral mitochondrial genome with an active mismatch repair gene that has potential for an unusual self-contained function. BMC Evol Biol 11:228. doi:10.1186/1471-2148-11-228

Brugler MR, France SC (2008) The mitocondrial genome of a deep-sea bamboo coral (Cnidaria, Anthozoa, Octocorallia, Isididae): Genome structure and putative origins of replication are not conserved among octocorals. J Mol Evol 67:125–136. doi:10.1007/s00239-008-9116-2

Buhl-Mortensen L, Vanreusel A, Gooday AJ, Levin LA, Priede IG, Buhl-Mortensen P, Gheerardyn H, King NJ, Raes M (2010) Biological structures as a source of habitat heterogeneity and biodiversity on the deep ocean margins. Mar Ecol 31:21–50. doi:10.1111/j.1439-0485.2010.00359.x

Christiansen JS, Mecklenburg CW, Karamushko OV (2014) Arctic marine fishes and their fisheries in light of global change. Global Change Biol 20:352–359. doi:10.1111/gcb.12395

Deichmann E (1936) The Alcyonaria of the western part of the Atlantic Ocean. Mem Mus Comp Zool Harv Univ 53:1–317

DFO (2007) Development of a closed area in NAFO OA to protect Narwhal over‐wintering grounds, including deep‐sea corals. DFO Canadian Science Advisory Secretariat Science Response 2007/002

Edinger EN, Sherwood OA, Piper DJW, Wareham VE, Baker KD, Gilkinson KD, Scott DB (2011) Geological features supporting deep-sea coral habitat in Atlantic Canada. Cont Shelf Res 31:S69–S84. doi:10.1016/j.csr.2010.07.004

France SC (2007) Genetic analysis of bamboo corals (Cnidaria: Octocorallia: Isididae): Does lack of colony branching distinguish Lepidisis from Keratoisis. Bull Mar Sci 81:323–333

Gass SE, Willison JHM (2005) An assessment of the distribution of deep-sea corals in Atlantic Canada by using both scientific and local forms of knowledge. In: Freiwald A, Roberts JM (eds) Cold-water corals and ecosystems. Springer, Berlin, pp 223–245

Jørgensen OA, Hammeken Arboe N (2013) Distribution of the commercial fishery for Greenland halibut and northern shrimp in Baffin Bay. Pinngortitaleriffik, Greenland Institute of Natural Resources Technical Report no, 91

Murillo FJ, Durán MP, Altuna A, Serrano A (2011) Distribution of deep-water corals of the Flemish cap, Flemish pass, and the grand banks of newfoundland (northwest Atlantic ocean): Interaction with fishing activities. ICES J Mar Sci 68:319–332. doi:10.1093/icesjms/fsq071

Pante E, France SC, Couloux A, Cruaud C, McFadden CS, Samadi S, Watling L (2012) Deep-sea origin and in-situ diversification of chrysogorgiid octocorals. PLoS ONE 7:e38357. doi:10.1371/journal.pone.0038357

Roberts JM, Wheeler AJ, Freiwald A (2006) Reefs of the deep: The biology and geology of cold-water coral ecosystems. Science 312:543–547. doi:10.1126/science.1119861

Tendal OS (1992) The North Atlantic distribution of the octocoral Paragorgia arborea (L., 1758) (Cnidaria, Anthozoa). Sarsia 77:213–217. doi:10.1080/00364827.1992.10413506

Treble MA, Brodie WB, Power D (2003) Summary of data from the offshore Canadian commercial fishery for Greenland halibut. NAFO SCR Doc. 03/50. Serial Number N4868:19

Wareham VE (2009). Updates on deep-sea coral distributions in the Newfoundland and Labrador and arctic regions, northwest Atlantic. In: Gilkinson K and Edinger E (eds) The ecology of deep-sea corals of newfoundland and Labrador waters: Biogeography, life history, biogeochemistry, and relation to fishes. Canadian Technical Report on Fisheries Aquatic Sciences. 2830:vi +136 p.

Wareham VE, Edinger EN (2007) Distribution of deep-sea corals in the Newfoundland and Labrador region, northwest Atlantic Ocean. Bull Mar Sci 81:289–313

Watling L, France SC, Pante E, Simpson A (2011) Biology of deep-water octocorals. Adv Mar Biol 60:41–122. doi:10.1016/B978-0-12-385529-9.00002-0
Acknowledgments
We thank the Captain and crew of CCGS Amundsen and the Canadian Coast Guard, chief scientist Louis Fortier, ROV pilots Ian Murdock and Trevor Shepherd. This manuscript was improved by the comments of three anonymous reviewers. This study was funded by the Natural Sciences and Engineering Research Council of Canada (NSERC) doctoral scholarship to BMN, NSERC Discovery Grant to CHM, Canadian Healthy Oceans Network (CHONe), a university-government partnership dedicated to biodiversity science for the sustainability of Canada's three oceans, Network of Centres of Excellence of Canada ArcticNet, and the NSERC MRS grant to the Canadian Scientific Submersible Facility (CSSF).
Electronic supplementary material
Forests of the bamboo coral Keratoisis sp. in a deep-water environment in Southeast Baffin Bay (between Greenland and Canada). Video recorded in August 2013 using a remotely operated vehicle (ROV). (MP4 69875 kb)
About this article
Cite this article
Neves, B.M., Edinger, E., Hillaire-Marcel, C. et al. Deep-water bamboo coral forests in a muddy Arctic environment. Mar Biodiv 45, 867–871 (2015). https://doi.org/10.1007/s12526-014-0291-7
Received:

Revised:

Accepted:

Published:

Issue Date:
Keywords
Isididae

Keratoisis

Cold-water coral

Habitat

Baffin Bay

Northwest Atlantic