Abstract
Previously confused with the small giant clam Tridacna maxima, the recently resurrected Noah's giant clam, Tridacna noae, has been reported from the Taiwanese and the Ryukyu archipelagoes. Our recent underwater observations now extend its distribution to Dongsha (northern South China Sea), Bunaken (Sulawesi Sea), Madang and Kavieng (Bismarck Sea), the Alor archipelago (Sawu Sea), Kosrae (Caroline Islands), New Caledonia, the Loyalty Islands and Vanuatu (Coral Sea), Viti-Levu (Fiji), Wallis Island, and Kiritimati (Northern Line Islands). Published mitochondrial DNA sequences retrieved from open-access databases also indicate its presence in eastern Negros (Philippines), in the Molucca Sea, at Ningaloo Reef (Western Australia), and in the Solomon Islands. Noah's giant clam is thus a widely distributed Indo-West Pacific species. Wherever research has been done on small giant clams throughout T. noae's range, the inadvertent confusion of T. noae with T. maxima might have led to overestimating actual T. maxima densities and to errors in estimating demographic parameters.
Access options
Buy single article
Instant access to the full article PDF.
US$ 39.95
Tax calculation will be finalised during checkout.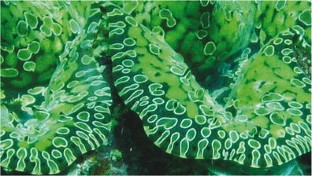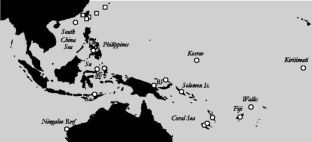 References
Ambariyanto H-GO (1999) Net uptake of dissolved free amino acids by the giant clam, Tridacna maxima: alternative sources of energy and nitrogen? Coral Reefs 18:91–96

Benzécri J-P (1982) L'analyse des données, 2. L'analyse des correspondances, Dunod

Benzie JAH, Williams ST (1997) Genetic structure of giant clam (Tridacna maxima) populations in the West Pacific is not consistent with dispersal by present-day ocean currents. Evolution 51:768–783

Bin Othman AS, Goh GHS, Todd PA (2010) The distribution and status of giant clams (family Tridacnidae)—a short review. Raffles Bull Zool 58:103–111

Black R, Johnson MS, Prince J, Brearley A, Bond T (2011) Evidence of large, local variations in recruitment and mortality in the small giant clam, Tridacna maxima, at Ningaloo Marine Park, Western Australia. Mar Freshw Res 62:1318–1326

Campbell CA, Valentine JW, Ayala FJ (1975) High genetic variability in a population of Tridacna maxima from the Great Barrier Reef. Mar Biol 33:341–345

Chemnitz JH (1784) Neues systematiches Conchylien-Cabinet, siebender Band. Raspischen Buchhandlung, Nürnberg, xii + 356 pp + 33 pl

DeBoer TS, Abdon Naguit MR, Erdmann MV, Ablan-Lagman MCA, Ambariyanto CKE, Toha AHA, Barber PH (2014) Concordance between phylogeographic and biogeographic boundaries in the Coral Triangle: conservation implications based on comparative analyses of multiple giant clam species. Bull Mar Sci 90:277–300

Dumas P, Tiavouane J, Senia J, Willam A, Dick L, Fauvelot C (2014) Evidence of early chemotaxis contributing to active habitat selection by the sessile giant clam Tridacna maxima. J Exp Mar Biol Ecol 452:63–69

Gomez ED, Mingoa-Licuanan SS (2006) Achievements and lessons learned in restocking giant clams in the Philippines. Finn Fish Res 80:46–52

Hall TA (1999) Bio Edit: a user-friendly biological sequence alignment editor and analysis program for Windows 95/98/NT. Nucl Acids Symp Ser 41:95–98

Huelsken T, Keyse J, Liggins L, Penny S, Treml EA, Riginos C (2013) A novel widespread cryptic species and phylogeographic patterns within several giant clam species (Cardiidae: Tridacna) from the Indo-Pacific Ocean. PLoS One 8:e80858

Kubo H, Iwai K (2007) On two sympatric species within Tridacna "maxima". Annu Rep Okinawa Fish Ocean Res Ctr 68:205–210

Ladd HS (1934) Geology of Vitilevu, Fiji. Bernice P Bishop Mus Bull 119, 263 pp + 44 pl

Lamarck JB (1819) Histoire naturelle des animaux sans vertèbres présentant les caractères généraux et particuliers de ces animaux, leur distribution, leurs classes, leurs familles, leurs genres, et la citation des principales espèces qui s'y rapportent. Tome sixième. Librairie Verdière, Paris, 232 pp  Lê S, Josse J, Husson F (2008) FactoMineR: an R package for multivariate analysis. J Stat Software 25:1

Linnaeus C (1758) Systema naturae per regna tria naturae, secundum classes, ordines, species, cum characteribus, differentiis, synonymis, locis. Tomus I, editio decima, reformata. Laurentii Salvii, Stockholm, 824 p

Lizano AMD, Santos MD (2014) Updates on the status of giant clams Tridacna spp. and Hippopus hippopus in the Philippines using mitochondrial CO1 and 16S rRNA genes. Philipp Sci Lett 7:187–200

Plazzi F, Passamonti M (2010) Towards a molecular phylogeny of Mollusks: Bivalves' early evolution as revealed by mitochondrial genes. Mol Phyl Evol 57:641–657

Röding PF (1798) Pars secunda continens conchylia sive testacea univalvia, bivalvia & multivalvia. In Bolten JF (ed.) Museum Boltenianum sive catalogus cimeliorum e tribus regnis naturæ quæ olim collegerat Joa. Fried Bolten. Trapp, Hamburg, viii + 199 pp

Rosewater J (1965) The family Tridacnidae in the Indo-Pacific. Indo-Pacific Mollusca 1:347–396

Sirenko BI, Scarlato OA (1991) Tridacna rosewateri sp. n. a new species of giant clam from Indian Ocean (Bivalvia: Tridacnidae). Conchiglia 22:4–9

Sokal RR, Rohlf FJ (1995) Biometry–the principles and practice of statistics in biological research, 3rd edn. WH Freeman and Co, New York

Sturany R (1899) Expedition S.M. Schiff "Pola" in das Rothe Meer, nördliche und südliche Hälfte. 1895/96 und 1897/98. Zoologische Ergebnisse XIV, Lamellibranchiaten des Rothen Meeres. Berichte Comm. Ozeanogr. Forsch. Denkschr Math-Naturwiss Kl Kaiserl Akad Wiss Wien 69:255–295

Su Y, Hung J-H, Kubo H, Liu L-L (2014) Tridacna noae (Röding, 1798)—a valid giant clam species separated from T. maxima (Röding, 1798) by morphological and genetic data. Raffles Bull Zool 62:124–135

Tamura K, Peterson D, Peterson N, Stecher G, Nei M, Kumar S (2011) MEGA 5: molecular evolutionary genetics analysis using maximum likelihood, evolutionary distance, and maximum parsimony methods. Mol Biol Evol 28:2731–2739

Tang YC (2005) The systematic status of Tridacna maxima (Bivalvia: Tridacnidae) based on morphological and molecular evidence. Unpubl. MSc thesis, National Taiwan Ocean University, Keelung, 114 pp

ter Poorten JJ (2014a) Hippopus Lamarck, 1799. World Register of Marine Species (http://www.marinespecies.org/; consulted 20 July 2014)

ter Poorten JJ (2014b) Tridacna Bruguière, 1797. World Register of Marine Species (http://www.marinespecies.org/; consulted 20 July 2014)

Tisera WL, Abdon Naguit MR, Rehatta BM, Calumpong HP (2012) Ecology and genetic structure of giant clams around Savu Sea, East Nusa Tenggara province, Indonesia. Asian J Biodiv 3:174–194

Van Wynsberge S, Andrefouet S, Gilbert A, Stein A, Remoissenet G (2013) Best management strategies for sustainable giant clam fishery in French Polynesia islands: answers from a spatial modeling approach. PLoS One 8:e64641

Veron JEN, Devantier LM, Turak E, Green AL, Kininmonth S, Stafford-Smith M, Peterson N (2009) Delineating the Coral Triangle. Galaxea 11:91–100
Acknowledgments
Access to old taxonomic descriptions and revisions was through the Animal Base database (http://www.animalbase.org/), the Biodiversity Heritage Library (http://www.biodiversitylibrary.org/), and Google Books (http://books.google.com/). Useful comments and suggestions on a former version of this paper were provided by B.W. Hoeksema and by two anonymous reviewers. Collections of Noah's giant clams at Dongsha Atoll were done by P.-W. Su; details concerning the collection of giant clams in Kosrae were kindly provided by M. Selch; P. Bosserelle reported on the observation of T. noae at Wallis. PB's visit to Dongsha in April 2013 was arranged by W.-J. Chen and sponsored by the Oceanography Institute, National Taiwan University. The reef surveys at Bunaken were undertaken by SA as part of the Indeso project sponsored by CLS (Toulouse, France) and BRKP (Jakarta, Indonesia). Reef surveys at Madang were done by SA during cruise Coral Triangle 1 of RV Alis, as part of the Niugini 2012 biodiversity expedition. Giant clam surveys in the northern lagoon of New Caledonia (CF, DG, JT) were part of the BeN-Co project sponsored by ADeCal; those in the western lagoon (CF, JT) were done during cruise Cobelo of RV Alis; those in the Loyalty Islands and in southeastern New Caledonia (CF, DG) were done during cruise Bibelot of RV Alis. Observations on the d'Entrecasteaux Reefs (DG, SA) and Isle of Pines (CF, SA) were made during the New Caledonia leg of the Global Reef Expedition of the Khaled Bin Sultan Living Ocean Foundation, on board RV Golden Shadow. SA, PB, CF and JT designed the study; MRAN, SA, PB, CF, DG, JT and CW participated in field surveys and contributed data; PB wrote the paper.
Electronic supplementary material
Below is the link to the electronic supplementary material.
About this article
Cite this article
Borsa, P., Fauvelot, C., Tiavouane, J. et al. Distribution of Noah's giant clam, Tridacna noae . Mar Biodiv 45, 339–344 (2015). https://doi.org/10.1007/s12526-014-0265-9
Received:

Revised:

Accepted:

Published:

Issue Date:
Keywords
Indo-West Pacific

Reef survey

DNA barcode

Cytochrome oxidase 1

16S ribosomal RNA

T. maxima
T. crocea