Abstract
A large monothalamous foraminiferan, Toxisarcon taimyr sp. nov., has been isolated from the benthic samples from the Kara Sea inner shelf near the mouth of Yenisey river estuary, at a depth of 50–100 m. In its overall morphology, the new species closely resembles T. synsuicidica, one of the two species of Toxisarcon described to date. It possesses a large irregularly shaped cell body, covered by a thin layer of a fibrous organic coating. Numerous reticulopodia typically extend from all over the cell surface; the species is very motile and rapidly changes cell shape. Long and thick reticulopodial bundles form in the direction of movement. In the phylogenetic tree based on partial small-subunit ribosomal DNA (SSU rDNA) sequences, T. taimyr branches together with the two other known species of Toxisarcon within the clade C of monothalamous foraminifera.
Access options
Buy single article
Instant access to the full article PDF.
USD 39.95
Price excludes VAT (USA)
Tax calculation will be finalised during checkout.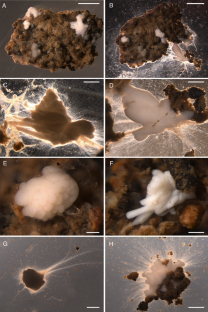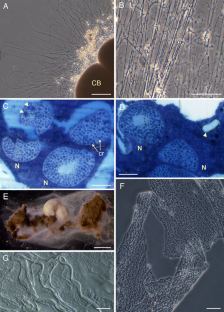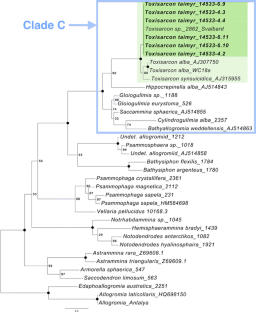 References
Altin DZ, Habura A, Goldstein ST (2009) A new allogromiid foraminifer Niveus flexilis nov. gen., nov. sp., from coastal Georgia, USA: fine structure and gametogenesis. J Foramin Res 39(2):73–86. doi:10.2113/gsjfr.39.2.73

Apothéloz-Perret-Gentil L, Holzmann M, Pawlowski J (2013) Arnoldiellina fluorescens gen. et sp. nov. – A new green autofluorescent foraminifer from the Gulf of Eilat (Israel). Europ J Protistol 49(2):210–216. doi:10.1016/j.ejop.2012.08.005

Bowser SS, Bernhard JM (1993) Structure, Bioadhesive Distribution and Elastic Properties of the Agglutinated Test of Astrammina rara (Protozoa: Foraminiferida). vol 40. Blackwell, Oxford. doi:10.1111/j.1550-7408.1993.tb04891.x

Bowser SS, Gooday AJ, Alexander SP, Benrnhard JM (1995) Larger agglutinated foraminifera of McMurdo Sound, Antarctica: Are Astrammina rara and Notodendrodes antarctikos allogromiids incognito? Mar Micropal 26:75–88

Bowser SS, Bernhard JM, Habura A, Gooday AJ (2002) Structure, taxonomy and ecology of Astrammina triangularis (Earland), an allogromiid-like agglutinated foraminifer from explorers cove, Antarctica. J Foramin Res 32(4):364–374. doi:10.2113/0320364

Bowser SS, Habura A, Pawlowski J (2008) Molecular evolution of Foraminifera. In: Katz LA, Bhattacharya D (eds) Genomics and evolution of microbial eukaryotes. Oxford University Press, Oxford, pp 78–93

Cavalier-Smith T (2002) The phagotrophic origin of eukaryotes and phylogenetic classification of protozoa. Int J Syst Evol Biol 52:297–354. doi:10.1099/ijs.0.02058-0

Cedhagen T, Pawlowski J (2002) Toxisarcon synsuicidica n. gen., n. sp., a large monothalamous foraminiferan from the west coast of Sweden. J Foramin Res 32(4):351–357. doi:10.2113/0320351

d'Orbigny A (1826) Tableau Méthodique de la Classe des Céphalopodes. Annales des Sciences Naturelles, Paris (Série 1) 7:245–314

DeLaca TE, Bernhard JM, Reilly AA, Bowser SS (2002) Notodendrodes hyalinosphaira (sp. nov.): structure and autecology of an allogromiid-like agglutinated foraminifer. J Foramin Res 32(2):177–187. doi:10.2113/0320177

Goldstein ST, Richardson EA (2002) Comparison of test and cell body ultrastructure in three modern allogromiid foraminifera: application of high pressure freezing and freeze substitution. J Foramin Res 32(4):375–383. doi:10.2113/0320375

Goldstein ST, Habura A, Richardson EA, Bowser SS (2010) Xiphophaga minuta, and X. allominuta, nov. gen., nov. spp., new monothalamid foraminifera from coastal georgia (usa): cryptic species, gametogenesis, and an unusual form of chloroplast sequestration. J Foramin Res 40(1):3–15. doi:10.2113/gsjfr.40.1.3

Gooday AJ (2002) Organic-walled allogromiids: aspects of their occurrence, diversity and ecology in marine habitats. J Foramin Res 32(4):384–399. doi:10.2113/0320384

Gooday AJ, Jorissen FJ (2012) benthic foraminiferal biogeography: controls on global distribution patterns in deep-water settings. Annu Rev Mar Sci 4(1):237–262. doi:10.1146/annurev-marine-120709-142737

Gooday AJ, Holzmann M, Guiard J, Cornelius N, Pawlowski J (2004a) A new monothalamous foraminiferan from 1000 to 6300 m water depth in the Weddell Sea: morphological and molecular characterisation. Deep Sea Res Pt II: Top Stud Oceanogr 51(14–16):1603–1616

Gooday AJ, Hori S, Todo Y, Okamoto T, Kitazato H, Sabbatini A (2004b) Soft-walled, monothalamous benthic foraminiferans in the Pacific, Indian and Atlantic Oceans: aspects of biodiversity and biogeography. Deep Sea Res Pt I: Oceanogr Res Papers 51(1):33–53

Gooday AJ, Bowser SS, Cedhagen T, Cornelius N, Hald M, Korsun S, Pawlowski J (2005) Monothalamous foraminiferans and gromiids (Protista) from western Svalbard: A preliminary survey. Mar Biol Res 1:290–312. doi:10.1080/17451000510019150

Habura A, Goldstein ST, Broderick S, Bowser SS (2008) A bush, not a tree: The extraordinary diversity of cold-water basal foraminiferans extends to warm-water environments. Limnol Oceanogr 54(4):1339–1351

Korsun SA (2002) Allogromiids in foraminiferal assemblages on the western eurasian arctic shelf. J Foramin Res 32(4):400–413. doi:10.2113/0320400

Korsun SA, Hald M (1998) Modern benthic Foraminifera off Novaya Zemlya tidewater glaciers, Russian Arctic. Arctic Alpine Res 30(1):61–77

Korsun SA, Hald M (2000) Seasonal dynamics of benthic foraminifera in a glacially fed fjord of Svalbard, European Arctic. J Foramin Res 30(4):251–271. doi:10.2113/0300251

Korsun SA, Pogodina IA, Forman SL, Lubinski DJ (1995) Recent foraminifera in glaciomarine sediments from three arctic fjords of Novaja Zemlja and Svalbard. Polar Res 14(1):15–32. doi:10.1111/j.1751-8369.1995.tb00707.x

Lecroq B, Lejzerowicz F, Bachar D, Christen R, Esling P, Baerlocher L, Østerås M, Farinelli L, Pawlowski J (2011) Ultra-deep sequencing of foraminiferal microbarcodes unveils hidden richness of early monothalamous lineages in deep-sea sediments. Proc Natl Acad Sci USA. doi:10.1073/pnas.1018426108

Loeblich AJR, Tappan H (1987) Foraminiferal genera and their classification, vol 1–2. Van Nostrand Reinhold, New York

Pawlowski J (2000) Introduction to the molecular systematics of Foraminifera. Micropaleontology 46:1–12

Pawlowski J, Holzmann M, Berney C, Fahrni J, Cedhagen T, Bowser SS (2002) Phylogeny of allogromiid foraminifera inferred from SSU rRNA gene sequences. J Foramin Res 32(4):334–343. doi:10.2113/0320334

Pawlowski J, Holzmann M, Berney C, Fahrni J, Gooday AJ, Cedhagen T, Habura A, Bowser SS (2003) The evolution of early Foraminifera. Proc Natl Acad Sci USA 100(20):11494–11498. doi:10.1073/pnas.2035132100

Pawlowski J, Fontaine D, da Silva AA, Guiard J (2011) Novel lineages of Southern Ocean deep-sea foraminifera revealed by environmental DNA sequencing. Deep Sea Res Pt II: Top Stud Oceanogr 58(19–20):1996–2003. doi:10.1016/j.dsr2.2011.01.009

Pillet L, Fontaine D, Pawlowski J (2012) Intra-genomic ribosomal RNA polymorphism and morphological variation in Elphidium macellum suggests inter-specific hybridization in Foraminifera. PLoS ONE 7(2):e32373. doi:10.1371/journal.pone.0032373

Sabbatini A, Morigi C, Negri A, Gooday AJ (2007) Distribution and biodiversity of stained monothalamous foraminifera from Tempelfjord, Svalbard. J Foramin Res 37(2):93–106. doi:10.2113/gsjfr.37.2.93

Sen-Gupta BK (1999) Systematics of modern Foraminifera. In: Sen Gupta BK (ed) Modern Foraminifera. Kluwer, Dordrecht, pp 7–36

Sinniger F, Lecroq B, Majewski W, Pawlowski J (2008) Bowseria arctowskii gen. et sp. nov., new monothalamous foraminiferan from the Southern Ocean. Polish Polar Res 29(1):5–15

Stamatakis A, Hoover P, Rougemont J (2008) A Rapid Bootstrap Algorithm for the RAxML Web-Servers. Syst Biol 75(5):758–771

Wilding TA (2002) Taxonomy and ecology of Toxisarcon alba, sp. nov. from Loch Linnhe, west coast of Scotland, UK. J Foramin Res 32(4):358–363. doi:10.2113/0320358
Acknowledgements
The cruise was funded by Programme 23 of the Presidium of Russian Academy of Sciences and by Russian Foundation for Basic Research grant 11-051-0070-k. We thank Emanuela Reo and Maria Holzmann for their help with sequencing. This work was supported by the Otto Schmidt Laboratory grant OSL-13-11, Swiss National Science Foundation grant 31003A-140766 and a research grant IZLR Z3_128338 from Science and Technology Cooperation Program Switzerland–Russia.
Electronic Supplementary Material
Below is the link to the electronic supplementary material.
Video of the cell body and granuloreticulopodia, magnification x630 (MPG 32506 kb)
kml file for Google Earth software with coordinates of sampling locations. (KML 4 kb)
About this article
Cite this article
Voltski, I., Korsun, S. & Pawlowski, J. Toxisarcon taimyr sp. nov., a new large monothalamous foraminifer from the Kara Sea inner shelf. Mar Biodiv 44, 213–221 (2014). https://doi.org/10.1007/s12526-014-0204-9
Received:

Revised:

Accepted:

Published:

Issue Date:

DOI: https://doi.org/10.1007/s12526-014-0204-9
Keywords
Foraminifera

Rhizaria

Protist

Arctic

Benthos