Access options
Buy single article
Instant access to the full article PDF.
US$ 39.95
Tax calculation will be finalised during checkout.
Subscribe to journal
Immediate online access to all issues from 2019. Subscription will auto renew annually.
US$ 79
Tax calculation will be finalised during checkout.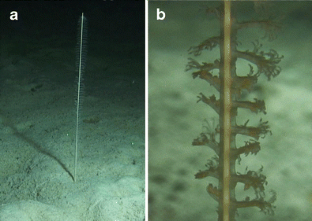 References
Greathead CF, Donnan DW, Mair JM, Sounders GR (2007) The sea pens Virgularia mirabilis, Pennatula phosphorea and Funiculina quadrangularis: Distribution and conservation issues in Scottish waters. J Mar Biol Assoc UK 87:1095–1103

Hoare R, Wilson EH (1977) Observations on the ecology of the pennatulid Virgularia mirablis in Holyhead Harbor. In: Keegan BF, Ceidligh PO, Boaden PJS (eds) Biology of benthic organisms. Pergamon, Oxford, pp 329–337

Langton RW, Langton EW, Theroux RB, Uzmann JR (1990) Distribution, behaviour and abundance of sea pens, Pennatula aculeata, in the gulf of Maine. Mar Biol 107:463–469

Wilson EW (1975) Some aspects of the biology of Virgularia mirabilis O.F. Müller (Octocorallia, Pennatulaceae). MSc thesis, University of Wales, Bangor
Electronic supplementary materials
Below is the link to the electronic supplementary material.
Withdrawal behaviour of Virgularia mirabilis. (MP4 5327 kb)
About this article
Cite this article
Ambroso, S., Dominguez-Carrió, C., Grinyó, J. et al. In situ observations on withdrawal behaviour of the sea pen Virgularia mirabilis . Mar Biodiv 43, 257–258 (2013). https://doi.org/10.1007/s12526-013-0172-5
Received:

Revised:

Accepted:

Published:

Issue Date:
Keywords
Marine Organism

Adaptive Strategy

Continental Shelf

Environmental Disturbance

Remotely Operate Vehicle