Abstract
Although knowledge of Arctic seas has increased tremendously in the past decade, benthic diversity was investigated at regional scales only, and no attempt had been made to examine it across the entire Arctic. We present a first pan-Arctic account of the species diversity of the macro- and megabenthic fauna of the Arctic marginal shelf seas. It is based on an analysis of 25 published and unpublished species-level data sets, together encompassing 14 of the 19 marine Arctic shelf ecoregions and comprising a total of 2,636 species, including 847 Arthropoda, 668 Annelida, 392 Mollusca, 228 Echinodermata, and 501 species of other phyla. For the four major phyla, we also analyze the differences in faunal composition and diversity among the ecoregions. Furthermore, we compute gross estimates of the expected species numbers of these phyla on a regional scale. Extrapolated to the entire fauna and study area, we arrive at the conservative estimate that 3,900–4,700 macro- and megabenthic species can be expected to occur on the Arctic shelves. These numbers are smaller than analogous estimates for the Antarctic shelf but the difference is on the order of about two and thus less pronounced than previously assumed. On a global scale, the Arctic shelves are characterized by intermediate macro- and megabenthic species numbers. Our preliminary pan-Arctic inventory provides an urgently needed assessment of current diversity patterns that can be used by future investigations for evaluating the effects of climate change and anthropogenic activities in the Arctic.
Access options
Buy single article
Instant access to the full article PDF.
USD 39.95
Price excludes VAT (USA)
Tax calculation will be finalised during checkout.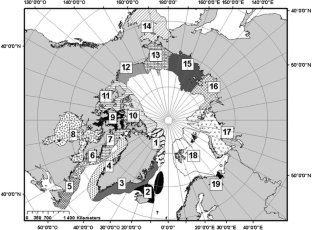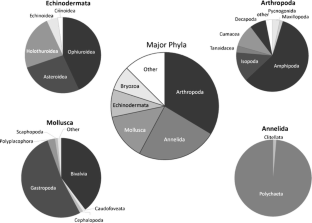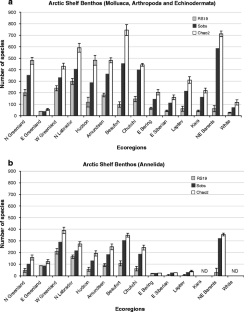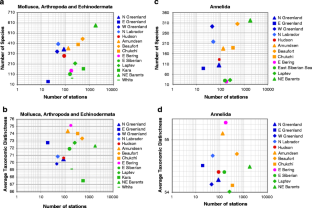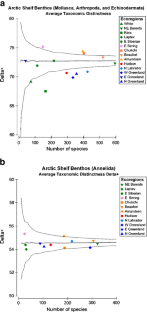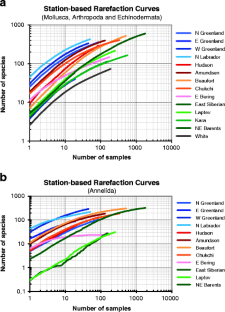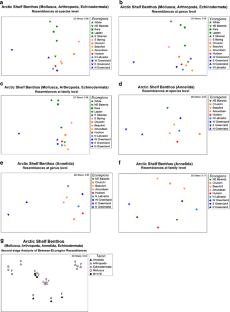 References
Anonymous (1978) Bundinvertebrater på Store og Lille Hellefiskebanke og i Holsteinsborgdybet. Technical report from Marin ID [in Danish]

Archambault P, Snelgrove PVR, Fisher JAD, Gagnon J-M, Garbary DJ, Harvey M, Kenchington E, Lesage V, Levesque M, Lovejoy C, Mackas D, McKindsey CW, Nelson J, Pepin P, Piché L, Poulin M (2010) From sea to sea: Canada's three oceans of biodiversity. PlosOne 5:e12812. doi:10.1371/journal.pone.0012182

Arctic Monitoring and Assessment Programme (1998) AMAP Assessment Report: Arctic Pollution Issues. Arctic Monitoring and Assessment Programme (AMAP), Oslo, Norway

Atkinson EG, Wacasey JW (1989a) Benthic invertebrates collected from Hudson Bay, Canada, 1953 to 1965. Can Data Rep Fish Aquat Sci 744

Atkinson EG, Wacasey JW (1989b) Benthic invertebrates collected from the western Canadian Arctic, 1951 to 1985. Can Data Rep Fish Aquat Sci 745

Bluhm BA, Piepenburg D, von Juterzenka K (1998) Distribution, standing stock, growth, mortality and production of Strongylocentrotus pallidus (Echinodermata: Echinoidea) in the northern Barents Sea. Polar Biol 20:325–334

Bluhm BA, MacDonald IR, Debenham C, Iken K (2005) Macro- and megabenthic communities in the high Arctic Canada Basin: initial findings. Polar Biol 28:218–231

Bluhm BA, Iken K, Mincks Hardy S, Sirenko BI, Holladay BA (2009) Community structure of epibenthic megafauna in the Chukchi Sea. Aquat Biol 7:269–293

Bluhm BA, Ambrose Jr WG, Bergmann M, Clough LM, Gebruk AV, Hasemann C, Iken K, Klages M, MacDonald IR, Renaud PE, Schewe I, Soltwedel T, Włodarska-Kowalczuk M (2010) Biodiversity of the Arctic deep sea benthos. Mar Biodiv (this issue)

Brandt A, Vassilenko S, Piepenburg D, Thurston M (1996) The species composition of the peracarid fauna (Crustacea, Malacostraca) of the Northeast Water Polynya (Greenland). Meddr Grønland Biosci 44:1–30

Carey A (1981) The distribution, abundance, diversity and productivity of the western Beaufort Sea benthos. Environm Assessm Alaskan Cont Shelf 2:1–27

Carmack E, Wassmann P (2006) Food webs and physical–biological coupling on pan-Arctic shelves: comprehensive perspectives, unifying concepts and future research. Prog Oceanogr 71:449–480

Carmack E, Barber D, Christensen J, Macdonald R, Rudels B, Sakshaug E (2006) Climate variability and physical forcing of the food webs and the carbon budget on panarctic shelves. Prog Oceanogr 71:145–181

Carroll ML, Denisenko SG, Renaud PE, Ambrose WG Jr (2008) Benthic infauna of the seasonally ice-covered western Barents Sea: patterns and relationships to environmental forcing. Deep Sea Res II 55:2340–2351. doi:10.1016/j.dsr2.2008.05.022

Chao A (1987) Estimating the population size for capture-recapture data with unequal catchability. Biometrics 43:783–791

Clarke A, Crame JA (1992) The southern ocean benthic fauna and climate change: a historical perspective. Phil Trans R Soc Lond 338:299–30

Clarke KR, Gorley RN (2006) PRIMER v6: User Manual/Tutorial. PRIMER-E, Plymouth

Clarke KR, Warwick RM (2001a) A further biodiversity index applicable to species lists: variation in taxonomic distinctness. Mar Ecol Prog Ser 216:265–278

Clarke KR, Warwick RM (2001b) Change in marine communities: an approach in statistical analysis and interpretation, 2nd edn. PRIMER-E, Plymouth

Cochrane SKJ, Denisenko SG, Renaud PE, Emblow CE, Ambrose WG Jr, Ellingsen IH, Skarðhamar J (2009) Benthic macrofauna and productivity regimes in the Barents Sea—Ecological implications in a changing Arctic. J Sea Res 61:222–233

Colwell RK, Coddington JA (1994) Estimating terrestrial biodiversity through extrapolation. Phil Trans R Soc Lond B 345:101–118

Conlan KE, Kvitek RG (2005) Recolonization of soft-sediment ice scours on an exposed Arctic coast. Mar Ecol Prog Ser 286:21–42

Conlan KE, Aitken A, Hendrycks E, Melling H, McClelland C (2008) Distribution patterns of Canadian Beaufort Shelf macrobenthos. J Mar Syst 74:864–886

Curtis MA (1975) The marine benthos of Arctic and Sub-arctic continental shelves. A review of regional studies and their general results. Polar Rec 17:595–626

Cusson M, Archambault P, Aitken A (2007) Biodiversity of benthic assemblages of the Arctic continental shelf: historical data from Canada. Mar Ecol Prog Ser 331:291–304

Dayton PK (1990) Polar Benthos. In: Smith WO Jr (ed) Polar Oceanography, Part B: Chemistry, biology, and geology. Academic Press, San Diego, pp 631–685

Denisenko SG, Denisenko NV, Lehtonen KK, Andersin A-B, Laine AO (2003) Macrozoobenthos of the Pechora Sea (SE Barents Sea): community structure and spatial distribution in relation to environmental conditions in relation to environmental conditions. Mar Ecol Prog Ser 258:109–123

Feder HM, Haflinger K, Hoberg M, McDonald J (1980) The infaunal invertebrates of the southeastern Bering Sea. Final Report to NOAA, R.U. No 5, 399 pp

Feder HM, Day RH, Jewett SC, McCumby K, McGee S, Schonberg SV (1982) Infauna of the Northeastern Bering and Chukchi Seas. Final Report Outer Continental Shelf Environmental Assessment Program, Research Unit 5, 120 pp

Feder HM, Naidu AS, Jewett SC (1994) The northeastern Chukchi Sea: benthos-environmental interactions. Mar Ecol Prog Ser 111:171–190

Feder HM, Jewett SC, Blanchard A (2005) Southeastern Chukchi Sea (Alaska) epibenthos. Polar Biol 28:402–421

Feder HM, Jewett SC, Blanchard A (2007) Southeastern Chukchi Sea (Alaska) macrobenthos. Polar Biol 30:261–275

Gage JD, Tyler PA (1991) Deep-sea biology: a natural history of organisms at the deep-sea floor. Cambridge University Press, Cambridge

Gotelli NJ, Colwell RK (2001) Quantifying biodiversity: procedures and pitfalls in the measurement and comparison of species richness. Ecol Lett 4:379–391

Gradinger RR, Bluhm BA, Hopcroft RR, Gebruk AV, Kosobokova KN, Sirenko BI, Węsławski JM (2010) Chapter 10: Marine life in the Arctic. In: MacIntyre A (ed) The census of marine life: Diversity, distribution, and abundance. Wiley-Blackwell, Hoboken

Grassle JF, Maciolek NJ (1992) Deep-sea species richness: regional and local diversity estimates from quantitative bottom samples. Am Nat 139:313–341

Gray JS, Poore GCB, Ugland KI, Wilson RS, Olsgard F et al (1997) Coastal and deep-sea benthic diversities compared. Mar Ecol Prog Ser 159:97–103

Grebmeier JM, Barry JP (1991) The influence of oceanographic processes on pelagic-benthic coupling in polar regions: a benthic perspective. J Mar Syst 2:495–518

Gutt J, Sirenko BI, Smirnov IS, Arntz WE (2004) How many macrozoobenthic species might inhabit the Antarctic shelf? Antarct Sci 16:11–16

Haflinger K (1981) A survey of benthic faunal communities of the southeastern Bering Sea. In: Hood DW, Calder J (eds) The Eastern Bering Shelf: Oceanography and Resources. Vol. II. U. S. Dept. of Commerce:1091-1103

Hempel G (1985) Antarctic marine food webs. In: Siegfried WR, Condy PR, Laws RM (eds) Antarctic nutrient cycles and food webs. Springer, Berlin, pp 266–270

Hopky GE, Lawrence MJ, Chiperzak DB (1994) NOGAP B2: data on the meio and macrobenthos, and related bottom sediment from Tuktoyaktuk Harbour and Mason Bay, NT, March 1985 to 1988. Can Data Rep Fish Aquat Sci 939:1–297

Hurlbert SH (1971) The non-concept of species diversity: a critique and alternative parameters. Ecology 52:577–586

International Hydrographic Organization (2001) Limits of oceans and seas, 4th edn. Rep S-23, Monaco

Jakobsson M (2002) Hypsometry and volume of the Arctic Ocean and its constituent seas. Geochem Geophys Geosys 3:1–18. doi:10.1029/2001GC000302

Kassens H, Bauch HA, Dmitrenko IA, Eicken H, Hubberten H-W, Melles M, Thiede J, Timokhov LA (1999) Land-Ocean Systems in the Siberian Arctic: Dynamics and History. Springer, Berlin

Kendall MA, Aschan M (1993) Latitudinal gradients in the structure of macrobenthic communities: a comparison of Arctic, temperate and tropical sites. J Exp Mar Biol Ecol 172:157–169

Knox GA, Lowry JK (1977) A comparison between the benthos of the Southern Ocean and the North Polar Ocean, with special reference to the Amphipoda and the Polychaeta. In: Dunbar MJ (ed) Polar Oceans. Arctic Institute of North America, Calgary, pp 423–462

Lalande C (2003) Composition et structure de la communauté benthique et quantification de la bioturbation dans la polynie des Eaux du Nord. MSc Thesis, Université du Québec, Rimouski

MacGinitie GE (1955) Distribution and ecology of the invertebrates of Point Barrow, Alaska. Smithsonian Institution Collections 128:1–201

MacLaren MAREX (1978) Report on marine benthic invertebrates of the southern Davis Strait and Ungava Bay for Imperial Oil Limited. Aquitaine Company of Canada Limited and Canada Cities Service Limited, MacLaren MAREX, Dartmouth

May RM (1992) Bottoms up for the oceans. Nature 357:278–279

Mincks Hardy S, Carr CM, Hardman M, Steinke D, Corstorphine E, Mah C (2010) Biodiversity and phylogeography of Arctic marine fauna: insights from molecular tools. Mar Biodiv (this issue)

Piepenburg D (1988) Zur Zusammensetzung der Bodenfauna in der westlichen Fram-Straße. Ber Polarforsch 52:1–118

Piepenburg D (2005) Recent research on Arctic benthos: common notions need to be revised. Polar Biol 28:733–755

Piepenburg D, Chernova NV, von Dorrien CF, Gutt J, Neyelov AV, Rachor E, Saldanha L, Schmid MK (1996) Megabenthic communities in the waters around Svalbard. Polar Biol 16:431–446

Radulovici AE, Archambault P, Dufresne D (2010) DNA barcodes for marine biodiversity: moving fast forward? Diversity 2:450–472. doi:10.3390/d20x000x

Reaka-Kudla ML (1997) The global diversity of coral reefs: a comparison with rain forests. In: Reaka-Kudla ML, Wilson DE, Wilson EO (eds) Biodiversity II: understanding and protecting our biological resources. National Academy of Sciences, Washington, pp 83–108

Renaud PE, Webb TJ, Bjorgesaeter A, Karakassis I, Kedra M, Kendall MA, Labrune C, Lampadariou N, Somerfield PJ, Wlodarska-Kowalczuk M, Berghe EV, Claus S, Aleffi IF, Amouroux JM, Bryne KH, Cochrane SJ, Dahle S, Degraer S, Denisenko SG, Deprez T, Dounas C, Fleischer D, Gil J, Gremare A, Janas U, Mackie ASY, Palerud R, Rumohr H, Sarda R, Speybroeck J, Taboada S, Van Hoey G, Węsławski JM, Whomersley P, Zettler ML (2009) Continental-scale patterns in benthic invertebrate diversity: insights from the MacroBen database. Mar Ecol Prog Ser 382:239–252

Schnack K (1998) Besiedlungsmuster der benthischen Makrofauna auf dem ostgrönländischen Kontinentalhang. Doctoral thesis. Ber Polarforsch 294:1–124

Sejr MK, Jensen KT, Rysgaard S (2000) Macrozoobenthos community structure in a high-arctic East Greenland fjord. Polar Biol 23:792–801

Sejr MK, Włodarska-Kowalczuk M, Joanna Legeżyńska L, Blicher ME (2010) Macrobenthic species composition and diversity in the Godthaabsfjord system, SW Greenland. Polar Biol 33:421–431. doi:10.1007/s00300-009-0717-z

Sirenko BI (2001) List of species of free-living invertebrates of Eurasian Arctic seas and adjacent deep waters. Russian Academy of Sciences, Zoological Institute, St Petersburg, Explorations of the Fauna of the Seas 51(59), 131 pp

Sirenko BI (2004) Fauna i ekosistemy morya Laptevykh i sopredel'nykh glubokovodnykh uchastkov Arkticheskogo basseina (Fauna and ecosystems of the Laptev Sea and the adjacent deep-water areas of the Arctic Basin), Issledovaniya fauny morei (Exploration of the Fauna of the Seas) volume 54 (62), parts 1–2

Sirenko BI (2009) Main differences in macrobenthos and benthic communities of the Arctic and Antarctic, as illustrated by comparison of the Laptev and Weddell Sea faunas. Russ J Mar Biol 35:445–453

Sirenko BI, Piepenburg D (1994) Current knowledge on biodiversity and benthic zonation patterns of Eurasian Arctic shelf seas, with special reference to the Laptev Sea. In: Kassens H, Hubberten H-W, Pryamikov SM, Stein R (eds) Russian-German cooperation in the Siberian shelf seas: Geo-system Laptev-Sea. Ber Polarforsch 144:69–77

Somerfield PJ, Clarke KR (1995) Taxonomic levels, in marine community studies, revisited. Mar Ecol Prog Ser 127:113–119

Spalding MD, Fox HE, Allen GR, Davidson N, Ferdaña ZA, Finlayson M, Halpern BS, Jorge MA, Lombana A, Lourie SA, Martin KD, McManus E, Molnar J, Recchia CA, Robertson J (2007) Marine ecoregions of the world: a bioregionalization of coastal and shelf areas. Bioscience 57:573–583

Starmans A, Gutt A, Arntz WE (1993) Mega-epibenthic communities in Arctic and Antarctic shelf areas. Mar Biol 135:1432–1793

Steffens M, Piepenburg D, Schmid MK (2006) Distribution and structure of macrobenthic fauna in the eastern Laptev Sea in relation to environmental factors. Polar Biol 29:837–84

Thomson DH (1982) Marine benthos in the Eastern Canadian High Arctic: multivariate analyses of standing crop and community structure. Arctic 35:61–74

Vandepitte L, Vanhoorne B, Kraberg A, Anisimova N, Antoniadou C, Araújo R, Bartsch I, Beker B, Benedetti-Cecchi L, Bertocci I, Cochrane S, Cooper K, Craeymeersch J, Christou E, Crisp D, Dahle S, de Boissier M, de Kluijver M, Denisenko S, De Vito D, Duineveld G, Escaravage V, Fleischer D, Fraschetti S, Giangrande A, Heip C, Hummel H, Janas U, Karez R, Kedra M, Kingston P, Kuhlenkamp R, Libes M, Martens P, Mees J, Mieszkowska N, Mudrak S, Munda I, Orfanidis S, Orlando-Bonaca M, Palerud R, Rachor E, Reichert K, Rumohr H, Schiedek D, Schubert P, Sistermans W, Pinto I, Southward A, Terlizzi A, Tsiaga E, van Beusekom J, Vanden Berghe E, Warzocha J, Wasmund N, Weslawski J, Widdicombe C, Włodarska-Kowalczuk M, Zettler M (2010) Data integration for European marine biodiversity research: creating a database on benthos and plankton to study large-scale patterns and long-term changes. Hydrobiologia 644:1-13. doi:10.1007/s10750-010-0108-z

Wacasey JW, Atkinson EG, Kinlough L (1976) Zoobenthos data from James Bay, 1959, 1974. Fish Mar Serv Res Dev Tech Rep 661

Wacasey JW, Atkinson EG, Derick L, Weinstein A (1977) Zoobenthos data from the southern Beaufort Sea, 1971–1975. Fish Mar Serv Res Dev Tech Rep 41

Wacasey JW, Atkinson EG, Glasspoole L (1979) Zoobenthos data from upper Frobisher Bay, 1967–1973. Can Data Rep Fish Aquat Sci 164

Wacasey JW, Atkinson EG, Glasspoole L (1980) Zoobenthos data from inshore stations of upper Frobisher Bay, 1969–1976. Can Data Rep Fish Aquat Sci 205

Wenzel M (2007) Benthic community structure in the Chirikov Basin, northern Bering Sea: A comparison between 1986 and 2002. University of Marburg, Germany, MSc thesis

Węsławski JM, Kendall MA, Włodarska-Kowalczuk M, Iken K, Kędra M, Legezynska J, Sejr MK (2010) Arctic fjord and coastal macrobenthos biodiversity. Mar Biodiv (this issue)

Witman JD, Cusson M, Archambault P, Pershing AJ, Mieskowska N (2008) The relation between productivity and species diversity in temperate-arctic marine ecosystems. Ecology 89:S66–S80

Włodarska-Kowalczuk M, Kedra M (2007) Surrogacy in natural patterns of benthic distribution and diversity: selected taxa versus lower taxonomic resolution. Mar Ecol Prog Ser 351:53–63

Włodarska-Kowalczuk M, Kendall MA, Węsławski JM, Klages M, Soltwedel T (2004) Depth gradients of benthic standing stock and diversity on the continental margin at a high latitude ice-free site (off West Spitsbergen, 79 °N). Deep Sea Res I 51:1903–1914

Włodarska-Kowalczuk M, Sicinski J, Gromisz S, Kendall MA, Dahle S (2007) Similar soft-bottom polychaete diversity in Arctic and Antarctic marine inlets. Mar Biol 151:607–616

Zenkevitch LA (1963) Biology of the seas of the U.S.S.R. George Allen & Unwin, London
Acknowledgements
We would like to thank all the people who contributed to this study with helping in the field studies, identifying species, as well as providing data and advice. Special thanks go to C. Nozère (Rimouski) who helped in homogenizing the database and matching the scientific names, as well as to Julian Gutt (Bremerhaven), Russ Hopcroft (Fairbanks) and two anonymous reviewers whose comments greatly improved our manuscript.
We also acknowledge the financial support of a wide variety of national and international organizations, which provided funds for the original field research that has generated the data our synthesis is based on: Canadian Museum of Nature, Fisheries and Oceans Canada, Natural Sciences and Engineering Research Council of Canada, ArcticNet, United States National Science Foundation, United States Mineral Management Service, National Oceanic and Atmospheric Administration, Russian Academy of Sciences, Research Council of Norway, Commission for Scientific Research in Greenland, German Research Foundation, German Federal Ministry of Research and Technology. The synthesis effort itself, resulting in this paper, was supported by the Alfred P. Sloan Foundation.
This publication is part of the Census of Marine Life's Arctic Ocean Diversity project synthesis and was originally presented at the Arctic Frontiers Conference in Tromsø, January 2010. The support and initiative of ARCTOS and Arctic Frontiers are gratefully acknowledged. The paper is also a contribution to the Canadian Healthy Oceans Network.
Additional information
This article belongs to the special issue "Arctic Ocean Diversity Synthesis"
About this article
Cite this article
Piepenburg, D., Archambault, P., Ambrose, W.G. et al. Towards a pan-Arctic inventory of the species diversity of the macro- and megabenthic fauna of the Arctic shelf seas. Mar Biodiv 41, 51–70 (2011). https://doi.org/10.1007/s12526-010-0059-7
Received:

Revised:

Accepted:

Published:

Issue Date:

DOI: https://doi.org/10.1007/s12526-010-0059-7
Keywords
Arctic

Macrobenthos

Megabenthos

Shelf

Pan-Arctic inventory

Diversity