Abstract
Banks have reacted much more enthusiastically to the FinTech revolution than many of their customers. Robo-advisory, automated web-based investment advisory, in particular promises many advantages for both banks and customers - but consumer adoption has been slow so far. Recent studies suggest that this might be due to a mix of low trust in banks, high expectations of transparency and general inability or unwillingness to engage with investment questions. Research in decision support and guidance shows customers' willingness to interact with a decision support tool depends greatly on its usability. We identify requirements for robo-advisory, derive design principles and evaluate them in two iterations with a real robo-advisor in a controlled laboratory study. The evaluation results confirm the validity of our identified design principles.
Access options
Buy single article
Instant access to the full article PDF.
USD 39.95
Price includes VAT (USA)
Tax calculation will be finalised during checkout.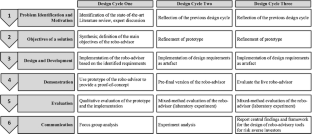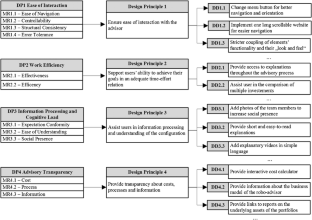 Notes
1.

A complete list of all publications screened for this study is available upon request from the authors.
References
Alt, R., & Puschmann, T. (2012). The rise of customer-oriented banking-electronic markets are paving the way for change in the financial industry. Electronic Markets, 22(4), 203–215. https://doi.org/10.1007/s12525-012-0106-2.

Alt, R. & Puschmann, T. (2016). Digitalisierung der Finanzindustrie: Springer, Berlin.

Charness, G., Gneezy, U., & Imas, A. (2013). Experimental methods: Eliciting risk preferences. Journal of Economic Behavior & Organization, 87, 43–51. https://doi.org/10.1016/j.jebo.2012.12.023.

Creswell, J. W. (2013). Research design: Qualitative, quantitative, and mixed methods approaches. Thousand Oaks: Sage publications.

Epperson, T., Hedges, B., Singh, U., & Gabel, M. (2015). A.T. Kearney 2015 robo-advisory services study.

Faubion, B. (2016). Effect of automated advising platforms on the financial advising market.

Goeke, M. (2016). Kompetenz und trends im private banking. In Banking & Innovation 2016 (pp. 3–9). Springer.

Greiner, B. (2015). Subject pool recruitment procedures: Organizing experiments with ORSEE. Journal of the Economic Science Association, 1(1), 114–125 Online available http://www.orsee.org/web/.

Haki, M. K., & Legner, C. (2013). Enterprise architecture principles in research and practice: Insights from an exploratory analysis. In ECIS (p. 204).

Hansen, T., Scheer, C., & Loos, P. (2003). Product configurators in electronic commerce-extension of the configurator concept towards customer recommendation. In Proceedings of the 2nd Interdisciplinary World Congress on Mass Customization and Personalization (MCP).

Hardman, D., & Edwards, L. (1989). Lost in hyperspace': Cognitive mapping and navigation in a hypertext environment. Hypertext: Theory into practice (pp. 105–145).

Holt, C. A., & Laury, S. K. (2005). Risk aversion and incentive effects: New data without order effects. The American Economic Review, 95(3), 902–904. https://doi.org/10.1257/0002828054201459.

Jaspers, M. W. M., Steen, T., van den Bos, C., & Geenen, M. (2004). The think aloud method: A guide to user interface design. International Journal of Medical Informatics, 73(11), 781–795. https://doi.org/10.1016/j.ijmedinf.2004.08.003.

Kilic, M., Heinrich, P., & Schwabe, G. (2015). Coercing into completeness in financial advisory service encounters. In Proceedings of the 18th ACM Conference on Computer Supported Cooperative Work & Social Computing (pp. 1324–1335).

Korner, V., & Zimmermann, H. D. (2000). Management of customer relationship in business media-the case of the financial industry. In system sciences, 2000. Proceedings of the 33rd annual Hawaii international conference on (pp. 10-pp). IEEE.

Kushniruk, A. W., & Patel, V. L. (2004). Cognitive and usability engineering methods for the evaluation of clinical information systems. Journal of Biomedical Informatics, 37(1), 56–76. https://doi.org/10.1016/j.jbi.2004.01.003.

Looney, C. A., & Hardin, A. M. (2009). Decision support for retirement portfolio management: Overcoming myopic loss aversion via technology design. Management Science, 55(10), 1688–1703. https://doi.org/10.1287/mnsc.1090.1052.

Ludden, C., Thompson, K., & Mohsin, I. (2015). The rise of robo-advice: Changing the concept of wealth management.

Moewes, T., Puschmann, T., & Alt, R. (2011). Service-based integration of IT-innovations in customer-bank-interaction.

Musto, C., Semeraro, G., Lops, P., de Gemmis, M., & Lekkas, G. (2015). Personalized finance advisory through case-based recommender systems and diversification strategies. Decision Support Systems, 77, 100–111. https://doi.org/10.1016/j.dss.2015.06.001.

Nielsen, J. (1999). Designing web usability: The practice of simplicity. Indianapolis: New Riders Publishing.

Nueesch, R., Puschmann, T., & Alt, R. (2014). Realizing value from tablet-supported customer advisory: Cases from the banking industry. Proceedings of 27th Bled eConference Slovenia (pp. 292–305).

Nussbaumer, P., & Matter, I. (2011). What you see is what you (can) get? Designing for process transparency in financial advisory encounters. Human-Computer Interaction–INTERACT 2011, pp. 277–294.

Nussbaumer, P., Matter, I., à Porta, G. R., & Schwabe, G. (2012a). Designing for cost transparency in investment advisory service encounters. Business & Information Systems Engineering, 4(6), 347–361. https://doi.org/10.1007/s12599-012-0237-1.

Nussbaumer, P., Matter, I., & Schwabe, G. (2012b). "Enforced" vs."Casual" Transparency-Findings from IT-supported financial advisory encounters. ACM Transactions on Management Information Systems (TMIS), 3(2), 11.

Payne, J. W., Bettman, J. R., & Johnson, E. J. (1993). The adaptive decision maker. Cambridge: Cambridge University Press. https://doi.org/10.1017/CBO9781139173933.

Peffers, K., Tuunanen, T., Rothenberger, M. A., & Chatterjee, S. (2007). A design science research methodology for information systems research. Journal of Management Information Systems, 24(3), 45–77. https://doi.org/10.2753/MIS0742-1222240302.

Praeg, C.-P., Schmidt, C., & Bauer, W. (2015). Trendstudie Bank und Zukunft — Aufbruch zu neuen Kundenerlebnissen und Services in der digitalen Oekonomie. Fraunhofer Verlag.

Rosson, M. B., & Carroll, J. M. (2002). Usability engineering: scenario-based development of human-computer interaction: Morgan Kaufmann, Burlington.

Ruf, C., Back, A., Bergmann, R., & Schlegel, M. (Eds.). (2015). Elicitation of requirements for the design of mobile financial advisory services--instantiation and validation of the requirement data model with a multi-method approach. IEEE.

Ruf, C., Back, A., & Burkhardt, M. (2016). Mobile First auch in Beratungsprozessen des private banking? Entwicklung und Validierung einer iPad-Applikation.

SEC - Securities and Exchange Commission. (2015). Conflicts of interest and risk governance. Online available https://www.sec.gov/news/speech/2012-spch103112cvdhtm.

Senecal, S., Kalczynski, P. J., & Nantel, J. (2005). Consumers' decision-making process and their online shopping behavior: A clickstream analysis. Journal of Business Research, 58(11), 1599–1608. https://doi.org/10.1016/j.jbusres.2004.06.003.

Short, J., Williams, E., & Christie, B. (1976). The social psychology of telecommunications.

Sironi, P. (2016). FinTech innovation: From robo-advisors to goal based investing and gamification. Wiley, DOI: https://doi.org/10.1002/9781119227205.

Son, H., & Collins, M. (2016). The rich are already using robo-advisers, and that scares banks. Retrieved from http://www.bloomberg.com/news/articles/2016-02-05/the-rich-are-already-using-robo-advisers-and-that-scares-banks.

Stelzer, D. (2010). Enterprise architecture principles: Literature review and research directions. In Service-oriented computing. ICSOC/ServiceWave 2009 workshops (pp. 12–21). Berlin: Springer, DOI: https://doi.org/10.1007/978-3-642-16132-2_2.

Suchman, L. (1993). Do categories have politics? Computer Supported Cooperative Work (CSCW), 2(3), 177–190. https://doi.org/10.1007/BF00749015.

Symonds, J., & Connor, A. (2008). Usability evaluation meets design: The case of bisco office™. Information Systems research methods, epistemology, and applications (pp. 183).

The Economist. (2015). Robo-advisers - Does not compute: The growth of firms selling computer-generated financial advice is slowing. Retrieved from http://www.economist.com/news/finance-and-economics/21677245-growth-firms-selling-computer-generated-financial-advice-slowing-does-not.

Ting, I.-H., Kimble, C., & Kudenko, D. (2005). UBB mining: Finding unexpected browsing behaviour in clickstream data to improve a web site's design. In The 2005 IEEE/WIC/ACM International Conference on Web Intelligence (WI'05) (pp. 179–185).

Trentin, A., Perin, E., & Forza, C. (2012). Product configurator impact on product quality. International Journal of Production Economics, 135(2), 850–859. https://doi.org/10.1016/j.ijpe.2011.10.023.

Vaishnavi, V. K., & Kuechler, W. (2015). Design science research methods and patterns: innovating information and communication technology. Boca Raton: Crc Press.

Webster, J., & Watson, R. T. (2002). Analyzing the past to prepare for the future: Writing a literature review. MIS quarterly, 26, xiii–xxiii.
Additional information
Responsible Editors: Martin Smits and Rainer Alt
About this article
Cite this article
Jung, D., Dorner, V., Weinhardt, C. et al. Designing a robo-advisor for risk-averse, low-budget consumers. Electron Markets 28, 367–380 (2018). https://doi.org/10.1007/s12525-017-0279-9
Received:

Accepted:

Published:

Issue Date:
Keywords
Robo-advisory

Usability engineering

User-centric design
JEL classification