Electronic Markets on self-archiving
Dear readers of Electronic Markets,
Welcome to the first issue of volume 26, which includes a collection of six articles. Three articles address the special theme on "ICT-based Networked Governance", while another three are general research contributions. Prior to introducing these articles, the editorial links to the last editorial in issue 25/4, which discussed the reviewing process as the key element in safeguarding the quality of academic work (Alt et al.
2015a
). Especially academic journals with a high impact factor feature competitive review processes, since many authors are interested in publishing their work in these journals. As indicated in Fig. 
1
, this is a self-reinforcing mechanism, as a large number of authors is attracted to publishing in these journals due to the importance of highly ranked publications for academic repuation and their role in academic qualification processes. Since researchers usually submit their best work to these journals and the journal's space for accepted papers is limited, the successful papers feature a high maturity, which in turn increases the probability of becoming cited. Journals with many frequently cited articles are likely to have a higher impact factor, which again increases the incentives for authors to submit their work to the respective journal.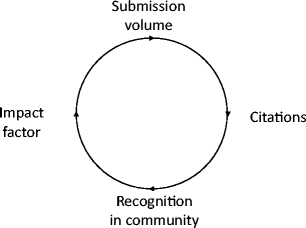 Copyright information
© Institute of Information Management, University of St. Gallen 2016