Abstract
Recent research on cloud computing adoption suggests the lack of a deep understanding of its benefits by managers and organizations. We present a firm-level cloud computing readiness metrics suite and assess its applicability for various cloud computing service types. We propose four relevant categories for firm-level adoption readiness, including technology and performance, organization and strategy, economic and valuation, and regulatory and environmental dimensions. We further define sub-categories and measures for each. Our evidence of the appropriateness of the metrics suite is derived based on a series of empirical cases developed from our project work, which encompasses input from field interviews, business press sources, industry white papers, non-governmental organizations, and government agency sources. We also assess how the application of the metrics suite supports organizational users of cloud computing.
This is a preview of subscription content, log in to check access.
Access options
Buy single article
Instant access to the full article PDF.
US$ 39.95
Price includes VAT for USA
Subscribe to journal
Immediate online access to all issues from 2019. Subscription will auto renew annually.
US$ 99
This is the net price. Taxes to be calculated in checkout.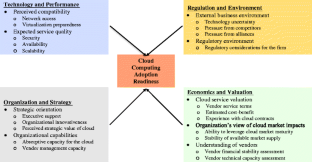 Notes
1.

Discussants of a prior version of this research (Kauffman et al. 2014) presented at the 2014 International Conference on the Economics of Grids, Clouds, Systems and Services (GECON 2014) emphasized the importance of adapting measurement approaches that tie in more closely with the various cloud computing services for data storage, software, infrastructure, data analytics, and so on. These comments encouraged us to develop new results related to the different business models of cloud computing in our own metrics suite work.

2.

To distinguish our research from what is often seen in academic publications, we sought to create a balanced view through the use of non-academic sources, in addition to the interactions and information from our field study interviews. The benefit of working to triangulate a meaningful set of findings that cuts across academic, industry and government sources is that it brings retrospective assessments, current views and prognostications of future outcome all to the present – to create valuable insights into technology-induced firm and industry transformation.

3.

When a client's use of cloud computing is non-essential because the new technology only supplements existing capabilities, versus when a client relies on the technology to be essential for supporting the primary outcomes of its business, the evaluation of the adoption decision is likely to shift dramatically. For these reasons, we will draw on a variety of aspects of different cloud computing services, including contrasts in the architectural models, the current level of maturity of cloud services in the marketplace, and the heterogeneous perceptions of uncertainty and risk with respect to different cloud services of the potential adopting organizations.

4.

This term, metrics suite, is used in engineering, software systems, and business process management contexts. Metrics suites can capture and quantify complex aspects of operational processes, help managers to evaluate business performance, and enable them to make effective adjustments and achieve desirable outcomes. In addition, metrics suites have been used to create measurement approaches to capture quantitative and financial performance, and qualitative and intangible organizational capacities (Kaplan and Norton 1996), measure interdependent aspects of systems design in software development (Chidamber and Kemerer 1994), and simplify financial risks based on a set of numerical measures (Jorion 2000).

5.

The idea of using exploratory research methods in this work is heavily founded on the use of industry cases, which anchors our research in the central domain of organization IS research scholarship. The exploratory study of cases to learn about relevant issues that bear on theory related to the management of IT in various kinds of settings was pioneered by authors in organizational and management studies (e.g., Eisenhardt and Graebner 2007), information systems (e.g., Benbasat et al. 1987).

6.

With this intermediate theory perspective, researchers typically work on areas with no mature theories, and only separate bodies of literature, as we have noted. Their purpose is to explore the theoretical basis, test provisional explanations, and propose testable propositions. Prior literature, archival data, industry reports and interviews are the major data sources of data, and the method tend to be qualitative. With this approach, different authors deploy slightly different methods. This description matches our general approach, though we have proposed an artefact for cloud adoption readiness.

7.

We focused on reports from major consulting firms such as Gartner, McKinsey, and Ernest & Young, and the major cloud services vendors – IBM, HP, Salesforce, Amazon Web Services, Oracle, Fujitsu, Citrix, Insightly, RedHat OpenShift and Heroku – based on a variety of industry sources (e.g., Curtis 2014, Panettieri 2013).

8.

Although it initially made sense to us to use quotations as a way to represent their assessments, we later decided that it was more appropriate to extract the essential elements of their comments only. In too many cases, quoting their words gave an impression that the people who were quoted might be "cherry-picked" to support the marketing of the cloud services vendors they used, which was not appropriate for our narratives. Since the authors had no direct access to the senior managers in the materials that we acquired, and our main emphasis was on the relevance of the measures we identified – to assess whether they were meaningful for the intended purpose. We were somewhat less concerned with their specific values: "less important," of average importance" or "more important." We thank the review team for their guidance on this issue.

9.

An anonymous reviewer suggested to us that it may not be easy to evaluate relative importance especially when the sources, interview partners and documents differ from case to case. We agreed, but wish to note that this is similar to other evaluative methods in different contexts, both qualitative and quantitative. One example is the quantitative method of valuation via net present value (NPV) analysis, where many different assessments, different outcome numbers, and different assumptions are likely to be used by different analysts in different settings. Only in the simplest cases will there be easily agreed upon quantitative outcomes from the analysis.

10.

We also want to indicate that the weighting scheme that we used (*, **, ***) is worthwhile to examine carefully for biases. They include: (1) possible data source biases since we conducted an "arm's length" analysis; (2) potential author-introduced biases based on the coding process; and (3) information availability biases due to variation from case to case. These biases will all be mimicked when senior managers use our approach though: so there is no complete escape from this kind of problem. But senior managers will not be at "arm's length" from their organizations: they will be them. The consistency of coding by senior managers may be subject to differences in their organizational experience, technical knowledge, and risk management experience. Nevertheless, we proffer that these issues will be less of a problem when managers in organizations are driving and participating in the metrics suite-based evaluative process. For more information on coding, see Recker (2013).

11.

Models that explain or characterize processes will work best when they have orthogonal or maximally distinct components. An example is econometric regression models; they have greater explanatory power for a given number of variables when the independent variables are correlated with the dependent variable, but are uncorrelated with one another. Also, frameworks that aim to provide explanatory capability are considered to be robust when they employ relatively independent elements and components that sustain their relevance over time, in different settings, and for different purposes of use. Our choices of categories in the metric suite follow the same logic, and the categories have the least overlap among one another.

12.

The information sources for our analysis work in this section are as follows. (1) Industry reports and relevant cloud computing websites and forums provide information on vendor and technology performance. They help firms to get an idea about the technological maturity of a specific type of cloud computing service at the aggregate level. In addition, some vendors provide free trials of their services on their websites, which offers firms an opportunity to get a sense about vendor-specific technology information. (2) When considering the firm's own organizational factors, senior managers such as the CIO and the CEO will mainly rely on internal support from their staff to acquire relevant information. The firm also needs to have an appropriate understanding and self-evaluation of its overall strategy, organizational culture and capability, as well as a longer-term orientation and targets. (3) Cloud vendors' websites typically provide pricing information, which assists users to estimate the economic value of using cloud services. In addition, for a cloud computing services vendor, company reports are typically publicly available, so that firms can gauge their financial status and stability. And (4), to get a good understanding about regulatory constraints, firms need to pay attention to announcements on cloud-related government regulations and laws. For example, a government's requirements about security in terms of the boundaries of data storage are a key concern.

13.

It is worthwhile to note that, rather than interpret these entries as being definitive, the reader should view them as broadly representative of relevant considerations for a specific type of cloud computing service, and more narrowly representative of our application of the metrics to the cases.
References
Alexander, M., & Young, D. (1996). Outsourcing: where's the value? Long Range Planning, 29(5), 728–730.

Amit, R., & Zott, C. (2001). Value creation in e-business. Strategic Management Journal, 22(6–7), 493–520.

Ang, S., & Straub, D. (1998). Production and transaction economies and IS outsourcing a study of the U. S. banking industry. MIS Quarterly, 22(4), 535–552.

Anthens, G. (2010). Security in the cloud. Communications of the ACM, 53(11), 16–18.

Aral, S., & Weill, P. (2007). IT assets, organizational capabilities, and firm performance. Organization Science, 18(5), 763–780.

Armbrust, M., Fox, A., Griffith, R., Joseph, A. D., Katz, R., Konwinski, A., Lee, G., Patterson, D., Rabkin, A., Stoica, I., & Zaharia, M. (2010). A view of cloud computing. Communication of the ACM, 53(4), 50–58.

Aron, R., Clemons, E. K., & Reddi, S. (2005). Just right outsourcing: understanding and managing risk. Journal of Management Information Systems, 22(2), 37–55.

Asia Cloud Computing Association. (2014). Cloud readiness index 2014. Singapore.

Au, Y., & Kauffman, R. J. (2003). What do you know? Rational expectations and information technology investment. Journal of Management Information Systems, 20(2), 49–76.

Barczak, G., Sultan, F., & Hultink, E. J. (2007). Determinants of IT usage and new product performance. Journal of Product Innovation Management, 24(6), 600–613.

Benaroch, M., Dai, Q., & Kauffman, R. J. (2010). Should we go our own way? Backsourcing flexibility in IT services contracts. Journal of Management Information Systems, 26(4), 317–358.

Benbasat, I., Goldstein, D. K., & Mead, M. (1987). The case research strategy in studies of information systems. MIS Quarterly, 11(3), 369–368.

Benlian, A., & Hess, T. (2011). Opportunities and risks of software-as-a-service: findings from a survey of IT executives. Decision Support Systems, 52(1), 232–246.

Bhat, J. M. (2013). Adoption of cloud computing by SMEs in India: a study of the institutional factors. In Proc. 19th Americas Conf. on Info. Sys., Assoc. for Info. Sys., Chicago, IL, 1–8.

Borgman, H. P., Bahli, B., Heier, H., Schewski, F. (2013). Cloudrise: exploring cloud computing adoption and governance with the TOE framework. In Proc. 46 th Hawaii Intl. Conf. Sys. Sci., New York, NY: ACM Comp. Soc. Press.

Bourne, M. C. S., Mills, J. F., Wilcox, M., Neely, A. D., & Platts, K. W. (2000). Designing, implementing and updating performance measurement systems. International Journal of Operation & Production Management, 20(7), 754–771.

Brandenburger, A., & Stuart, H. (1996). Value-based business strategy. Journal of Economics & Management Strategy, 5(1), 5–24.

Breuning, P. J., & Treacy, B. C. (2009). Privacy, security issues raised by cloud computing. Private Security and Law, 8(10), 1–4.

Briand, L. C., Daly, J. W., & Wüst, J. K. (1999). A unified framework for coupling measurement in object-oriented systems. IEEE Transactions on Software Engineering, 25(1), 91–121.

Buyya, R., Broberg, J., & Goscinski, A. M. (Eds.). (2010). Cloud computing: Principles and paradigms (Vol. 87). New York: Wiley.

Callewaert, O., & Deckers, H. (2011). Cloud adoption study: cloud computing is gaining momentum. New York: White paper, Deloitte.

Callewaert, P., Paul, A. R., & Blatman, P. (2009). Cloud computing forecasting change. New York: White paper, Deloitte.

Carlo, J. L., Lyytinen, K., & Rose, G. M. (2012). A knowledge-based model of radical innovation in small software firms. MIS Quarterly, 36(3), 865–895.

Centre for Economics and Business Research. (2010). The cloud dividend: part 1 – the economic benefits of cloud computing to business and the wider EMEA economy: France, Germany, Italy, Spain. London, U.K.

Centre for Economics and Business Research. (2011). The cloud dividend: part 2 – the economic benefits of cloud computing to business and the wider EMEA economy: comparative analysis of the impact on aggregated industry sectors. London, U.K.

Chesbrough, H. (2010). Business model innovation: opportunities and barriers. Long Range Planning, 43(2), 354–363.

Chidamber, S. R., & Kemerer, C. F. (1994). A metrics suite for object oriented design. IEEE Transactions on Software Engineering, 20(6), 476–493.

Cisco. (2014). Implement your cloud computing strategy more easily. San Jose, CA.

Cloud Security Alliance. (2010). Cloud security alliance unveils governance, risk management and compliance (GRC) stack. Orlando: Cloud Security Alliance Conference.

Cloud Service Measurement Index Consortium (CSMIC). (2012). Service measurement index framework, version 2.0, draft. Carnegie Mellon University, Silicon Valley, Moffett Field, CA.

Cohen, W. M., & Levinthal, D. A. (1990). Absorptive capacity: a new perspective on learning and innovation. Administrative Science Quarterly, 35(1), 128–152.

Columbus, L. (2012). Forecasting public cloud adoption in the enterprise. Forbes, July 2.

Columbus, L. (2015). Roundup of cloud computing forecasts and markets estimates. Forbes, January 24.

Croll, A. (2013). How should we measure clouds? InformationWeek, March 20.

Curtis, J. (2014). 10 top cloud computing providers for 2014. Computer Business Review.

Darrow, B. (2013). Gartner: Public cloud services to hit $131b by 2017. San Francisco: GigaOM.

Davern, M., & Kauffman, R. J. (2000). Discovering potential and realizing value from IT investments. Journal of Management Information Systems, 16(4), 121–144.

DeCarlo, A. C. (2014). Cloud service management and cloud monitoring for providers: a primer. Newton: TechTarget.

DeLone, W. H., & McLean, E. (1992). Information systems success: the quest for the dependent variable. Information Systems Research, 3(1), 60–95.

Desarbo, W. S., Di Benedetto, C. A., Song, M., & Sinha, I. (2005). Revisiting the Miles and Snow strategic framework: Uncovering interrelationships between strategic types, capabilities, environmental uncertainty, and firm performance. Strategic Management Journal, 26(1), 47–74.

Dewangan, V., & Godse, M. (2014). Towards a holistic enterprise innovation performance measurement system. Technovation, 34(6), 535–545.

Edmondson, A. C., & McManus, S. E. (2007). Methodological fit in management field research. Academy of Management Review, 32(4), 1246–1264.

Edvinsson, L., & Marlone, M. (1997). Intellectual capital: The proven way to establish your company's real value by measuring its hidden values. London: Piatkus.

El Emam, K., Benlarbi, S., Goel, N., & Rai, S. N. (2001). The confounding effect of class size on the validity of object-oriented metrics. IEEE Transactions on Software Engineering, 27(7), 630–650.

El-Gazzar, R. F. (2014). A literature review on cloud computing adoption issues in enterprises. In B. Bergvall-Kåreborn & P. A. Nielsen (Eds.), Creating value for all through IT, IFIP advances ICT, 429 (pp. 214–242). Heidelberg: Springer.

Espadanal, M., & Oliveira, T. (2012). Cloud computing adoption by firms. Paper 30. In Proc. Medit. Conf. on Info. Sys., Guimares, Portugal.

Etro, F. (2009). The economic impact of cloud computing on business creation, employment and output in Europe: an application of the endogenous market structures approach to a GPT innovation. Journal of Economics and Business, 54(2), 179–208.

European Commission. (2014). Call for tenders: study on measuring the economic impact of cloud computing in Europe. SMART 2014–0031, Brussels, Belgium.

Fujitsu. (2014). The impact of cloud. In association with Economist Intelligence Unit, London, UK, 1–21.

Garg, S. K., Versteeg, S., & Buyya, R. A. (2013). A framework for ranking of cloud computing services. Future Generation Computer Systems, 29(4), 1012–1023.

Garrison, G., Kim, S., & Wakefield, R. L. (2012). Success factors for deploying cloud computing. Communications of the ACM, 55(9), 62–68.

Gartner. (2012). Gartner says worldwide cloud services market to surpass $109 billion in 2012. Press release, Stamford, CT, September 18.

Gartner. (2013). Forecast overview: public cloud services, worldwide, 2011–2016, 4Q12. Stamford, CT.

Gartner. (2014). Business process as a service (BPaas). Stamford, CT.

Graebner, K., & Eisenhardt, M. (2007). Theory building from cases: opportunities and challenges. Academy of Management Journal, 50(1), 25–32.

Grover, V., Cheon, M. J., & Teng, J. T. C. (1996). The effect of service quality and partnership on the outsourcing of information systems functions. Journal of Management Information Systems, 12(4), 89–116.

Güemes, C. (Ed.). (2013). Data analytics as a service: unleashing the power of cloud and big data. Bezons: White paper, Atos SE.

Habib, S. M., Hauke, S., Ries, S., & Mühlhäuser, M. (2012). Trust as a facilitator: a survey. Journal of Cloud Computing, 1(19), 1–18.

Han, K., Kauffman, R. J., & Nault, B. R. (2011). Returns to information technology outsourcing. Information Systems Research, 22(4), 824–890.

Harris, J. G., & Alter, A. E. (2010). Cloudrise: rewards and risks at the dawn of cloud computing. Research report, Accenture Institute for High Performance, New York, NY.

Hauff, S., Huntgeburth, J., & Veit, D. (2014). Exploring uncertainties in a marketplace for cloud computing: a revelatory case study. Journal of Business & Economic, 84(3), 441–468.

Hirschheim, R., Heinzl, A., & Dibbern, J. (2011). Information systems outsourcing: Enduring themes, global (2nd ed.). Basingstoke: Palgrave MacMillan.

Hsu, P. F., Ray, S., & Li-Hsieh, Y. Y. (2014). Examining cloud computing adoption intention, pricing mechanism, and deployment models. International Journal of Information Management, 34(4), 474–488.

Huang, J., Kauffman, R. J., Ma, D. (2014). Pricing strategy for cloud computing: a damaged services perspective. Working paper, School of Information Systems, Singapore Management University.

Huber, R. L. (1993). How continental bank outsourced its "crown jewels.". Harvard Business Review, 71(1), 121–129.

Iansiti, M., & Richards, G. L. (2012). A study of the economic impact of cloud computing. Technology, Policy and Management, 12(4), 344–372.

IBM. (2009). Seeding the clouds: Key infrastructure elements for cloud computing. NY: Yorktown Heights.

IBM. (2015). Tap into it. More than 100 cloud applications. NY: Yorktown Heights.

ISACA. (2012). Cloud computing market maturity study results. Available at www.isaca.org.

Iyer, B., & Henderson, J. C. (2012). Business value from clouds: learning from users. MIS Quarterly Executive, 11(1), 51–60.

Jamshidi, P., Ahmad, A., & Pahl, C. (2013). Cloud migration research: a systematic review. IEEE Transactions on Cloud Computing, 1(2), 142–157.

Johnston, M. (2015). New market trend of analytics as a service driving the growth of 'global big data professional services market' through 2015–2019. Industrial Automation Asia.

Jorion, P. (2000). Value at risk: The new benchmark for managing financial risk (2nd ed.). New York: McGraw-Hill.

Kaplan, R. S., & Norton, D. P. (1996). Using the balanced scorecard as a strategic management system. Harvard Business Review, 74(1), 75–85.

Kauffman, R. J., Ma, D., & Yu, M. (2014). A metrics suite for cloud computing adoption readiness. In J. Altmann, K. Vanmechelen, & O. M. Rana (Eds.), Economics of grids, clouds, systems and services, lecture notes in computer science (pp. 19–35). Heidelberg: Springer.

Khajeh-Hosseini, A., Greenwood, D., Smith, J. W., & Somerville, I. (2012). The cloud adoption toolkit: supporting cloud adoption decisions in the enterprise. Software—Practice & Experience, 42(4), 447–465.

Kim, A., & Moskowitz, S. (2010). Incentivized cloud computing: a principal agent solution to the cloud computing dilemma. Technical report, Naval Research Lab, Washington, DC.

Koehler, P., Anandasivam, A., Ma, D., Weinhardt, C. (2010). Customer heterogeneity and tariff biases in cloud computing. In Proc. 2010 Intl. Conf. Info. Sys., Atlanta, GA: Association for Information Systems.

KPMG Australia. (2011). Modeling the economic impact of cloud computing. Sydney, Australia.

Lacity, M. C., Solomon, S., Yan, A., & Willcocks, L. P. (2011). Business process outsourcing studies: a critical review and research directions. Journal of Information Technology, 26(4), 21–258.

Li, C. (2011). Cloud computing system management under flat rate pricing. Journal of Network and Systems Management, 19(3), 305–318.

Liao, J., Welsch, H., & Stoica, M. (2003). Organizational absorptive capacity and responsiveness: an empirical investigation of growth-oriented SMEs. Entrepreneurship: Theory and Practice, 28(1), 63–85.

Low, C., Chen, Y., & Wu, M. (2011). Understanding the determinants of cloud computing adoption. Industrial Management & Data Systems, 111(7), 1006–1023.

Ludwig, S. (2012). An ugly duckling no more: why platform-as-a-service is poised for huge growth. VentureBeat.com.

Ma, D., & Kauffman, J. R. (2014). Competition between software-as-a-service vendors. IEEE Transactions on Engineering Management, 61(4), 717–729.

Mani, D., Barua, A., & Whinston, A. B. (2006). Successfully governing business process outsourcing relationships. MIS Quarterly, 5(1), 15–29.

Manyika, J., Chui, M., Bughin, J., Dobbs, R., Bisson, P., & Marrs, A. (2013). Disruptive technology: advances that will transform life, business, and the global economy. New York: McKinsey Global Institute.

Markus, M. L. (1997). The qualitative difference in information systems research and practice. In A.S. Lee, J. Liebenau and J. DeGross (eds.), Information systems and qualitative research. Proceedings of the IFIP TC8 WG 8.2 International Conference on Information Systems and Qualitative Research, May 31-June 3, 1997, Philadelphia, PA, 11–27.

Marston, S., Li, Z., Bandyopadhyay, S., & Ghalasi, A. (2011). Cloud computing: the business perspective. Decision Support Systems, 51(1), 176–189.

Merrill, T., & Kang, T. (2014). Cloud computing: is your organization weighing both benefits and risks? New York: ACE Group USA.

Messerschmidt, C. M., & Hinz, O. (2013). Explaining the adoption of grid computing: an integrated institutional theory and organizational capability approach. The Journal of Strategic Information Systems, 22(2), 137–156.

Miles, R., & Snow, C. (1978). Org. strategy, structure, and process. New York: McGraw-Hill.

Miller, M. J. (2014) Cloud means lower price and more flexibility, or does it? PC Magazine.

Misra, S. C., & Mondal, A. (2011). Identification of a company's suitability for the adoption of cloud computing and modelling its corresponding return on investment. Mathematical and Computer Modelling, 53(3), 504–521.

Muth, J. F. (1961). Rational expectations and the theory of price movements. Econometrica, 29(3), 315–335.

National Institute of Standards and Technology. (2009). The NIST definition of cloud computing: recommendations of the Natl. Inst. of Standards and Tech. SP 800–145, Gaithersburg, MD.

Navisite. (2014). ASOS: NaviSite case study. Newark, DE.

Nørreklit, H. (2000). The balance on the balanced scorecard: a critical analysis of some of its assumptions. Management Accounting Research, 11(1), 65–88.

Nucleus Research. (2013). Benefit case study: Salesforce, Social.com, Kixeye. Doc. 108, Boston, MA.

Oh, W., Gallivan, M., & Kim, J. W. (2006). The market's perception of the transactional risks of information technology outsourcing announcements. Journal of Management Information Systems, 22(4), 271–303.

Oshri, I., Kotlarsky, J., & Willcocks, L. P. (2010). The handbook of global outsourcing and offshoring (2nd ed.). New York: Springer.

Panettieri, J. (2013) Top 100 cloud service providers list 2013: ranked 10 to 1. Talkin'Cloud.com.

Pauley, W. A. (2010). Cloud provider transparency: an empirical evaluation. IEEE Security and Privacy, 8(6), 32–39.

Personal Data Protection Commission. (2012). Personal Data Protection Act, Singapore.

Pitt, L. F., Watson, R., & Kavan, C. B. (1995). Service quality: a measure of information systems effectiveness. MIS Quarterly, 19(2), 173–187.

Poppo, L., & Zenger, T. (2002). Do formal contracts and relational governance function as substitutes or complements? Strategic Management Journal, 23(8), 707–725.

Qu, W. G., Pinsonneault, A., & Oh, W. (2011). Influence of industry characteristics on information technology outsourcing. Journal of Management Information Systems, 27(4), 99–128.

Recker, J. (2013). Scientific research in information systems. Heidelberg: Springer.

Repschlaeger, J., Erek, K., & Zarnekow, R. (2013). Cloud computing adoption: an empirical study of customer preferences among start-up companies. Electronic Markets , 23(2), 115–148.

Rimal, B. P., Jukan, A., Katsaros, D., & Goeleven, Y. (2011). Architectural requirements for cloud computing: an enterprise cloud approach. Journal of Grid Computing , 9(1), 3–26.

Rodriguez, T. (2012). The importance of network effects for cloud computing. Enterp. Cloud.

Ross, P., & Blumenstein, M. (2013). Cloud computing: the nexus of strategy and technology. The Journal of Business Strategy, 34(4), 39–47.

Rouse, M. (2014a). Software as a service (SaaS). Newton: TechTarget.

Rouse, M. (2014b). Infrastructure as a service (IaaS). Newton: TechTarget.

Rouse, M. (2014c). Platform as a service (PaaS). Newton: TechTarget.

Roy, S. (2014). Business process as a service: not every service line fits the bill. Research brief. Stamford: Information Services Group.

Salesforce.com. (2013). Salesforce.com announces JetBlue transforms social marketing with Salesforce Marketing Cloud, realizes 140 % return on investment. San Francisco, CA.

SAP News. (2014). New survey findings from SAP and Ovum reveal high cloud adoption in the financial services industry. London, UK.

Seagate. (2015). Cloud computing: answering the need for storage best practices. Cupertino, CA.

Silk, S. (1998). Automating the balanced scorecard. Management Accounting, 79(11), 38–44.

Srinivasan, R., Lilien, G. L., & Rangaswamy, A. (2002). Technological opportunism and radical technology adoption: an application to e-business. Journal of Marketing, 66(3), 47–60.

Stern, J. M., Stewart, G. B., & Chew, D. H. (1996). EVA: an integrated financial management system. European Financial Management, 2(2), 223–245.

Sutherland, S., & Chetty, G. (2014). Migration to cloud computing: a sample survey. International Journal of Information Process and Management, 5(1), 50–61.

Teo, H. H., Oh, L. B., Liu, C., & Wei, K. K. (2003). An empirical study of the effect of interactivity on web user attitude. International Journal of Human Computer Studies, 58(3), 281–305.

The Open Group (2014). Cloud computing for business: establishing your cloud vision. San Francisco, CA.

Tornatzky, L. G., & Klein, K. J. (1982). Innovation characteristics and innovation adoption-implementation: a meta-analysis of findings. IEEE Transactions on Engineering Management, 29(1), 28–45.

Tripsas, M. (1998). Unraveling the process of creative destruction: complementary assets and incumbent survival in the typesetter industry. Strategic Management Journal, 18(SI), 119–42.

Truong, H., & Dustdar, S. (2010). Composable cost estimation and monitoring for computational applications in cloud computing environments. Procedia Computer Science International Conference on Computational Science , 1(1), 2175–2184.

Twentyone, J. (2008). Case studies: SaaS in action – Dixons Store Group International. ComputerWeekly.com.

Venters, W., & Whitley, E. A. (2012). A critical review of cloud computing: researching desires and realities. Journal of Information Technology, 27(3), 179–197.

Vouk, M. A. (2008). Cloud computing: issues, research and implementations. Journal of Computing and Information Technology, 16(4), 235–246.

Walker, O. C., Boyd, H. W., Mullins, J., & Larrèchè, J. C. (2003). Marketing strategy: Planning and implementation (4th ed.). Homewood: Irwin-McGraw-Hill.

Wipro. (2014). Optimize your finance and accounting process with BPaaS. Bangalore, India.

Wright, C. (2004). Top three potential risks with outsourcing information systems. Information Systems Control Journal, 5, 1–2.
Acknowledgments
The authors would like to thank Singapore Management University's School of Information Systems Research Centre (SISRC) for research funding. We also benefitted from the helpful comments of the special issue guest editors, the anonymous reviewers, and the co-chairs, discussants and participants of the 2014 International Conference on the Economics of Grids, Clouds, Systems and Services (GECON 2014). We also had useful input from Jun Liu, Kustini Lim-Wavde and Dan Geng. All of the errors are our own.
Additional information
Responsible Editor: Jörn Altmann
Appendices
Appendix A. Cloud computing services types, by market share of services
Appendix B. Estimated economic impacts of cloud computing services
(Table 4).
Appendix C. Details of the cloud adoption readiness metrics suite
About this article
Cite this article
Kauffman, R.J., Ma, D. & Yu, M. A metrics suite of cloud computing adoption readiness. Electron Markets 28, 11–37 (2018). https://doi.org/10.1007/s12525-015-0213-y
Received:

Accepted:

Published:

Issue Date:
Keywords
Adoption readiness

Cloud computing

Empirical assessment

Managerial decision-making

Metrics suite

Technology adoption
JEL Classification