Abstract
Data – in particular personal data – is becoming a critical asset in more and more industries beyond the Internet sector. Applications based on such data, to improve existing products and processes as well as to create completely new ones, are regarded as a major driver of economic growth. At the same time consumers' concerns about the proper use of their data by organizations are growing. We conducted a conjoint study, comprising more than 3000 participants, to investigate consumers' data sharing sensitivities along six dimensions of context and across ten private and public sectors covering the whole economy. We find that nearly all consumers (99.9 % of our sample) want to share personal data with organizations if the benefits and terms suffice their needs. Second, we show that consumers clearly discriminate between organizations from various industry sectors when it comes to their willingness to share their data. Third, we find that context of sharing personal data is more important in the consumers' decision making than the actual data itself. Further, we provide evidence that the right to be forgotten can significantly increase consumers' willingness to share their data.
Access options
Buy single article
Instant access to the full article PDF.
US$ 39.95
Tax calculation will be finalised during checkout.
Subscribe to journal
Immediate online access to all issues from 2019. Subscription will auto renew annually.
US$ 79
Tax calculation will be finalised during checkout.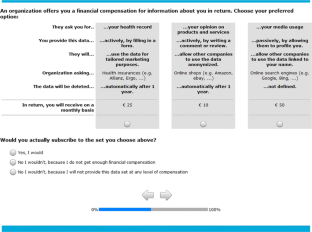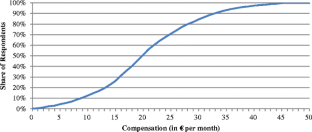 Notes
1.

Products as automobiles or home appliances getting equipped with sensors that collect usage or environmental data and submit this data to central servers via the Internet.
References
Acquisti, A. and Gross, R. (2006). Imagined communities: awareness, information sharing, privacy on the Facebook, Privacy Enhancing Technology Workshops (PET), 1–22.

Acquisti, A., John, L., & Loewenstein, G. (2009). What is privacy worth? Twenty First Workshop on Information Systems and Economics (WISE).

Acquisti, A., John, L., & Loewenstein, G. (2011). Strangers on a plane: context-dependent willingness to divulge sensitive information. Journal of Consumer Research, 37, 858–875.

Bauer, C., Korunovska, J., Spiekermann, S. (2012). On the value of information – what facebook users are willing to pay. ECIS 2012 Proceedings, Paper 197.

Brown, K. (2011). Sony scrambles to limit hacking scandal; http://www.ft.com/cms/s/0/6678a986-758f-11e0-8492-00144feabdc0.html. Accessed on 26 Feb 2013.

Bughin, J. (2011). Digital user segmentation and privacy concerns. Journal of Direct, Data and Digital Marketing Practice, 156–165.

Carifio, J., & Perla, R. (2008). Resolving the 50-year debate around using and misusing Likert scales. Medical Education, 42, 1150–1152.

Central Intelligence Agency (2012). The world factbook: Germany, Poland, Netherlands. Updated 2012, https://www.cia.gov/library/publications/the-world-factbook. Accessed 26 Feb 2013.

Cvrcek, D., Danezis, G., Kumpost, M., & Matya, V. (2006). A Study on the value of location privacy. Proceedings of the Workshop on Privacy in the Electronic Society (WPES '06), 109–118.

Eurobarometer (2011), Special Eurobarometer 359, Attitudes on Data Protection and Electronic Identity in the European Union, Directorate-General Information Society and Media (INFSO), the Directorate-General Justice (JUST) and the Directorate-General JRC, http://ec.europa.eu/public_opinion/archives/ebs/ebs_359_en.pdf. Accessed 26 Feb 2013.

Hann, I.-H., Hui, K.-L., Lee, T. S. and Png, I. P. L. (2003). The value of online privacy: an empirical estimation. Working paper, Marshall School of Business, University of Southern California.

Hinz, O., Gerstmeier, E., Tafreschi, O., Enzmann, M., Schneider, M. (2007) Customer loyalty programs and privacy concerns. 20th Bled eConference eMergence: Merging and Emerging Technologies, Processes, and Institutions.

Krasnova, H., Hildebrand, T., Guenther, O. (2009). Investigating the value of privacy in online social networks: conjoint analysis. Proceedings of International Conference On Information Systems (ICIS).

Maude, F. (2012). Open Government Partnership conference (OGP). Speech. http://www.guardian.co.uk/public-leaders-network/2012/apr/18/francis-maude-data-raw-material. Accessed 26 Feb 2013.

Medick, V., & Teevs, C. Datenskandal: Telekom soll BKA mit Millionen Kundendaten beliefert haben, http://www.spiegel.de/wirtschaft/datenskandal-telekom-soll-bka-mit-millionen-kundendaten-beliefert-haben-a-617044.html. Accessed 26 Feb 2013.

Orme, B. K. (2002). Formulating attributes and levels in conjoint analysis. Research Paper Series, Sawtooth Software.

Senecal, S., & Nantel, J. (2004). The influence of online product recommendations on consumers' online choices. Journal of Retailing, 80(2), 159–169.

Westin, A. F. (1967). Privacy and freedom. New York: Atheneum.

World Economic Forum (2013), http://www.weforum.org/issues/rethinking-personal-data. Accessed 26 Feb 2013.
Acknowledgments
We would like to express our gratitude towards the people and organizations who supported this effort, especially Manuel Kohnstamm, Stephan Luiten, and Elmar Krack all of Liberty Global, Inc. as well as Jeroen Hardon of Skim Group and The Boston Consulting Group. Thanks also to Helen Yuanyuan Cao for her advice.
Additional information
Responsible Editor: Sarah Spiekermann
Appendix
Appendix
About this article
Cite this article
Roeber, B., Rehse, O., Knorrek, R. et al. Personal data: how context shapes consumers' data sharing with organizations from various sectors. Electron Markets 25, 95–108 (2015). https://doi.org/10.1007/s12525-015-0183-0
Received:

Accepted:

Published:

Issue Date:
Keywords
Digital identity

Personal data

Privacy

Conjoint

Data protection
JEL classification