Abstract
Despite the wide diffusion of gamification in business, limited research exists investigating the application and impacts of gamification. As the gamification effects are heavily dependent on the context of its implementation, this study used the design of the TripAdvisor's funware for investigating the use and the impacts of gamification in a specific tourism context. After reviewing the literature for understanding how to design funwares that can lead to desired experiential and behavioural user outcomes, the paper discusses the way in which the TripAdvisor designed its funware for motivating the travellers to engage with its website and for enhancing the travellers' online experiential values and trip planning processes. Data from TripAdvisor users were also collected for investigating the impacts of the TripAdvisor's funware design on the following users' outcomes: experiential values gained by using TripAdvisor; impacts of TripAdvisor on travellers' trip planning processes; impacts of Tripadvisor on trip experiences. Finally, the paper discusses the implications of the findings to researchers, designers and tourism organisations.
Access options
Buy single article
Instant access to the full article PDF.
US$ 39.95
Tax calculation will be finalised during checkout.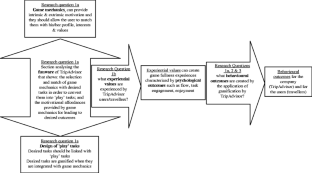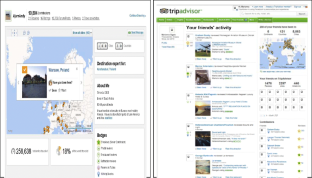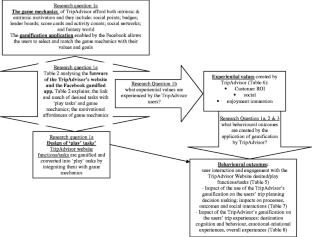 References
Amabile, T. M. (1993). Motivational synergy: Toward new conceptualization of intrinsic & extrinsic motivation in the workplace. HRM Review, 3(3), 185–201.

Aparicio, A.F., Vela, F.L., Sanchez, J.L. G. & Montes, J.L. (2012). Analysis and application of gamification. Interaccion'12, Oct 3–5, 2012, Elche, Alicante, Spain.

Bartle, R. (1996). Hearts, clubs, diamonds, spades: players who suit muds. Journal of MUD research, 1(1), 19.

Cantallops, A. S., & Salvi, F. (2014). New consumer behavior: A review of research on eWOM and hotels. International Journal of Hospitality Management, 36, 41–51.

Chandler, J. (2015). Prosumer Motivations in Service Experiences, Journal of Service Theory & Practice, in press

Cheong, C., Cheong, F. & Filippou, J. (2013). Quick Quiz: A Gamified Approach for Enhancing Learning. Proceedings of Pacific Asia Conference on Information Systems, June 18–22, 2013, Jeju Island, Korea.

Cook, D. (2006). What are game mechanics?. lostgarden.com, available online at http://lostgarden.com/2006/10/what-are-game-mechanics.html [accessed: 26/3/2008]

Cramer, H., Ahmet, Z., Rost, M. & Holmquist, L. (2011). Gamification and location-sharing: some emerging social conflicts. Proceedings of the international conference of the ACM on Computer-Human Interaction, 7–12 May, 2012, Vancouver, Canada.

Daniels, M. (2010). Businesses need to get in the game. Marketing Week. http://www.marketingweek.co.uk/disciplines/market-research/opinion/businesses-need-to-get-in-the-game/3018554.article

Deci, E. L., & Ryan, R. M. (1985). Intrinsic motivation and self-determination in human behavior. New York: Plenum Press.

Deci, E. L., Koestner, R., & Ryan, R. M. (1999). A meta-analytic review of experiments examining the effects of extrinsic rewards on intrinsic motivation. Psychological Bulletin, 125(6), 627–668.

Deterding, S., Dixon, D., Khaled, R. & Nacke, L. (2011a). From game design elements to gamefulness: defining gamification. Proceedings of the 15th International Academic MindTrek Conference: Envisioning Future Media Environments, September 28–30, 2011, Tampere, Finland, ACM, pp. 9–15.

Deterding, S., Sicart, M., Nacke, L., O'Hara, K. & Dixon, D. (2011b). Gamification. using game-design elements in non-gaming contexts. Proceedings of CHI Abstracts, 2425–2428

Domínguez, A., Saenz-de-Navarrete, J., de Marcos, L., Fernández Sanz, L., Pagés, C., & Martínez-Herráiz, J. J. (2013). Gamifying learning experiences: Practical implications and outcomes. Computers & Education, 63, 380–392.

Ducheneaut, N. Yee, N. Nickell, E. & Moore R.J. (2006). Alone together? exploring the social dynamics of massively multiplayer online games. Proceedings of the SIGCHI conference on Human Factors in computing systems, pp. 407–416. ACM

Flatla, D., Gutwin, C., Nacke, L., Bateman, S., Mandryk, R. (2011) Calibration Games: making calibration tasks enjoyable by adding motivating game elements. UIST 2011, S. Barbara, California ACM, pp. 403–412.

Fullerton, T., Swain, C. & Hoffman. S. (2004). Game Design Workshop: Designing, Prototyping, and Playtesting Games. Focal Pr

Gartner (2011). Gartner's 2011 hype cycle special report evaluates the maturity of 1,900 technologies. https://www.gartner.com/it/page.jsp?id=1763814

Gustafsson, A. & Bång, M. (2008). Evaluation of a pervasive game for domestic energy engagement among teenagers. Proceedings of the 2008 International Conference on Advances in Computer Entertainment Technology, December, 2008, Yokohama, Japan, ACM, pp. 232–239.

Hamari, J. & Eranti, V. (2011). Framework for designing and evaluating game achievements. Proceedings of DiGRA 2011: Think Design Play, September 14–17, 2011, Hilversum, The Netherlands, pp. 122–134.

Hamari, J. (2013). Transforming homo economicus into homo ludens: A field experiment on gamification in a utilitarian peer-to-peer trading service. Electronic Commerce Research and Applications, 12(4), 236–245.

Hamari, J., Koivisto, J., & Sarsa, H. (2014). Does Gamification Work? – A Literature Review of Empirical Studies on Gamification. Proceedings of the 47th Hawaii International Conference on System Sciences, Hawaii, USA, January 6–9, 2014.

Heskett, J. L., Sasser, W. E., & Schlesinger, L. A. (1997). The service profit chain. How leading companies link profit and growth to loyalty, satisfaction, and value. New York: The Free Press.

Huotari, K. & Hamari, J. (2012). Defining gamification: a service marketing perspective", Proceedings of the 16th International Academic MindTrek Conference, October 3–5, 2012, Tampere, Finland, ACM, pp. 17–22.

Jeacle, I., & Carter, C. (2011). In TripAdvisor we trust: Rankings, calculative regimes and abstract systems. Accounting, Organizations and Society, 36(4–5), 293–309.

Jennings, G., & Nickerson, N. (2005). Quality Tourism Experiences. Oxford: Elsevier Butterworth-Heinemann.

Kim, A.J. (2010). Designing the player journey. http://www.slideshare.net/amyjokim/gami_cation-101-design-the-player-journey

Lai, T. L. (2004). Service quality and perceived value's impact on satisfaction, intention and usage of short message service (SMS). Information Systems Frontiers, 6(4), 353–368.

Law, R. (2006). Internet and Tourism—Part XXI: TripAdvisor. Journal of Travel & Tourism Marketing, 20(1), 75–77.

Lazzaro, N. (2011). Chasing wonder and the future of engagement. www.slideshare.net/NicoleLazzaro/chasing-wonder-and-the-future-of-engagement

Lee, H., Law, R., & Murphy, J. (2011). Helpful reviewers in TripAdvisor, an online travel community. Journal of Travel & Tourism Marketing, 28(7), 675–688.

Mathwick, C., Malhotra, N., & Rigdon, E. (2001). Experiential value: conceptualisation, measurement and application in catalog and e-shopping. Journal of Retailing, 77, 39–56.

Miguéns, J., Baggio, R. & Costa, C. (2008). Social media and Tourism Destinations: TripAdvisor Case Study, IASK ATR2008 (Advances in Tourism Research 2008), Aveiro, Portugal, May. 26–28.

Nicholson, S. (2012). A User-Centered Theoretical Framework for Meaningful Gamification. Paper Presented at Games + Learning + Society 8.0, Madison, WI.

Nunnally, J. C. (1978). Psychometric theory. New York: McGraw-Hill.

Pavlus, J. (2010). The Game of Life. Scientific American, 303, 43–44.

Reeves, B., & Read, J. L. (2009). Total engagement: using games and virtual worlds to change the way people work and businesses compete. Boston: Harvard Business School Press.

Robertson, M. (2010). Cant play, wont play. http://www.hideandseek.net/2010/10/06/cant-play-wont-play/ [accessed 21 August 2013]

Shneiderman, B. (2004). Designing for fun: How can we design user interfaces to be more fun? Interactions, 11(5), 48–50.

Sigala, M. (2004). Designing experiential websites in tourism and hospitality: a customer-centric value approach. In A. Frew (Ed.), Information & Communication Technologies in Tourism 2004. New York: Springer Verlag.

Sigala, M. (2009). E-service quality and web 2.0: expanding quality models to include customer participation and intercustomer support. The Service Industries Journal, 29(10), 1341–1358.

Sigala, M. (2010). Measuring customer value in online collaborative trip planning processes. Marketing Intelligence & Planning, 28(4), 418–443.

Sigala, M. (2012). The impact of geocollaborative portals on group decision making for trip planning. European Journal of Information Systems, 21(4), 404–426.

Sigala, M., Christou, E., & Gretzel, U. (2012). Web 2.0 in Travel, Tourism and Hospitality: theory, practice and cases. Famham: Ashgate Publishers.

Toh, R. S., DeKay, C. F., & Raven, P. (2011). Travel planning: searching for and booking hotels on the internet. Cornell Hospitality Quarterly, 52(4), 388–398.

Toubia, O. (2006). Idea generation, creativity, incentives. Marketing Science, 25(5), 411–425.

Tregua, M. (2015). Being social for social: a co-creation prespective. Journal of Service Theory & Practice, in press

Tussyadiah, I. P., & Zach, F. J. (2011). The role of geo-based technology in place experiences. Annals of Tourism Research, 39(2), 780–800.

Vásquez, C. (2011). Complaints online: The case of TripAdvisor. Journal of Pragmatics, 43(6), 1707–1717.

Viola, F. (2011) Gamification I videogiochi nella vita quotidiana, published by Arduino Viola

Von Ahn, L. & Dabbish, L. (2008) Designing Games With a Purpose. Comm. ACM, 58–67.

Wang, D., & Fesenmaier, D. R. (2013). Transforming the travel experience: the use of smartphones for travel. In L. Cantoni & X. Zheng (Eds.), Information & Communication technologies in Tourism 2013 (pp. 58–69). China: Springer Verlag.

Webster, J. & Watson, R.T. (2002). Analyzing the past to prepare for the future: writing a literature review. MIS Quarterly, 26(2), xiii-xxiii.

Witt, M., Scheiner, C. & Robra-Bissantz, S. (2011). Gamification of Online Idea Competitions: Insights from an Explorative Case. INFORMATIK 2011. Proceedings of the Jahrestagung der Gesellschaft für Informatik, 4.-7.10.2011, Berlin

Wu, M. (2011). Sustainable gamification: Playing the game for the long haul. http://lithosphere.lithium.com/t5/Building-Community-the-Platform/Sustainable-Gamification-Playing-the-Game-for-the-Long-Haul/ba-p/33601

Xiang, Z., & Gretzel, U. (2010). Role of social media in online travel information search. Tourism Management, 31, 179–188.

Xu, Y. (2011). Literature review on web application gamification and analytics. CSDL Technical report, 11–05

Yee. N. (2002). Facets: 5 motivation factors for why people play mmorpgs. www.nickyee.com

Zichermann, G., & Cunningham, C. (2011). Gamification by design: Implementing game mechanics in web and mobile apps. Sebastopol: O'Reilly Media.

Zichermann, G., & Linder, J. (2010). Game-based marketing: inspire customer loyalty through rewards, challenges, and contests. New York: Wiley.
Additional information
Responsible Editor: Chulmo Koo
About this article
Cite this article
Sigala, M. The application and impact of gamification funware on trip planning and experiences: the case of TripAdvisor's funware. Electron Markets 25, 189–209 (2015). https://doi.org/10.1007/s12525-014-0179-1
Received:

Accepted:

Published:

Issue Date:
Keywords
Gamification

Game mechanics

Funware design

Impacts

Travel planning

Experiences

TripAdvisor
JEL classification

M150

M300