Abstract
The use of new electronic media for marketing communication is gaining in popularity with organizations, and the adoption of social media (SOME) is enjoying particularly rapid growth. However, organizations are uncertain about using SOME and perceived risks are limiting their use. This study explores the key types of risks that business organizations associate with using SOME in their marketing communication. We also explore the effectiveness of procedural control and proactive focusing processes in managing these risks. The results show that organizations perceive three types of risks that deterred companies from increasing the use of SOME. Companies applied procedural control mechanisms to manage time-loss risks. An organization's familiarity with SOME was found to have a strong effect on time-loss as well as on other types of risks. Research revealed that the role that proactive focus and procedural control played in managing SOME-related risks was less than had been anticipated.
Access options
Buy single article
Instant access to the full article PDF.
USD 39.95
Price includes VAT (USA)
Tax calculation will be finalised during checkout.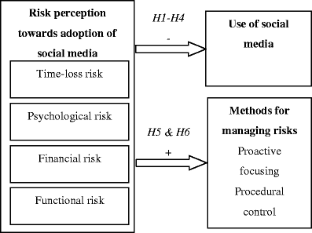 References
Agarwal, S., & Teas, K. R. (2004). Cross-nationa applicability of a perceived risk-value model. Journal of Product & Brand Management, 13,(49), 242–256.

Ahlqvist, T., Halonen, M., & Heinonen, S. (2007). Weak signals in social media, SOMED foresight report 1, pp. 1–52, VTT, ISBN 978-951-38-6357-9, Espoo, Finland.

Anderson, C., Ames, D., & Gosling, S. (2008). Punishing hubris: the perils of overestimating one's status in a group. Society for Personality and Social Psychology, 34(1), 90–101.

Aula, P. (2010). Social media, reputation risk and ambient publicity management. Strategy & Leadership, 38(6), 43–49.

Aula, P., & Mantere, S. (2008). Strategic reputation management. New York: Routledge. ISBN 978-0-8058-6425-0.

Bearden, W., Sharma, S., & Teel, J. (1982). Sample size effects on chi square and other statistics used in evaluating causal models. Journal of Marketing Research, 14, 425–430.

Bellizzi, J., & Walter, C. (1980). Purchasing agent's influence in the buying process. Industrial Marketing Management, 9, 137–141.

Benkler, Y. (2006). The wealth of networks. New Haven: Yale University Press. ISBN 978-0-3001-1056-2.

Bentler, P. M. (1990). Comparative fit indexes in structural models. Quantitative Methods in Psychology, 107(2), 238–246.

Bollen, K., & Long, J. S. (1993). Introduction. In K. Bollen & J. S. Long (Eds.), Testing structural equation models (pp. 1–9). Newbury Park: Sage. ISBN 0-8039-4506-X.

Browne, M. W., & Cudeck, R. (1993). Alternative ways of assessing model fit. Sociological Methods & Research, 21(2), 230–258.

Bunn, M. D. (1994). Key aspects of organizational buying: conceptualization and measurement. Journal of the Academy of Marketing Science, 22(2), 160–169.

Calantone, R., Di Benedetto, C. A., & Bhoovaraghavan, S. (1994). Examining the relationship between degree of innovation and new product success. Journal of Business Research, 30(3), 143–148.

Castells, M. (2009). Communication power. Oxford: Oxford University Press. ISBN 978-0-19-956704-1.

Chin, W. (1998). Issues and opinion on structural equation modeling. Management Information Systems Quarterly, 22(1), 71–86.

Cobb, A. (1980). Informal influence in the formal organization: perceived sources of power among work unit peers. Academy of Management Journal, 23, 155–161.

Constantinides, E., & Fountain, S. J. (2008). Conceptual foundations and marketing issues. Journal of Direct, Data and Digital Marketing Practice, 9(3), 231–244.

Dobler, D., & Burt, D. (1996). Purchasing and supply management (6th ed.). New York: McGraw Hill. ISBN 9780070370890.

Dorfman, M. S. (2008). Introduction to risk management and insurance (9th ed.). Englewood Cliffs: Prentice Hall. ISBN 978-0-13-224227-1.

Dowling, G. R., & Staelin, R. (1994). A model of perceived risk and intended risk-handling activity. Journal of Consumer Research, 21, 119–134.

Droge, C., Calantone, R., & Harmancioglu, N. (2008). New product success: is it really controllable by managers in highly turbulent environments? Journal of Product Innovation Management, 25, 272–286.

Fornell, C., & Larker, D. F. (1981). Structural models with unobservable variables and measurement error: algebra and statistics. Journal of Marketing Research, 18(3), 382–388.

Gatignon, H., & Xuereb, J. M. (1997). Strategic orientation of the firm and new product performance. Journal of Marketing Research, 34(1), 77–90.

Gerbin, D. W., & Anderson, J. C. (1988). An updated paradigm for scale development incorporating unidimensionality and its assessment. Journal of Marketing Research, 25(2), 186–192.

Hakansson, H., & Wootz, B. (1979). A framework of industrial buying and selling. Industrial Marketing Management, 8, 28–39.

Han, J. K., Kim, N., & Srivastava, R. K. (1998). Market orientation and organizational performance: is innovation a missing link? Journal of Marketing, 62(4), 30–45.

Heinritz, S., Farrell, P., Giunipero, L., & Kolchin, M. (1991). Purchasing: Principles and applications. Englewood Cliffs: Prentice Hall. ISBN 9780137420810.

Hoffman, D. L., & Novak, T. P. (2012). Social media strategy. In S. Venkatesh & G. S. Carpenter (Eds.), Handbook of marketing strategy (pp. 198–214). Cheltenham: Edward Elgar Publishing Limited. ISBN 978-1-84980-098-3.

Hrebiniak, L., & Joyce, W. (1985). Organizational adaptation: strategic choice and environmental determinism. Administrative Science Quarterly, 30(3), 336–349.

Hu, L.-T., & Bentler, P. M. (1995). Evaluating model fit. In R. H. Hoyle (Ed.), Structural equation modeling: Concepts, issues and applications (pp. 76–89). Thousand Oaks: Sage. ISBN 978-0-80-395318-5.

Jackson, P. R., Wal, T., Martin, R., & Davids, K. (1993). New measures of job control, cognitive demand, and productions responsibilities. Journal of Applied Psychology, 78, 753–762.

Järvi, P., & Munnukka, J. (2010). Procedural control in managing perceived risks in the organizational buying context. In J. Benigno & E. Sousa (Eds.), Risk management (pp. 295–305). New York: Nova. ISBN 978-1-60876-011-4.

Jöreskog, K., & Sörbom, D. (1993). Lisrel 8: Structural equation modeling with the simplis command language. Lincolnwood: Scientific Software International. ISBN 978-0-89-498033-6.

Kaplan, A. M., & Haenlein, M. (2010). Users of the world, unite! The challenges and opportunities of social media. Business Horizons, 53(1), 59–68.

Kumar, S., & Seth, A. (1998). The design of coordination and control mechanisms for managing joint venture–parent relationships. Strategic Management Journal, 19(2), 579–599.

Lohtia, R., Bello, D., Yamada, T., & Gilliland, D. (2005). The role of commitment in US–Japanese relationships: mediating performance for US sellers in Japan. Journal of Business Research, 58(8), 1009–1018.

MacCallum, R., & Austin, J. (2000). Applications of structural equation modeling in psychological research. Annual Review of Psychology, 51, 201–226.

Madhok, A. (1995). Revisiting multinational firms' tolerance for joint ventures: a trust-based approach. Journal of International Business Studies, 26(1), 117–137.

Maier, C., Laumer, S., Eckhardt, A., & Weitzel, T. (2012). When social networking turns to social overload: explaining the stress, emotional exhaustion, and quitting behavior from social network sites' users. Proceedings of European Conference on Information Systems, paper 71. Retrieved from http://aisel.aisnet.org/cgi/viewcontent.cgi?article=1070&context=ecis2012.

Malhotra, N. K., & Birks, D. F. (2006). Marketing research: An applied approach. Harlow: Pearson Education Limited. ISBN 9780273706892.

Mitchell, V.-W. (1995). Organizational risk perception and reduction: a literature review. British Journal of Management, 6, 115–133.

Mitchell, V.-W. (1998). Buy-phase and buy-class effects on organizational risk perception and reduction in purchasing professional services. The Journal of Business and Industrial Marketing, 13(6), 461–478.

Mitchell, V. W. (1999). Consumer perceived risk: conceptualizations and models. European Journal of Marketing, 33(1/2), 163–195.

Mitchell, V.-W., & Greatorex, M. (1990). Measuring perceived risk and its components across product categories. Proceedings of 19th European Marketing Academy Conference, pp. 153–167, Innsbruck, Austria, May 22–25, 1990.

Mites, R., & Snow, C. (1978). Organizational strategy, structure and process. New York: McGraw-Hill. ISBN 9780070419322.

Morgan, R.M., & Hunt, S. D. (1994). The commitment–trust theory of relationship marketing. The Journal of Marketing, 58(3), 20–38.

Mueller, H. (1996). Basic principles of structural equation modeling: An introduction to LISREL and EQ. New York: Springer. ISBN 0-387-94516-4.

Mukherjee, A., & Nath, P. (2007). Role of electronic trust in online retailing: a re-examination of the commitment-trust theory. European Journal of Marketing, 41(9/10), 1173–1202.

Newall, J. (1977). Industrial buyer behaviour. European Journal of Marketing, 11(3), 166–211.

Nunnally, J. (1978). Psychometric theory (2nd ed.). New York: McGraw Hill. ISBN 978-0070474659.

Parkhe, A. (1993). Messy research, methodological predispositions, and theory development in international joint ventures. Academy of Management Review, 18(2), 227–268.

Ping, R. A., Jr. (2004). On assuring valid measures for theoretical models suing survey data. Journal of Business Research, 57, 125–141.

Ronchetto, J., Jr., Hutt, M., & Reingen, P. (1989). Embedded influence patterns in organizational buying systems. Journal of Marketing, 53, 51–62.

Roselius, T. (1971). Consumer rankings of risk reduction methods. Journal of Marketing, 35, 56–61.

Sarner, A., Thompson, E., Davies, J., Drakos, N., Fletcher, C., Mann, J., et al. (2011), Magic quadrant for social CRM. Gartner.

Scott, S. V., & Walsham, G. (2005). Reconceptualizing and managing reputation risk in the knowledge economy: toward reputation action. Organization Science, 16(3), 308–322.

Singh, T., Veron-Jackson, L., & Culliane, J. (2008). Blogging: a new play in your marketing game plan. Business Horizons, 51, 281–292.

Skarmeas, D., & Robson, M. J. (2008). Determinants of relationship quality in importer–exporter relationships. British Journal of Management, 19(2), 171–184.

Smeltzer, L., & Siferd, S. (1998). Proactive supply management: the management of risk. Journal of Supply Chain Management, 34(1), 38–45.

Solomon, G., & Schrum, L. (2007). Web 2.0: New tools, new schools. Washington: International Society for Technology in Education (ISTE). ISBN 978-1564842343.

Stone, R. N., & Grønhaug, K. (1993). Perceived risk: further considerations for the marketing discipline. European Journal of Marketing, 27(3), 39–50.

Sweeney, J., Soutar, G., & Johnson, L. (1999). The role of perceived risk in the quality-value relationship: a study in a retail environment. Journal of Retailing, 75(1), 77–105.

Weber, L. (2007). Marketing to the social web: How digital customer communities build your business. New Jersey: John Wiley & Sons, Inc. ISBN 978-0470410974.

Woodside, A. G., & Sherrell, D. L. (1980). New replacement part buying. Industrial Marketing Management, 10(2), 123–132.

Woodside, A. C., Liukko, T., & Vuori, R. (1999). Organizational buying of capital equipment involving persons across several authority levels. The Journal of Business and Industrial Marketing, 14(1), 30–48.

Yates, J. F., & Stone, E. R. (1992). The risk construct. In J. F. Yates (Ed.), Risk taking behavior (pp. 1–25). New York: Wiley.
Additional information
Responsible Editor: Shintaro Okazaki
Appendix
Appendix
About this article
Cite this article
Munnukka, J., Järvi, P. Perceived risks and risk management of social media in an organizational context. Electron Markets 24, 219–229 (2014). https://doi.org/10.1007/s12525-013-0138-2
Received:

Accepted:

Published:

Issue Date:
Keywords
Social media

Perceived risk

Risk management

Procedural control

Proactive focusing
Jel classification