Abstract
Advances in information technology (IT) have forced financial services firms to explore new organizational forms and deliver service innovation. Given the obvious differences in the business model in which the financial services sector provides online services, it is natural to ask whether the emergence of Internet channels leads to superior achievement. Using a sample of twenty-four Taiwanese publicly traded financial services firms from 1997 to 2003, this empirical study attempts to assess the Internet channel's effect on firm performance by means of applying event study methodology and data envelopment analysis. Results show that the magnitudes of average abnormal returns are uniformly positive and increase the operating efficiency of firms following announcements via Internet channels. This work therefore concludes that Internet channels have positive influences on firm performance.
Access options
Buy single article
Instant access to the full article PDF.
US$ 39.95
Tax calculation will be finalised during checkout.
Subscribe to journal
Immediate online access to all issues from 2019. Subscription will auto renew annually.
US$ 79
Tax calculation will be finalised during checkout.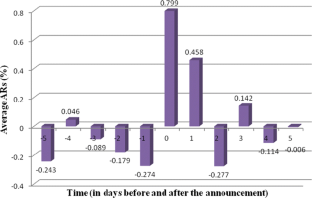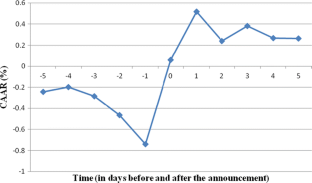 References
Agrawal, J., & Kamakura, W. A. (1995). The economic worth of celebrity endorsers: An event study analysis. Journal of Marketing, 59(3), 56–62.

Ali, A. I., & Gstach, D. (2000). The impact of deregulation during 1990–1997 on banking in Austria. Empirica, 27(3), 265–281.

Anderson, E. W., Fornell, C., & Mazvanchery, S. K. (2004). Customer satisfaction and shareholder value. Journal of Marketing, 68(4), 172–185.

Avery, J., Steenburgh, T. J., Deighton, J., & Caravella, M. (2012). Adding bricks to clicks: Predicting the patterns of cross-channel elasticities over time. Journal of Marketing, 76(3), 96–111.

Banker, R. D., Charnes, A., & Cooper, W. W. (1984). Some models for estimating technical and scale inefficiencies in data envelopment analysis. Management Science, 30(9), 1078–1092.

Boehm, M. (2008). Determining the impact of Internet channel use on a customer's lifetime. Journal of Interactive Marketing, 22(3), 2–22.

Buschken, J. (2007). Determinants of brand advertising efficiency: evidence from the German car market. Journal of Advertising, 36(3), 51–73.

Castellacci, F., & Zheng, J. (2010). Technological regimes, Schumpeterian patterns of innovation and firm-level productivity growth. Industrial and Corporate Change, 19(6), 1829–1865.

Charnes, A., Cooper, W. W., & Rhodes, E. (1978). Measuring the efficiency of decision-making units. European Journal of Operational Research, 2(6), 429–444.

Chen, Y., Ganesan, S., & Liu, Y. (2009). Does a firm's product-recall strategy affect its financial value? An examination of strategic alternatives during product-harm crises. Journal of Marketing, 73(6), 214–226.

Cheng, J. M.-S., Tsao, S.-M., Tsai, W.-H., & Tu, H. H.-J. (2007). Will eChannel additions increase the financial performance of the firm? The evidence from Taiwan. Industrial Marketing Management, 36(1), 50–57.

Choudhury, V., & Karahanna, E. (2008). The relative advantage of electronic channels: A multidimensional view. MIS Quarterly, 32(1), 179–200.

Christiaanse, E., & Zimmerman, R. (1999). Managing electronic channels: The KLM cargo cyberpets case. Journal of Information Technology, 14(2), 123–135.

Dewan, S., & Ren, F. (2007). Risk and return of information technology initiatives: Evidence from electronic commerce announcements. Information Systems Research, 18(4), 370–394.

Eggert, A., Ulaga, W., & Hollmann, S. (2009). Benchmarking the impact of customer share in key-supplier relationships. The Journal of Business and Industrial Marketing, 24(3/4), 154–160.

Fama, E. F. (1970). Efficient capital markets: A review of theory and empirical work. Journal of Finance, 25(2), 383–417.

Fama, E. F., Fisher, L., Jensen, M. C., & Roll, R. (1969). The adjustment of stock prices to new information. International Economic Review, 10(1), 1–21.

Geyskens, I., Gielens, K., & Dekimpe, M. G. (2002). The marketing valuation of internet channel addition. Journal of Marketing, 66(2), 102–119.

Ghapanchi, A. H., & Aurum, A. (2012). Competency rallying in electronic markets: implications for open source project success. Electronic Markets, 22(1), 117–127.

Haugland, S. A., Myrtveit, I., & Nygaard, A. (2007). Market orientation and performance in the service industry: A data envelopment analysis. Journal of Business Research, 60(11), 1191–1197.

Hulland, J., Wade, M. R., & Antia, K. D. (2007). The impact of capabilities and prior investments on online channel commitment and performance. Journal of Management Information Systems, 23(4), 109–142.

Jeong, J., & Yoo, C. Y. (2011). Deceptive advertising and abnormal stock returns: An event study analysis. International Journal of Advertising, 30(3), 509–535.

Johnson, D. S. (2008). Beyond trial: Consumer assimilation of electronic channels. Journal of Interactive Marketing, 22(2), 28–44.

Jih, W. J., Lee, S. F., & Tsai, Y. C. (2010). Effects of website Interactivity on e-loyalty: A social exchange perspective. International Journal of E-Business Research, 6(4), 1–12.

Kassim, N. M., & Abdullah, N. A. (2008). Customer loyalty in e-commerce settings: An empirical study. Electronic Markets, 18(3), 275–290.

Kauffman, R. J., & Weber, B. W. (2002). Introduction to the special issue on advances in research on information technologies in the financial services industry. Journal of Organizational Computing and Electronic Commerce, 12(1), 1–4.

Kimbrough, M. D., McAlister, L., Mizik, N., Jacobson, R., Garmaise, M. J., Srinivasan, S., & Hanssens, D. M. (2009). Commentaries and rejoinder to "marketing and firm value: Metrics, methods, findings, and future directions. Journal of Marketing Research, 46(3), 313–329.

King, S. F., & Liou, J.-S. (2004). A framework for internet channel evaluation. International Journal of Information Management, 24(6), 473–488.

Kumar, M. V. S. (2011). Are joint ventures positive sum games? The relative effects of cooperative and noncooperative behaviour. Strategic Management Journal, 32(1), 32–54.

Lee, C.-Y., & Johnson, A. (2011). A decomposition of productivity change in the semiconductor manufacturing industry. International Journal of Production Research, 49(16), 4761–4785.

McWilliams, A., & Siegel, D. (1997). Event studies in management research: Theoretical and empirical issues. Academy of Management Journal, 40(3), 626–657.

Ng, I. C. L. (2007). Service innovation: Converting Pareto loss into revenue. Journal of Revenue and Pricing Management, 6(4), 279–283.

Paton, R. A., & McLaughlin, S. (2008). Services innovation: Knowledge transfer and the supply chain. European Management Journal, 26(2), 77–83.

Shih, Y. Y., & Fang, K. (2006). Effects of network quality attributes on customer adoption intentions of Internet Banking. Total Quality Management and Business Excellence, 17(1), 61–77.

Steinfield, C., Bouwman, H., & Adelaar, T. (2002). The dynamics of click-and-mortar electronic commerce: opportunities and management strategies. International Journal of Electronic Commerce, 7(1), 93–119.

Strader, T. J., & Ramaswami, S. N. (2004). Investor perceptions of traditional and online channels. Communications of the ACM, 47(7), 73–76.

Subramani, M., & Walden, E. (2001). The impact of e-commerce announcements on the market value of firms. Information Systems Research, 12(2), 135–154.

Tsolas, I. E. (2010). Modeling bank branch profitability and effectiveness by means of DEA. International Journal of Productivity and Performance Management, 59(5), 432–451.

Tu, H. J., Yen, W. C., & Hou, J.-J. (2010). Measuring the operating efficiency of Internet channels with DEA. International Journal of Logistics Economics and Globalisation, 2(2), 95–106.

Wen, H. J., Lim, B., & Huang, H. L. (2003). Measuring e-commerce efficiency: A data envelopment analysis (DEA) approach. Industrial Management & Data Systems, 103(9), 703–710.

Wiles, M. A., Morgan, N. A., & Rego, L. L. (2012). The effect of brand acquisition and disposal on stock returns. Journal of Marketing, 76(1), 38–58.

Xia, Y., & Zhang, G. P. (2010). The impact of the online channel on retailers' performances: An empirical evaluation. Decision Sciences Journal, 41(3), 517–546.

Xue, L., Ray, G., & Sambamurthy, V. (2012). Efficiency or innovation: how do industry environments moderate the effects of firms' IT asset portfolios? MIS Quarterly, 36(2), 509–528.
Acknowledgements
This research project was sponsored by the Taiwan National Science Council (NSC 100-2410-H-126-006-) and supported in part by the School of Management, Providence University.
Additional information
Responsible Editor: Roger W.H. Bons
Appendix
Appendix
1.

"For a nation that's so good at making tech products, Taiwan has been a Net laggard. One exception, though, is Chinatrust Commercial Bank, the country's largest nongovernment financial institution. Under the leadership of 35-year-old Jeffrey Koo Jr., Chinatrust has more than doubled its tech spending, to $48 million, since 1997, and has tripled its IT staff, to 340 people. In June, it became the first Taiwanese bank to offer online banking." (Source: http://www.businessweek.com/stories/2000-09-17/leading-taiwan-to-the-net)

2.

"Bank SinoPac, a subsidiary of SinoPac Financial Holdings, introduces the first ever patented financial product in the history of Taiwan- "MMA Bid Money On-line Service." The service is made available at the inauguration press conference hosted by Mr. McKinney Y. T. Tsai as President and CEO of SinoPac Financial Holdings." (Source: http://www.sinopac.com/eng/news/release01/enews_970701.asp)
About this article
Cite this article
Tu, HJ. Performance implications of internet channels in financial services: A comprehensive perspective. Electron Markets 22, 243–254 (2012). https://doi.org/10.1007/s12525-012-0108-0
Received:

Accepted:

Published:

Issue Date:
Keywords
Event study

Internet channels

Data Envelopment Analysis (DEA)

Performance implications
JEL classification

M31—Marketing

L81—Retail and Wholesale Trade; e-Commerce