Abstract
Interorganisational or chain information systems have become a frequent subject of scientific research, but not often an empirical perspective on these systems is taken. In this study we develop a model for measuring the chain digitisation maturity of organisations (as a proxy for chains) and validate it by conducting a survey among 33 CIOs. We measure maturity on both technology and organisation, on both the supply and demand side of the focal organisations, resulting in four maturity dimensions. Furthermore, we show through a cluster analysis that the dataset can indeed be differentiated along those dimensions. Finally, three determinants, namely complexity of chain digitisation solutions, synchronisation of data, and the size of the organisation, appear to be correlated with chain digitisation maturity. We conclude that the topic of chain digitisation alignment deserves further research, as does its situationality for profit and non-profit organisations.
Access options
Buy single article
Instant access to the full article PDF.
US$ 39.95
Tax calculation will be finalised during checkout.
Subscribe to journal
Immediate online access to all issues from 2019. Subscription will auto renew annually.
US$ 79
Tax calculation will be finalised during checkout.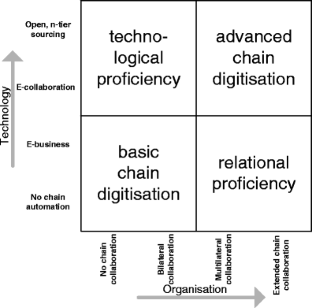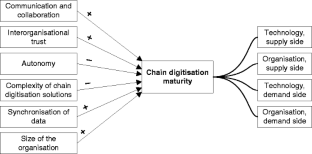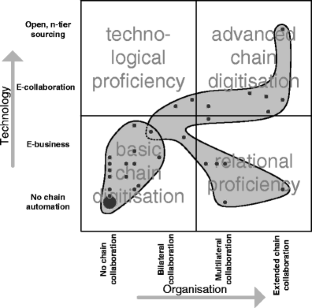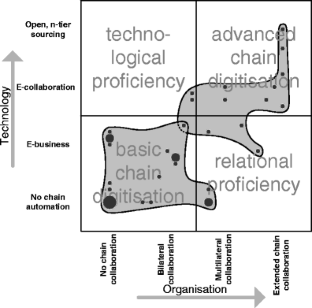 References
Alt, R., & Smits, M. (2007). Networkability of organizations and business networks. Paper presented at the 15th European Conference on Information Systems.

Barney, J. (1991). Firm resources and sustained competitive advantage. Journal of Management, 17(1), 99–120.

Barrett, S., & Konsynski, B. (1982). Inter-organization information sharing systems. MIS Quarterly, 6, 93–105.

Batenburg, R. S., & Versendaal, J. (2007). Business/IT-alignment for customer relationship management: framework and case studies. International Journal of Electronic Customer Relationship Management, 1(3), 258-268.

Batenburg, R. S., & Constantiou, I. D. (2009). A European study of e-business maturity and ICT-benefits: is there a conditional relationship? Paper presented at the 16th European Conference on Information Systems, Verona, Italy.

Bunker, D., Kautz, K., & Pyne, C. (2008). Interorganizational systems adoption: a socio-technical perspective. In G. León, A. Bernardos, J. Casar, K. Kautz, & J. DeGross (Eds.), Open IT-Based Innovation: Moving Towards Cooperative IT Transfer and Knowledge Diffusion (Vol. 287, IFIP International Federation for Information Processing) (pp. 159–175). Boston: Springer.

Chan, Y. E., & Reich, B. H. (2007). IT alignment: an annotated bibliography. Journal of Information Technology, 22, 316–396.

Chesbrough, H., & Spohrer, J. (2006). A research manifesto for services science. Communications of the ACM, 49(7), 35–40.

Daft, R. L. (2001). Organizational theory and design (7th ed.). Cincinnati: South-Western Educational Publishing.

Den Hertog, P. (2010). Managing service innovation: firm-level dynamic capabilities and policy options. Doctoral dissertation. University of Amsterdam.

Frohlich, M. T., & Westbrook, R. (2001). Arcs of integration: an international study of supply chain strategies. Journal of Operations Management, 19, 185–200.

Geri, N., & Ahituv, N. (2008). A theory of constraints approach to interorganizational systems implementation. Information Systems and E-Business Management, 6(4), 341–360.

Grijpink, J. H. A. M. (1999). Chain-computerisation for interorganisational public policy implementation: a new approach to developing non-intrusive information infrastructures. Information Infrastructure and Policy, 6(2), 81–93.

Grijpink, J. H. A. M. (2010). Chain analysis for large-scale communication systems: a methodology for information exchange in chains. Journal of Chain-computerisation, 1, 1–32.

Grijpink, J. H. A. M., Visser, T., Dijkman, J. J., & Plomp, M. G. A. (2010). Towards an information strategy for the manic-depressive disorder chain-of-care. Journal of Chain-computerisation, 1, 1–11.

Håkansson, H., & Ford, D. (2002). How should companies interact in business networks? Journal of Business Research, 55(2), 133–139.

Henderson, J. C., & Venkatraman, N. (1993). Strategic alignment: leveraging information technology for transforming organizations. IBM Systems Journal, 32(1), 4–16.

Kachigan, S. (1991). Multivariable statistical analysis. A conceptual introduction (2nd ed.). New York: Radius Press.

Kalakota, R., & Robinson, M. (2001). E-business 2.0: roadmap for success. Boston: Addison-Wesley Longman.

Luftman, J., & Kempaiah, R. (2007). An update on business-IT alignment: "A line" has been drawn. MIS Quarterly Executive, 6(3), 165–177.

Lunsford, T. K., & Lunsford, B. R. (1995). The research sample, part I: sampling. Journal of Prosthetics and Orthotics, 7(3), 105–112.

Morrell, M., & Ezingeard, J.-N. (2002). Revisiting adoption factors of inter-organisational information systems in SMEs. Logistics Information Management, 15(1), 46–57.

Mumford, E. (1987). Sociotechnical systems design: evolving theory and practice. In G. Bjerknes, P. Ehn, & M. Kyng (Eds.), Computers and democracy (pp. 59–76). Aldershot: Avebury.

Munkvold, B. E. (2005). Experiences from global e-collaboration: contextual influences on technology adoption and use. IEEE Transactions on Dependable and Secure Computing, 2(1), 78–86.

Nunnally, J. C., & Bernstein, I. H. (1994). Psychometric theory (3rd ed.). New York: McGraw-Hill.

Orlikowski, W. J. (1992). The duality of technology: rethinking the concept of technology in organizations. Organization Science, 3(3), 398–427.

Plomp, M. G. A., & Batenburg, R. S. (2009). Procurement maturity, alignment and performance: a Dutch hospital case comparison. Paper presented at the 22nd Bled eConference "eEnablement:Facilitating an Open, Effective and Representative eSociety", Bled, Slovenia.

Plomp, M. G. A., & Batenburg, R. S. (2010). Measuring chain digitisation maturity: an assessment of Dutch retail branches. Supply Chain Management: An International Journal, 15(3), 227–237.

Reimers, K., Johnston, R. B., & Klein, S. (2010). The difficulty of studying inter-organisational IS phenomena on large scales: critical reflections on a research journey. Electronic Markets, 20(3–4), 229–240.

Robey, D., Im, G., & Wareham, J. D. (2008). Theoretical foundations of empirical research on interorganizational systems: assessing past contributions and guiding future directions. Journal of the Association for Information Systems, 9(9), 497–518.

Scott Morton, M.S. (Ed.). (1991). The corporation of the 1990s: Information technology and organizational transformation. Oxford University Press.

Teece, D. J. (2007). Explicating dynamic capabilities: the nature and microfoundations of (sustainable) enterprise performance. Strategic Management Journal, 28(13), 1319–1350.

Teece, D., Pisano, G., & Shuen, A. (1997). Dynamic capabilities and strategic management. Strategic Management Journal, 18(7), 509–533.

Teo, T. S. H., Lin, S., & Lai, K. H. (2009). Adopters and non-adopters of e-procurement in Singapore: an empirical study. Omega, 37(5), 972–987.

Turban, E., McLean, E. R., & Wetherbe, J. C. (2001). Information technology for management: making connections for strategic advantage (2nd ed.). New York: Wiley.

Turban, E., King, D., Viehland, D., & Lee, J. K. (2004). Electronic commerce 2004: a managerial perspective. Upper Saddle River: Pearson-Prentice Hall.

Van Beers, C., & Bouwman, H. (2007). Travel agents and ICT technologies. In T. Wolters (Ed.), Measuring the new economy: statistics between hard-boiled indicators and intangible phenomena (pp. 127–142). Amsterdam: Elsevier.

Wernerfelt, B. (1984). A resource-based view of the firm. Strategic Management Journal, 5(2), 171–180.

Zhu, K., & Kraemer, K. L. (2002). E-commerce metrics for net-enhanced organizations: assessing the value of e-commerce to firm performance in the manufacturing sector. Information Systems Research, 13(3), 275–295.
Additional information
Responsible Editor: Hans-Dieter Zimmermann
About this article
Cite this article
Plomp, M.G.A., Batenburg, R.S. & van Rooij, R.C.M. Determining chain digitisation maturity: a survey among Dutch CIOs. Electron Markets 22, 283–293 (2012). https://doi.org/10.1007/s12525-012-0102-6
Received:

Accepted:

Published:

Issue Date:
Keywords
Chain information systems (CIS)

Maturity

Chief information officer (CIO)

Survey

Cluster analysis

The Netherlands
JEL classification