Abstract
While the importance of mood and emotion has been recognized in Information Systems research, they have been studied only tangentially. To explore the influence of mood and social presence on consumer purchase behaviour in consumer-to-consumer (C2C) e-Commerce, a lab experiment with 200 participants is conducted in China. The structural model explains 36.9 % of the variance in purchase intention. The results indicate that mood plays an important role in consumer purchase behaviour, which has significant impacts on perceived benefit and purchase intention. Social presence has moderating effects between mood and perceived benefit, and between mood and purchase intention. We also find that two cultural dimensions (individualism and uncertainty avoidance) have significant impacts on purchase intention.
Access options
Buy single article
Instant access to the full article PDF.
US$ 39.95
Tax calculation will be finalised during checkout.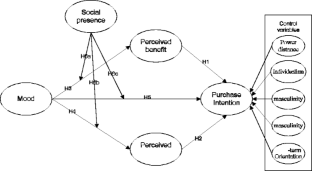 References
Bauer, R. A. (1967). Consumer behavior as risk taking. In D. F. Cox (Ed.), Risk taking and information handling in consumer behavior (pp. 23–33). Boston University Press.

Beaudry, A., & Pinsonneault, A. (2010). The other side of acceptance: studying the direct and indirect effects of emotions on information technology use. MIS Quarterly, 34(4), 689–710.

Chin, W. W., Gopal, A., & Salisbury, W. D. (1997). Advancing the theory of adaptive structuration: the development of a scale to measure faithfulness of appropriation. Information Systems Research, 8(4), 342–367.

Chou, K. L., Lee, T. M., & Ho, A. H. (2007). Does mood state change risk taking tendency in older adults. Psychology and Aging, 22(2), 310–318.

Chu, K.-K., & Li, C.-H. (2008). A study of the effect of risk-reduction strategies on purchase intentions in online shopping. International Journal of Electronic Business Management, 6(4), 213–226.

Clark, M. S., & Isen, A. M. (1982). Toward understanding the relationship between feeling states and social behavior. New York: Elsevier/North Holland.

CNNIC (2009). Statistical survey report on the internet development in China: China Internet Network Information Centero. Document Number)

Compeau, D., Higgins, C. A., & Huff, S. (1999). Social cognitive theory and individual reactions to computing technology: a longitudinal study. MIS Quarterly, 23(2), 145–158.

Dash, S., & Saji, K. B. (2007). the role of consumer self-efficacy and website social-presence in customers' adoption of B2C online shopping an empirical study in the Indian context. Journal of International Consumer Marketing, 20(2), 33–49.

Davis, F. D. (1989). Perceived usefulness, perceived ease of use, and user acceptance of information technology. MIS Quarterly, 13(3), 319–340.

Djamasbi, S., & Strong, D. M. (2008). The effect of positive mood on intention to use computerized decision aids. Information Management, 45(1), 43–51.

Djamasbi, S., Strong, D. M., & Dishaw, M. (2010). Affect and acceptance: examining the effects of positive mood on the technology acceptance model. Decision Support Systems, 48, 383–394.

Forgas, J. P. (1995) Mood and Judgment: The Affect Infusion Model (AIM). Psychological Bulletin, 117(1), 39–66.

Fornell, C., & Larcker, D. F. (1981). Evaluating structural equation models with unobservable variables and measurement error. Journal of Marketing Research, 18, 39–50.

Fredrickson, B. L. (2003). Positive emotions and upward spirals in organizations. San Francisco: Berret Koehler Publishers.

Fulk, J., Steinfield, C. W., Schmitz, J., & Power, J. G. (1987). A social information processing model of media use in organizations. Communication Research, 14(5), 520–552.

Gabriel, I. J., & Nyshadham, E. (2008). A cognitive map of people 's online risk perceptions and attitudes an empirical study. Proceedings of the 41st Hawaii International Conference on System Sciences, (pp. 1–10).

Gefen, D., & Straub, D. (2003). Managing user trust in B2C e-Services. e-Service Journal, 2(2), 7–24.

Gefen, D., & Straub, D. W. (2004). Consumer trust in B2C e-Commerce and the importance of social presence: experiments in e-Products and e-Services. Omega, 32, 407–424.

George, J. M. (1989). Mood and absence. Journal of Applied Psychology, 74(2).

George, J. M., & Jones, G. R. (1996). The experience of work and turnover intentions: interactive effects of value attainment, job satisfaction, and positive mood. Journal of Applied Psychology, 81(3).

Gratch, J., & Marsella, S. (2004). A domain-independent framework for modeling emotion. Cognitive Systems Research, 5, 269–306.

Hassanein, K., & Head, M. (2007). Manipulating perceived social presence through the web interface and its impact on attitude towards online shopping. International Jounal Human-Computer Studies, 65, 689–708.

Hofstede, G. (2001). Culture's consequences: Comparing values, behaviors, institutions and organizations across nations. Thousand Oaks: Sage Publications.

Hsu, M.-H., & Chiu, C.-M. (2004). Predicting electronic service continuance with a decomposed theory of planned behavior. Behaviour and Information Technology, 23(5), 359–373.

Paul Peter, J., & Tarpey, L. X. (1975). A comparative analysis of three consumer decision strategies. Journal of Consumer Research, 2(1), 29–37.

Kim, D. J., Cho, B., & Rao, H. R. (2000). Effects of consumer lifestyles on purchasing behavior on the internet: A conceptual framework and empirical validation. Paper presented at the Proceedings of the twenty first international conference on Information systems, Brisbane, Queensland, Australia

Kim, D. J., Ferrin, D. L., & Rao, H. R. (2008). A trust-based consumer decision-making model in electronic commerce the role of trust, perceived risk, and their antecedents. Decision Support Systems, 44, 544–564.

Kim, D. J., Ferrin, D. L., & Rao, H. R. (2009). Trust and satisfaction, two stepping stones for successful e-commerce relationships. Information Systems Research, 20(2), 237–257.

Kumar, N., & Benbasat, I. (2002). Para-social presence and communication capabilities of a web site: a theoretical perspective. e-Service Journal, 1(3), 5–24.

Kumar, N., & Benbasat, I. (2006). The influence of recommendations and consumer reviews on evaluations of websites. Information Systems Research, 17(4), 425–439.

Lee, M.-C. (2009). Factors influencing the adoption of internet banking an integration of TAM and TPB with perceived risk and perceived benefit. Electronic Commerce Research and Applications, 8, 130–141.

Lewis, W., Agarwal, R., & Sambamurthy, V. (2003). Sources of influence on beliefs about information technology use: an empirical study of knowledge workers. MIS Quarterly, 27(4), 657–678.

Li, H., Sarathy, R., & Zhang, J. (2008). The role of emotions in shaping consumers' privacy beliefs about unfamiliar onlne vendors. Journal of Information Privacy and Security, 4(3).

Li, H., Sarathy, R., & Xu, H. (2011). The role of affect and cognition on online consumers' decision to disclose personal information to unfamiliar online vendors Decision Support Systems.

Liu, X., & Wei, K. K. (2003). An empirical study of product differences in consumers'E-commerce adoption behavior. Electronic Commerce Research and Applications, 2, 229–239.

Malhotra, Y., & Galletta, D. (2005). A multidimensional commitment model of volitional systems adoption and usage behavior. Journal of Management Information Systems, 22(1), 117–151.

Mano, H. (1999). The influence of pre-existing negative affect on store purchase intentions. Journal of Retailing, 75(2), 149–172.

Martin, L. L., Ward, D. W., Achee, J. W., & Wyer, R. S., Jr. (1993). Mood as input: people have to interpret the motivational implications of their moods. Journal of Personality and Social Psychology, 64, 317–326.

Mathwick, C., Malhotra, N. K., & Rigdon, E. (2001). Experiential value: conceptualization, measurement and application in the catalogue and Internet shopping environment. Journal of Retailing, 77(1), 39–56.

McKinney, L. N. (2004). Creating a satisfying internet shopping experience via atmospheric variables. International Journal of Consumer Studies, 28(3), 268–283.

McKnight, D. H., Choudhury, V., & Kacmar, C. (2002). The impact of initial consumer trust on intentions to transact with a web site a trust building model. The Journal of Strategic Information Systems, 11, 297–323.

Miranda, S. M., & Saunders, C. S. (2003). The social construction of meaning: an alternative perspective on information sharing. Information Systems Research, 14(1), 87–106.

Moon, J., Chadee, D., & Tikoo, S. (2008). Culture, product type, and price influences on consumer purchase intention to buy personalized products online. Journal of Business Research, 61, 31–39.

Mulder, M. (1977). The daily power game. Leiden: Martinnus Nijhoff.

Neelankavil, J. P., Mathur, A., & Zhang, Y. (2000). Determinants of managerial performance: a cross-cultural comparison of the perceptions of middle-level managers in four countries. Journal of International Business Studies, 31(1), 121–140.

Nunnally, J. C. (1978). Psychometric theory (2nd ed.). New York: McGraw-Hill.

Park, J., Lennon, S. J., & Stoel, L. (2005). On-line product presentation: effects on mood, perceived risk, and purchase intention. Psychology and Marketing, 22(9), 695–719.

Peter, J. P., & Ryan, M. J. (1976). An investigation of perceived risk at the brand level. Journal of Marketing Research, 13, 184–188.

Rice, R. E., Hughes, D., & Love, G. (1989). Usage and outcomes of electronic messaging at an R and D organization: situational constraints, job level, and media awareness. Office, Technology and People, 5(2), 141–161.

Rogers, E. M. (1983). Diffusion of innovations. New York: Free Press.

Shang, Rong-An, Chen, Yu-Chen, & Shen, L. (2005). Extrinsic versus intrinsic motivations for consumers to shop on-line. Information Management, 42, 401–413.

Samadi, M., & Yaghoob-Nejadi, A. (2009). A survey of the effect of consumers perceived risk on purchase intention in e-shopping. Business Intelligence Journal, 2(2), 261–275.

Shih, H.-P. (2004). An empirical study on predicting user acceptance of eshopping on the web. Information Management, 41, 351–368.

Short, J., Williams, E., & Christie, B. (1976). The social psychology of telecommunications. London: Wiley.

Steinfield, C. W. (1986). Computer-mediated communications in an organizational setting: Explaining task-related and socio-emotional uses. Newbury Park, CA.

Straub, D., & Karahanna, E. (1998). Knowledge worker communications and recipient availability: toward a task closure explanation of media choice. Organization Science, 9(2), 160–175.

Swan, K., & Shih, L. F. (2005). On the nature and development of social presence in online course discussions. Journal of Asynchronous Learning Networks, 9(3), 115–136.

Thayer, R. E. (1989). The biopsychology of mood and arousal. New York: Oxford University Press.

Venkatesh, V., Morris, M. G., Davis, G. B., & Davis, F. D. (2003). User acceptance of information technology: toward a unified view. MIS Quarterly, 27(3), 425–478.

Wixom, B. H., & Watson, H. J. (2001). An empirical investigation of the factors affecting data warehousing. MIS Quarterly, 25(1), 17–41.

Yoo, Y., & Alavi, M. (2001). Media and group cohesion: relative influences on social presence, task participation, and group consensus. MIS Quarterly, 25(3), 371–390.

Zimmer, J. C., Arsal, R., Al-Marzouq, M., Moore, D., & Grover, V. (2010). Knowing your customers: using a reciprocal relationship to enhance voluntary information disclosure. Decision Support Systems, 48, 395–406.

Zuboff, S. (1988). In the age of the smart machine: The future of work and power. New-York: Basic Books.
Acknowledgment
This research is partially supported by The National Nature Science Foundation in China (No.71172126, 70872073)
This research is partially supported by the National Natural Science Foundation in China (No.70801049) and the "Project 211(Phase III)" of Southwestern University of Finance and Economics in China.
Additional information
Responsible editor: Xin Luo
About this article
Cite this article
Zhang, H., Lu, Y., Shi, X. et al. Mood and social presence on consumer purchase behaviour in C2C E-commerce in Chinese culture. Electron Markets 22, 143–154 (2012). https://doi.org/10.1007/s12525-012-0097-z
Received:

Accepted:

Published:

Issue Date:
Keywords
Mood

Social presence

National culture

Perceived benefit

Perceived risk

Purchase intention
JEL classification