Abstract
Collaborators on cross-disciplinary, cross-organizational teams must decide what knowledge is sharable. The sharability of a set of private knowledge is defined as the degree to which one feels willing to reveal that knowledge to people who are not members of one's own organizational unit. This paper proposes a Value Frequency Model of Knowledge Sharing (VFMKS) to explain knowledge sharability attitudes and knowledge sharing behaviors. It reports qualitative findings from an exploratory field study of the degree to which constructs and relationships proposed by the model were consistent with the attitudes, opinions, and reported actions of professional Chief Knowledge Officers (CKO) from 16 organizations in France. CKO's were consistent with most aspects of the model, suggesting quantitative investigation of the model may be useful. Critical incidents and utterances of the CKO's did not address two constructs in the model during this study. Further investigation may show whether these effects manifest in other contexts, or whether they are extraneous to the model.
Access options
Buy single article
Instant access to the full article PDF.
US$ 39.95
Tax calculation will be finalised during checkout.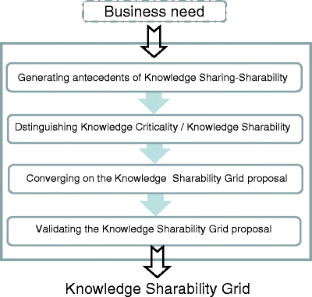 References
Ajzen, I. (1991). The theory of planned behavior. Organizational Behavior and Human Decision Processes, 50(2), 179–211.

Ajzen, I., & Fishbein, M. (1973). Attitudinal and normative variables as predictors of specific behavior. Journal of Personality and Social Psychology, 27(1), 41–57.

Anand, V., Manz, C. C., & Glick, W. H. (1998). An organization memory approach to information management. Academy of Management Review, 23(4), 796–809.

Argote, L., Ingram, P., Levine, J. M., & Moreland, R. L. (2000). Knowledge transfer in organizations. Organisational Behavior and Human Decision Processes, 82(1), 1–8.

Argote, L., Gruenfeld, D., & Naquin, C. (2001). Group learning in organizations. In M. E. Turner (Ed.), Groups at Work: Theory and Research. Mahwah NJ: Lawrence Erlbaum.

Argote, L., McEvily, B., & Reagans, R. (2003). Managing knowledge in organizations: an integrative framework and review of emerging themes. Management Science, 49(4), 571–582.

Benson, R., Stacie, F., & Richard, B. (2007). Overcoming barriers to knowledge sharing in virtual teams. Organizational Dynamics, 36(3), 259–273.

Boughzala, I. (2002). Methodology for designing interenterprise cooperative information system, SCI'2002: the 6th World Multi Conference on Systemics, Cybernetics and Informatics, July 14-18, 2002, Orlando, USA.

Boughzala, I. (2007). Ingenierie de la collaboration: theories, technologies et pratiques, Paris: Hermes-Lavoisier, 2007.

Boughzala, I., Briggs, R. O. (2011). Knowledge sharability in cross-organizational collaboration: an exploratory field study, Hawaii International Conference on System Sciences (HICSS 44), IEEE Computer Society, January 4–7, 2011, Kauai, Hawaii.

Briggs, R. O. (2006). The value frequency model: toward a theoretical understanding of organizational change. In S. Seifert and and C. Weinhardt (eds.), Proceedings of the 2006 Group decision and Negotiation International conference (GDN 2006), Karlsruhe, Germany, June 25–28, 2006, 36–39.

Cabrera, A., & Cabrera, E. F. (2002). Knowledge-sharing dilemmas. Organization Studies, 23(5), 687–710.

Dyer, J. H., & Nobeoka, K. (2000). Creating and managing a high-performance knowledge-sharing network: the Toyota case. Strategic Management Journal, 21, 345–367.

Ermine, J-L., Boughzala, I., & Tounkara, T. (2005). Using Cartography to sustain Inter-Generation Knowledge Transfer: The M3C Methodology, ICICKM 2005: 2nd International Conference on Intellectual Capital, Knowledge Management and Organisational Learning, Dubai: UAE, November 21–22, 2005.

Ermine, J.-L., Boughzala, I., & Tounkara, T. (2006). Critical knowledge map as a decision tool for knowledge transfer actions. Electronic Journal of Knowledge Management, 4(2), 129–139.

Gardenswartz, L., & Rowe, A. (1994). Diverse teams at work: Capitalizing on the power of diversity. New York: McGrawHill.

Gigone, D., & Hastie, R. (1993). The common knowledge effect: information sharing and group judgment. Journal of Personality and Social Psychology, 65, 959–974.

Grant, R. M. (1996). Prospering in dynamically-competitive environments: organizational capability as knowledge integration. Organization Science, 7(4), 375–387.

Hevner, A. R., March, S. T., Park, J., & Ram, S. (2004). Design Science in Information Systems Research, MIS Quarterly, Vol. 28 No. 1/March.

Hsiao, R.-L. (2008). Knowledge Sharing in a Global Professional Service Firm, MIS Quarterly executive, 7(3).

Kern, T., & Willcocks, L. P. (2000). Exploring information technology outsourcing relationships: theory and practice. The Journal of Strategic Information Systems, 9(4), 321–350.

Kitzinger, J. (1995). Introducing focus groups. British Medical Journal, 311, 299–302.

Kluge, J., Stein, W. & Licht, T. (2001). Knowledge unplugged: the McKinsey & Co. global survey on knowledge management. Basingstoke: Palgrave Macmillan.

Koh, C., Ang, S., & Straub, D. W. (2004). IT outsourcing success: a psychological contract perspective. Information System Research, 15(4), 356–373.

Matzler, K., Renzl, B., Muller, J., Herting, S., & Mooradian, T. A. (2008). Personality traits and knowledge sharing. Journal of Economic Psychology, 29, 301–313.

Nanda, A. (1996). Resources, capabilities and competencies. In B. Moingeon & A. Edmonson (Eds.), Organizational learning and competitive advantage (pp. 93–120). London: Sage.

Nonaka, I. (1998). The concept of "Ba": building a foundation for knowledge creation. California Management Review, 40(3).

Osterloh, M., & Frey, B. S. (2000). Motivation, knowledge transfer, and organizational forms. Organization Science, 11(5), 538–550.

Penrose, E. (1959). The Theory of Growth of the Firm. London: Basil Blackwell.

Romano, N. C., Jr., Pick, J. B., & Roztocki, N. (2010). A motivational model for technology-supported cross-organizational and cross-border collaboration. European Journal of Information System, 19(2), 117–133.

Rosenberg, M. J. (1956). Cognitive structure and attitudinal affect. Journal of Abnormal and Social Psychology, 53(3), 367–372.

Skjoett-Larsent, T., Thernoe, C., & Andersen, C. (2003). Supply chain collaboration. Theoretical perspective and empirical evidence. International Journal of Physical Distribution and Logistics Management, 33(6), 531–549.

Spender, J. C. (1996a). Competitive advantage from tacit knowledge? In B. Moingeon & A. Edmonson (Eds.), Organizational Learning and Competitive Advantage (pp. 56–73). London: Sage.

Spender, J. C. (1996b). Making knowledge the basis of a dynamic theory of the firm. Strategic Management Journal, 17, 45–62.

Vroom, V. H. (1964). Work and Motivation. New York, NY: Wiley.

Webster.com, (2010). http://www.merriam-webster.com/dictionary/attitude. Accessed 9/3/2010.

Wernerfelt, B. (1984). A resource-based view of the firm. Strategic Management Journal, 5(2), 171–180.

Westaby, J. D. (2002). Identifying specific factors underlying attitudes toward change: using multiple methods to compare expectancy-value theory to reasons theory. Journal of Applied Social Psychology, 32(5), 1083–1106.
Additional information
Responsible editor: Nicholas C. Romano
Appendix
Appendix
About this article
Cite this article
Boughzala, I., Briggs, R.O. A value frequency model of knowledge sharing: an exploratory study on knowledge sharability in cross-organizational collaboration. Electron Markets 22, 9–19 (2012). https://doi.org/10.1007/s12525-011-0080-0
Received:

Accepted:

Published:

Issue Date:
Keywords
Knowledge sharing

Knowledge management

Sharability

Cross-organizational collaboration

Value frequency model

Focus group

Exploratory field study
JEL classification