Abstract
This study investigates user behaviour in massively multiplayer online games from the perspective of their intentions to engage in real money trading. Players who engage in real money trading purchase resources instead of spending time to acquire them in the game. This behaviour influences not just their own gaming experience, but those of other players as well as the operator's revenues. We present an online survey which targets the players of World of Warcraft. Players' relationships with real money trading are investigated using insights from behavioural economics. We propose a model which includes a set of behavioural determinants grounded in empirical research on online games. The study's findings indicate that a player's social status and the disinhibiting effects of online play are positive influences on players' intentions to engage in real money trading, while perceived fairness, anticipated regret and uncertainty about the seller's behaviour are negative influences. Interestingly, neither the perceived enjoyment nor the potential punishments influence intentions.
Access options
Buy single article
Instant access to the full article PDF.
US$ 39.95
Tax calculation will be finalised during checkout.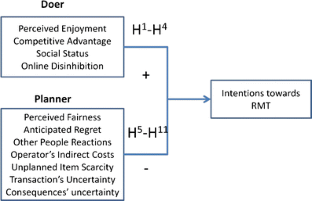 References
Alexander, C., & Becker, H. (1978). The use of vignettes in survey research. Public Opinion Quarterly, 42, 93–104.

Bartle, R. A. (2003). Designing virtual worlds: New Riders Games.

Bartle, R. A. (2004). Pitfalls of virtual property. The Themis Group, Available at: http://www.mud.co.uk/richard/povp.pdf

Burstin, K., Doughtie, E. B., & Raphaeli, A. (1980). Contrastive vignette technique: an indirect methodology designed to address reactive social attitude measurement. Journal of Applied Social Psychology, 10(2), 147–165.

Castronova, E. (2003). On virtual economies. Game Studies: the International Journal of Computer Game Research, 3(2).

Castronova, E. (2006). A cost-benefit analysis of real-money trade in the products of synthetic economies. Info, 8(6), 51–68.

Chen, K., Chen, J., & Ross, W. (2010). Antecedents of online game dependency: the implications of multimedia realism and uses and gratifications theory. Journal of Database Management, 21(2), 69–99.

Cole, H., & Griffiths, M. (2007). Social interactions in massively multiplayer online role playing gamers. CyberPsychology & Behavior, 10(4), 575–583.

Consalvo, M. (2007). Cheating: Gaining advantage in video games. Cambridge: MIT.

Das, N., & Kerr, A. H. (2010). "Woulda, coulda, shoulda": a conceptual examination of the sources of postpurchase regret. Journal of Marketing Theory & Practice, 18(2), 171–180.

Dibbell, J. (2007). The life of the Chinese gold-farmer. The New York Times. June 17th.

Ducheneaut, N., Yee, N., Nickell, E., & Moore, R. J. (2006). "Alone together?": Exploring the social dynamics of massively multiplayer online games. Paper presented at the CHI '06: SIGCHI conference on Human Factors in computing systems, NY, USA.

Fairfield, J. (2005). Virtual property. Boston University Law Review, 85, 1047.

Finch, J. (1987). The vignette technique in survey research. Sociology, 21(1), 105–114.

Fisher, R. J. (1993). Social desirability bias and the validity of indirect questioning. Journal of Consumer Research, 20(2), 303–315.

Guo, Y., & Barnes, S. (2007). Why people buy virtual items in virtual worlds with real money. The Database of Advances in Information Systems, 38(4), 69–76.

Hair, J. F., Black, W. C., Babin, B. J., Anderson, R. E., & Tatham, R. L. (2006). Multivariate data analysis (6th ed.). New Jersey: Prentice Hall.

Harambam, J., Aupers, S., & Houtman, D. (2011). Game over? Negotiating modern capitalism in virtual game worlds. European Journal of Cultural Studies, 14, 299–319.

Heeks, R. (2008). Current analysis and future research agenda on "gold farming": Real-world production in developing countries for the virtual economies of online games. Institute for Development Policy and Management, University of Manchester.

Hinkin, T. R. (1995). A review of scale development practices in the study of organizations. Journal of Management, 21, 967–988.

Hoch, S. J., & Loewenstein, G. F. (1991). Time-inconsistent preferences and consumer self-control. Journal of Consumer Research, 17(4), 492–507.

Kahneman, D., Knetsch, J. L., & Thaler, R. H. (1986). Fairness and the assumptions of economics. The Journal of Business, 59(4), 285–300.

Lehdonvirta, V. (2005). Real-money trade of virtual assets: Ten different user perceptions. In Proceedings of Digital Arts and Culture (DAC 2005), IT University of Copenhagen, Denmark, December 1–3, 52–58.

Lehdonvirta, V. (2009). Virtual item sales as a revenue model: identifying attributes that drive purchase decisions. Electronic Commerce Research, 9(1–2), 97–113.

Lichtenstein, S., & Slovic, P. (2006). The construction of preference. Cambridge University Press.

Lin, H., & Sun, C. T. (2007). Cash trade within the magic circle: Free-to-play game challenges and massively multiplayer online game player responses. Paper presented at DiGRA 2007: Situated Play, Tokyo.

Manninen, T., & Kujanpää, T. (2007). The value of virtual assets: the role of game characters in MMOGs. International Journal of Business Science and Applied Management, 2, 21–33.

Milkman, K. L., Rogers, T., & Bazerman, M. H. (2008). Harnessing our inner angels and demons: what we have learned about want/should conflicts and how that knowledge can help us reduce short-sighted decision making. Perspectives on Psychological Science, 3, 324–338.

Nardi, B., & Kow, Y. M. (2010). Digital imaginiaries: How we know what we (think we) know about Chinese gold farming. First Monday, 15(6).

Passman, M. (2008). Transactions of virtual items in virtual worlds. Albany Law Journal of Science & Technology, 18, 260–292.

Perugini, M., & Bagozzi, R. P. (2001). The role of desires and anticipated emotions in goal-directed behaviours: broadening and deepening the theory of planned behaviours. British Journal of Social Psychology, 40, 79–98.

Perugini, M. (2005). Predictive models of implicit and explicit attitudes. British Journal of Social Psychology, 44, 29–45.

Robischon, N. (2006). Station exchange: Year one. Gamasutra Whitepaper. Available at: http://www.fredshouse.net/images/SOE%20Station%20Exchange%20White%20Paper%201.19.pdf

Shapiro, C., & Varian, H. R. (1999). Information rules: A strategic guide to the network economy. Boston: Harvard Business School Press.

Suler, J. (2004). The online disinhibition effect. CyberPsychology & Behavior, 7(3), 321–326.

Taylor, T. L. (2002). Whose game is this anyway? Negotiating corporate ownership in a virtual world. In Proceedings of Computer Games and Digital Cultures Conference, Tampere University Press, Tampere, 227–242.

Taylor, S. A. (2007). The addition of anticipated regret to attitudinally based, goal-directed models of information search behaviours under conditions of uncertainty and risk. British Journal of Social Psychology, 46, 739–768.

Taylor, A. S., Ishida, C., & Wallace, D. W. (2009). Intention to engage in digital piracy: a conceptual model and empirical test. Journal of Service Research, 11(3), 246–262.

Thaler, R. H., & Shefrin, H. M. (1981). An economic theory of self-control. The Journal of Political Economy, 89(2), 392–406.

Wilson, T. D., Lindsey, S., & Schooler, T. Y. (2000). A model of dual attitudes. Psychological Review, 107(1), 101–26.

Yee, N. (2005a). Motivations of play in MMORPGs. Paper presented at DiGRA 2005, Vancouver, British Columbia, Canada.

Yee, N. (2005b). "In their own words: The achievement component" from "The Daedalus Project" by Nick Yee. Available at: http://www.nickyee.com/daedalus/archives/001300.php

Zeelenberg, M. (1999). Anticipated regret, expected feedback and behavioral decision-making. Journal of Behavioral Decision Making, 12, 93–106.
Acknowledgement
We appreciate the thoughtful feedback of Robert Veitch on previous versions of the manuscript.
Additional information
Responsible editor: Hans-Dieter Zimmermann
About this article
Cite this article
Constantiou, I., Legarth, M.F. & Olsen, K.B. What are users' intentions towards real money trading in massively multiplayer online games?. Electron Markets 22, 105–115 (2012). https://doi.org/10.1007/s12525-011-0076-9
Received:

Accepted:

Published:

Issue Date:
Keywords
User intentions

Massively multiplayer online games

Real money trading

Dual–self model
JEL classification