Abstract
Klein (Journal of Business Research 41(3): 195–203, 1998) posited that the Web can transform experience goods into search goods (ES shifts). We examine her proposition in three ways. First, we critically assess the background of her proposition in light of the Web evolution in the past decade. Second, we conduct a comparison of past studies that measured the extent of search, experience, and credence (SEC) characteristics of goods. Third, we report the results of an exploratory survey on a set of commonly purchased products to benchmark possible ES shifts against the past studies. Their results indicate that SEC classification changes do not seem significant.
Access options
Buy single article
Instant access to the full article PDF.
US$ 39.95
Tax calculation will be finalised during checkout.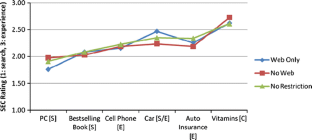 Notes
1.

Whether the SEC rating should be on a single continuum or a multi-dimensional construct can be debated. As we see in the previous studies, the constructs used so far are either a single continuum or a two-dimensional (search attribute and experience/credence attribute). We choose, however, a single continuum for two reasons. First, we want to benchmark our results against the two studies using a broader range of products. Second, using a multi-dimensional construct can increase uncertainly in (a) whether to use a formative vs. latent construct and (b) reliability and convergence issues of measurement items.
References
Alba, J., Lynch, J., Weitz, B., Janiszewski, C., Lutz, R., Sawyer, A., et al. (1997). Interactive Home Shopping: Consumer, Retailer, and Manufacturer Incentives to Participate in Electronic Marketplaces. The Journal of Marketing, 61(3), 38–53.

Baker, S. (2009, July 27). The Web Knows What You Want. BusinessWeek, 48–49.

Bettman, J. R., Johnson, E. J., & Payne, J. W. (1991). Consumer Decision Making. In T. S. Robertson & H. H. Kassarjian (Eds.), Handbook of Consumer Behavior (pp. 50–84). Englewood Cliffs: Prentice Hall.

Bhatnagar, A., & Ghose, S. (2004). Online information search termination patterns across product categories and consumer demographics. Journal of Retailing, 80(3), 221.

Chiu, C.-M., Chang, C.-C., Cheng, H.-L., & Fang, Y.-H. (2009). Determinants of Customer Repurchase Intention in Online Shopping. Online Information Review, 33(4), 761–784.

Darby, M. R., & Karni, E. (1973). Free Competition and the Optimal Amount of Fraud. Journal of Law and Economics, 16(1), 67–88.

Ekelund, R. B., Jr., Mixon, F. G., Jr., & Ressler, R. W. (1995). Advertising and information: An empirical study of search, experience and credence goods. Journal of Economic Studies, 22(2), 33–43.

Ford, G. T., Smith, D. B., & Swasy, J. L. (1988). An Empirical Test of the Search, Experience and Credence Attributes Framework. Advances in Consumer Research, 15(1), 239–243.

Gordon, M. E., Slade, L. A., & Schmitt, N. (1986). The "Science of the Sophomore" Revisited: from Conjecture to Empiricism. Academy of Management Review, 11(1), 191–207.

Greenberg, J. (1987). The College Sophomore as Guinea Pig: Setting the Record Straight. Academy of Management Review, 12(1), 157–159.

Haubl, G., & Murray, K. B. (2003). Preference Construction and Persistence in Digital Marketplaces: The Role of Electronic Recommendation Agents. Journal of Consumer Psychology, 13(1&2), 75–91.

Hausman, A. (2000). A multi-method investigation of consumer motivations in impulse buying behavior. The Journal of Consumer Marketing, 17(5), 403–426.

Hoskins, C., McFadyen, S. M., & Finn, A. (2004). Media Economics Applying Economics to New and Traditional Media. Thousand Oaks: Sage Publications.

Iacobucci, D. (1992). An empirical examination of some basic tenets in services: goods-services continua. Advances in Services Marketing and Management, 1, 23–52.

Klein, L. R. (1998). Evaluating the potential of interactive media through a new lens: Search versus experience goods. Journal of Business Research, 41(3), 195–203.

Krishnan, B. C., & Hartline, M. D. (2001). Brand equity: Is it more important in services? The Journal of Services Marketing, 15(5), 328–342.

Laband, D. N. (1991). An Objective Measure of Search Versus Experience Goods. Economic Inquiry, 29(3), 497–509.

Linden, G., Smith, B., & York, J. (2003). Amazon.com Recommendations: Item-to-Item Collaborative Filtering. IEEE Internet Computing, 7(1), 76–80.

Nelson, P. (1970). Information and consumer behavior. Journal of Political Economy, 78(2), 311–329.

Nielsen. (2009). Retrieved August 29, 2009, from http://en-us.nielsen.com/rankings/insights/rankings/internet

Senecal, S., Kalczynski, P. J., & Nantel, J. (2005). Consumers' decision-making process and their online shopping behavior: a clickstream analysis. Journal of Business Research, 58(11), 1599–1608.

Stertz, B. A. (1990). Big Three Boost Car Quality but Still Lag, Wall Street Journal, p. B1. Retrieved from http://proquest.umi.com/pqdweb?did=4205013&Fmt=7&clientId=31663&RQT=309&VName=PQD

Stigler, G. J. (1961). The Economics of Information. Journal of Political Economy, 69, 213–225.

Thakor, M. V., & Kumar, A. (2000). What is a professional service? A conceptual review and bi-national investigation. Journal of Services Marketing, 14(1), 63–82.

Weathers, D., & Makienko, I. (2006). Assessing the Relationships between E-Tail Success and Product and Web Site Factors. Journal of Interactive Marketing, 20(2), 41–54.
Additional information
Responsible editor: Hans-Dieter Zimmermann
Appendix A. SEC rating histograms
Appendix A. SEC rating histograms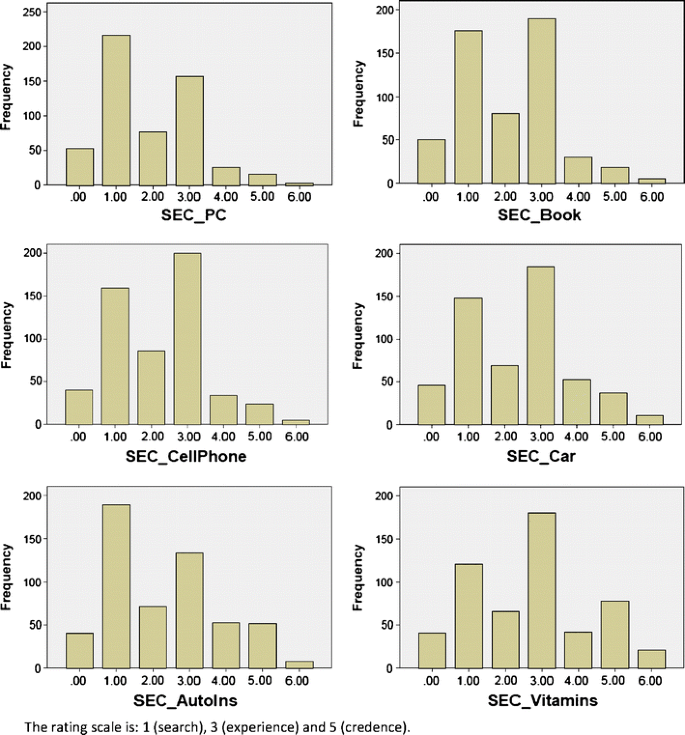 About this article
Cite this article
Nakayama, M., Sutcliffe, N. & Wan, Y. Has the web transformed experience goods into search goods?. Electron Markets 20, 251–262 (2010). https://doi.org/10.1007/s12525-010-0041-z
Received:

Accepted:

Published:

Issue Date:
Keywords
Consumer purchase behavior

Product attribute

Product quality

Search-experience-credence(SEC) classification

Web impact
Jel