Abstract
This study involves exploration of archaeological structures in Srirangapatana and virtual reconstruction of Srirangapatana fort using geo-spatial techniques. Antiquity of this river island town goes back to ninth century AD which continued till British rule and hence has abundance of archaeological structures on it. Some of these structures are known and well-maintained while others are unprotected, unexcavated, hidden under thick vegetation or forgotten. To identify archaeological features such as buried/dilapidated/vegetation infested structures/features on ground, we used high resolution multispectral remote sensing data (0.5 and 5.6 m), Cartosat 1 stereo pairs (2.5 m), anaglyphs, historical documents, and analysed them on GIS platform. This study enabled us to: trace the concentric moats and fort-wall by using false colour composite image together with anaglyphs generated from Cartosat 1 stereo pair; explore hitherto unexplored and unexcavated archaeological features; identify unknown and abandoned temples/structures smothered with wild vegetation; locate exact location of currently non-existent site mentioned in historical records; identify the location of buried canal. This study also demonstrates how methodic use of various interpretation keys, image processing and analysis (such as NDVI, DEM, anaglyphs) can help in extracting archaeological features and direct archaeologists for further exploration.
Access options
Buy single article
Instant access to the full article PDF.
USD 39.95
Price includes VAT (USA)
Tax calculation will be finalised during checkout.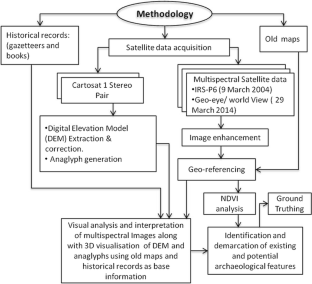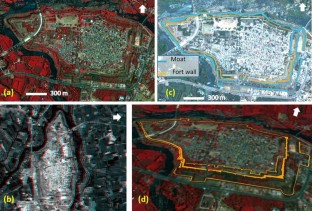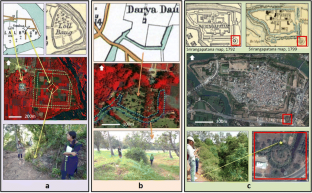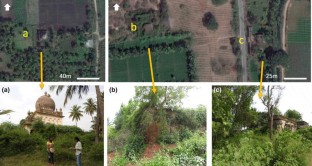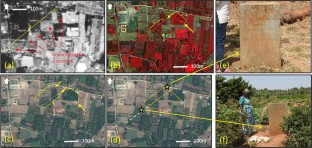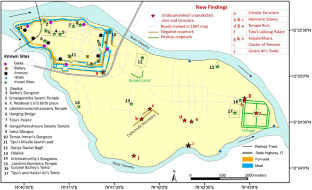 References
Belli, F. E., & Koch, M. (2007). Remote sensing and GIS analysis of a Maya city and its landscape: Holmul, Guetemala. In J. Wiseman & F. El-Baz (Eds.), Remote sensing in archaeology. New York: Springer.

Buchanan, F. (1988). A journey from Madras through the countries of Mysore, Canara and Malabar. 1st pub 1807 London, vol. 1, Chap. II, New Delhi and Madras: Asian Educational Services.

Moienuddin, M. (2000). Sunset at Srirangapatam after the death of Tipu Sultan (p. 39). Hyderabad: Orient Longman Limited.

Nalini, N. S., & Rajani, M. B. (2012). Stone fortress of Chitledroog: Visualizing old landscape of Chitradurga by integrating spatial information from multiple sources. Current Science, 103(4), 381–387.

Parcak, S. H. (2009). Satellite remote sensing for archeology. London and New York: Routledge (Taylor and Francis group).

Rajani, M. B. (2007). Bangalore from above an archaeological over view. Current Science, 93(10), 1352–1353.

Rice, B. L. (2004). Mysore: a gazetteer complied for government, vol. II, first print 1876. Bangalore: M/s Vinayaka Offset Printers.

Shankar, B., & Uma, S. (2012). Conservation strategies for Srirangapatana Town: Evaluation of heritage buildings. International Journal of Modern Engineering Research, 2(2), 160–164.

Swamy, L. N. (2010). Srirangapattana Fort through the ages origin, development and the fall of the Fort. In R. Gopal (Ed.), Tipu Sultan the tiger of Mysore. Mysore: Directorate of Archaeology and Museums.

Tripathi, A. (2005). Applications of satellite remote sensing in archaeology. In A. Tripathi (Ed.), Remote sensing and archaeology. New Delhi: Sandeep Prakashan.
Acknowledgements
We thank Karnataka Knowledge Commission for providing financial support for carrying out the present work. We extend our gratitude to the Department of Archaeology, Museums and Heritage, Karnataka, for discussions, particularly C.G. Betsurmath and R. Gopal for their inputs and Anil Kumar in accessing archival material. We thank Prof Roddam Narasimha, Prof Ranganathan and Prof H.S. Mukunda for discussions and encouragement. We are grateful to Dr. Baldev Raj, Director, NIAS, for the institutional support and encouragement. We thank KSRSAC, Bengaluru, for providing lab facilities and ISRO, for Satellite Data.
About this article
Cite this article
Gupta, E., Das, S. & Rajani, M.B. Archaeological Exploration in Srirangapatna and Its Environ Through Remote Sensing Analysis. J Indian Soc Remote Sens 45, 1057–1063 (2017). https://doi.org/10.1007/s12524-017-0659-9
Received:

Accepted:

Published:

Issue Date:
Keywords
Remote sensing

Archaeology

NDVI

Crop-marks

DEM

High resolution imagery

FCC

Anaglyphs

Srirangapatna