Abstract
The coastal regions of northern Bay of Bengal (BoB) are one of the most turbid areas owing to the large freshwater discharge from the three major river systems. This study is conducted to investigate the seasonal and interannual variability of total suspended matter (TSM) in the northern BoB. TSM concentration derived from medium resolution imaging spectrometer for the period 2002–2011 is used for this study. TSM concentration is observed to be the highest during summer monsoon season along the north-eastern region, off the Ganges–Brahmaputra river mouth. The variability of the TSM concentration depicts the role of river runoff associated with the summer monsoon in influencing the same. It is observed that the sediment concentration tapers away towards the offshore regions with the maximum extent observed up to 21.5°N latitude. Interannual variability is also observed with highest TSM concentrations occurring in the years 2003, 2008 and 2011 and least during 2004. Time series analysis performed at three major river discharge regions illustrated the distinct and highly variable nature of TSM dynamics prevailing in the northern BoB.
Access options
Buy single article
Instant access to the full article PDF.
US$ 39.95
Tax calculation will be finalised during checkout.
Subscribe to journal
Immediate online access to all issues from 2019. Subscription will auto renew annually.
US$ 79
Tax calculation will be finalised during checkout.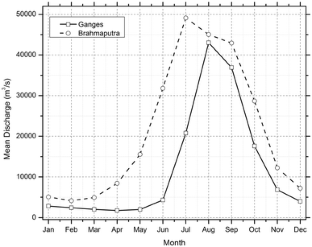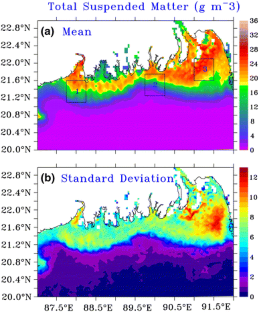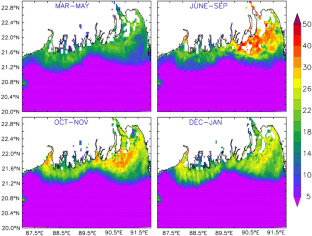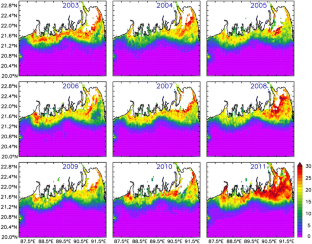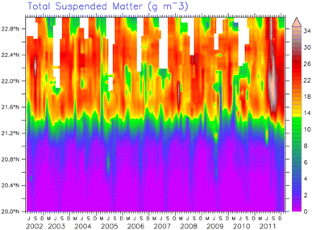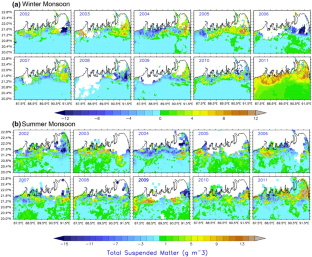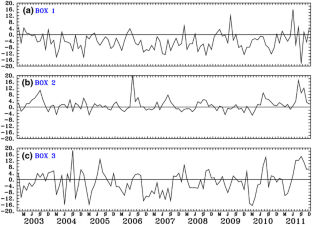 References
Coleman, J. M. (1969). Brahmaputra river: Channel processes and sedimentation. Sedimentary Geology, 3, 129–239.

Doerffer, R., & Schiller, H. (2007). MERIS case-2 water algorithm. International Journal of Remote Sensing. doi:10.1080/01431160600821127.

Eysink, K. O. (1983). Basic considerations on the morphology and land accretion potentials in the estuary of the lower Meghna River. Technical Report 15. Land Reclamation Project, Bangladesh Water Development Board, Dhaka, Bangladesh. (Unpublished).

GlobColour User Guide. (2015) No. GC-UN-ACR-PUG-01, Version 3.1, Acri-St GlobColour Team.

Islam, M. R., Begum, S. F., Yamaguchi, Y., & Ogawa, K. (1999). The Ganges and Brahmaputra rivers in Bangladesh: Basin denudation and sedimentation. Journal of Hydrological Processes, 13, 2907–2923.

Islam, M. R., Begum, S. F., Yamaguchi, Y., & Ogawa, K. (2002). Distribution of suspended sediment in the coastal sea off the Ganges Brahmaputra river mouth: Observation from TM data. Journal of Marine Systems, 32, 307–321.

Jian, J., Webster, P. J., & Hoyos, C. D. (2009). Large-scale controls on Ganges and Brahmaputra river discharge on intraseasonal and seasonal time-scales. Quaternary Journal of Royal Meteorological Society, 135, 353–370.

Lawrence, D. M., & Webster, P. J. (2002). The boreal summer intraseasonal oscillation: Relationship between northward and eastward movement of convection. Journal of Atmospheric Sciences, 59, 1593–1606.

Muraleedharan, K. R., Jasmine, P., Achuthankutty, C. T., Revichandran, C., Dinesh Kumar, P. K., Anand, P., Rejamon, G. (2007). Influence of basin-scale and mesoscale physical processes on biological productivity in the Bay of Bengal during the summer monsoon. Progress in Oceanography, 72, 364–384.

Prasad, T. G. (1997). Annual and seasonal mean buoyancy fluxes for the tropical Indian ocean. Current Science, 73, 667–674.

Prasad, A. K., & Singh, R. P. (2010). Chlorophyll, calcite and suspended concentrations in the Bay of Bengal and the Arabian Sea at the river mouths. Advances in Space Research, 45, 61–69.

UNESCO. (1988). River inputs into ocean systems: status and recommendations for research. UNESCO Technical papers in marine science, No. 55, Final report of SCOR Working Group 46, Paris, pp. 25.

Vantrepotte, V., Loisel, H., Mériaux, X., Neukermans, G., Dessailly, D., Jamet, C., Gensac, E., Gardel, A. (2011). Seasonal and inter-annual (2002–2010) variability of the suspended particulate matter as retrieved from satellite ocean color sensor over the French Guiana coastal waters. Journal of Coastal Research, 64, 1750–1754.

Webster, P. J., & Hoyos, C. (2004). Prediction of monsoon rainfall and river discharge on 15–30-day time scales. Bulletin of American Meteorological Society, 85, 1745–1765.
Acknowledgements
GlobColour Project, of the European Space Agency (ESA) is acknowledged for making the MERIS derived TSM product. Global Runoff Data Centre (GRDC), Germany is thanked for the river runoff climatology data. All the figures in this manuscript are generated using Ferret. We also thank the anonymous reviewers for their constructive suggestions that helped to improve the manuscript.
About this article
Cite this article
Chacko, N., Jayaram, C. Variability of Total Suspended Matter in the Northern Coastal Bay of Bengal as Observed from Satellite Data. J Indian Soc Remote Sens 45, 1077–1083 (2017). https://doi.org/10.1007/s12524-016-0650-x
Received:

Accepted:

Published:

Issue Date:
Keywords
Total suspended matter

MERIS

Bay of Bengal

Interannual variability