Abstract
Ground water is an excellent solvent, which dissolves chemicals ions as it moves through rocks and subsurface soil. This leads to more mineralization in groundwater than surface water. The objective of the present study is to examine the groundwater quality of the Paravanar River Sub-basin, Cuddalore district, Tamil Nadu, India. The Electrical Conductivity (EC) values ranges between 160 and 2,580 μS/cm in groundwater samples. The highest value of 2,580 μS/cm was recorded in wells near the coast. pH values ranges from 7.2 to 8.6. NNE and southern part of the study area has low pH values, rest of the area represents the alkaline nature of groundwater. In south eastern part of the study area alkali values are slightly higher but it is within WHO's tolerable limits. The spatial distribution of chloride concentration shows that Meenatchipettai, Vazhisothani palayam and Allapakkam represents maximum Cl2 concentration of 527, 320 and 374 ppm, which is above ISI drinking standards of 250 ppm. Increase in isochlore is observed from the coast up to the Neyveli lignite mine. Nitrate concentration of groundwater samples ranges from 0.1 mg/l to 64 mg/l. As most of the study area is cultivated, fertilizers used for agriculture may be the cause for increase in concentration of nitrates in few concentrated locations.
Access options
Buy single article
Instant access to the full article PDF.
USD 39.95
Price includes VAT (USA)
Tax calculation will be finalised during checkout.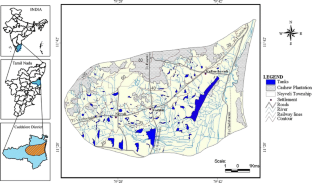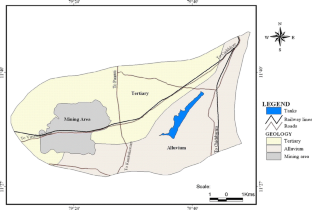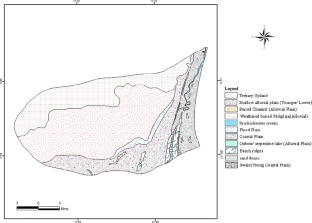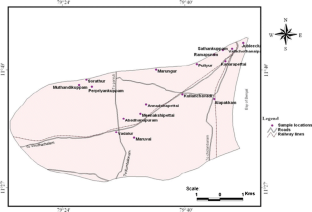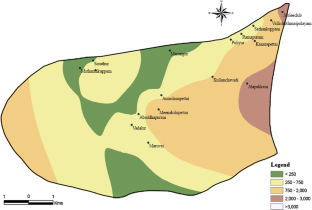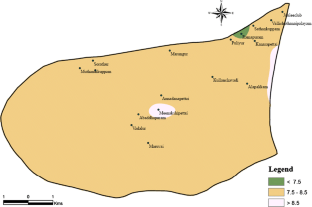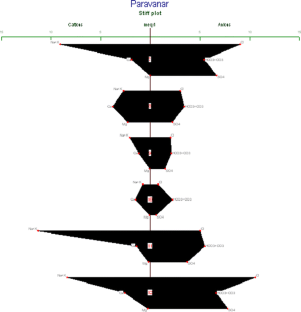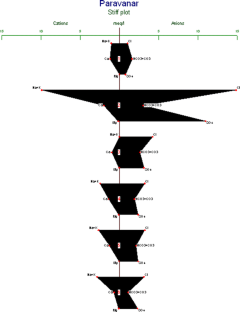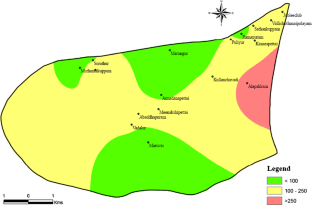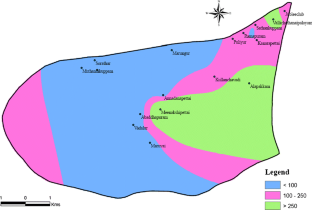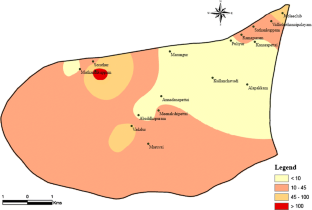 References
Addiscott, T. M., Whitmore, A. P. & Powlson, D. S. 1991. Farming, Fertilizers and the Nitrate Problem. C.A.B. International. Wallingford, Oxford, United Kingdom.

Ahmed, E. (1972). Coastal geomorphology. New Delhi: Orient Longman.

Anbazhagan, S., & Nair, A. M. (2004). Geographic information system and groundwater quality mapping in Panvel Basin, Maharashtra, India. J Environ Geol, 45, 753–761.

APHA. (1995). Standard methods for the examination of water and wastewater (19th ed.). Washington: American public Health Association.

Aravindan, S., Patak, S., & Sekar, C. (2006). Groundwater targeting in the hard rock region of Gadilam river basin using remote sensing and GIS, Tamil Nadu. Indian Jr. of Applied Hydrology, 19(1 & 2), 84–93.

Aravindan, S., Shankar, K., Bhuvaneswari, M., & Rajendran, S. (2010). Groundwater geochemical mapping in the hard rock area of Gadilam river basin, Tamil Nadu. Indian Jr. of Applied Geochemistry, 12(2), 209–216.

Bakac, M. (2000). Factor analysis applied to a geochemical study of suspended sediments from the Gediz River, western Turkey. Environmental Geochemistry and Health, 22(2), 93–111.

Balasundar, N.K. (1968) Tertiary deposits of Neyveli Lignite field. Geol. Soc. India, Mem. No.2, pp.256–262.

Burrough, P. A., & McDonnell, R. A. (1998). Principles of Geographical Information Systems (p. 333). Oxford: Oxford University Press.

Chaudhary, B. S., Kumar. M., Roy, A. K., & Ruhal, D. S. (1996) Applications of RS and GIS in groundwater investigations in Sohna block, Gurgaon district, Haryana, India. International Archives of Photogrammetry and Remote Sensing, 31, B-6, Vienna, Austria. pp 18–23

Dalton, M. G., & Upchurch, S. B. (1978). Interpretation of hydrochemical facies by factor analysis. Ground Water, 10, 228–233.

Dawdy, D. R., & Feth, J. H. (1967). Applications of factor analysis in study of chemistry of groundwater quality, Mojave River Valley, California. Water Resour Res, 3, 505–510.

Goyal, S. K., Chaudhary, B. S., Singh, O., Sethi, G. K., & Thakur, P. K. (2010) GIS based spatial distribution mapping and suitability evaluation of groundwater quality for domestic and agricultural purpose in Kaithal district, Haryana state, India. Environmental Earth Sciences doi:10.1007/s12665-010-0472-z

Hem, J. D., (1970). Study and interpretation of the chemical characteristics of natural water, USGS., Water supply paper 1473.

Jayakumar, R., & Siraz, L. (1997). Factor analysis in hydrogeochemistry of coastal aquifers—a preliminary study. Environmental Geology, 31, 174–177.

Kamaraju, M. V. V. (1997). Ground-water potential evaluation of West Godavari district, Andhra Pradesh State, India- A GIS approach. Ground Water, 34(2), 318–334.

Lawrence, F. W., & Upchurch, S. B. (1976). Identification of geochemical patterns in groundwater by numerical analysis. In Z. A. Saleem (Ed.), Advances in groundwater hydrology (pp. 199–214). USA: American Water Resources Association.

Lawrence, F. W., & Upchurch, S. B. (1983). Identification of recharge areas using factor analysis. Ground Water, 20, 680–687.

Olmez, L., Jack, W. B., & Villaume, J. F. (1994). A new approach tounderstanding multiple-source groundwater contamination:factor analysis and chemical mass balance. Water Research, 28, 1095–1101.

Panel on Nitrates of the Co-ordinating Committee for the Scientific and Technical Assessments of Environmental Pollutants. (1978). Nitrates: An environmental assessment. National Academy of Sciences, Washington, DC.

Razack, M., & Dazy, J. (1990). Hydrochemical characterization of groundwater mixing in sedimentary and metamorphic reservoirs with combined use of piper's principal and factor analysis. Journal of Hydrology, 114, 371–393.

Reineck, H. E., & Singh, I. B. (1980). Depositional sedimentary environments with reference to terrigenous clastics (2nd ed.). Berlin, Heidenberg: Springer Verlag.

Richards LA (1954) Diagnosis and improvement of saline alkali soils. US Department of Agriculture, Hand Book 60, pp 160

Selvaraj, K., & Ramasamy, S. (1998). Depositional environment of Cuddalore sandstone formation, Tamil Nadu. Jr. Geol. Soc. India, 51, 803–812.

Shankar, K., Aravindan, S., & Rajendran, S. (2010). GIS based groundwater quality mapping in Paravanar River Sub-Basin, Tamil Nadu, India. International Journal of Geomatics and Geosciences, 1(3), 282–296.

Srivastava, P. K., & Bhattacharya, A. K. (2000). Delineation of groundwater potential zones in a hard rock terrain of Bargarh district, Orissa using IRS Data. Photonirvachak- J Indian Soc Remote Sens, 28(2), 129–140.

Srivastava, A., Tripathi, N. K., & Gokhale, G. K. (1997). Basement topography and aquifer geometry around Ken Garden, India. International Journal of Remote Sensing, 20(11), 2295–2305.

Stewart, B. A. (1970). Voliatization and nitrification of nitrogen from urine under simulated cattle feedlot conditions. Environmental Science and Technology, 4, 579–582.

Subbarao, C., Subbarao, N. V., & Chandu, S. N. (1996). Characterisation of ground water contamination using factor analysis. Environmental Geology, 28, 175–180.

Subramanian, K. S., & Selvan, T. A. (2001). Geology of Tamil Nadu and Pondicherry. Geological Society of India, Bangalore.

Tindall, J. A., Petrusak, R. L., & McMohan, P. B. (1995). Nitrate transport and transformation process in unsaturated porous media. Journal of Hydrology, 169, 51–94.

WHO. (1983). Guidelines to drinking water quality (p. 186). Geneva: World Health Organisation.
Acknowledgement
Authors are grateful to UGC for funding to carry out the above work and deeply indebted to their institution for providing infrastructure facilities. They are also thankful to Chief Engineer, PWD (Ground water) Chennai for sparring necessary data related to project. We are deeply indebted to the anonymous reviews for critically reviewing the article to bring it to the present form.
About this article
Cite this article
Aravindan.S, Shankar.K Ground Water Quality Maps of Paravanar River Sub Basin, Cuddalore District, Tamil Nadu, India. J Indian Soc Remote Sens 39, 565–581 (2011). https://doi.org/10.1007/s12524-011-0152-9
Received:

Accepted:

Published:

Issue Date:
Keywords
Groundwater

Quality

Spatial interpolation

Stiff diagram