Abstract
Trophic State Index (TSI) of Nainital lake has been determined using secchi disk transparency as well as using Landsat 7 ETM bands. The insitu water quality parameters like pH and dissolved oxygen (DO) have been measured using multiparameter water quality instrument TROLL 9500. Various interpolation techniques have been tested and the best one has been applied to prepare the water quality images of Nainital lake. The analysis of Landsat images have shown that the lake water is in eutrophic condition from the year 2000 to 2010. However, the trophic state index values are found to be relatively less during the year 2006 to 2008. This may be due to the lake restoration programmes undertaken by the Lake Development Authorities.
This is a preview of subscription content, log in to check access.
Access options
Buy single article
Instant access to the full article PDF.
US$ 39.95
Price includes VAT for USA
Subscribe to journal
Immediate online access to all issues from 2019. Subscription will auto renew annually.
US$ 99
This is the net price. Taxes to be calculated in checkout.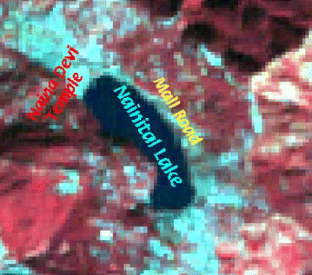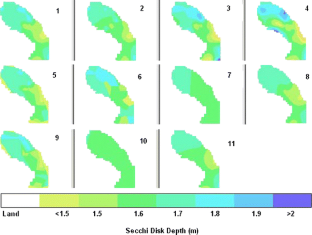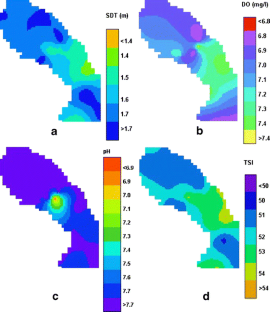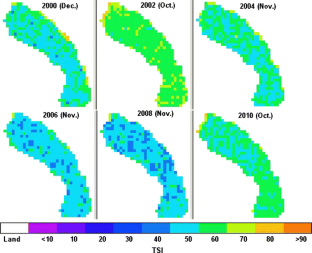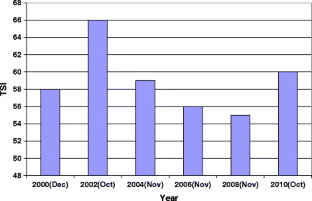 References
Ali, M. B., Tripathi, R. D., Rai, U. N., Pal, A., & Sing, S. P. (1999). Physico-chemical characteristics and pollution lavel of lake Nainital (U. P., India): role of macrophytes and phytoplankton in biomonitoring and phytoremediation of toxic metal ions. Chemosphere, 39(12), 2171–2182.

Allan, M. G., Hicks, B. J., & Brabyn, L. (2007). Remote sensing of water quality in the rotorua lakes, CBER contract report-51 (pp. 1–27), The University of WAIKATO.

Ashraf, M. A., Maah, M. J., & Yusoff, I. (2010). Water quality characterization of varsity lake, University of Malaya, Kuala Lumpur, Malaysia. E-Journal of Chemistry, 7(S1), S245–S254.

Azary, M. A., Mohebbi, F., Eimanifar, A., Javanmard, A., & Aliyev, A. F. Q. (2010). Species composition, ecological parameters and seasonal changes of planktonic ciliates population in Bukan Dam reservoir. American Journal of Agricultural and Biological Sciences, 5(1), 102–106.

Bio, A., Couto, A., Costa, R., Prestes, A., Vieira, N., Valente, A., et al. (2008). Effects of fish removal in the Furnas Lake, Azores. Arquipélago. Life and Marine Sciences, 25, 77–87.

Boavida, M. J., & Marques, R. T. (1996). Total phosphorus as an indicator of trophic state of Portuguese reservoirs. Limnetica, 12(2), 31–37.

Brezonik, P., Menken Kevin, D., & Marvin, B. (2005). Landsat-based remote sensing of lake water quality characteristics, including chlorophyll and Colored Dissolved Organic Matter (CDOM). Lake and Reservoir Management, 21(4), 373–382.

Carlson, R. E. (1977). A trophic state index for lakes. Limnology and Oceanography, 22(2), 361–369.

Carr, G. M., & Neary, J. P. (2006). Water quality for ecosystem and human health, United Nations environment programme global environment monitoring system/water programme (pp. 1–132).

Chapman, D., & Kimstach, V. (1996). Selection of water quality variables. In D. Chapman (Ed.), Water quality assessments—a guide to use of biota, sediments and water in environmental monitoring UNESCO/WHO/UNEP (pp. 1–651). Cambridge: Cambridge University Press.

Dewider, Kh, & Khedr, A. (2001). Water quality assessment with simultaneous Landsat-5 TM at Manzala Lagoon, Egypt. Hydrobiologia, 457(1–3), 49–58.

Fuller, L. M., & Minnerick, R. J. (2007) Predicting water quality by relating secchi-disk transparency and chlorophyll a measurements to Landsat satellite imagery for Michigan Inland Lakes, 2001–2006, Fact Sheet 2007–3022, USGS, Science for Changing World.

Galas, J. (2003). Limnological Study on a Lake Formed in a Limestone Quarry (Kraków, Poland), I. Water chemistry. Polish Journal of Environmental Studies, 12(3), 297–300.

Gupta, P. K., Nagdali, S. S., Tewari, P., Singh, N., & Gupta, R. (2007). Water Chemistry of A National Lake of India: Lake Nainital, Uttarakhand, Proceedings of Tall 2007: The 12th World Lake Conference, 209–216.

Jain, C. K., Malik, D. S., & Rashmi, Y. (2007). Metal fractionation study on bed sediments of Lake Nainital, Uttaranchal, India. Environmental Monitoring and Assessment, 130, 129–139. doi:10.1007/s10661-006-9383-6.

James, W. F. (2008). Environmental factors affecting aquatic plant growth potential in Marinuka Lake, Wisconsin. APCRP technical notes collection (ERDC/TN APCRP-EA-20) (pp. 1–13). Vicksburg: U.S. Army Engineer Research and Development Center.

Khorram, S., & Cheshire, M. H. (1985). Remote sensing of water quality in the Neuse river estuary, North Carolina. Photogrammetric Engineering and Remote Sensing, 51(3), 329–341.

Kloiber, S. M., Brezonik, P. L., & Bauer, M. E. (2002). Application of Landsat imagery to regional-scale assessments of lake clarity. Water Research, 36, 4330–4340.

Lathrop, R. G. (1992). Landsat thematic mapper monitoring of turbid inland water quality. Photogrammetric Engineering and Remote Sensing, 58, 465–470.

Lavery P., Charitha, P., Alex, W., & Peter, H. (1993). Water quality monitoring in estuarine waters using the landsat thematic mapper. Remote Sensing of Environment, 46(3), 268–280.

Melin, F., Zibordi, G., & Djavidnia, S. (2007). Development and validation of a technique for merging satellite derived aerosol optical depth from Sea-WiFS and MODIS. Remote Sensing of Environment, 108, 436–450.

Mullins, M. L., & Whisenant, A. S. (2004). Somerville reservoir water quality study, texas parks and wildlife department, Austin, Texas, Water Quality Technical Series (pp. 1–20), WQTS-2004-02.

Nayak, B. K., Acharya, B. C., Panda, U. C., Nayak, B. B., & Acharya, S. K. (2004). Variation of water quality in Chilika Lake. Indian Journal of Marine Sciences, 33(2), 164–169.

Navarro, E., Caputo, L., Marće, R., Carol, J., Benejam, L., Garćıa-Berthou, E., & Armengol, J. (2009). Ecological classification of a set of Mediterranean reservoirs applying the EU Water Framework Directive: A reasonable compromise between science and management, Lake and Reservoir Management, North American Lake Management Society, 25, 364–376.

Nelson, S. A. C., Soranno, P. A., Cheruvelil, K. S., Batzli, S. A., & Skole, D. L. (2003). Regional assessment of lake water clarity using satellite remote sensing. Residence time in Lakes: Science, Management, Education J. Limnol, 62(Suppl. 1), 27–32.

Pant, M. C., Sharma, A. P., & Sharma, P. C. (1980). Evidence for the increased eutrophication of lake Nainital as a result of human interference. Environment Pollution Series B, Chemical and Physical, 1(2), 149–161.

Pant, M. C., Sharma, A. P., & Sharma, P. C. (2007). An analysis of the biotic community in a Kumaun Himalayan Lake, Nainital. International Review of Hydrology, 70(4), 591–602.

Paukert, C. P., & Willis, D. W. (2003). Population characteristics and ecological role of Northern Pike in shallow natural lakes in Nebraska. North American Journal of Fisheries Management, 23, 313–322.

Parinet, B., Lhote, A., & Legube, B. (2004). Principal component analysis: an appropriate tool for water quality evaluation and management—application to a tropical lake system. Ecological Modelling, 178, 295–311.

Rast, W. (2009). Lakes: Freshwater Storehouses and Mirrors of Human Activities, Brifing Note, Assessment Programme Programme Office for Global Water Assessment, Division of Water Sciences, UNESCO, 06134 Colombella, Perugia, Italy.

Riduan, S. D., Hamzah, Z., & Satt, A. (2009). In-Situ measurement of selected water quality parameters in Ringlet's Lake, Cameron Highlands. Malaysian Journal of Chemistry, 11(1), 122–128.

Sawaya, K. E., Olmanson, L. G., Heinert, N. J., Brezonik, P. L., & Bauer, M. E. (2003). Extending satellite remote sensing to local scales: land and water resource monitoring using high-resolution imagery. Remote Sensing of Environment, 88, 144–156.

Sharma, A., Ranga, M. M., & Sharma, P. C. (2010). Water quality status of historical Gundolav Lake at Kishangarh as a primary data for sustainable management. South Asian Journal of Tourism and Heritage, 3(2), 149–158.

U.S. EPA, United states Environmental Protection Agency (1986) Quality criteria for waters, regulations and standars. Warhmgton, DC 20460, EPA 440/5-86-001.

Walker, W. W. J. R. (1979). Use of hypolimnetic oxygen depletion rate as a trophic state index for lakes. Water Resources Research, 15(6), 1463–1470.

Wilkie, D. S., & Finn, J. T. (1996). In M. C. Pearl (Ed.), Remote sensing imagery for natural resources monitoring: A guide for first-time users. New York: Columbia University Press.

Zagan, S., & Enache, I. (2010). Pollution degree of Tabacarie Lake in 2009 (pp. 132–136), Proceedings of the 3rd International Conference on Environmental and Geological Science and Engineering.
Acknowledgements
The authors are thankful to Dr. P S Roy, Dean IIRS (Associate Director, NRSC) and Dr. V. Jayaraman (Director, NRSC) for providiong all support and encouragement to carry out the research activity. Authors, gratefully acknowledge USGS, Earth Resourses Observation and Science Center, for providing the Landsat-7 ETM data.
About this article
Cite this article
Mishra, A.K., Garg, N. Analysis of Trophic State Index of Nainital Lake from Landsat −7 ETM Data. J Indian Soc Remote Sens 39, 463–471 (2011). https://doi.org/10.1007/s12524-011-0105-3
Received:

Accepted:

Published:

Issue Date:
Keywords
Trophic state index

Secchi disk depth

ETM