Abstract
Minoan 'villas' were large complexes—in the vast majority of cases, the central buildings of settlements—erected in the Neo-palatial period in Crete. Their function is still a matter of debate while very little is known about subsistence and economic activities in relation to farming for these sites. The excavation research project at the Minoan villa of Zominthos, the highest in altitude Minoan villa found to date, conducted between 2004 and 2008, provided an opportunity to shed light into these issues. For the purposes of this project, the first systematic archaeobotanical study of a Minoan villa was conducted. This indicated a potentially varied food plant base at Zominthos that included the most common and ubiquitous food plants and their combinations recorded in Bronze Age Crete. Spatial analysis of the finds added information on activities that were taking place in the various excavated parts of this villa and also highlighted taphonomic factors influencing the assemblage. Comparison of the arhaeobotanical results with those previously obtained from another four villas in Crete stressed the disparities in the quality of the different datasets and allowed only some tentative suggestions to be made. All villas included basic cereal and fruit staples of the period and recorded a variety and regular presence of legumes, with stored produce found to date only at Myrtos-Pyrgos. This study highlighted the need for embracing bioarchaeological investigations when excavating these sites and implementing sampling strategies planned together with excavators. It provided the data and, therefore, the potential for coming closer to understanding the function(s) that villas had in the spheres of subsistence, leading to a closer understanding of their socio-economic role(s) in the Minoan political society.
Access options
Buy single article
Instant access to the full article PDF.
USD 39.95
Price includes VAT (USA)
Tax calculation will be finalised during checkout.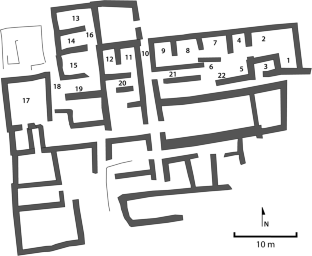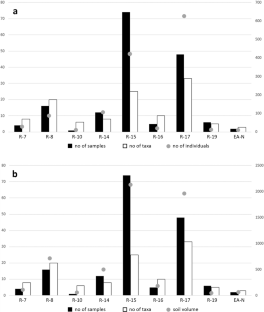 References
Betancourt P, Marinatos N (1997) The Minoan villa. In: Hägg G (ed.) The Function of the "Minoan Villa". Proceedings of the 8th International Symposium at the Swedish Institute at Athens, 6-8 June 1992. Acta Instituti Atheniensis Regni Sueciae, Series In 4o, XLVI. Paul Åströms Förlag, Stockholm, pp 91-98

Boardman S, Jones G (1990) Experiments on the effects of charring on cereal plant components. J Archaeol Sci 17:1–11

Braadbaart F, Marinova E, Sarpaki A (2016) Charred olive stones: experimental and archaeological evidence for recognizing olive processing residues used as fuel. Veg Hist Archaeobotany 25(5):415–430

Cadogan J (1977) Pyrgos, Crete, 1970–7. Archaeol Rep 24:70–84

Cappers RTJ (2018) Digital Atlas of Traditional Food Made from Cereals and Milk. Barkhuis and Groningen University Library, Groningen

Cappers RTJ, Bekker RM, Jans JEA (2006) Digital seed atlas of the Netherlands. Groningen Archaeological Studies 4. Barkhuis Publishing, Eelde

Cappers RTJ, Neef R, Bekker RM (2009) Digital atlas of economic plants 1, 2a and 2b. Barkhuis and Groningen University Library, Groningen

Christakis KS (2008) The politics of storage. Storage and socio-political complexity in Neopalatial Crete. INSTAP, Philadelphia

Evans A (1928) The Palace of Minos at Knossos. Volume 2(1). MacMillan and Co, London

Follieri M (1985) Provviste alimentary vegetali in una casa minoica ad Haghia Triada (Creta). Annuario della Scuola Archeologica di Atene e delle Missioni Italiane in Oriente. 57(41):165–172

French DH (1971) An experiment in water-sieving. Anatol Stud 21:59–64

Gennadios Γεννάδιος ΠΓ (1914) Φυτολογικόν Λεξικόν. Εκδοτικός Οίκος Δαμιανός, Αθήνα

Hägg G (ed.) (1997) The Function of the "Minoan Villa". In: Proceedings of the 8th International Symposium at the Swedish Institute at Athens, 6-8 June 1992. Acta Instituti Atheniensis Regni Sueciae, Series In 4o, XLVI. Paul Åströms Förlag, Stockholm

Halbherr F (1905) Scavi eseguiti dalla Missione Archeologica Italiana ad Haghia Triada ed a Festo nell'anno 1904. Memorie del Reale Istituto Lombardo di Scienze e Lettere 3:21-254

Halbherr F, Stefani E, Banti L (1980) Haghia Triada nel periodo tardo palaziale. Annuario Scuola Archeol Atene 55:7–296

Halstead P (2014) Two Oxen ahead: pre-mechanised farming in the Mediterranean. Wiley-Blackwell, Oxford

Hubbard RNLB, Clapham A (1992) Quantifying macroscopic plant remains. Rev Palaeobot Palynol 73:117–132

Jacomet S (2006) Identification of cereal remains from archaeological sites, 2nd edn. Archaeobotany Lab, IPAS, Basel University, Basel

Jones G (1984) The LMII plant remains. In: Popham MR (ed) The Minoan Unexplored Mansion at Knossos. BSA supp. vol. 17, London, pp 303–306

Jones G (1991) Numerical analysis in archaeobotany. In: Van Zeist W, Wasylikowa K, Behre K-E (eds) Progress in old world palaeoethnobotany. Balkemma, Rotterdam, pp 63–80

Jones G, Wardle K, Halstead P, Wardle D (1986) Crop storage at Assiros. Sci Am 254:84–91

Kavadas Καββαδάς ΣΔ (1956) Εικονογραφημένον Βοτανικόν-Φυτολογικόν Λεξικόν. Τομ. I-IX. Εκδόσεις Πελεκάνος, Αθήνα

Knappett C (1998) The function of the 'Minoan Villa'. In: Proceedings of the eighth International Symposium at the Swedish Institute at Athens, 6-8 June 1992 (book reviews). Antiquity 72(276):447

Livarda A (2014) Archaeobotany in Greece. Archaeol Rep 60:106–116

Livarda A, Kotzamani G (2013) The archaeobotany of Neolithic and Bronze Age Crete: synthesis and prospects. The Annual of the British School at Athens 108:1-29

Margaritis E, Jones M (2008) Crop-processing of Olea europaea L.: an experimental approach for the interpretation of archaeobotanical olive remains. Veg Hist Archaeobotany 17:381–392

Marinatos S (1948) Το Μινωικόν μέγαρον Σκλαβόκαμπου. Αρχαιολογική Εφημερίς (1939-1941):69-96

Marinova E, Van der Valk JMA, Valamoti SM, Bretschneider J (2011) An experimental approach for tracing olive processing residues in the archaeobotanical record, with preliminary examples from Tell Tweini, Syria. Veg Hist Archaeobotany 20(5):471–478

Neef R (1990) Introduction, development and environmental implications of olive culture: the evidence from Jordan. In: Bottema S, Entjes-Nieborg G, van Zeist W (eds) Man's role in the shaping of the eastern Mediterranean Landscape. Balkema, Rotterdam, pp 295–306

Netolitzky F (1934) Pflansliche Nahrungsmittel und Hölzer aus dem prähistorischen Kreta und Kephallonia. Buletinul Facultatu de Stunte din Cernauti 8:172-178

Neuweiler E (1935) Nachträge urgeschichtlicher. Pflanzen Vierteljahrsschrift der Naturforschenden den Gesellschaft in Zürich 80:98-122

Olivier JP (1987) Structure des archives palatiales en Linéaire A et en Linéaire B. In: Lévy E (ed) Le système palatial en orient, en Grèce et à Rome. Actes du Colloque de Strasbourg 19-22 juin, vol 1985. EJ Brill, Leiden, pp 227–235

Rackham O, Moody J (2004) Η Δημιουργία του Κρητικού Τοπίου. Πανεπιστημιακές Εκδόσεις Κρήτης, Ηράκλειο

Sakellarakis Σακελλαράκης Γ (2008) Ζώμινθος. Το Έργο της Αρχαιολογικής Εταιρείας κατά το έτος 2008 55:98-111

Sakellarakis Σακελλαράκης Γ (2010) Ανασκαφή Ζωμίνθου. Πρακτικά της εν Αθήναις Αρχαιολογικής Εταιρείας του έτους 2008 163:93-126

Sakellarakis, Panagiotopoulos Σακελλαράκης Γ, Παναγιωτόπουλος Δ (2005) Ζώμινθος. Το Έργο της Αρχαιολογικής Εταιρείας κατά το έτος 2005 52:62-65

Sakellarakis Y, Panagiotopoulos D (2006a) Minoan Zominthos. In: Γαβριλάκη Ε, Τζιφόπουλος ΓΖ (eds) Πρακτικά Διεθνούς Συνεδρίου «Ο Μυλοπόταμος από την Αρχαιότητα ως Σήμερα. Περιβάλλον - Αρχαιολογία - Ιστορία - Λαογραφία – Κοινωνιολογία». Ιστορική και Λαογραφική Εταιρεία Ρεθύμνου, Ρέθυμνο, pp 47-75

Sakellarakis, Panagiotopoulos Σακελλαράκης Γ, Παναγιωτόπουλος Δ (2006b) Ζώμινθος. Το Έργο της Αρχαιολογικής Εταιρείας κατά το έτος 2006 53:65-71

Sakellarakis, Panagiotopoulos Σακελλαράκης Γ, Παναγιωτόπουλος Δ (2007a) Ανασκαφή Ζωμίνθου. Πρακτικά της εν Αθήναις Αρχαιολογικής Εταιρείας του έτους 2004 159:99-110

Sakellarakis, Panagiotopoulos Σακελλαράκης Γ, Παναγιωτόπουλος Δ (2007b) Ανασκαφή Ζωμίνθου. Πρακτικά της εν Αθήναις Αρχαιολογικής Εταιρείας του έτους 2005 160:89-105

Sakellarakis, Panagiotopoulos Σακελλαράκης Γ, Παναγιωτόπουλος Δ (2007c) Ζώμινθος. Το Έργο της Αρχαιολογικής Εταιρείας κατά το έτος 2007 54:66-76

Sakellarakis, Panagiotopoulos Σακελλαράκης Γ, Παναγιωτόπουλος Δ (2008) Ανασκαφή Ζωμίνθου. Πρακτικά της εν Αθήναις Αρχαιολογικής Εταιρείας του έτους 2006 161:121-142

Sakellarakis, Panagiotopoulos Σακελλαράκης Γ, Παναγιωτόπουλος Δ (2010) Ανασκαφή Ζωμίνθου. Πρακτικά της εν Αθήναις Αρχαιολογικής Εταιρείας του έτους 2007 162:55-97

Sarpaki A (1992) A palaeoethnobotanical approach. The Mediterranean triad or is it a quartet? In: Wells B (ed) Agriculture in Ancient Greece. Paul Astroms, Stockholm, pp 61–76

Sarpaki A (1999) The archaeobotanical study of Tzambakas House, Rethymnon, Crete. In: Tzedakis Y, Martlew H (eds) Minoans and Mycenaeans: Flavours of their Time. Kapon, Athens, pp 40–41

Sarpaki A (2009a) Knossos, Crete: Invaders, "sea goers", or previously "invisible", the Neolithic plant economy appears fully-fledged in 9,000 B.P. In: Fairbairn AS, Weiss E (eds) From foragers to farmers. Oxbow, Oxford, pp 220–234

Sarpaki A (2009b) The Cave of Ourania to Froudi, Zakros: the archaeobotanical remains. In: Kopaka K (ed) Zakros: Ourania to Froudi: the Cave and the Natural Rockshelters, Athens, pp 61–68

Sarpaki A (2016) The archaeobotanical remains from EM to LM IIIC at the Greek-Swedish Excavations. In: Hallager E, Hallager BP (eds) The Greek-Swedish excavations at the Agia Aikaterini Square Kastelli, Khania 1970-1987, 2001, 2005 and 2008, vol 1. eddy.se AB, Stockholm, pp 418–445

Siart C, Bernhard E, Panagiotopoulos D (2008) Investigation of past archaeological landscapes using remote sensing and GIS: a multi-method case study from Mount Ida, Crete. J Archaeol Sci 35:2918–2926. https://doi.org/10.1016/j.jas.2008.06.006

Tutin TG, Heywood VH, Burges NA, Valentine DH (eds) (1964-1993) Flora Europaea, Volumes 1-5. Cambridge University Press, Cambridge

Valamoti Βαλαμὠτη ΣΜ (2009) Η Αρχαιοβοτανική Έρευνα της Διατροφής στην Προϊστορική Ελλάδα. University Studio Press, Θεσσαλονίκη

Xanthoudidis Ξανθουδίδης Σ (1922) Μινωικόν Μέγαρο Νίρου. Αρχαιολογική Εφημερίς: 1-25

Zohary D, Hopf M (2000) Domestication of Plants in the Old World. The origin and spread of cultivated plants in West Asia, Europe and the Nile Valley. Oxford University Press, Oxford
Acknowledgements
We would like to thank the project directors, the late Yannis Sakelarakis, Efi Sapouna-Sakellaraki and Diamantis Panagiotopoulos and the co-ordinator of the bioarchaeology team, Valasia Isaakidou, for their invitation to participate in the excavation programme of Zominthos 2004–2008, and their collaboration and support for the completion of our study. We also warmly thank Valasia Isaakidou, Paul Halstead, Diamantis Panagiotopoulos, Anaya Sarpaki and Todd Whitelaw for their useful comments on an earlier draft of this paper. Many thanks are also due to Dr G. Georgiou for his help with administration and archaeological issues pertaining to our research, Alison Cox for the bioarchaeological work in the field in 2006, all the students and workmen that helped the flotation work throughout the years, Vasilis Fasoulas and Manolis Mavrokostas for their help with organising the last part of our study at Anogeia in June 2011 and Hector A. Orengo for his help with the figures for this paper. We would also like to thank the BSA at Knossos for allowing us to borrow their flotation machine. The archaeobotanical study of Zominthos was carried out with the financial support of the Psychas Institute, which we warmly thank.
Additional information
Publisher's note
Springer Nature remains neutral with regard to jurisdictional claims in published maps and institutional affiliations.
Electronic supplementary material
About this article
Cite this article
Livarda, A., Kotzamani, G. Plant resources and subsistence in the Late Minoan mountain 'villa' at Zominthos, Crete. Archaeol Anthropol Sci 12, 237 (2020). https://doi.org/10.1007/s12520-020-01203-1
Received:

Accepted:

Published:
Keywords
Bronze Age

Crete

Minoan 'villa'

Subsistence

Archaeobotany