Abstract
The Irish settlement of Baker's Flat, located in the rural heart of South Australia near the town of Kapunda, was occupied from the mid-nineteenth century for about 90 years. Although little archaeological work has been carried out in Australia specifically on Irish communities, Baker's Flat is of particular interest because it potentially operated as a traditional Irish clachan, an informal clustering of farm dwellings and outbuildings, and home in this instance to the Irish immigrants who worked in the nearby copper mine. The site was cleared for farming purposes in the 1950s, and little recordation of the dwellings and settlement exist today, aside from a single 1890s map. Owing to the demolition and landscape modification, it was unclear whether any intact subsurface deposits still existed. Therefore, this site was ideal for deploying two geophysical methods, ground-penetrating radar (GPR) and magnetic gradiometry, to assess the presence of subsurface remains and explore the spatial layout of the site. Our results, when compared with those obtained from surface surveys and targeted archaeological excavation, revealed numerous subsurface features and helped to confirm that Baker's Flat was built in the style of a traditional Irish clachan. This study also demonstrated that magnetic gradiometer was the better geophysical method for mapping this settlement as the nature of the geology (shallow bedrock) and construction of the houses (built within the bedrock) limited the utility of GPR.
Access options
Buy single article
Instant access to the full article PDF.
US$ 39.95
Tax calculation will be finalised during checkout.
Subscribe to journal
Immediate online access to all issues from 2019. Subscription will auto renew annually.
US$ 79
Tax calculation will be finalised during checkout.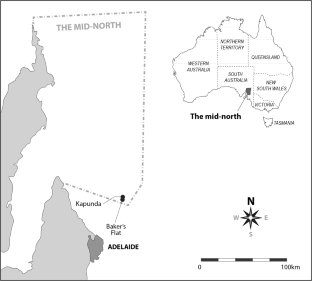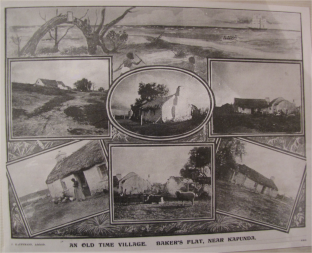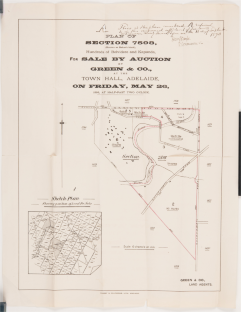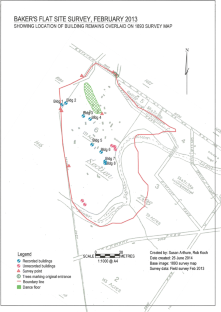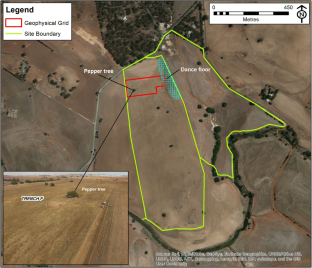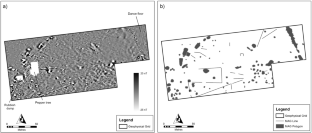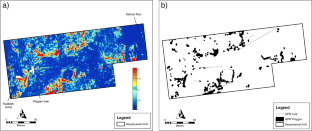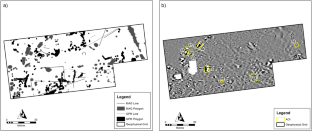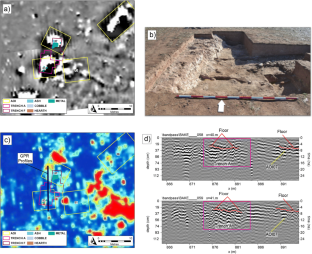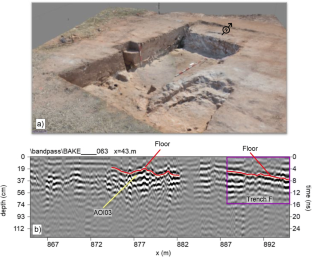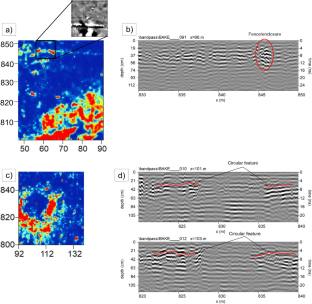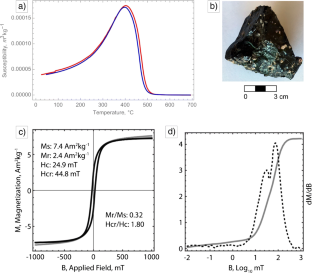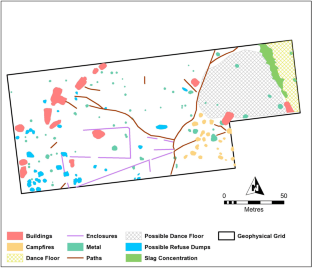 Notes
1.

The Kapunda Copper Mine was Australia's first successful metal mine and in recognition of its historical significance was inscribed on the SA Heritage Register in 1987.

2.

These relative differences have significant implications for magnetic gradiometry at archaeological sites. The Q value, or Koenigsberg ratio, is the ratio of a rock's remanent magnetisation (Mr), meaning the magnetic moment of substances when no magnetic field is applied to its induced magnetisation meaning the magnetic moment when a magnetic field is applied to a substance.

In this study, we used the NRM intensity for measuring Mr. Since low Q value (< 0.5) samples are dominated by the induced magnetisation, their magnetic anomalies will appear as magnetic highs (positive) compared with more non-magnetic crusts. The amplitude of an induced anomaly increases with the magnetic mineral content. When Q values are > 2, the orientation of a sample's NRM becomes essential. When Q equals 5, the dominant remanence can lead to large negative anomalies, especially when the NRM vector is at an obtuse angle to the Earth's magnetic field direction. Assuming an ambient magnetic field intensity at Baker's Flat is 58 μT (46 A/m), the Koenigsberger ratio for the two samples is significantly greater than 2 (see Table 1). As such, their strong magnetic remanence will likely contribute towards elevated anomalies with respect to surrounding soil and sediment with lower Koenigsberger ratios. The average sediments Q values are between 0.02 and 10 (Hunt et al. 1995). Since Baker's Flat is less than 1000 years old, the remanence direction of the slag should be roughly parallel to the modern field, thereby generating large positive anomalies such as we see in the gradiometer map (see Fig. 6a).

The susceptibility as a function of temperature, which is good for detecting the magnetic minerals of the slag, was remarkably reversible on warming and cooling (Fig. 13a). The Curie temperature (Tc) was slightly higher during warming (471 °C) than during the cooling phase (463 °C). The slight decrease on cooling may be associated with partial oxidation of the assemblage or with the relaxation of confining pressure on the mineral grains embedded in the rapidly quenched silicate glass. These temperatures are lower than the Curie temperature of pure magnetite (580 °C) (Evans and Heller 2003; Thompson and Oldfield 1986) and are more consistent with magnetite partially substituted with metals such as Titanium (Ti), Chromium (Cr), or Magnesium (Mg).

The sample shows mostly a single domain-like behaviour with minor contributions from the pseudo-single domain (PSD) and multidomain (MD) magnetic grains (Dunlop 2002) (Fig. 13b). Magnetic domains are small regions in which the magnetisation is uniform within a sample, but the magnetisation vector with each region differs from that of its neighbours (Evans and Heller 2003). Plots of the back-field derivative of the data show two overlapping coercivity distributions with peaks near 30 and 75 mT (Fig. 13c).
References
Aalen FHA (1966) The evolution of the traditional house in western Ireland. J Royal Soc Antiquaries of Ireland 96(1):47–58

Andrews JH (2002) A paper landscape: the ordnance survey in nineteenth-century Ireland. Four Courts Press, Dublin

Arthure S (2014) The occupation of Baker's Flat: a study of Irishness and power in nineteenth-century South Australia. Unpublished MArch thesis, Department of Archaeology, Flinders University, Adelaide

Arthure S (2015) Being Irish: the nineteenth century South Australian community of Baker's Flat. Archaeologies 11(2):169–188

Arthure S (2017) Australia's first clachan: identifying a traditional Irish settlement system in nineteenth century South Australia. J Histor Soc South Aus 45:19–30

Ashley GA (2009) Displacement and resettlement: examining the effects of the Irish famine in Pekina, South Australia. Unpublished MArch thesis, Department of Archaeology, Flinders University, Adelaide

Aspinall A, Gaffney C, Schmidt A (2008) Magnetometry for archaeologists. AltaMira Press, Lanham, MD

Beanland, Mrs 1975 Report of interview about Baker's Flat between Mrs Beanland and H. I. Bettison, 8 April 1975. South Australian Museum, Adelaide, Australia

Bevan BW (1998) Geophysical Exploration for Archaeology: An Introduction to Geophysical Exploration. Midwest Archaeological Center Special Report 1. Lincoln: National Park Service, Midwest Archaeological Center

Brighton SA (2008) Degrees of alienation: the material evidence of the Irish and Irish American experience, 1850–1910. Hist Archaeol 42(4):132–153

Brighton SA (2011) Middle-class ideologies and American respectability: archaeology and the Irish immigrant experience. Int J Hist Archaeol 15:30–50

Brooks A, Bader H-D, Lawrence S, Lennon J (2009) Ploughzone archaeology on an Australian historic site: a case study from South Gippsland, Victoria. Aust Archaeol 68:37–44

Charlton R (1971) The history of Kapunda. Hawthorn Press, Melbourne

Clark A (1996) Seeing beneath the soil: prospecting methods in archaeology. Routledge, London

Campbell M (1991) Irish women in nineteenth century Australia: a more hidden Ireland? In: Bull P, McConville C, McLachlan N (eds) Irish-Australian studies: papers delivered at the sixth Irish-Australian conference July 1990. La Trobe University, Melbourne, pp 25–38

Campbell M (1995) The other immigrants: comparing the Irish in Australia and the United States. J Am Ethn Hist 14(3):3–22

Campbell M (2002) Ireland's furthest shores: Irish immigrant settlement in nineteenth-century California and eastern Australia. Pac Hist Rev 71(1):59–90

Concrete Institute of Australia [CIA] (2003) Ground granulated iron Blast furnace slag and its use in concrete. In: Current Practice Note 26 8. ISBN 0 909375 62 3

Connah G (1988) The archaeology of Australia's history. Cambridge University Press, Cambridge

Conyers LB (2009) Ground-penetrating radar for landscape archaeology: methods and applications. In: Campana S, Piro S (eds) Seeing the unseen. Taylor and Francis, London, pp 245–255

Conyers LB (2012) Interpreting ground-penetrating radar for archaeology. Left Coast Press, Walnut Creek

Cowman D (2006) The making and breaking of a mining community: the copper coast, County Waterford 1825–1875. Mining Heritage Trust of Ireland, Dublin

Crook P (2000) Shopping and historical archaeology: exploring the contexts of urban consumption. Australasian Historical Archaeology 18:17–28

Crook P, Murray T (2006) The historical archaeology of the first government house site, Sydney: further research. Historic Houses Trust of New South Wales, Sydney

Crook P, Mackay R, Kostoglou P (2015) Building colonial histories: the archaeology of the Menzies Centre site, Hobart. Australasian Historical Archaeology 33:27–36

Danaher K (1978) Ireland's vernacular architecture. Mercier Press, Cork

Darvill T, Lüth F, Rassmann K, Fischer A, Winkelmann K (2013) Stonehenge, Wiltshire, UK: high-resolution geophysical surveys in the surrounding landscape, 2011. Eur J Archaeol 16(1):63–93

Donati JC, Sarris A (2016) Geophysical survey in Greece: recent developments, discoveries and future prospects. Archaeological Reports 62:63–76

Doyle H (1996) The Irish landscape of Koroit, Victoria. In: Davis R, Livett J, Whitaker A, Moore P (eds) Irish-Australian studies: papers delivered at the eighth Irish-Australian conference, Hobart 1995. Crossing Press, Sydney, pp 224–233

Drew G (2017) Captain Bagot's mine: Kapunda mine 1844–1916. Greg Drew, Adelaide

Dunlop DJ 2002 Theory and application of the day plot (Mrs/Ms versus Hcr/Hc) 1. Theoretical curves and tests using titanomagnetite data Journal of Geophysical Research 107 (B3), doi: https://doi.org/10.1029/2001JB000486

Emmons D (1990) The Butte Irish: Class and ethnicity in an American mining town 1875–1925. University of Illinois Press, Urbana

Evans EE (1939) Some survivals of the Irish open-field system. Geography 24(1):24–36

Evans ME, Heller F (2003) Environmental magnetism: principles and applications of Enviromagnetics. Academic Press, London

Feehan J (2003) Farming in Ireland: history, heritage and environment. Faculty of Agriculture, University College Dublin, Dublin

Fitzpatrick D (2005) Exporting brotherhood: Orangeism in South Australia. Immigrants and Minorities 23:277–310

Fleming K (2016) Global and local contexts: nineteenth to early twentieth-century gold mining settlements in the upper Murchison, Western Australia. Australasian Historical Archaeology 34:44–52

Gaffney C, Gater J (2003) Revealing the buried past: geophysics for archaeologists. Tempus Publishing, Stroud

Gaffney CF, Gater JA, Lindford P, Gaffney VL, White R (2000) Large-scale systematic fluxgate gradiometry at the Roman City of Wroxeter. Archaeol Prospect 7:81–99

Gailey A (1984) Rural houses of the north of Ireland. John Donald, Edinburgh

Gibbs M, Gojak D (2009) Remote sensing in an urban Australian setting: an example from Dr H. J. Foley Park, Sydney. Aust Archaeol 68:45–51

Godden Mackay Heritage Consultants (1999) The Cumberland/Gloucester streets site, the rocks: archaeological investigation report, volumes 1, 3–5, prepared for the Sydney cove authority. Godden Mackay Logan, Redfern

Goodman D, Piro S (2013) GPR remote sensing in archaeology. Springer, New York

Hall J, Yelf R (1993) The application of ground penetrating radar in archaeology: a case from the Tower Mill, Brisbane. In: Fankhauser BL, Bird JR (eds) Archaeometry: Current Australasian Research, pp.121–130 Occasional Papers in Prehistory 22. Canberra: Department of Prehistory, Research School of Pacific Studies, Australian National University

Hunt, C.P., Moskowitz BM and Banerjee SK 1995 Magnetic properties of rocks and minerals. In T.J. Ahrens (ed.), Rock Physics and Phase Relations, A Handbook of Physical Constants, pp.189–204. American Geophysical Union Reference Shelf 3. Washington: American Geophysical Union

Isbell, R. and National Committee on Soil and Terrain [NCST] 2016 The Australian soil classification: Australian soil and land survey handbook series. Melbourne: CSIRO Publishing

Jackson MJ, Solheid PA (2010) On the quantitative analysis and evaluation of magnetic hysteresis data. Geochem Geophys Geosyst 11(4). https://doi.org/10.1029/2009GC002932

Jacob RW, Urban TM (2015) Ground-penetrating radar velocity determination and precision estimates using common-mid-point (CMP) collection with hand-picking, semblance analysis, and cross-correlation analysis: a case study and tutorial for archaeologists. Archaeometry 58(6):987–1002

Johnson JH (1958) Studies of Irish rural settlement. Geogr Rev 48(4):554–566

Johnston L (2007) In search of the clachan. Building Mat 16:10–15

Jones D, Payne P (1998) Gardens in South Australia 1840–1940: guidelines for design and conservation. Department for Environment, Heritage and Aboriginal Affairs, Adelaide

Jordan D (2009) How effective is a geophysical survey? A regional review. Archaeol Prospect 16:77–90

Kapunda Herald 1894a Baker's Flat case—dismissed. 3 April, p.3. Retrieved 25 September 2018 from <http://trove.nla.gov.au/newspaper/article/108364116>

Kapunda Herald 1894b The Baker's Flat case. 3 April, p.2. Retrieved 25 September 2018 from <http://trove.nla.gov.au/ndp/del/article/108364118>

Karskens G (2003) Revisiting the worldview: the archaeology of convict households in Sydney's rocks neighbourhood. Hist Archaeol 37(1):34–55

Keay S, Earl G, Hay S, Kay S, Ogden J, Strutt K (2009) The role of integrated geophysical survey methods in the assessment of archaeological landscapes: the case of Portus. Archaeol Prospect 16(3):154–166

Kvamme KL (2003) Geophysical surveys as landscape archaeology. Am Antiq 68(3):435–457

Lawrence S, Davies P (2015) Cornish tin-streamers and the Australian gold rush: technology transfer in alluvial mining. Post-Mediev Archaeology 49(1):99–113

Lawrence S, Davies P (2018) Melbourne: the archaeology of a world city. Int J Hist Archaeol 22(1):117–130

Lawrence D, Low SM (1990) The built environment and spatial form. Annu Rev Anthropol 19:453–505

Links F (2008) Geophysical mapping of subsurface archaeological features at the Port Arthur Site, Tasmania, Australia. Unpublished PhD thesis. University of Tasmania, Australia

Linn MB (2010) Elixir of emigration: soda water and the making of Irish Americans in nineteenth-century New York City. Hist Archaeol 44(4):68–109

Lowe KM (2012) Review of geophysical applications in Australian archaeology. Aust Archaeol 74:71–84

Lowe KM, Cole N, Burke H, Wallis LA, Barker B, Hatte E, Rinyirru Aboriginal Corporation (2018) The archaeological signature of 'ant bed' mound floors in the northern tropics of Australia: case study on the Lower Laura (Boralga) Native Mounted Police Camp, Cape York peninsula. J Archaeol Sci Rep 19:686–700

Lydon J (1993) Archaeology in the rocks, Sydney, 1979–1993: from Old Sydney Gaol to Mrs Lewis' boarding-house. Australasian Historical Archaeology 11:33–42

Maloney, T.J. 1936 Early days and ways in Kapunda: Baker's Flat, no man's land—a nursery of Catholicism in Australia. Southern Cross 6 November, pp. 29–30

Mate G (2013) Mount shamrock: a symbiosis of mine and settlement. Int J Hist Archaeol 17:465–486

Mayne A (2006) Big notes from a little street: historical research at Melbourne's 'Little Lon'. Int J Hist Archaeol 10(4):317–328

Mayne A, Murray T (1999) "In 'Little Lon'… wiv Ginger Mick": telling the forgotten history of a vanished community. J Pop Cult 33(1):63–78

McEgan J (2019) Irish graves in Mid North South Australia, 1850–1899: an examination of cultural significance. In: Arthure S, Breen F, James S, Lonergan D (eds) Irish South Australia: new histories and insights. Wakefield Press, Adelaide, pp 74–89

Mulligan WH Jr (2015) Building new lives, maintaining old identities: Irish associations in Michigan's Copper Country, 1860–1900. New Hibernia Rev 19(4):109–125

Murray T, Mayne A (2003) (re) constructing a lost community: 'Little Lon', Melbourne, Australia. Hist Archaeol 37(1):87–101

Nicol R (1983) Racial minorities and the settlement of Kapunda, part 1. Historical Society of South Australia Newsletter 48:13–16

O'Brien M (1975) Transcript of interview about Baker's Flat with H. I. Bettison, April 1975. In: South Australian museum. Adelaide, Australia

Ó Danachair C (1955/1956) Semi-underground habitations. J Galway Archaeological Histor Soc 26(3/4):75–80

Ó Danachair C (1964) The combined byre-and-dwelling in Ireland. Folk Life 2(1):58–75

O'Reilly B (2011) Hearth and home: the vernacular house in Ireland from c.1800. Proc R Ir Acad 111C:193–215

Orser CE Jr (2010) Three 19th-century house sites in rural Ireland. Post-Mediev Archaeology 44(1):81–104

Ó Síocháin S (2015) Rundale: the social and economic context. In: Ó Síocháin S, Slater E, Downey L (eds) Rundale: Settlement, Society, and Farming, pp.1–11. Ulster Folklife 58. Ulster Folk and Transport Museum, Holywood

Prangnell J, Quirk K (2009) Children in paradise: growing up on the Australian goldfields. Hist Archaeol 43(3):38–49

Ranson D, Egloff B (1988) The application of earth-resistivity surveys to Australian archaeological sites. Aus Histor Archaeology 6:57–73

Reid R, Kelson B (2010) Sinners, saints and settlers: a journey through Irish Australia. National Museum of Australia Press, Canberra

Richards E (1991) Irish life and progress in colonial South Australia. Ir Hist Stud 27(107):216–236

Rotman D (2010) The fighting Irish: historical archaeology of nineteenth-century Catholic immigrant experiences in South Bend, Indiana. Hist Archaeol 44(2):113–131

Rotman DL (2012) Irish-Catholic immigrant life in South Bend, Indiana: refined earthenwares and the 19th-century social worlds of the Midwest. Midcont J Archaeol 37(1):25–44

Schlanger SH (1992) Recognizing persistent places in Anasazi settlement systems. In: Rossignol J, Wandsnider L (eds) Space, time and archaeological landscapes. Plenum Press, New York, pp 91–112

Sendziuk P, Foster R (2018) A history of South Australia. Cambridge University Press, Cambridge

Shaar R, Tauxe L, Ben-Yosef E, Kassianidou V, Lorentzen B, Feinberg JM, Levy TE (2015) Decadal-scale variations in geomagnetic field intensity from ancient Cypriot slag mounds. Geochem Geophys Geosyst 16(1):195–214

Supreme Court of South Australia 1892 Forster et al. v. Fisher court records. GRG36/54 File 47/1892, State Records of South Australia, Adelaide, Australia

Thompson R, Oldfield F (1986) Environmental Magnetism. Allen and Unwin, London

Thompson VD, Arnold PJ III, Pluckhahn TJ, Vanderwarker AM (2011) Situating remote sensing in anthropology. Archaeol Prospect 18:195–213

Tilbrook LN (ed) (1929) Memories of Kapunda and district by a circle of friends. Kapunda Herald Print, Kapunda

Townsend WWG (1975) Transcript of interview about Baker's Flat with H. I. Bettison, April 1975. In: South Australian Museum. Adelaide, Australia

Trinks I, Hinterleitner A, Neubauer W, Nau E, Löcker K, Wallner M, Gabler M, Filzwieser R, Wilding J, Schiel H, Jansa V, Schneidhofer P, Trausmuth T, Sandici V, Ruẞ D, Flöry S, Kainz J, Kucera M, Vonkilch A, Tencer T, Gustavsen L, Kristiansen M, Bye-Johansen L, Tonning C, Zitz T, Paasche K, Gansum T, Seren S (2018) Large-area high resolution ground-penetrating radar measurements for archaeological prospection. Archaeol Prospect 25(3):171–195

URS Australia 2015 Historic Kapunda Mine Site, Preliminary Site Investigation, Lot 11, 12 and Portion Lot 12, Kapunda SA. Unpublished report prepared for Light Regional Council

Whelan K (2011) The modern landscape: from plantation to present. In: Aalen FHA, Whelan K, Stout M (eds) Atlas of the Irish rural landscape. Cork University Press, Cork, pp 73–111

Winter S, Forsey C, Dotte-Sarout E, Paterson A (2016) The settlement at Barmup: Britain's first farm in Western Australia. Australasian Historical Archaeology 34:32–43

Witten AJ (2006) Handbook of geophysics and archaeology. Equinox Publishing, London
Acknowledgements
The authors thank Jordan Ralph and Simon O'Reilley for their assistance with the geophysical surveys—their help allowed us to complete the survey within the allocated timeframe. Dale Hampel generously provided access to the land. Rob Koch provided surveying support. Our thanks also to the Kapunda community for ongoing support, and especially Peter and Jenny Swann, Fr Mark Sexton and Andrew Philpott. A Flinders University staff and student field crew participated in the 2016 and 2017 excavations, and were integral to successful completion of the fieldwork, with special thanks to Heather Burke, Cherrie De Leiuen, Bob Stone and Meg Haas. Susan Arthure's research is supported through an Australian Government Research Training Program Scholarship.
Additional information
Publisher's note
Springer Nature remains neutral with regard to jurisdictional claims in published maps and institutional affiliations.
About this article
Cite this article
Lowe, K.M., Arthure, S., Wallis, L.A. et al. Geophysical and archaeological investigations of Baker's Flat, a nineteenth century historic Irish site in South Australia. Archaeol Anthropol Sci 12, 33 (2020). https://doi.org/10.1007/s12520-019-01003-2
Received:

Accepted:

Published:
Keywords
Australia historical archaeology

Baker's Flat

Historic Irish site

Magnetic gradiometry

GPR