Abstract
Quantitative analysis is used to classify pottery ware. This type of analysis is auxiliary and supplementary with respect to traditional archaeology, in which the data used in quantitative analysis are manually measured. The manual approach is slow and inaccurate, and the data extracted for each analysed item do not meet unity standards. Adopting pottery unearthed at the Tianma-Qucun burial site as an example, this article introduces a method for obtaining data using three-dimensional scanning technology and computer programming. The method is fast and accurate, and the analysed data can be loaded in batches. This method overcomes the deficiencies of traditional manual measurement and significantly improves data extraction speed and accuracy. The extracted data are subjected to cluster analysis using multivariate statistical methods to classify the pottery ware. The results are compared with those of traditional typology classification, confirming the feasibility of the method. Thus, the described method represents a research approach.
Access options
Buy single article
Instant access to the full article PDF.
USD 39.95
Price excludes VAT (USA)
Tax calculation will be finalised during checkout.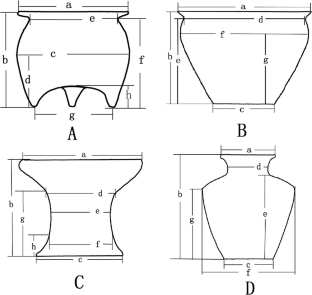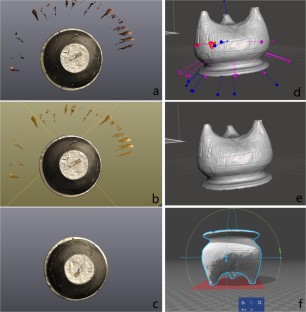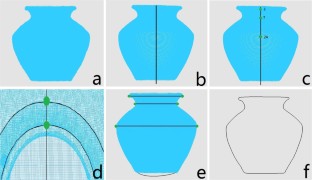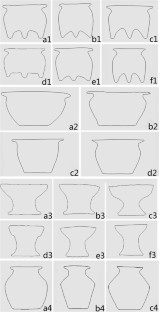 References
Camiz Z, Rova E, Tulli V (2003) Quantitative study of images in archaeology: II. Symbolic coding. In: Shader M, Gaul W, Vichi M (eds) Between data science and applied data analysis. Springer, Berlin, Heidelberg, pp 633–642

Drennan RD (1976) A refinement of chronological seriation using nonmetric multidimensional scaling. Am Antiq 41(3):290–302

Drennan RD (1996) Statistics for archaeologists: a common sense approach. Plenum Press

Duff AI (1996) Ceramic micro-seriation: types or attributes? Am Antiq 61(1):89–101

Heng Z (2000) Tianma-Qucun site (1980–1989). Beijing University Department of Archaeology, Science Press, pp 33–40

Hodson FR (1969) Searching for structure within multivariate archaeological data. World Archaeol 1(1):90–105

Hodson FR (1970) Cluster analysis and archaeology: some new developments and applications. World Archaeol 1(3):299–320

Kampel M, Sablatnig R (2006) 3D data retrieval of archaeological pottery. In: International Conference on Virtual Systems and Multimedia. Springer, Berlin, Heidelberg, pp 387–395

Kampel M, Sablatnig R, Mara H (2005) Robust 3D reconstruction of archaeological pottery based on concentric circular rills. na

Karasik A, Smilansky U (2008) 3D scanning technology as a standard archaeological tool for pottery analysis: practice and theory. J Archaeol Sci 35(5):1148–1168

Kendal DG (1969) Some problems and methods in statistical archaeology. World Archaeol 1(1):68–76

Kendal DG (1971) Seriation from abundance matrices. In: Hodson FR, Kendall DG, Tautu PT (eds) Mathematics in the archaeological and historical sciences, Edinburgh, pp 215–252

Mara H, Sablatnig R, Karasik A, Smilansky U (2004) The uniformity of wheel produced pottery deduced from 3D image processing and scanning. na

Mara H, Sablatnig R, Karasik A, Smilansky (2006) The uniformity of wheel produced pottery deduced from 3D image processing and scanning. The 28th Workshop of the Austrian Science Foundation

Mingyu T (2004) Practice and thinking of mathematical method in the study of archaeological typology. Research of the frontier archaeology (2). Science Press, Beijing, pp 414–424

Revello Lami M, Opgenhaffen L, Kisjes I (2016) Pottery goes digital: 3D laser scanning technology and the study of archaeological ceramics.

Shenman S (1997) Quantifying archaeolgy. University of Iowa Press, Iowa

Tiemei C (2005) Quantitative archaeological. Peking University Press, Beijing, pp 3–4

Tiemei C, Nu H (1989) A new attempt of classification by computer technology for pottery Dou during the second phase of Erlitou to the park of the people period archaeological culture volume (2). the Cultural Relics Publishing House, Beijing, pp 340–345

Wang J (2017) A study of computer assisted pottery typology based on 3D scanning technology. University of Science and Technology, Beijing, pp 141–177

Yan LJ (2007) Quantitative analysis on potteries unearthed from the graveyard of Ba Clan at Lijiaba site. Sichuan university, Sichuan
Acknowledgements
The authors would like to thank Kunzhang Ji and Puheng Nan, who work at the Shanxi Provincial Institute of Archaeology.
Funding
This work was supported by the University of Science and Technology Beijing, and the Shanxi Provincial Institute of Archaeology.
Additional information
The supplier of Creaform Go!SCAN 20 is AMETEK.
The supplier of VXelements software is AMETEK.
The supplier of Autodesk meshmixer is Autodesk.
The supplier of 3D builder is Microsoft Corporation.
The supplier of OBJ is Alias|Wavefront. OBJ is a file format of 3D model suitable for conversion between 3D models; it can be read and written by Maya.
The supplier of STL is 3D SYSTEMS. STL (stereo lithography) is a file format of 3D images for rapid prototyping technology.
C# is a high-level programming language which is derived from C and C++. It runs on.net Framework and is supplied by Microsoft Corporation.
Hash table is a data structure that can be directly accessed according to a key value.
UG is an interactive CAD/CAM (computer aided design and computer aided manufacturing) system. The supplier of UG is Siemens PLM Software.
Publisher's note
Springer Nature remains neutral with regard to jurisdictional claims in published maps and institutional affiliations.
About this article
Cite this article
Wang, J., Qian, W., Liu, H. et al. Quantitative analysis of pottery from the Tianma-Qucun site based on 3D scanning and computer technology. Archaeol Anthropol Sci 11, 5645–5656 (2019). https://doi.org/10.1007/s12520-019-00900-w
Received:

Accepted:

Published:

Issue Date:

DOI: https://doi.org/10.1007/s12520-019-00900-w
Keywords
Archaeological pottery

Tianma-Qucun site

Quantitative analysis

3D scanning

Computer programming