Abstract
Strontium isotope analysis of archeological skeletal materials is a highly effective and commonly employed analytical tool to investigate past human mobility and migration. Most such studies to date have focused on the analysis of a single tooth sample per individual to identify migration. Increasingly, however, studies have analyzed multiple teeth from the same individual permitting the detection of migrations occurring during childhood, more fine-grained temporal resolution of the age at which migration(s) occurred, and even the identification of multiple migration episodes. In this study, we review the application of such approaches to a wide range of archeological contexts worldwide. We compiled and analyzed published 87Sr/86Sr data for 1043 individuals from 122 sites to explore the potential variability of childhood mobility patterns cross-culturally. The results demonstrate a high degree of variability in childhood mobility that differs significantly between different regions and time periods. Potential interpretations involved in multiple tooth 87Sr/86Sr analysis are reviewed, including heterogeneity in variance of regional 87Sr/86Sr, as well as variability in human mobility patterns such as residential change of whole family, fosterage, herding activities, post-marital residence rules, or forced migrations. Various limitations and caveats concerning the multiple teeth sampling approach are also critically discussed.
This is a preview of subscription content, log in to check access.
Access options
Buy single article
Instant access to the full article PDF.
US$ 39.95
Tax calculation will be finalised during checkout.
Subscribe to journal
Immediate online access to all issues from 2019. Subscription will auto renew annually.
US$ 99
Tax calculation will be finalised during checkout.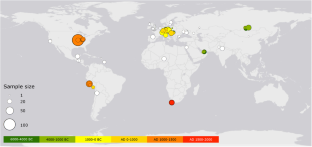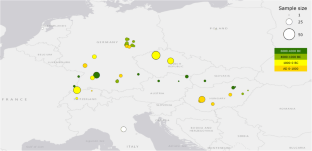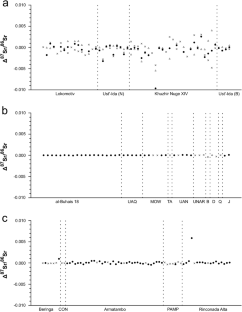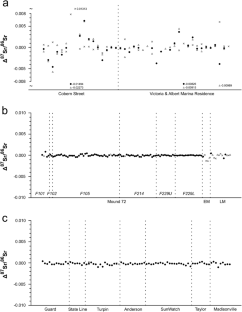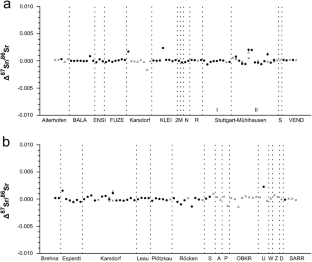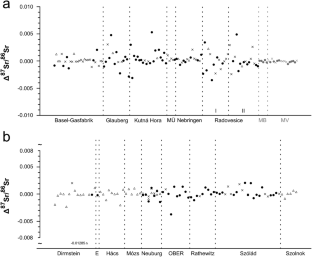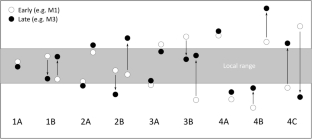 References
AlQahtani SJ, Hector MP, Liversidge HM (2010) Brief communication: the London atlas of human tooth development and eruption. Am J Phys Anthropol 142:481–490

Ammerman AJ, Cavalli-Sforza LL (1984) The Neolithic transition and the genetics of populations in Europe. Princeton University Press, Princeton

Anthony DW (1990) Migration in archeology: the baby and the bathwater. Am Anthropol 92(4):895–914

Bentley RA (2006) Strontium isotopes from the earth to the archaeological skeleton: a review. J Archaeol Method Theory 13:135–187

Bolton C, Bolton R, Gross L, Koel A, Michelson C, Munroe RL, Munroe RH (1976) Pastoralism and personality: an Andean replication. Ethos 4:463–481

Brown TA, Brown K (2011) Biomolecular archaeology: an introduction. Wiley-Blackwell, Chichester, West Sussex; Malden, MA

Büchler A, Schlatter C (2013) Marriage age in Islamic and contemporary Muslim family laws. A comparative survey. Electron J Islamic Middle Eastern Law 1:37–74

Buikstra JE, Price TD, Wright LE, Burton JA (2004) Tombs from the Copan acropolis: a life-history approach. In: Bell EE, Canuto MA, Sharer RJ (eds) Understanding early classic Copan. University of Pennsylvania Museum of Archaeology and Anthropology, Philadelphia, pp 191–214

Burmeister S (2000) Archaeology and migration: approaches to an archaeological proof of migration. Curr Anthropol 14(4):539–567

Burmeister S (2016) Archaeological research on migration as a multidisciplinary challenge. Medieval worlds. Comp Interdisciplinary Stud 4:42–64

Cameron CM (2016) Captives: how stolen people changed the world. University of Nebraska Press, Lincoln & London

Cook RA, Price TD (2015) Maize, mounds, and the movement of people: isotope analysis of a Mississippian/Fort ancient region. J Archaeol Sci 61:112–128

Copeland SR, Sponheimer M, le Roux PJ, Grimes V, Lee-Thorp JA, de Ruiter DJ, Richards MP (2008) Strontium isotope ratios (87Sr/86Sr) of tooth enamel: a comparison of solution and laser ablation multicollector inductively coupled plasma mass spectrometry methods. Rapid Commun Mass Spectrom 22:3187–3194

Crawford S, Hadley DM, Shepherd G (2018) The Oxford handbook of the archaeology of childhood. Oxford University Press, Oxford

Denga DI (1983) The effect of mobile group counseling on nomadic Fulani's attitudes toward formal education. J Negro Educ 52:170–175

Eriksson G (2013) Stable isotope analysis of humans. In: Tarlow S, Stutz LN (eds) The Oxford handbook of the archaeology of death and burial. Oxford University Press, Oxford, pp 123–146

Eriksson G, Frei KM, Howcroft R, Gummesson S, Molin F, Lidén K, Frei R, Hallgren F (2018) Diet and mobility among Mesolithic hunter-gatherers in Motala (Sweden)—the isotope perspective. J Archaeol Sci Rep 17:904–918

Evans JA, Chenery CA, Fitzpatrick AP (2006) Bronze age childhood migration of individuals near Stonehenge, revealed by strontium and oxygen isotope tooth enamel analysis. Archaeometry 48:309–321

Evans JA, Montgomery J, Wildman G, Boulton N (2010) Spatial variations in biosphere 87Sr/86Sr in Britain. J Geol Soc 167:1–4

Faure G, Mensing TM (2005) Isotopes: principles and applications, 3rd. edn. Wiley & Sons, Inc, Hoboken, New Jersey

Fraser M, Sjödin P, Sanchez-Quinto F, Evans J, Svedjemo G, Knutsson K, Götherström A, Jakobsson M, Storå J (2018) The stone cist conundrum: a multidisciplinary approach to investigate Late Neolithic/Early Bronze Age population demography on the island of Gotland. J Archaeol Sci Rep 20:324–337

Frei KM, Mannering U, Kristiansen K, Allentoft ME, Wilson AS, Skals I, Tridico S, Louise Nosch M, Willerslev E, Clarke L, Frei R (2015a) Tracing the dynamic life story of a Bronze Age female. Sci Rep 5:10431

Frei KM, Mannering U, Price TD, Iversen RB (2015b) Strontium isotope investigations of the Haraldskær woman—a complex record of various tissues. ArcheoSciences (39):93–101

Frei KM, Villa C, Jørkov ML, Allentoft ME, Kaul F, Ethelberg P, Reiter SS, Wilson AS, Taube M, Olsen J, Lynnerup N, Willerslev E, Kristiansen K, Frei R (2017) A matter of months: high precision migration chronology of a bronze age female. PLoS One 12:e0178834

Gregoricka LA (2014) Assessing life history from commingled assemblages: the biogeochemistry of inter-tooth variability in Bronze Age Arabia. J Archaeol Sci 47:10–21

Grimstead DN, Nugent S, Whipple J (2017) Why a standardization of strontium isotope baseline environmental data is needed and recommendations for methodology. Adv Archaeol Pract 5(2):184–195

Grupe G, Price TD, Schröter P, Söllner F, Johnson CM, Beard BL (1997) Mobility of Bell beaker people revealed by strontium isotope ratios of tooth and bone: a study of southern Bavarian skeletal remains. Appl Geochem 12:517–525

Hadley DM, Hemer KA (2011) Microcosms of migration: children and early medieval population movement. Childhood in the Past 4:63–78

Hadley DM, Hemer KA (2014) Medieval childhood: archaeological approaches. Oxbow Books, Oxford

Hakenbeck SE (2008) Migration in archaeology: are we nearly there yet? Archaeol Rev Cambridge 23:9–26

Haverkort CM, Weber A, Katzenberg MA, Goriunova OI, Simonetti A, Creaser RA (2008) Hunter-gatherer mobility strategies and resource use based on strontium isotope (87Sr/86Sr) analysis: a case study from Middle Holocene Lake Baikal, Siberia. J Archaeol Sci 35:1265–1280

Haverkort CM, Bazaliiskii VI, Savel'ev NA (2010) Identifying hunter-gatherer mobility patterns using strontium isotopes. In: Weber A, Katzenberg MA, Schurr TG (eds) Prehistoric hunter-gatherers of the Baikal region, Siberia: bioarchaeological studies of past life ways. University of Pennsylvania Press, Philadelphia, pp 217–242

Hedman KM, Curry BB, Johnson TM, Fullagar PD, Emerson TE (2009) Variation in strontium isotope ratios of archaeological fauna in the Midwestern United States: a preliminary study. J Archaeol Sci 36:64–73

Hedman KM, Slater PA, Fort MA, Emerson TE, Lambert JM (2018) Expanding the strontium isoscape for the American midcontinent: identifying potential places of origin for Cahokian and pre-Columbian migrants. J Archaeol Sci Rep 22:202–213

Hemer KA (2014) Are we nearly there yet? Children and migration in early medieval western Britain. In: Hadley DM, Hemer KA (eds) Medieval childhood: archaeological approaches. Oxbow, Oxford, pp 131–144

Hillson S (1996) Dental anthropology. Cambridge University Press, Cambridge, UK

Hodell DA, Quinn RL, Brenner M, Kamenov G (2004) Spatial variation of strontium isotopes (87Sr/86Sr) in the Maya region: a tool for tracking ancient human migration. J Archaeol Sci 31:585–601

Hoogewerff J, Papesch W, Kralik M, Berner M, Vroon P, Miesbauer H, Gaber O, Künzel KH, Kleinjans J (2001) The last domicile of the iceman from Hauslabjoch: a geochemical approach using Sr, C and O isotopes and trace element signatures. J Archaeol Sci 28:983–989

Hopkins MK (1965) The age of Roman girls at marriage. Popul Stud 18:309–327

Hoppe KA, Koch PL, Furutani TT (2003) Assessing the preservation of biogenic strontium in fossil bones and tooth enamel. Int J Osteoarchaeol 13:20–28

Kamp KA (2001) Where have all the children gone?: the archaeology of childhood. J Archaeol Method Theory 8:1–34

Keegan WF (2009) Central plaza burials in Saladoid Puerto Rico: an alternative perspective. Lat Am Antiq 20(2):375–385

Knipper C (2009) Die räumliche Organisation der linearbandkeramischen Rinderhaltung: naturwissenschaftliche und archäologische Untersuchungen. Dissertation, Eberhard-Karls-Universität Tübingen

Knipper C, Meyer C, Jacobi F, Roth C, Fecher M, Stephan E, Schatz K, Hansen L, Posluschny A, Höppner B, Maus M, Pare CFE, Alt KW (2014) Social differentiation and land use at an early Iron age "princely seat": bioarchaeological investigations at the Glauberg (Germany). J Archaeol Sci 41:818–835

Knipper C, Pichler SL, Brönnimann D, Rissanen H, Rosner M, Spichtig N, Stopp B, Rentzel P, Röder B, Schibler J, Lassau G, Alt KW (2018) A knot in a network: residential mobility at the Late Iron Age proto-urban centre of Basel-Gasfabrik (Switzerland) revealed by isotope analyses. J Archaeol Sci Rep 17:735–753

Knudson KJ, Tung TA (2011) Investigating regional mobility in the southern hinterland of the Wari empire: biogeochemistry at the site of Beringa, Peru. Am J Phys Anthropol 145:299–310

Knudson KJ, Stanish C, Lozada Cerna MC, Faull KF, Tantaleán H (2016) Intra-individual variability and strontium isotope measurements: a methodological study using 87Sr/86Sr data from Pampa de los Gentiles, Chincha Valley, Peru. J Archaeol Sci Rep 5:590–597

Kootker LM, Mbeki L, Morris AG, Kars H, Davies GR (2016) Dynamics of Indian Ocean slavery revealed through isotopic data from the colonial era Cobern street burial site, Cape Town, South Africa (1750–1827). PLoS One 11:e0157750

Kristiansen K (2014) Towards a new paradigm? The third science revolution and its possible consequences in archaeology. Curr Swed Archaeol 22:11–34

Kutterer A, Uerpmann HP (2017) Neolithic nomadism in south-east Arabia—strontium and oxygen isotope ratios in human tooth enamel from Al-Buhais 18 and Umm al-Quwain 2 in the Emirates of Sharjah and Umm al-Quwain (UAE). Arab Archaeol Epigr 28:75–89

Kutterer A, Jasim SA, Yousif E (2015) Buried far from home: Sasanian graves at Jebel al-Emeilah (Sharjah, UAE). Arab Archaeol Epigr 26:43–54

Laffoon JE (2012) Patterns of paleomobility in the ancient Antilles: an isotopic approach. Dissertation, Leiden University

Laffoon JE, Sonnemann TF, Shafie T, Hofman CL, Brandes U, Davies GR (2017) Investigating human geographic origins using dual-isotope (87Sr/86Sr, δ18O) assignment approaches. PLoS One 12:e0172562

Lancy DF (2012) "First you must master pain": the nature and purpose of apprenticeship. Anthropol Work Rev 33:113–126

Lancy DF (2018) Anthropological perspectives on children as helpers, workers, artisans, and laborers. Palgrave Macmillan, New York

Lantis M (1984) Aleut. In: Damas D (ed) Handbook of North American Indians. Vol. 5, Arctic. Smithsonian Institution, Washington D.C., pp. 161–184

Leinaweaver JB (2008) Improving oneself: young people getting ahead in the Peruvian Andes. Lat Am Perspect 35:60–78

Lewis J, Coath CD, Pike AWG (2014) An improved protocol for 87Sr/86Sr by laser ablation multi-collector inductively coupled plasma mass spectrometry using oxide reduction and a customised plasma interface. Chem Geol 390:173–181

Loaiza E, Wong S (2012) Marrying too young: end child marriage. United Nations Population Fund, New York

Lott DF, Hart BL (1977) Aggressive domination of cattle by Fulani herdsmen and its relation to aggression in Fulani culture and personality. Ethos 5:174–186

Marsteller SJ, Knudson KJ, Gordon G, Anbar A (2017) Biogeochemical reconstructions of life histories as a method to assess regional interactions: stable oxygen and radiogenic strontium isotopes and late intermediate period mobility on the central Peruvian coast. J Archaeol Sci Rep 13:535–546

Mbeki L, Kootker LM, Kars H, Davies GR (2017) Sickly slaves, soldiers and sailors. Contextualising the Cape's 18th–19th century Green Point burials through isotope investigation. J Archaeol Sci Rep 11:480–490

Métraux A (1948) The Tupinamba. In: Steward JH (ed.) Handbook of South American Indians. Vol. 3, The Tropical Forest Tribes. Smithsonian Institution, Washington D.C., pp. 95–133

Montgomery J (2010) Passports from the past: investigating human dispersals using strontium isotope analysis of tooth enamel. Ann Hum Biol 37:325–346

Montgomery J, Evans JA (2006) Immigrants on the Isle of Lewis—combining traditional funerary and modern isotope evidence to investigate social differentiation, migration and dietary change in the outer Hebrides of Scotland. In: Gowland R, Knusel C (eds) The social archaeology of funerary remains. Oxbow Books, Oxford, pp 122–142

Montgomery J, Evans JA, Horstwood MSA (2010) Evidence for long-term averaging of strontium in bovine enamel using TIMS and LA-MC-ICP-MS strontium isotope intra-molar profiles. Environ Archaeol 15:32–42

Müller W, Fricke H, Halliday AN, McCulloch MT, Wartho JA (2003) Origin and migration of the alpine iceman. Science 302:862–866

Müller-Scheeßel N, Grupe G, Tütken T (2015) In der Obhut von Verwandten? Die Zirkulation von Kindern und Jugendlichen in der Eisenzeit Mitteleuropas. In: Karl R, Leskovar J (eds) Interpretierte Eisenzeiten. Fallstudien, Methoden, Theorie. Studien zur Kulturgeschichte von Oberösterreich. Oberösterreichisches Landesmuseum, Linz, Österreich, pp 9–24

Murphy EM (2017) Ten years of childhood in the past. Childhood in the Past 10:1–9

Nowell GM, Horstwood MSA (2009) Comments on Richards et al., Journal of Archaeological Science 35, 2008 "Strontium isotope evidence of Neanderthal mobility at the site of Lakonis, Greece using laser-ablation PIMMS". J Archaeol Sci 36:1334–1341

Parkes P (2006) Celtic fosterage: adoptive kinship and clientage in Northwest Europe. Comp Stud Soc Hist 48:359–395

Patterson O (1982) Slavery and social death: a comparative study. Harvard University Press, Cambridge, MA

Price TD, Bentley RA, Lüning J, Gronenborn D, Wahl J (2001) Prehistoric human migration in the Linearbandkeramik of Central Europe. Antiquity 75:593–603

Price TD, Burton JH, Bentley RA (2002) The characterization of biologically available strontium isotope ratios for the study of prehistoric migration. Archaeometry 44:117–135

Price TD, Burton JH, Stoltman JB (2007) Place of origin of prehistoric inhabitants of Aztalan, Jefferson co., Wisconsin. Am Antiq 72(3):524–538

Richards M, Harvati K, Grimes V, Smith C, Smith T, Hublin JJ, Karkanas P, Panagopoulou E (2008) Strontium isotope evidence of Neanderthal mobility at the site of Lakonis, Greece using laser-ablation PIMMS. J Archaeol Sci 35:1251–1256

Scheeres M (2014) High mobility rates during the period of the "Celtic migrations"? 87Sr/86Sr and δ18O evidence from Early La Tène Europe. Dissertation, Johannes Gutenberg–Universität Mainz

Scheeres M, Knipper C, Hauschild M, Schönfelder M, Siebel W, Vitali D, Pare C, Alt KW (2013) Evidence for "Celtic migrations"? Strontium isotope analysis at the early La Tène (LT B) cemeteries of Nebringen (Germany) and Monte Bibele (Italy). J Archaeol Sci 40:3614–3625

Scheeres M, Knipper C, Hauschild M, Schönfelder M, Siebel W, Pare C, Alt KW (2014) "Celtic migrations": fact or fiction? Strontium and oxygen isotope analysis of the Czech cemeteries of Radovesice and Kutná Hora in Bohemia. Am J Phys Anthropol 155:496–512

Schweissing MM, Grupe G (2003) Tracing migration events in man and cattle by stable strontium isotope analysis of appositionally grown mineralized tissue. Int J Osteoarchaeol 13:96–103

Sieff DF (1997) Herding strategies of the Datoga pastoralists of Tanzania: is household labor a limiting factor. Hum Ecol 25:519–544

Slater PA, Hedman KM, Emerson TE (2014) Immigrants at the Mississippian polity of Cahokia: strontium isotope evidence for population movement. J Archaeol Sci 44:117–127

Slovak NM, Paytan A (2011) Applications of Sr isotopes in archaeology. In: Baskaran M (ed) Handbook of environmental isotope geochemistry, I edn. Springer. Berlin Heidelberg, Berlin, Heidelberg, pp 743–768

Spier L (1928) Havasupai ethnography. Anthropological Papers of the American Museum of Natural History. Am Anthropol 29:81–408

Spittler G (2012) Children's work in a family economy: a case study and theoretical discussion. In: Spittler G, Bourdillon MFC (eds) African children at work: working and learning in growing up for life. LIT Verlag, Berlin, pp 57–85

Thompson AR, Hedman KM, Slater PA (2015) New dental and isotope evidence of biological distance and place of origin for mass burial groups at Cahokia's mound 72. Am J Phys Anthropol 158:341–357

Tung TA, Knudson KJ (2011) Identifying locals, migrants, and captives in the Wari heartland: a bioarchaeological and biogeochemical study of human remains from Conchopata, Peru. J Anthropol Archaeol 30:247–261

Weber AW, Goriunova OI (2013) Hunter-gatherer migrations, mobility and social relations: a case study from the Early Bronze Age Baikal region, Siberia. J Anthropol Archaeol 32:330–346

Wemple SF (1993) Consent and dissent to sexual intercourse in Germanic societies from the fifth to the tenth century. In: Laiou AE (ed) Consent and coercion to sex and marriage in ancient and medieval societies. Dumbarton Oaks Research Library and Collection, Washington, D.C., pp 227–243

Whiting BB, Edwards CP (1988) Children of different worlds: the formation of social behavior. Hardvard University Press, Cambridge, MA

Wright LE (2005) Identifying immigrants to Tikal, Guatemala: defining local variability in strontium isotope ratios of human tooth enamel. J Archaeol Sci 32:555–566
Acknowledgments
This manuscript was prepared during V.H.'s internship at Leiden University, which has been funded by the Erasmus+ Traineeship grant. J.E.L. is supported in part by the ERC-Synergy project NEXUS1492 which has received funding from the European Research Council under the European Union's Seventh Framework Programme (FP7/2007-2013)/ERC grant agreement no. 319209. The research described in this paper was accomplished with support from the project "Lifestyle as an unintentional identity in the Neolithic" (Project 19-16304S), financed by the Czech Science Foundation. The authors gratefully acknowledge the insightful critiques and comments of two anonymous reviewers.
Additional information
Publisher's note
Springer Nature remains neutral with regard to jurisdictional claims in published maps and institutional affiliations.
Electronic supplementary material
Compiled strontium isotope data for individuals with two or more teeth with ancillary information about the skeletons and sites (XLSX 130 kb)
Δ87Sr/86Sr between teeth forming in early childhood (n = 49). Legend: dec. = deciduous; M1 = permanent first molar; AV = absolute value. Dashed line is at 0.00063 (= two standard deviations from the mean of absolute Δ87Sr/86Sr) (JPG 410 kb)
Histograms of Δ87Sr/86Sr between Early and Late teeth (∆L-E), Early and Middle teeth (∆M-E), and Middle and Late teeth (∆L-M). Outliers were excluded (PNG 196 kb)
About this article
Cite this article
Hrnčíř, V., Laffoon, J.E. Childhood mobility revealed by strontium isotope analysis: a review of the multiple tooth sampling approach. Archaeol Anthropol Sci 11, 5301–5316 (2019). https://doi.org/10.1007/s12520-019-00868-7
Received:

Accepted:

Published:

Issue Date:
Keywords
Childhood

Mobility

Migration

Strontium isotope

Cross-cultural comparison