Abstract
The Swabian Gravettian, which is often equated with the Middle Upper Palaeolithic in the German research tradition (e.g. Bosinski, 2008), is limited to a small number of cave sites in a restricted area of the Middle and Eastern Swabian Jura, namely in the Ach and—possibly—Lone valleys. These caves, however, are an important part of Central European prehistory, since the sites yielded early radiocarbon ages covering the timespan from 35 to 31 ka cal. BP (Conard and Bolus 2003; Moreau, 2009a; Higham et al. 2012; Taller and Conard 2016). Technologically and typologically, the lithic assemblages also reflect an early Gravettian. Refits of lithic artefacts are known from Brillenhöhle (Lauxmann and Scheer 1986) and Geißenklösterle (Moreau 2009a), as well as Hohle Fels (Floss and Kieselbach 2004). These refits are vital for our understanding of the taphonomy and stratigraphy of the sites as well as for the technological analysis of lithic blank production. Here, the main focus on intra-site refits will be on Hohle Fels. Thus far no refits are known from the Gravettian of the Lone Valley. Moreover, the question is, whether the supposed Gravettian remains from the sites of Vogelherd and Bockstein-Törle do actually reflect Middle Upper Palaeolthic occupations. A remarkable feature of the Ach Valley Gravettian are refits between the sites of Brillenhöhle, Geißenklösterle, Hohle Fels and possibly also Sirgenstein (Scheer 1990; Moreau 2009a), which inform us on land use and settlement patterns in the Middle Upper Palaeolithic of Central Europe. Refits from the Ach Valley document a contemporaneous use of at least three of the four caves with Gravettian deposits, while intra-site refits facilitate the study of site formation processes and the spatial use of these important caves. With this paper, we aim to contribute to a better understanding of Gravettian lithic technology, hunter-gatherer mobility and land-use patterns in Swabia as well as the taphonomy of the sites discussed.
This is a preview of subscription content, log in to check access.
Access options
Buy single article
Instant access to the full article PDF.
US$ 39.95
Price includes VAT for USA
Subscribe to journal
Immediate online access to all issues from 2019. Subscription will auto renew annually.
US$ 99
This is the net price. Taxes to be calculated in checkout.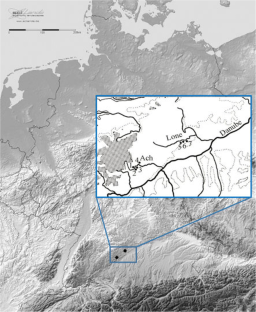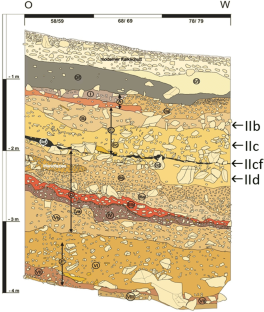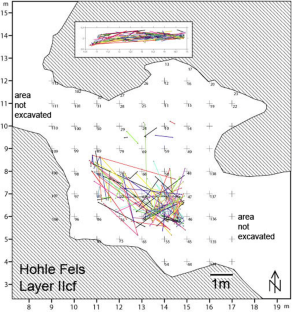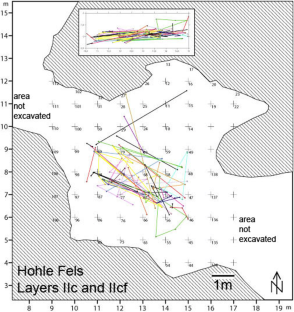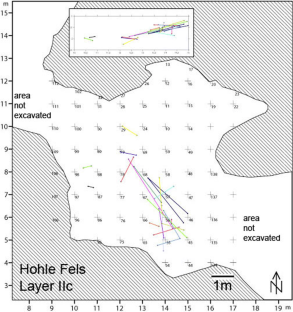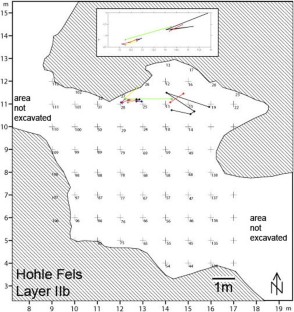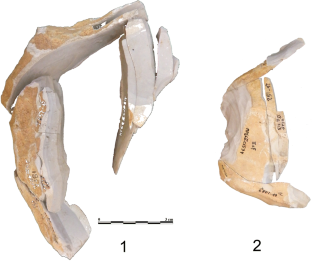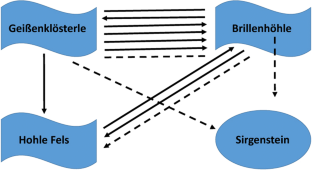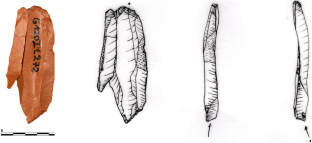 Notes
1.

Also Hahn (1984) has been exploring the chronological and spatial relationships of a number of sites in a small region for the late Pleistocene sites of the Eselsburg Valley.
References
Barth M (2007) Familienbande? Die gravettienzeitlichen Knochen- und Geweihgeräte des Achtales (Schwäbische Alb). Verlag Marie Leidorf, Rahden/Westfahlen

Binford L (1980) Willow smoke and dogs' tails: hunter-gatherer settlement systems and archaeological site formation. Am Antiq 45(1):4–20

Blumentritt R, Hahn J (1990) Der Hohle Fels. Schelklinger Archäologische Führer, Schelklingen

Bolus M (2010) Continuity or hiatus? The Swabian Aurignacian and the transition to the Gravettian. In: Neugebauer-Maresch Ch, Owen L (Eds.) New aspects of the central European Upper Palaeolithic – methods, chronology, technology and subsistence. Symposium by the prehistoric Commission of the Austrian Academy of sciences, Vienna, November 9–11, 2005 pp 139–150

Bolus M, Conard NJ (2012) 100 Jahre Robert Rudolf Schmidts "Die diluviale Vorzeit Deutschlands". Mitt Ges Urgesch 21:63–89

Bosinski G (2008) Urgeschichte am Rhein. Kerns Verlag, Tübingen

Cahen D (1976) Das Zusammensetzen geschlagener Steinartefakte. Archäol Korrespond Bl 6:81–93

Close A (2000) Reconstructing movement in prehistory. J Archaeol Method and Theory 7(1):49–77

Conard NJ, Bolus M (2003) Radiocarbon dating the appearance of modern humans and timing of cultural innovations in Europe: new results and new challenges. J Hum Evol 44:331–371

Conard NJ, Moreau L (2004) Current research on the Gravettian of the Swabian Jura. Mitt Ges Urgesch 13:29–60

Conard NJ, Langguth K, Uerpmann HP (2003) Die Ausgrabungen 2003 in den Gravettien- und Aurignacien-Schichten des Hohle Fels bei Schelklingen, Alb-Donau-Kreis, und die kulturelle Entwicklung im frühen Jungpaläolithikum. Archäologische Ausgrabungen in Baden-Württemberg 2003:17–22

Cziesla E, Eickhoff S, Arts N, Winter D (1987) The big puzzle. International symposium on refitting stone artefacts, Holos Verlag, Bonn

Cziesla E (1990) Siedlungsdynamik auf steinzeitlichen Fundplätzen: methodische Aspekte zur Analyse latenter Strukturen, Holos Verlag, Bonn

Floss H, Kieselbach P (2004) The Danube corridor after 29,000 BP – new results on raw material procurement patterns in the Gravettian of southwestern Germany. Mitt Ges Urgesch 13:61–78

Guthrie D (1990) Frozen Fauna of the mammoth steppe: the story of blue babe. University of Chicago Press, Chicago

Hahn J (1984) Die steinzeitliche Besiedlung des Eselsburger Tales bei Heidenheim (Schwäbische Alb). Forschungen und Berichte zur Vor- und Frühgeschichte in Baden-Württemberg 17, Landesdenkmalamt Baden-Württemberg, Konrad Theis Verlag, Stuttgart

Hahn J, Owen L (1985) Blade technology in the Aurignacian and Gravettian of Geißenklösterle Cave, Southwestern Germany. World Archaeol 17(1):61–75

Higham TH, Basell L, Jacobi R, Wood R, Bronk Ramsey C, Conard NJ (2012) Testing models for the beginning of the Aurignacian and the advent of figurative art and music: the radiocarbon chronology of Geißenklösterle. J Hum Evol 62(6):664–676

Johansen L (2000) Fitting facts. Refitting analyses of lithic materials from Stone Age sites in The Netherlands, Denmark and Greenland. Ph.D. Thesis Institute of Archaeology and Ethnology, University of Copenhagen, 2000

Kelly RL (1995) The foraging spectrum. Percheron Press, New York

Lauxmann C, Scheer A (1986) Zusammensetzungen von Silexartefakten. Eine Methode zur Überprüfung archäologischer Einheiten (Refittings of lithic artefacts. A method for the review of archaeological units), Fundber Baden-Württ 11:101–131

Marks AE, Chabai VP (2001) Construction of middle Palaeolithic settlement systems in Crimea: potentials and limitations. In: Conard NJ (ed) Settlement dynamics of the Middle Palaeolithic and Middle Stone Age. Kerns, Tübingen

Miller CE (2015) A tale of two Swabian caves. Geoarchaeological Investigations at Hohle Fels and Geißenklösterle. Kerns, Tübingen

Montet-White A (1988) Raw material economy among medium-sized Late Paleolithic campsites of Central Europe. In: Dibble H, Montet-White A (eds) Upper Pleistocene of Western Eurasia, vol 54. University Museum Monograph, Philadelphia, pp 361–374

Moreau L (2009a) Geißenklösterle. Das Gravettien der Schwäbischen Alb im Europäischen Kontext. Kerns Verlag, Tübingen

Moreau L (2009b) Das Siedlungsmuster im Achtal zur Zeit des älteren Gravettien. Zum Beitrag einer neuen Steinartefaktzusammensetzung zwischen der Brillenhöhle und dem Geißenklösterle (Schwäbische Alb, Alb-Donau-Kr.). Archäol Korrespond Bl 6:81–93

Münzel SC (2004) Subsistence patterns in the Gravettian of the Ach Valley, a former tributary of the Danube in the Swabian Jura. In: Svoboda J, Sedláčková C (eds) The Gravettian along the Danube. Proceedings of the Mikulov Conference, 20–21 November 2002, Institute of Archaeology Brno, The Dolní Vĕstonice Studies, vol 11, pp 71–85

Münzel SC, Conard NJ, (2004) Cave bear hunting in the Hohle Fels, a cave site in the Ach Valley, Swabian Jura. Rev de Paléobiologie (23/2): 877–885

Olive M, Pigeot N, Taborin Y, Yvon JM (2005) Toujours plus longue, une lame à crête exceptionelle à Étiolles (Essone). Revue archéologique de Picardie, numéro special 22:25–28

Pelegrin J (2000) Les techniques de débitage laminaire au Tardiglaciaire: critères de diagnose et quelques réflexions. In: Valentin B, Bodu P, Christensen M 2000 (Eds.) L'Europe central et septentrionale au Tardiglaciaire: confrontation des modèles régionaux de peuplement. Actes de la table-ronde international de Nemours, 14-16 mai 1997, Edition de l'association pour la promotion de la recherche archéologique en Ile-de-France, 73–86

Pelegrin J, Karlin C, Bodu P (1988) Chaînes opératoires: un outil pour le préhistorien. In: Tixier J (ed) Technologie lithique. CNRS, Paris

Riek G (1973) Das Paläolithikum der Brillenhöhle bei Blaubeuren (Schwäbische Alb). Verlag Müller & Gräff, Stuttgart

Scheer A, (1990) Von der Schichtinterpretation bis zum Besiedlungsmuster – Zusammensetzungen als absoluter Nachweis. In: Cziesla E, Eickhoff S, Arts N, Winter D (Eds.): The big puzzle. International Symposium on Refitting Stone Artefacts, Holos Edition, Bonn 623–650

Scheer A (1993) The organization of lithic resource use during the Gravettian in Germany. In: Knecht H, Pike-Tay A, White R (eds) Before Lascaux. The complex record of the early upper Palaeolithic. CRC Press, Boca Raton, pp 193–210

Schiegl S, Goldberg P, Pfretzschner HP, Conard NJ (2003) Paleolithic burnt bone horizons from the Swabian Jura: distinguishing between in situ fire places and dumping areas. Geoarchaeology 18:541–565

Schmidt RR (1910) Der Sirgenstein und die diluvialen Kulturstätten Württembergs. E. Schweizerbartsche Verlagsbuchhandlung, Stuttgart

Schmidt RR (1912) Die diluviale Vorzeit Deutschlands. E. In: Schweizerbartsche Verlagsbuchhandlung Nägele & Dr. Sproesser, Stuttgart

Taller A (2014) Das Magdalénien des Hohle Fels. Chronologische Stellung, Lithische Technologie und Funktion der Rückenmesser. Kerns Verlag, Tübingen

Taller A, Conard NJ (2016) Das Gravettien der Hohle Fels- Höhle und seine Bedeutung für die kulturelle Evolution des europäischen Jungpaläolithikums - The Gravettian of Hohle Fels Cave and its implications for the cultural evolution of the European Upper Palaeolithic Quartär 63 (2016):89–123

Weissmüller W (1995) Sesselfelsgrotte II. Die Silexartefakte der Unteren Schichten der Sesselfelsgrotte. Ein Beitrag zum Problem des Moustérien. Saarbrücker Druckerei und Verlag, Saarbrücken

Wetzel R (1954) Das Törle an der alten Bocksteinhöhle. Mitt Ver Naturwissenschaft und Mathematik in Ulm 24:3–20
Acknowledgements
We would like to thank the DFG for funding AT's research (DFG - GZ TA 1039/3 - 1). For further support, thanks are due to the State Office of Cultural Heritage Baden Württemberg as well as the Alb-Donau-Kreis. Dr. Guido Bataille contributed in many valuable discussions, and Alexander Janas and Maria Malina were, as always, very helpful with technical questions; A. Janas further improved the plots considerably. Anna Rösch made a great last-minute-drawing, and finally Armando Falcucci helped with the editing of some of the illustrations. For the last 22 years, the excavations of Hohle Fels have been supported by the Heidelberger Cement Company, the DFG, the Heidelberger Akademie der Wissenschaften and the University of Tübingen. The workshop "The Big Puzzle 30 years after: A multidisciplinary, shared, Palaeolithic perspective" was kindly supported by the Wenner-Gren Foundation Ref: Gr CONF-737.
Additional information
Publisher's note
Springer Nature remains neutral with regard to jurisdictional claims in published maps and institutional affiliations.
About this article
Cite this article
Taller, A., Kieselbach, P. & Conard, N.J. Reconstructing technology, mobility and land use via intra- and inter-site refits from the Gravettian of the Swabian Jura. Archaeol Anthropol Sci 11, 4423–4435 (2019). https://doi.org/10.1007/s12520-019-00778-8
Received:

Accepted:

Published:

Issue Date:
Keywords
Upper Palaeolithic

Gravettian

Middle Upper Palaeolithic

Swabian Jura

Central Europe

Lithic refits

Lithic technology

Gravettian settlement patterns