Abstract
The Late Antiquity to the Early Middle age transition in the North Eastern Iberian Peninsula was a historical period of cultural, social and political changes. Both Germanics and North African peoples settled in this region in successive migratory waves. The impact of these population movements on the cultural habits of the local population has been barely explored. This paper explores the dietary changes of the population who were buried in the necropolis of the Churches of Sant Pere de Terrassa (Barcelona, Spain) during the Visigoth (fifth to eighth centuries ad) and Carolingian periods (ninth to tenth centuries ad). This study investigates the δ13C and δ15N stable isotopic values in bone collagen from 68 human samples and 36 faunal remains in order to improve the understanding of dietary changes that occurred during this transition. The results indicate a human diet based on C3-plants and livestock sources. On average, the Visigoth samples exhibited an enriched isotopic signal compared to that of the Carolingian period, which may be attributed to the consumption of high trophic level of animal protein. Some δ13C results of the adult human samples suggest that C4-plants (most probably millet) made proportionately smaller but significant contributions to the diet during the Visigoth period. The paleodietary data obtained here will be important for future further studies focused on the transition from the Late Antiquity to the Early Medieval period in the Iberian Peninsula, and the attending regional scale of changes. This will also give insight about how profound a transformation in policy and economy occurred during that period affected human consumer patterns in the region.
This is a preview of subscription content, log in to check access.
Access options
Buy single article
Instant access to the full article PDF.
US$ 39.95
Tax calculation will be finalised during checkout.
Subscribe to journal
Immediate online access to all issues from 2019. Subscription will auto renew annually.
US$ 79
Tax calculation will be finalised during checkout.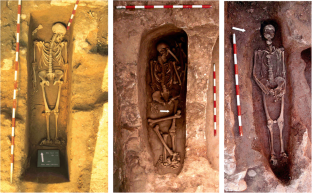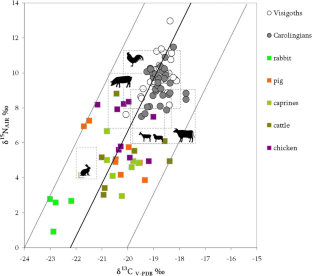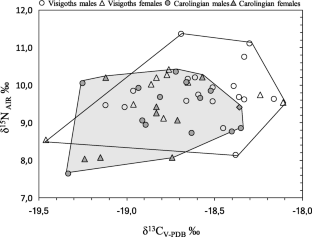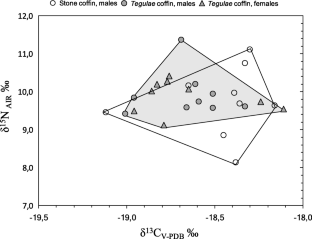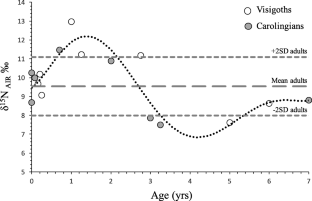 References
Adamson MW (2004) Food in medieval times. In: Connecticut. Greenwood Press, Westport

Alonso N (1999) "De la llavor a la farina: els processos agrícoles protohistòrics a la Catalunya Occidental". Monographies d'Archéologie Méditerranéenne 4. CNRS, Lattes, France

Ambrose SH (1990) Preparation and characterization of bone and tooth collagen for isotopic analysis. J Archaeol Sci 17:431–451

Ambrose SH, Norr L (1993) Experimental evidence for the relationship of the carbon isotope ratios of whole diet and dietary protein to those of bone collagen and carbonate. In: Lambert JB, Grupe G (eds) Prehistoric Human Bone—Archaeology at the Molecular Level. Springer-Verlag, Berlin, pp 1–37

Balasse M, Tresset A, Ambrose SH (2006) Stable isotope evidence (delta C-13, delta O-18) for winter feeding on seaweed by Neolithic sheep of Scotland. J Zool 270:170–176

Barone R (1976) Anatomie comparée des mammiferes domestiques. Vigot Fréres Editeurs, Paris

de Bello F, Buchmann N, Casals P, Leps J, Sebastia M-T (2009) Relating plant species and functional diversity to community d13C in NE Spain patures. Agric Ecosyst Environ 131:303–307

Bender MM (1971) Variations in the 13C/12C ratios of plants in relation to the pathway of photosynthetic carbon dioxide fixation. Phytochemistry 10(6):1239–1244

Bocherens H, Drucker D (2003) Trophic Level Isotopic Enrichment of Carbon and Nitrogen in Bone Collagen: Case Studies from Recent and Ancient Terrestrial Ecosystems. Int J Osteoarchaeol 13:46–53

Bocherens H, Fizet M, Mariotti A, Lange-Badré B, Vandermeersch B, Borel JP, Bellon G (1991) Isotopic biogeochemistry (13C, 15N) of fossil vertebrate collagen: implications for the study of a fossil food web including Neandertal Man. J Hum Evol 20:481–492

Bourbou C, Fuller BT, Garvie-Lok SJ, Richards MP (2013) Nursing mothers and feeding bottles: reconstructing breastfeeding and weaning patterns in Greek Byzantine populations (6the15th centuries AD) using carbon and nitrogen stable isotope ratios. J Archaeol Sci 40:3903–3913

Buikstra J, Ubelaker D (1994) Standards for data collection from human skeletal remains. Arkansas Archaeological Survey Research Series, 44, Fayetteville

Bull G, Payne S (1982) Tooth eruption and epiphysial fusion in pigs and wild boar. In: Wilson et al (eds) Ageing and sexing animal bones from archaeological sites. B.A.R., Oxford, p 55–71

Dembińska M (1999) Food and drink in medieval Poland: rediscovering a cuisine of the past. City of Philadelphia Press, Philadelphia

DeNiro MJ (1985) Post-mortem preservation and alteration of in vivo bone collagen isotope ratios in relation to paleodietary reconstructions. Nature 317:806–809

Farquhar GD, Ehleringer JR, Hubick KT (1989) Carbon isotope discrimination and photosynthesis. Annu Rev Plant Physiol Plant Mol Biol 40:503–537

Ferembach D, Schwidetzky I, Stloukal M (1979) Recommendations for age and sex diagnoses of skeletons. Bull Mém Soc Anthropol Paris 6(1):7–45

Ferran D (1987) "L'època tardoromana i l'administració visigoda fins a la presència musulmana (segles del III al VIII). In: Benaul J, Berenguer F, Borfo A, Coma J, Ferran D, Lluch J, Marcet X, Moro A, Puy J, Roca P et al. (eds) Història de Terrassa, Ajuntament de Terrassa: Terrassa, 109–124

Fisher A, Olsen J, Richards M, Heinemeier J, Sveinbjornsdottir AE, Bennike P (2007) Coast-inland mobility and diet in the Danish Mesolithic and Neolithic: evidence from stable isotope values of humans and dogs. J Archaeol Sci 34:2125–2150

Friedli H, Lötscher H, Oeschger H, Siegenthaler U, Stauffer B (1986) Ice cores record of the 13C/12C ratio of atmospheric CO2 in the past two centuries. Nature 324:237–238

Garcia M, Moro A, Tuset F (2003) De conjunt paleocristià i catedralici a conjunt parroquial. Transformacions i canvis d'ús de les esglésies de Sant Pere de Terrassa Segles IV al XVIII Terme 18:29–58

García-Collado MI (2016) Food consumption patterns and social inequality in an early medieval rural community in the Centre of the Iberian Peninsula. . Social Complexity in Early Medieval Rural Communities. In: Quirós JA (ed) The North-Western Iberian archaeological record. Archaeopress, Oxford, pp 59–78

Grant A (1982) The use of toothwear as a guide to the age of domestic ungulates. Ageing and sexing animal bones from archaeological sites. BAR Br Ser 109:91–108

Gügel IL, Grupe G, Kunzelmann KH (2001) Simulation of dental microwear: characteristic traces by opal phytoliths give clues to ancient human dietary behavior. Am J Phys Anthropol 114:124–138

Hakenbeck S, McManus E, Geisler H, Grupe G, O'Connell TC (2010) Diet and mobility in Early Medieval Bavaria: a study of carbon and nitrogen stable isotopes. Am J Phys Anthropol 143:235–249

Hedges REM, Clement JG, Thomas CDL, O'Connell TC (2007) Collagen turnover in the adult femoral mid-shaft: modeled from anthropogenic radiocarbon tracer measurements. Am J Phys Anthropol 133:808–816

Iacumin P, Galli E, Cavalli F, Cecere L (2014) C4-consumers in southern Europe: the case of Friuli V.G. (NE-Italy) during Early and Central Middle Ages. Am J Phys Anthropol 154:561–574. https://doi.org/10.1002/ajpa.22553

Iacumin P, Nikolaev V, Ramigni M (2000) C and N isotope measurements on Eurasian fossil mammals, 40.000 to 10.000 years BP: herbivore physiologies and paleoenvironmental reconstruction. Palaeogeogr Palaeoclimatol Palaeoecol 163:22–47

Jordana X (2007) "Caracterització i Evolució d'una Comunitat Medieval Catalana. Estudi Bioantropològic de les Inhumacions de les Esglésies de Sant Pere". PhD thesis, Universitat Autonòma de Barcelona, Barcelona. http://hdl.handle.net/10803/3677

Jordana X, Isidro A, Malgosa A (2010) Interpreting diachronic osteological variation at the medieval necropolis of the Sant Pere Churches (Terrassa, Spain). Int J Osteoarchaeol 20(6):670–692

Katzenberg MA (2000) Stable isotope analysis: a tool for studying past diet, demography, and life history. In: Katzenberg A, Saunders SR (eds) Biological anthropology of the human skeleton. Wiley-Liss, New York, pp 305–328

Koch PL (2007) Isotopic study of the biology of modern and fossil vertebrates. In: Michener R, Lajtha K (eds) Stable isotopes in ecology and environmental science, second edn. Blackwell Publishing, Boston, pp 99–154

Kohn MJ (2010) Carbon isotope compositions of terrestrial C3 plants as indicators of paleoecology and paleoclimate. Proc Natl Acad Sci U S A 107(46):19691–19695

Krogman WM, Iscan MY (1986) The human skeleton in forensic medicine. In: Ch C Thomas. Springfield, Illinois

Lalueza-Fox C, González A, Vives S (1996) Cranial variation in the Iberian Peninsula and the Balearic Islands: inferences about the history of the population. Am J Phys Anthropol 99(3):413–428

Larsen CS (1997) Bioarchaeology: interpreting behavior Fromthe human skeleton. Cambridge University Press, Cambridge

Lee-Thorp JA (2008) On isotopes and old bones. Archaeometry 50:925–950

Lightfoot E, Slaus M, O'Connell TC (2012) Changing cultures, changing cuisines: cultural transitions and dietary change in Iron Age, Roman, and Early Medieval Croatia. Am J Phys Anthropol 148:543–556

Longin R (1971) New method of collagen extraction for radiocarbon dating. Nature 230(5291):241–242

López-Costas O, Müldner G (2016) Fringes of the empire: diet and cultural change at the Roman to post-Roman transition in NW Iberia. Am J Phys Anthropol 161:141–154

Lovejoy CO, Meindl RS, Pryzbeck TR, Mensforth RP (1985) Chronological metamorphosis of the auricular surface of the ilium—a new method for the determination of adult skeletal age at death. Am J Phys Anthropol 68(1):15–28

Lubritto C, García Collado MI, Ricci P, Altieri S, Sirignano C, Quirós Castillo JA (2017) New dietary evidence on medieval rural communities of the Basque Country (Spain) and its surroundings from carbon and nitrogen stable isotope analyses: social insights, Diachronic Changes and Geographic Comparison. Int J Osteoarchaeol 27:984–1002

Marino BD, McElroy MB (1991) Isotopic composition of atmopheric CO2 inferred from carbon in C4 plant cellulose. Nature 349:127–131

Mateu AL (1993) Micro-ecology and some related aspects of C4 plants living in Europe. Photosynthetica 29:583–594

Meindl RS, Lovejoy CO (1985) Ectocranial suture closure—a revised method for the determination of skeletal age at death based on the lateral-anterior sutures. Am J Phys Anthropol 68(1):57–66

Minagawa M, Wada E (1984) Stepwise enrichment of 15 N along food chains: further evidence and the relation between 15 N and animal age. Geochim Cosmochim Acta 48:1135–1140

Montiel R (2001) "Estudio Diacrónico de la Variabilidad del DNA Mitocondrial en Población Catalana". PhD thesis, Universitat Autònoma de Barcelona, Barcelona. http://hdl.handle.net/10803/3641

O'Connell TC, Kneale CJ, Tasevska N, Kuhnle GGC (2012) The diet-body offset in human nitrogen isotopic values: a controlled dietary study. Am J Phys Anthropol 149:426–434

Pyankov VI, Ziegler H, Akhani H, Deigele C, Lüttge U (2010) European plants with C4 photosynthesis: geographical and taxonomic distribution and relations to climate parameters. Bot J Linn Soc 163:283–304

Richards MP, Hedges REM (1999) Stable isotope evidence for similarities in the types of marine food used by Late Mesolithic humans at sites along the Atlantic coast of Europe. J Archaeol Sci 26:717–722

Richards MP, Mays S, Fuller BT (2002) Stable carbon and nitrogen isotope values of bone and teeth reflect weaning age at the Medieval Wharram Percy site, Yorkshire, U.K. Am J Phys Anthropol 119:205–210

Rösch M, Jacomet S, Karg S (1992) The history of cereals in the region of the former Duchy of Swabia (HerzogtumSchwaben) from the Roman to the post-medieval period: results of archaeobotanical research. Veg Hist Archaeobotany 1:193–231

Rovira N (2007) "Agricultura y gestión de los recursos vegetales en el sureste de la península ibérica durante la prehistoria reciente". Universitat Pompeu Fabra, PhD thesis. Barcelona

Salazar-García DC, Romero A, García-Borja P, Subirà ME, Richards MP (2016) A combined dietary approach using isotope and dental buccal-microwear analysis of human remains from the Neolithic, Roman and medieval periods from the archaeological site of Tossal de les Basses (Alicante, Spain). J Archaeol Sci Rep 6:610–619

Sampietro ML, Caramelli D, Lao O, Calafell F, Comas D, Lari M, Agusti B, Bertranpetit J, Lalueza-Fox C (2005) The genetics of the pre-Roman Iberian Peninsula: a mtDNA study of ancient Iberians. Ann Hum Genet 69:535–548

Schmid E (1972) Atlas of animal bones for prehistorians, archaeologists and quaternary geologist. Elsevier Publishing Company, Amsterdam

Schoeninger MJ, DeNiro MJ (1984) Nitrogen and carbon isotopic composition of bone collagen from marine and terrestrial animals. Geochim Cosmochim Acta 48:625–639

Sealy JC, Van der Merwe N, Lee-Thorpe J, Lanhan JL (1987) Nitrogen isotopic ecology in southern Africa: implications for environmental and dietary tracing. Geochim Cosmochim Acta 51:2707–2717

Silver E (1980) La determinación de la edad en los animales domésticos, Ciencia en Arqueología, Madrid, pp 289–309

Spurr MS (1986) Arable cultivation in Roman Italy, 200 B.C.–A.D.100. Society for the Promotion of Roman Studies. J Roman Stud. Monographs, London, p 3

Stevens RE, Germonpré M, Petrie CA, O'Connell TC (2009) Palaeoenvironmental and chronological investigations of the Magdalenian sites of Goyet Cave and Trou de Chaleux (Belgium), via stable isotope and radiocarbon analyses of horse skeletal remains. J Archaeol Sci 36(3):653–662

Sullivan A (2004) Reconstructing relationships among mortality, status, and gender at the Medieval Gilbertine Priory of St. Andrew, Fishergate, York. Am J Phys Anthropol 124(4):330–345

Tornero C, Aguilera M, Ferrio JP, Arcusa H, Moreno-García M, Garcia-Reig S, Rojo-Guerra M (2018) Vertical sheep mobility along the altitudinal gradient through stable isotope analyses in tooth molar bioapatite, meteoric water and pastures: a reference from the Ebro valley to the Central Pyrenees. Quat Int 484(10):94–106

Van der Merwe NJ, Vogel JC (1978) 13C content of human collagen as a measure of prehistoric diet in Woodland North America. Nature 276:815–816

Vives E (1990) La Població Catalana Medieval. Origen i Evolució. Eumo Editorial, Vic

Vogel JC, Fuls A, Ellis RP (1978) The geographical distribution of Kranz grasses. S Afr J Sci 74:209–215

Winter K (1981) C4 plants of high biomass in arid regions in Asia: occurrence of C4 photosynthesis in Chenopodiaceae and Polygonaceae from the Middle East and USSR. Oecologia 48:100–106

Wright LE, Schwarcz HP (1999) Correspondence between stable carbon, oxygen and nitrogen isotopes in human tooth enamel and dentine: infant diets at Kaminaljuyú. J Archaeol Sci 26:1159–1170

Zeder M, Laphan HA (2010) Assessing the reliability of criteria used to identify postcranial bones in sheep, Ovis, and goats, Capra. J Archaeol Sci 37(11):2887–2905
Acknowledgments
All stable isotopic analyses were carried out at the Institute of Environmental Science and Technology (ICTA), with technical assistance by Dr. Pau Comes and scientific supervision from Dr A. Rosell. Dr C. Tornero acknowledges the Beatriu de Pinós postdoctoral fellowship (BP-MSCA Cofound Code 2016-00346) from the Agency for Management of University and Research Grants (AGAUR), Government of Catalonia, Spain. The work was supported by Generalitat de Catalunya (AGAUR, ref. 2017SGR1630). We thank Antonio Moro for providing the archaeological information for the site. We also thank two anonymous reviewers for their helpful comments and Colin Forrestal for English proofreading. Finally, we would like to thank Michelle Alexander and Olalla López-Costas, the guest editors, the invitation to take part in this special issue "Iberian Paleodiet"
Additional information
Publisher's Note
Springer Nature remains neutral with regard to jurisdictional claims in published maps and institutional affiliations.
About this article
Cite this article
Jordana, X., Malgosa, A., Casté, B. et al. Lost in transition: the dietary shifts from Late Antiquity to the Early Middle Ages in the North Eastern Iberian Peninsula. Archaeol Anthropol Sci 11, 3751–3763 (2019). https://doi.org/10.1007/s12520-019-00777-9
Received:

Accepted:

Published:

Issue Date:
Keywords
Human palaeodiet

Weaning

Stable isotopes

Carbon and nitrogen

Human osteology

Tooth wear