Abstract
Barkcloth production is one of the most distinctive traditions in Oceania. The aim of this work was to investigate the materials used to create 36 objects from the British Museum's Oceania collection associated with this tradition, including a selection of clothing items (such as loincloths, tiputas and ceremonial head-dresses), beaters and beating boards from various Pacific Islands. A range of scientific analyses were carried out to identify the fibres and colouring materials (dyes and pigments) used in the barkcloths and the wood used for beaters and boards. Scanning electron microscopy (SEM) revealed that plants used for barkcloth include Broussonetia papyrifera (paper mulberry), Artocarpus altilis (breadfruit tree), Ficus spp. (fig/banyan) including Ficus prolixa, Pipturus albidus (māmaki) and Hibiscus tiliaceus (hau, beach hibiscus). Syzygium effusum, Eugenia reinwardtiana, Acacia koaia and Styphelia tameiameiae were identified as the woods used to produce the barkcloth beaters and beating boards. FTIR and Raman spectroscopies indicated the use of reddish-brown earths, dark clays and carbon-based blacks from vegetable precursors among the pigments; high pressure liquid chromatography coupled with electrospray ionisation and quadrupole-time of flight detection (HPLC-ESI-Q-ToF) highlighted the use of noni (Morinda citrifolia), turmeric (Curcuma longa), indigo and tannins as the main dyes. The results of FTIR and HPLC-ESI-Q-ToF analyses provided preliminary information on the painting materials, suggesting the predominant use of binding media from vegetable sources (most likely gums and plant exudates, possibly containing oils and resins). Proteins were also identified on a number of objects, but further investigations are needed to clarify the use of binding media. An attempt was made to identify patterns for the use of certain materials in specific areas, but, despite some interesting results, the database needs to be expanded.
This is a preview of subscription content, log in to check access.
Access options
Buy single article
Instant access to the full article PDF.
US$ 39.95
Price includes VAT for USA
Subscribe to journal
Immediate online access to all issues from 2019. Subscription will auto renew annually.
US$ 99
This is the net price. Taxes to be calculated in checkout.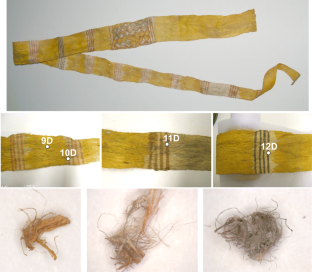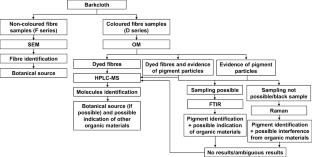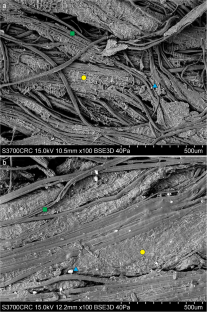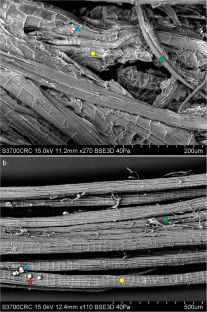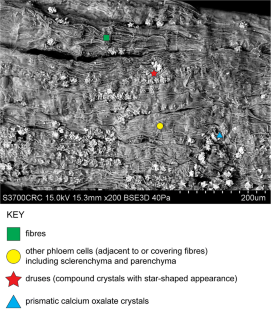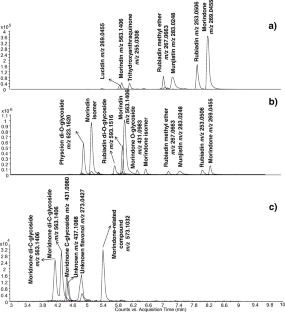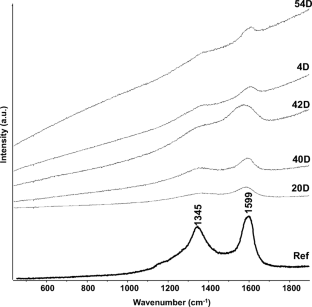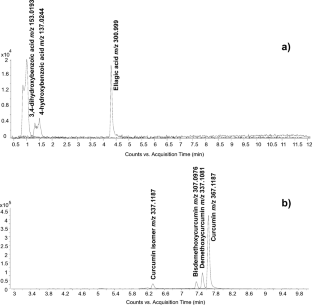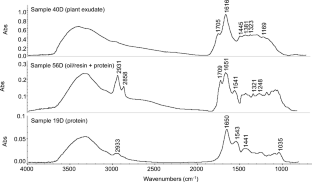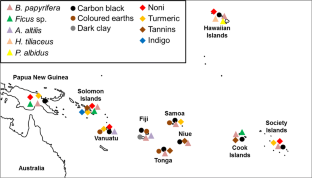 References
Abad-García B, Garmón-Lobato S, Berrueta LA, Gallo B, Vicente F (2012) On line characterization of 58 phenolic compounds in citrus fruit juices from Spanish cultivars by high-performance liquid chromatography with photodiode-array detection coupled to electrospray ionization triple quadrupole mass spectrometry Talanta 99:213–224 https://doi.org/10.1016/j.talanta.2012.05.042

Ball SC (1929) Bishop museum handbook—part II: clothing. Bernice P. Bishop Museum, Honolulu

Barth A (2007) Infrared spectroscopy of proteins. Biochim Biophys Acta 1767:1073–1101. https://doi.org/10.1016/j.bbabio.2007.06.004

Bersani D, Lottici PP (2016) Raman spectroscopy of minerals and mineral pigments in archaeometry. J Raman Spectrosc 47:499–530. https://doi.org/10.1002/jrs.4914

Best SP, Clark RJH, Withnall R (1992) Non-destructive pigment analysis of artefacts by Raman microscopy. Endeavour 16:66–73. https://doi.org/10.1016/0160-9327(92)90004-9

Bhushette PR, Annapure US (2017) Comparative study of Acacia nilotica exudate gum and acacia gum. Int J Biol Macromol 102:266–271. https://doi.org/10.1016/j.ijbiomac.2017.03.178

Bisulca C, Schattenburg-Raymond L, du Preez K (2014) Hawaiian barkcloth from the Bishop Museum collections: a characterization of materials and techniques in collaboration with modern practitioners to effect preservation of a traditional cultural practice MRS Proc 1656 https://doi.org/10.1557/opl.2014.811

Blee AJ, Walshe K, Pring A, Quinton JS, Lenehan CE (2010) Towards the identification of plant and animal binders on Australian stone knives. Talanta 82:745–750. https://doi.org/10.1016/j.talanta.2010.05.044

Bussmann RW, Hennig L, Giannis A, Ortwein J, Kutchan TM, Feng X (2013) Anthraquinone content in Noni (Morinda citrifolia L.). Evid Based Complement Alternat Med 2013:5. https://doi.org/10.1155/2013/208378

Cardon D (2007) Natural dyes. Sources, Tradition, Technology and Science. Archetype Publications Ltd, London

Caristi C, Bellocco E, Panzera V, Toscano G, Vadalà R, Leuzzi U (2003) Flavonoids detection by HPLC-DAD-MS-MS in lemon juices from Sicilian cultivars. J Agric Food Chem 51:3528–3534. https://doi.org/10.1021/jf0262357

Cartwright CR (2013) Identifying the woody resources of Diepkloof Rock Shelter (South Africa) using scanning electron microscopy of the MSA wood charcoal assemblages. J Archaeol Sci 40:3463–3474. https://doi.org/10.1016/j.jas.2012.12.031

Cartwright CR (2015) The principles, procedures and pitfalls in identifying archaeological and historical wood samples. Ann Bot 116:1–13. https://doi.org/10.1093/aob/mcv056

Coccato A, Jehlicka J, Moens L, Vandenabeele P (2015) Raman spectroscopy for the investigation of carbon-based black pigments. J Raman Spectrosc 46:1003–1015. https://doi.org/10.1002/jrs.4715

Daniels V (2005) The characteristics of modern and old barkcloth (tapa). The Conservator 29:95–104. https://doi.org/10.1080/01410096.2005.9995216

Degano I, Ribechini E, Modugno F, Colombini MP (2009) Analytical methods for the characterization of organic dyes in artworks and in historical textiles. Appl Spectrosc Rev 44:363–410. https://doi.org/10.1080/05704920902937876

Dyer J, Tamburini D, Sotiropoulou S (2018) The identification of lac as a pigment in ancient Greek polychromy—the case of a Hellenistic oinochoe from Canosa di Puglia. Dyes Pigments 149:122–132. https://doi.org/10.1016/j.dyepig.2017.09.062

Eastaugh N (2008) Pigment compendium: a dictionary and optical microscopy of historical pigments, (New ed). Butterworth-Heinemann, Amsterdam

Ellersdorfer JM, Sloggett R, Wanambi W (2012) Bark paintings and orchids: a technical discussion of bark paintings from Arnhem Land. AICCM Bulletin 33:30–40. https://doi.org/10.1179/bac.2012.33.1.005

Ess MN, Ferry D, Kireeva ED, Niessner R, Ouf FX, Ivleva NP (2016) In situ Raman microspectroscopic analysis of soot samples with different organic carbon content: structural changes during heating. Carbon 105:572–585. https://doi.org/10.1016/j.carbon.2016.04.056

Franceschi VR, Nakata PA (2005) Calcium oxatale in plants: formation and function. Annu Rev Plant Biol 56:41–71. https://doi.org/10.1146/annurev.arplant.56.032604.144106

Goler S, Yardley JT, Cacciola A, Hagadorn A, Ratzan D, Bagnall R (2016) Characterizing the age of ancient Egyptian manuscripts through micro-Raman spectroscopy. J Raman Spectrosc 47:1185–1193. https://doi.org/10.1002/jrs.4945

Han J, Wanrooij J, van Bommel M, Quye A (2017) Characterisation of chemical components for identifying historical Chinese textile dyes by ultra high performance liquid chromatography–photodiode array–electrospray ionisation mass spectrometer. J Chromatogr A 1479:87–96. https://doi.org/10.1016/j.chroma.2016.11.044

Hill R (2001) Traditional paint from Papua New Guinea: context, materials and techniques, and their implications for conservation. The Conservator 25:49–61. https://doi.org/10.1080/01410096.2001.9995164

Joosten I, van Bommel MR, Keijzer RH-d, Reschreiter H (2006) Micro analysis on Hallstatt textiles: colour and condition. Microchim Acta 155:169–174. https://doi.org/10.1007/s00604-006-0537-6

Kirby DP, Khandekar N (2014) Binding media used in traditional bark paintings from Arnhem Land. In: Bridgland J (ed) 17th Triennial ICOM conference

Krauss BH (1993) Plants in Hawaiian culture. University of Hawaii Press, Honolulu

Larsen AW (2011) Evolution of Polynesian bark cloth and factors influencing cultural change. J Anthropol Archaeol 30:116–134. https://doi.org/10.1016/j.jaa.2010.12.004

Li D, Wang W, Tian F, Liao W, Bae CJ (2014) The oldest bark cloth beater in southern China (Dingmo, Bubing basin, Guangxi). Quat Int 354:184–189. https://doi.org/10.1016/j.quaint.2014.06.062

Madariaga JM (2012) Identification of dyes and pigments by vibrational spectroscopy. In: Infrared and Raman spectroscopy in forensic science. Wiley, Hoboken, pp 383–399. https://doi.org/10.1002/9781119962328.ch7a

Madejová J (2003) FTIR techniques in clay mineral studies. Vib Spectrosc 31:1–10. https://doi.org/10.1016/S0924-2031(02)00065-6

Moncada X, Payacán C, Arriaza F, Lobos S, Seelenfreund D, Seelenfreund A (2013) DNA extraction and amplification from contemporary Polynesian bark-cloth. PLoS One 8:e56549. https://doi.org/10.1371/journal.pone.0056549

Mouri C, Laursen R (2011) Identification and partial characterization of C-glycosylflavone markers in Asian plant dyes using liquid chromatography–tandem mass spectrometry. J Chromatogr A 1218:7325–7330. https://doi.org/10.1016/j.chroma.2011.08.048

Mouri C, Mozaffarian V, Zhang X, Laursen R (2014) Characterization of flavonols in plants used for textile dyeing and the significance of flavonol conjugates. Dyes Pigments 100:135–141. https://doi.org/10.1016/j.dyepig.2013.08.025

Odegaard NN, Crawford MF (1996) Laudry bluing as a colorant in ethnographic objects. In: Bridgland J (ed) Proceedings of the 11th triennial ICOM meeting, Edinburgh, 1–6 September 1996. James & James, London, pp 634–638

Pauk V, Barták P, Lemr K (2014) Characterization of natural organic colorants in historical and art objects by high-performance liquid chromatography. J Sep Sci 37:3393–3410. https://doi.org/10.1002/jssc.201400650

Pawlyta M, Rouzaud J-N, Duber S (2015) Raman microspectroscopy characterization of carbon blacks: spectral analysis and structural information. Carbon 84:479–490. https://doi.org/10.1016/j.carbon.2014.12.030

Reeves T, Popelka-Filcoff RS, Lenehan CE (2013) Towards identification of traditional European and indigenous Australian paint binders using pyrolysis gas chromatography mass spectrometry. Anal Chim Acta 803:193–204. https://doi.org/10.1016/j.aca.2013.09.012

Richardson D, Richardson S (2017) Asian textiles studies. http://www.asiantextilestudies.com/

Rosenberg E (2008) Characterisation of historical organic dyestuffs by liquid chromatography–mass spectrometry. Anal Bioanal Chem 391:33–57. https://doi.org/10.1007/s00216-008-1977-0

Sang S, Ho C-T (2006) Chemical components of Noni (Morinda citrifolia L.) Root. In: Herbs: Challenges in Chemistry and Biology, vol 925. ACS Symp Ser, vol 925. American Chemical Society, pp 185–194. https://doi.org/10.1021/bk-2006-0925.ch014

Sang S, et al (2001) Chemical components in noni fruits and leaves (Morinda citrifolia L.). In: Quality Management of Nutraceuticals, vol 803. ACS Symposium Series, vol 803. American Chemical Society, pp 134–150. https://doi.org/10.1021/bk-2002-0803.ch010

Seelenfreund D, Clarke AC, Oyanedel N, Piña R, Lobos S, Matisoo-Smith EA, Seelenfreund A (2010) Paper mulberry (Broussonetia papyrifera) as a commensal model for human mobility in Oceania: anthropological, botanical and genetic considerations. N Z J Bot 48:231–247. https://doi.org/10.1080/0028825x.2010.520323

Seelenfreund A, Sepúlveda M, Petchey F, Peña-Ahumada B, Payacán C, Gutiérrez S, Cárcamo J, Kardailsky O, Moncada X, Rojas AM, Moraga M, Matisoo-Smith E, Seelenfreund D (2016) Characterization of an archaeological decorated bark cloth from Agakauitai Island, Gambier archipelago, French Polynesia. J Archaeol Sci 76:56–69. https://doi.org/10.1016/j.jas.2016.10.008

Smith G, Kanawa RT (2008) Some traditional colourants of Maori and other cultures. Chem N Z 72:127–131

Smith M, Thompson K, Lennard F (2017) A literature review of analytical techniques for materials characterisation of painted textiles—part 2: spectroscopic and chromatographic analytical instrumentation. J Inst Conserv 40:252–266. https://doi.org/10.1080/19455224.2017.1365739

Srivastava M, Singh J (1993) A new anthraquinone glycoside from Morinda citrifolia. Int J Pharmacogn 31:182–184. https://doi.org/10.3109/13880209309082938

Surowiec I, Szostek B, Trojanowicz M (2007) HPLC-MS of anthraquinoids, flavonoids, and their degradation products in analysis of natural dyes in archeological objects. J Sep Sci 30:2070–2079. https://doi.org/10.1002/jssc.200700041

Tamburini D, Cartwright CR, Pullan M, Vickers H (2018a) An investigation of the dye palette in Chinese silk embroidery from Dunhuang (tang dynasty). Archaeol Anthropol Sci. https://doi.org/10.1007/s12520-017-0592-4

Tamburini D, Martin de Fonjaudran C, Verri G, Accorsi G, Acocella A, Zerbetto F, Rava A, Whittaker S, Saunders D, Cather S (2018b) New insights into the composition of Indian yellow and its use in a Rajasthani wall painting. Microchem J 137:238–249. https://doi.org/10.1016/j.microc.2017.10.022

Tolstoy P (2008) Barkcloth, Polynesia and cladistics: an update. Journal of the Polynesian Society 117:15–57

Zhang X, Corrigan K, MacLaren B, Leveque M, Laursen R (2007) Characterization of yellow dyes in nineteenth-century Chinese textiles. Stud Conserv 52:211–220
Acknowledgements
The authors would like to thank Natasha McKinney, curator of the British Museum's 2015 exhibition 'Shifting patterns: Pacific barkcloth clothing', who initiated the request and selected the objects for scientific investigation. Joanne Dyer (Department of Scientific Research, The British Museum) is also thanked for helping in the acquisition of some Raman spectra and Antony Simpson for his help in creating some of the images. As an Andrew W. Mellon Postdoctoral Research Fellow, Diego Tamburini would like to thank the Andrew W. Mellon foundation.
Electronic supplementary material
About this article
Cite this article
Tamburini, D., Cartwright, C.R., Melchiorre Di Crescenzo, M. et al. Scientific characterisation of the dyes, pigments, fibres and wood used in the production of barkcloth from Pacific islands. Archaeol Anthropol Sci 11, 3121–3141 (2019). https://doi.org/10.1007/s12520-018-0745-0
Received:

Accepted:

Published:

Issue Date:
Keywords
Barkcloth

Fibres

Dyes

Pigments

Wood

Pacific Islands