Abstract
Ethnographic and historical records in the Philippines document the use of vines for cordage, mats, baskets, hats, medicine, and furniture. Similar usage has been assumed in the more distant past (i.e., neolithic); however, no material evidence has so far been found probably owing to unfavorable conditions inhibiting preservation of this particular organic material. This paper reports the presence of dried and mineralized fragments of woody vines from the archeological site of Bubog 2 in Ilin Island, Mindoro, Philippines. Identified as coming from the families Annonaceae, Dilleniaceae, and Mimosaceae, this occurrence provides the first archaeobotanical evidence in the Philippines of woody vines in layers dated from 5000 BCE to 1000 CE.
Access options
Buy single article
Instant access to the full article PDF.
USD 39.95
Price excludes VAT (USA)
Tax calculation will be finalised during checkout.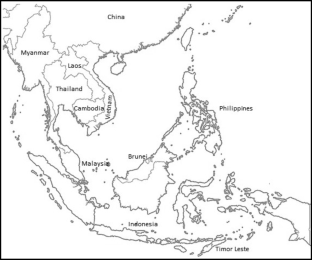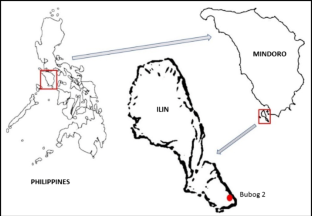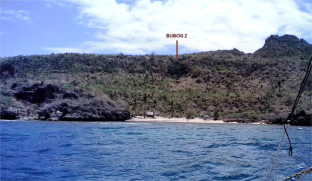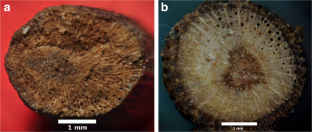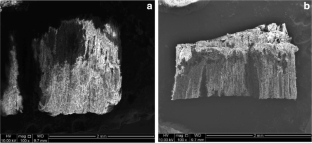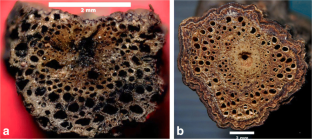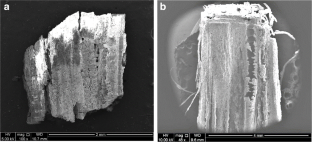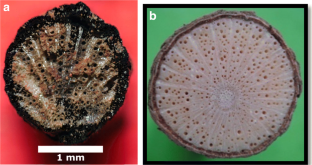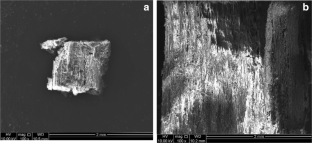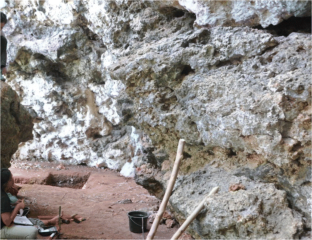 References
Acevedo-Rodriguez P (2005) Vines and climbing plants of Puerto Rico and the Virgin Islands. Contributions from US National Herbarium, Washington, DC 51:1–483

Arquion R, Galanida C, Villamor B, Aguilar H (2015) Ethnobotanical study of indigenous plants used by local people of Agusan del Sur, Philippines

Balme J (2013) Of boats and string: the maritime colonisation of Australia. Quat Int 285(2013):68–75

Barker G, Hunt C, Carlos J (2011) Transitions to Farming in Island Southeast Asia: Archaeological, Biomolecular and Palaeoecological Perspectives. In Why Cultivate" Anthropological and Archaeological Approaches to Foraging-Farming Transitions in Southeast Asia. McDonald Institute Monographs. Pp. 59–71

Bellwood PS (1997) Prehistory of the indo-Malaysian archipelago. Rev. ed. USA: University of Hawai'I Press

Brown WH (1919) Philippine fiber plants. Bureau of Printing, Manila, p 132

Burkill IH (1966) A dictionary of the economic products of the Malay Peninsula. Art Printing Works, Malaysia

Carlos A (2010) Inferring subsistence patterns in the Ille Cave & Rockshelter Site: the macrobotanical evidence. MS Thesis. University of the Philippines, Diliman, Q.C.

Carlquist S (1992) Anatomy of vine and liana stems: a review and synthesis. In: Putz FE, Mooney HA (eds) the biology of vines. UK: Cambridge University Press, 1992:53–72

Catibog CS (1978) Wild plants for food and feeds. Forest Products Research Institute, Laguna, p 170

Centro Escolar University (2005) 100 wild plants. Manila. 196 p

De Alban JDT (2009) Mindoro Island conservation needs assessment report: physical. Mindoro Biodiversity Conservation Foundation Inc., Muntinlupa City

Detroit F, Dizon E, Falguères C, Hameau S, Ronquillo W, Sémah F (2004) a Upper Pleistocene Homo sapiens from the Tabon cave (Palawan, the Philippines): description and dating of new discoveries. C R Palevol 3:705–712

Ella AB, America WM (1997) Stem anatomy of some important Philippine forest woody vines. Forest Products Res Development Institute J 23(2):43–52

Escobin RP, Banaticla MCN (2005) Identification handbook of Philippine commercial and potentially commercial Forest vines. Los Baños: FPRDI

Faylona P (2003) Simbahang Bato: representative of Naujan's past? Test pit 2 (2): 11–13. UP Archaeological Studies Program

Galinato MI, Moody K, Piggin CM (1999) Upland Rice weeds of south and Southeast Asia. International Rice Research Institute, Makati City

Green FJ (1979) Phosphate mineralization of seeds from archaeological sites. J Archaeol Sci 6:279–284

Guadagnin DL, Gravato IC (2013) Ethnobotany, availability and use of lianas by the Kaingang people in suburban forests in southern Brazil. Econ Bot 67(4):350–362 NY, USA: The New York Botanical Garden Press

Jacomet S (2007) Neolithic plant economies in the northern alpine foreland from 5500–3500 cal BC. In: The origins & spread of domestic plants in Southwest Asia & Europe. California, 221–258

Jane FW, Wilson K, White DJB (1970) The structure of wood. 2nd ed. London: A. and C. Black Ltd. 478p

Lacuna-Richman C (2006) Use of non-wood forest products by migrants in a new settlement: experiences of a Visayan community in Palawan. J Ethnobiol Ethnomed 2:36

Leenhouts PW (1958) Burseraceae. In: C. G. G. J. van Steenis CGGJ, ed. Flora Malesiana, series 1, vol. 5. The Netherlands: Noordhoff-Kolff NV, 209–296

Lewis H, Paz V, Lara M, Barton H, Piper P, Ochoa J, Vitales T, Carlos J, Neri L, Hernandez V, Higham T, Stevenson J, Robles E, Padilla R, Ragragio A, Solheim W, Ronquillo W (2008) Dating and interpreting terminal Pleistocene to mid Holocene cave occupation and an early cremation burial from Palawan, Philippines. Antiquity 82(316):318–335

Mandia EH (2004). The Alangan Mangyan of Mt. Halcon, Oriental Mindoro: their ethnobotany. Philippine quarterly of culture and society, 32 (2): 96-117. University of san Carlos Publications

Martin AC, Barkley WD (1961) Seed identification manual. Berkeley and Los Angeles: University of California Press, 221p

Merrill ED (1912) A Flora of Manila (publication no. 5). Manila: Bureau of Printing. Department of the Interior, Bureau of Science

Messager E, Badou A, Fröhlich F, Deniaux B, Lordkipanidze D, Voinchet P (2010) Fruit and seed biomineralization and its effect on preservation. Archaeological Nthropological Sci 2:25–34

Mijares AS, Détroit F, Piper P, Grün R, Bellwood P, Aubert M, Champion G, Cuevas N, De Leon A, Dizon E (2010) New evidence for a 67,000-year-old human presence at Callao Cave, Luzon, Philippines. J Hum Evol 59(1):123–132

Murphy CA (2014a) Grapes: origins and development. In: Smith C (ed) Encyclopedia of global archaeology. Springer, New York, pp 3107–3111

Murphy CA (2014b) Mineralization of Macrobotanical Remains. In: Mineralization of macrobotanical remains in: smith C (ed) encyclopedia of global archaeology. Springer, New York, pp 4948–4952

Noda K, Teerawatsakul M, Prakongvongs C, Chaiwiratnukul L (1985) Major Weeds in Thailand (rev. ed.): National Weed Science Research Institute Project, Department of Agriculture

Ogata K, Fujii T, Abe H, Baas P (2008) Identification of the timbers of Southeast Asia and the Western Pacific. Kaisheisha Press, Japan

Palmer AN (2007) Cave geology. Allen Press, U.S.A.

Pawlik A, Piper P, Faylona P, Padilla S, Carlos J, Mijares A, Vallejo B, Reyes M, Amano N, Ingicco T, Porr M (2014) Adaptation and foraging from the terminal Pleistocene to the Early Holocene: excavation at Bubog on Ilin Island, Philippines. J Field Archaeol 39(3):230–247

Paz VJ (2001) Archaeobotany and cultural transformation: patterns of early plant utilization in northern Wallacea. PhD dissertation. Cambridge University

Paz VJ and Ronquillo WP (2004) Report on the Palawan Island Palaeohistoric research project. Unpublished report. UP archaeological studies program

Paz VJ (2005) Report on the excavation at Simbahang Bato, Bongabong, Oriental Mindoro. Unpublished report. UP Archaeological Studies Program

Paz VJ (2007) Report on the excavation at Baluarte, San Teodoro, Oriental Mindoro. Unpublished report, UP Archaeological Studies Program

Planta MG (2017) Traditional medicine in the colonial Philippines 16th to the 19th century. QC: University of the Philippines Press

Paz VJ, Carlos J (2007) Eme, Callao and Dalan Serkot caves: analysis of plant macro-remains. In Mijares ASB. Unearthing prehistory: the archaeology of northeastern Luzon, Philippine Islands. BAR. In: International series, vol 1613. Harlan Books, Oxford, pp 130–134

Porr M, Mijares A, Pawlik A, Piper P, Padilla S (2012) North of the southern arc: a summary of the 2010 and 2011 fieldwork activities. Aust Archaeol 75:110–117

Putz FE (2012) Vine Ecology. http://www.ecology.info/vines.htm. Accessed 18 December 2015

Razal R, Tolentino E Jr., Garcia M, Fernando E, Baguinon N, Quimado M, Donoso L, Luna A, (2003). Status of forest genetic resources conservation and management in the Philippines. In Forest genetic resources conservation and management. Proceedings of the Asia Pacific Forest Genetic Resources Programme (APFORGEN) Inception Workshop, Kepong, Kuala Lumpur, Malaysia,15–18 July, 2003. T. Luoma-aho, L.T. Hong, V. Ramanatha Rao and H.C. Sim, editors

Roskams S (2001) Excavation. Cambridge University Press. 311 pp

Rummel DJ (2005) Useful plants of the Philippines. Vol 1. A guide to modern botanical medicine. C& E Publishing Inc., Quezon City 505 pages

Shillito L, Almond MJ (2010) comment on: fruit and seed biomineralization and its effect on preservation by E. Messager et al. In: Archaeological and Anthropological Sciences 2010; 2:25–34. https://doi.org/10.1007/s12520-010-0024-1

Tolentino E Jr (2009) Status of Philippines forest genetic resources: their conservation and management practices

Wheeler EA, Baas P, Gasson PE (eds) (1989) IAWA list of microscopic features for hardwood identification. IAWA bulletin 10(3):219–332. Leiden

Wilkinson K, Stevens C (2003) Environmental archaeology: approaches. Techniques and Applications, Tempus

Williams, D (1977) A Consideration of the Sub-Fossil Remains of Vitis vinifera L. as Evidence for Viticulture in Roman Britain. Britannia 8: 327–334
Acknowledgements
Acknowledgement goes to Mr. Fernando C. Pitargue, Jr., chief of the Anatomy & Forest Botany Section at the Forest Products Research & Development Institute (FPRDI). We would also like to express our appreciation to Messrs. Jerry, Apolinario, and Cris Leydo as well as Messrs. Ben, Arturo, and Rey Deyta of Sitio Bubog, for all their assistance in the excavation and flotation.
Funding
This research was funded by an Outright Research Grant by the University of the Philippines Office of the Vice Chancellor for Research and Development (UP OVCRD) Project No. 12-1219 PNSE. Dr. Armand Mijares and Dr. Phil Piper also supported this research through the Emerging Interdisciplinary Research Grant of the University of the Philippines, OVPAA code no. 2-002-1111212, which funded the fieldwork in Ilin Island.
About this article
Cite this article
Carlos, J.B., Paz, V.J., Escobin, R.P. et al. Archaeological evidence of woody vines at Bubog 2, Ilin Island, Mindoro, Philippines. Archaeol Anthropol Sci 11, 1131–1141 (2019). https://doi.org/10.1007/s12520-018-0722-7
Received:

Accepted:

Published:

Issue Date:

DOI: https://doi.org/10.1007/s12520-018-0722-7
Keywords