Abstract
In this work, we investigate on the origin of Late Medieval glass from 12 previously and recently excavated archaeological sites in Bosnia and Herzegovina and South Croatia (Dalmatia). The present work aims to contribute to filling the data gap on the glass distribution in the Balkan region, as well as to provide new insights on glass trade and its impact in the region. Up to now, the knowledge of Medieval glass from the western Balkan (Bosnia up to Bobovac) and eastern Adriatic hinterland (Dalmatian hinterland between Zadar and Dubrovnik, and Herzegovina) remained limited. The lack of archaeometrical data caused limited comparisons with similar materials from other regions in which Venetian glass was used. A representative sample set of 129 glass fragments from the second half of the fourteenth century to the beginning of the fifteenth century was analysed by combined particle-induced X-ray emission (PIXE) and particle-induced gamma-ray emission (PIGE) measurements. The studied glass vessels are mostly different from the characteristic Venetian shapes, but they are made with Venetian raw glass, demonstrating the Venetian vitrum blanchum was already widespread in the Adriatic in the second half of the fourteenth-beginning of the fifteenth c. An open question remains whether the origin of the glass vessel production was specifically Venetian or local by adopting the Venetian technology and importing the raw materials.
This is a preview of subscription content, log in to check access.
Access options
Buy single article
Instant access to the full article PDF.
US$ 39.95
Price includes VAT for USA
Subscribe to journal
Immediate online access to all issues from 2019. Subscription will auto renew annually.
US$ 99
This is the net price. Taxes to be calculated in checkout.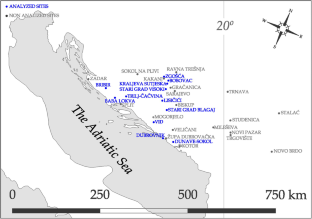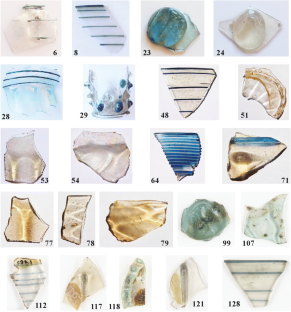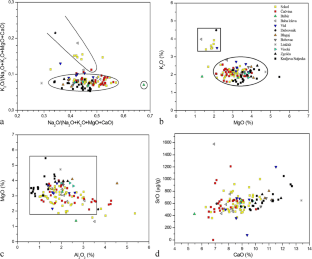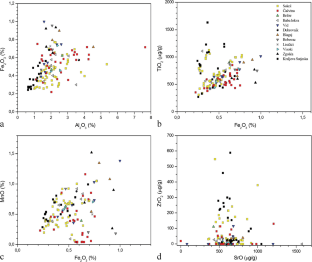 References
Anđelić P (1973) Bobovac i Kraljeva Sutjeska, stolna mjesta bosanskih vladara u XIV i XV stoljeću. Veselin Masleša, Sarajevo

Anđelić P (1975) Un aperçu de la typologie du verre médiéval en Bosnie et en Herzégovine. In: Srednjovekovno staklo na Balkanu (V–XV vek). Verre médiéval aux Balkans (V e–XV e s.), Belgrade, pp. 167–175

Anđelić P (1981) Bišće i Blagaj, politički centar Humske zemlje u srednjem vijeku. Hercegovina 1:41–72

Anđelić P (1984) Srednji vijek-doba stare bosanske države. Visoko i okolina kroz historiju 1:103–309

Barovier Mentasti R, Dorigato A, Gasparetto A, Toninato T (1982) Mille anni di arte del vetro a Venezia. Albrizzi, Venezia

Basler Đ (1983) Istočni zid grada Blagaja na Buni. Hercegovina 3:29–33

Baumgartner E, Krueger I (1988) Phönix aus Sand und Asche. Glas des Mittelalters, München

Buljević Z (1998) Stakleni inventar s lokaliteta sv. Vid u Vidu kod Metkovića Vjesnik za arheologiju i historiju dalmatinsku 87–89:123–163

Burić T, Anterić I, Babin M, Milić M (2013) Baba lokva, kasnosrednjovjekovno naselje. Split

Cagno S, Janssens K, Mendera M (2008) Compositional analysis of Tuscan glass samples: in search of raw material fingerprints. Anal Bioanal Chem 391:1389–1389

Cagno S, Mendera M, Jeffries T, Janssens K (2010) Raw materials for medieval to post-medieval Tuscan glassmaking: new insight from LA-ICP-MS analyses. J Archaeol Sci 37:3030–3036

Cagno S, Brondi Badano M, Mathis F, Strivay D, Janssens K (2012) Study of medieval glass fragments from Savona (Italy) and their relation with the glass produced in Altare. J Archaeol Sci 39:2191–2197

Čremošnik I (1949–1950) Iskopavanje Crkvine u Zgošći 1948. Godine. Glasnik Zemaljskog muzeja Nova serija 4-5:411–416

Čremošnik I (1954) Izvještaj o iskopavanjima na Crkvini u Lisičićima kod Konjica. Glasnik Zemaljskog muzeja Nova serija 9:211–226

De Raedt I (2001) Compositions of 16–17th century Facon-de-Venise glass excavated in Antwerp and neighbouring cities. Thesis, University of Antwerp, Antwerp, unpublished

De Raedt I, Janssens K, Veeckman J (1999) Compositional distinctions between 16th century 'façon-de-Venise' and Venetian glass vessels excavated in Antwerp, Belgium. J Anal At Spectrom 14:493–498

Delonga V (1987) Staklo srednjovjekovnog Bribira. Starohrvatska prosvjeta serija III(/17):87–111

Foretić V (1980a) Povijest Dubrovnika do 1808. Prvi dio od osnutka do 1526. Nakladni zavod MH, Zagreb

Foretić V (1980b) Povijest Dubrovnika do 1808. Knjiga druga, Od 1526 do 1808. Nakladni zavod MH, Zagreb

Freestone IC (2005) The provenance of ancient glass through compositional analysis. Material Research Society Proceedings 852:OO8.1.1–OO8.1.13

Gasparetto A (1958) Il vetro di Murano dalle origini ad oggi. Neri Pozza Editore, Venezia

Gasparetto A (1975) La verrerie vénitienne et ses relations avec le levant balkanique au moyen âge. In: Srednjovekovno staklo na Balkanu (V–XV vek). Verre médiéval aux Balkans (Ve-XVe s.)i, Belgrade, pp. 143–165

Glavaš T (1978) A Contribution to the study of the Medieval Town of Visoki. Balcanoslavica 7:141–155

Gudelj L (2000) Utvrda Čačvina. Starohrvatska prosvjeta 27:153–182

Han V (1969) Problemi oko porekla i stila srednjovekovnog stakla iz Srbije, Bosne i Hercegovine. Zbornik Muzeja primenjenih umetnosti 13:7-30. (original title: Проблеми око порекла и стила средњовековног стакла из Србије, Босне и Херцеговине)

Han V (1981) Tri veka dubrovačkog staklarstva (XIV.-XVI vek), Balcanica, Beograd. (original title: Три века дубровачког стакларства (XIV.-XVI век))

Husić A (2001/2002) Bobovac od pada pod osmansku vlast do ukidanja posade 1540. Godine. Znakovi vremena, Časopis za filozofiju, religiju, znanost i društvenu praksu 4/5:13/14

Janssens K, Cagno S, De Raedt I, Degryse P (2013) 6.3 Transfer of glass manufacturing technology in the sixteenth and seventeenth centuries from Southern to Northern Europe. In: Janssens K (ed) Modern methods for analysing archaeological and historical glass, vol I. Wiley, Chichester, pp 537–562

Kojić L, Wenzel M (1967a) Medieval glass found in Yugoslavia. J Glass Stud 9:76–93

Kojić L, Wenzel M (1967b) Veličani-srednjovekovna nekropola i pregled srednjovekovnog stakla Bosne i Hercegovine. Starinar 18:139-155. (original title: Величани – средњовековна некропола и преглед средњовековног стакла Босне и Херцеговине)

Kovačević D (1961) Trgovina u srednjovjekovnoj Bosni. Akademija nauka i umjetnosti BiH, Sarajevo

Krekić B (1966) Trois fragments concernant les relations entre Dubrovnik (Raguse) et l'Italie au XIVe siècle. Godišnjak Filozofskog fakulteta u Novom Sadu 9:19–33

Kurtović E (2009a) Veliki vojvoda bosanski Sandalj Hranić Kosača. Institut za istoriju, Sarajevo

Kurtović E (2009b) Bišće i Blagaj u doba vojvode Sandalja Hranića Kosače. In: Zbornik radova. Naučni skup Prirodno-graditeljska cjelina blagajske tekije i vrela Bune, Mostar, pp 34–54

Minić D (1982) Staklena čaša iz srednjovekovnog Trgovišta. Novopazarski zbornik 6:19-22. (original title: Стаклена чаша из средњовековног Трговишта)

Räisänen J, Hirvonen J-P, Lappalainen R (2009) Particle-Induced Gamma Emission: PIGE. In: Wang Y, Nastasi M (eds) Handbook of modern ion beam materials analysis. Materials Research Society, Warrendale, PA, pp 147–175

Šmit Ž (2007) Spektroskopske analize stekla/spectroscopic analysis of glass. In: Kos M (ed) Steklo iz 15. in 16. stoletja/15th and 16th century glass. Narodni muzej Slovenije, Ljubljana, pp 169–207

Šmit Ž, Janssens K, Bulska E, Wagner B, Kos M, Lazar I (2005) Trace element fingerprinting of façon-de-Venise glass. Nucl Inst Methods Phys Res B 239:94–99

Šmit Ž, Stamati F, Civici N, Vevecka-Priftaj A, Kos M, Jezeršek D (2009) Analysis of Venetian-type glass fragments from the ancient city of Lezha (Albania). Nucl Inst Methods Phys Res B 267:2538–2544

Šmit Ž, Knific T, Jezersek D, Istenic J (2012) Analysis of early medieval glass beads—glass in the transition period. Nucl Inst Methods Phys Res B 278:8–14

Tomičić L (1975) Contribution à l'étude de la verrerie médiévale en Bosnie-Gobelet de Kakanj. In: Srednjovekovno staklo na Balkanu (V–XV vek). Verre médiéval aux Balkans (V e –XV e s.), Belgrade, pp. 183–186

Topić N (2016) Arheološka dokumentacija o nadzoru na Kneževu dvoru u Dubrovniku. Institute for the restoration od Dubrovnik, Dubrovnik (Internal Publication)

Topić N, Drašković Vlašić N, Džaja A, Peković Ž (2014) Dokumentacija o arheološkom istraživanju utvrde Sokol u Dunavama u Konavlima (I. i II. faza). Omega Engineering d.o.o., Dubrovnik (Internal publication)

Topić N, Bogdanović Radović I, Fazinić S, Skoko Ž (2016) Analysis of Medieval and post-Medieval glass finds from Dubrovnik region, Croatia. Archaeometry 58:574–592

Uboldi M, Verità M (2003) Scientific analysis of glasses from Late Antique and Early Medieval archaeological sites in Northern Italy. J Glass Stud 45:115–137

Van Espen P, Nullens H, Adamas F (1977) A method for the accurate description of the full-energy peaks in non-linear least-squares analysis of X-ray spectra. Nucl Instrum Methods 145:579–582

Verità M (2013) 6.2 Venetian soda glass. In: Janssens K (ed) Modern methods for analysing archaeological and historical glass, vol I. Wiley, Chichester, pp 515–536

Verità M, Renier A, Zecchin S (2002) Chemical analyses of ancient glass findings excavated in the Venetian Lagoon. J Cult Herit 3:261–271

Wenzel M (1975) Analysis of some glass from Hercegovina. In: Srednjovekovno staklo na Balkanu (V–XV vek). Verre médiéval aux Balkans (V e –XV e s.), Belgrade, pp. 197–213

Wenzel M (1977) A reconsideration of Bosnian Medieval glass. J. Glass Stud. 19:63–76

Whitehouse D (1983) Medieval glass in Italy: some recent developments. J Glass Stud 25:115–120

Zečević E (2012) Glass of Novo Brdo and its significance in late medieval glass production. In: Annales du 18e Congrès de l'Association Internationale pour l'Histoire du Verre, Thessaloniki, Greece, pp. 414–418
Acknowledgements
We express our gratitude to Vedrana Delonga of the Museum of Croatian archaeological monuments in Split for granting permission to analyse glass fragments from the excavation of Bribir, as well as to the director of the museum, Ante Milošević. We also thank Mr. Toni Glučina, director of the Archaeological Museum Narona, for providing glass finds from Vid near Metković. All fragments were analysed at Ruđer Bošković Institute in Zagreb and Jožef Stefan Institute in Ljubljana. For editing the text, we thank Ms. Meredith Olivia Terry, M.D., as well as to anonymous referee.
Funding
The work of Ž. Šmit was supported by the Slovenian Research Agency (research core funding No. P6-0283).
Additional information
Publisher's note
Springer Nature remains neutral with regard to jurisdictional claims in published maps and institutional affiliations.
The original version of this article was revised: Cl is given as ClO (wt%) in Table 2. This should be corrected to Cl. Several oxides (TiO2, Cr2O3, CoO, CuO, ZnO, As2O3, Rb2O, Br, SrO, ZrO2, PbO) are given as ppm while it is written that they are given as wt% in Table 3. Given in this article were the corrected Tables.
About this article
Cite this article
Topić, N., Radović, I.B., Fazinić, S. et al. Compositional analysis of Late Medieval glass from the western Balkan and eastern Adriatic hinterland. Archaeol Anthropol Sci 11, 2347–2365 (2019). https://doi.org/10.1007/s12520-018-0712-9
Received:

Accepted:

Published:

Issue Date:
Keywords
Eastern Adriatic hinterland (Dalmatia Herzegovina)

Western Balkan (Bosnia)

Late medieval

Glass

PIXE

PIGE