Abstract
Carbon (δ13C) and nitrogen (δ15N) stable isotope analysis of human bone collagen from 38 individuals was undertaken to assess diet at the Late Roman–Early Byzantine (AD 300–700) cemetery site, Joan Planells, in Ibiza, Spain. The results (δ13C = − 18.7 ± 0.5‰ and δ15N = 10.1 ± 1.3‰) show that the diet of this population was derived predominantly from C3 terrestrial resources; plant foods were likely dietary staples along with meat and/or dairy produce comprising an important component of diet. Variation in stable isotope ratio values suggests individual differences in diet. Two individuals, both males, are statistical outliers with distinctive δ15N values (14.4 and 14.8‰) that point to significant consumption of marine resources. Females, on average, have higher δ13C values than males. The parsimonious explanation for this observation is the greater inclusion of C4 resources such as millet in the diets of females. Comparison of the diet of the Joan Planells population with other Late Roman period sites on the Hispanic mainland and other parts of the Mediterranean region suggests that populations may have been responding to a combination of socio-political and environmental factors that could have included Roman influence of food consumptive practices in some of these distant locales.
Access options
Buy single article
Instant access to the full article PDF.
US$ 39.95
Tax calculation will be finalised during checkout.
Subscribe to journal
Immediate online access to all issues from 2019. Subscription will auto renew annually.
US$ 79
Tax calculation will be finalised during checkout.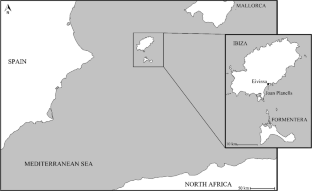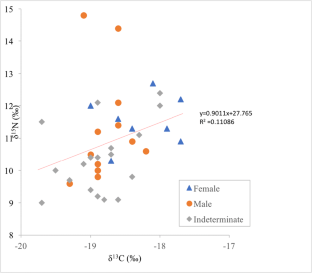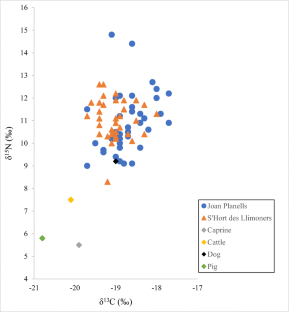 References
Adamson MW (2004) Food in Medieval Times. Greenwood Press, Westport, Connecticut

Ambrose SH (1990) Preparation and characterization of bone and tooth collagen for isotopic analysis. J Archaeol Sci 17:431–451. https://doi.org/10.1016/0305-4403(90)90007-R

Araus JL, Febrero A, Buxó R, Rodríguez-Ariza MO, Molina F, Camalich MD, Martín D, Voltas J (1997) Identification of ancient irrigation practices based on the carbon isotope discrimination of plant seeds: a case study from the south-east Iberian Peninsula. J Archaeol Sci 24:729–740. https://doi.org/10.1006/jasc.1997.0154

Badalamenti F, D'Anna G, Pinnegar J, Polunin N (2002) Size-related trophodynamic changes in three target fish species recovering from intensive trawling. Mar Biol 141:561–570. https://doi.org/10.1007/s00227-002-0844-3

Bocherens H, Drucker D (2003) Trophic level isotopic enrichment of carbon and nitrogen in bone collagen: case studies from recent and ancient terrestrial ecosystems. Int J Osteoarchaeol 13:46–53. https://doi.org/10.1002/oa.662

Bonsall C, Cook GT, Hedges REM, Higham TFG, Pickard C, Radovanovic I (2004) Radiocarbon and stable isotope evidence of dietary change from the Mesolithic to the middle ages in the Iron Gates: new results from Lepenski Vir. Radiocarbon 46:293–300. https://doi.org/10.2458/azu_js_rc.46.4269

Brown T, Nelson D, Vogel J, Southon J (1988) Improved collagen extraction by modified Longin method. Radiocarbon 30:171–177. https://doi.org/10.2458/azu_js_rc.30.1096

Bryant FJ, Loutit JF (1964) The entry of strontium-90 into human bone. Proc R Soc London. Ser B. Biol Sci 159:449–465. https://doi.org/10.1098/rspb.1964.0013

Buikstra JE, Ubelaker DH (1994) Standards for the data collection from human skeletal remains. Arkansas Archaeological Survey Research Series 44. Fayetteville: Arkansas Archaeological Survey.

Chisholm BS, Nelson DE, Schwarcz HP (1982) Stable-carbon isotope ratios as a measure of marine versus terrestrial protein in ancient diets. Science 216:1131–1132. https://doi.org/10.1126/science.216.4550.1131

Corcoran TH (1963) Roman fish sauces. Class J 58:381–384

Craig OE, Biazzo M, O'Connell TC, Garnsey P, Martinez-Labarga C, Lelli R, Salvadei L, Tartaglia G, Nava A, Reno L, Fiammenghi A, Richards O, Bondioli L (2009) Stable isotopic evidence for diet at the imperial roman costal site of Velia (1st and 2nd centuries AD) in Southern Italy. Am J Phys Anthropol 139:572–583. https://doi.org/10.1002/ajpa.21021

Craig O, Bondioli L, Fattore L, Higham T, Hedges R (2013) Evaluating marine diets through radiocarbon dating and stable isotope analysis of victims of the AD79 eruption of Vesuvius. Am J Phys Anthropol 152:345–352. https://doi.org/10.1002/ajpa.22352

Curchin L (1991) Roman Spain: conquest and assimilation. Routledge, London

Curtis RI (2009) Umami and the foods of classical antiquity. Am J Clin Nutr 90:712S–718S. https://doi.org/10.3945/ajcn.2009.27462C

Dalby A, Grainger S (2012) The classical cookbook. Los Angeles: Getty Trust Pub

Degaei J-P, Devillers B, Dezileau L, Oueslati H, Bony G (2015) Major storm periods and climate forcing in the Western Mediterranean during the Late Holocene. Quat Sci Rev 129:37–56

DeNiro MJ (1985) Postmortem preservation and alteration of in vivo bone collagen isotope ratios in relation to palaeodietary reconstruction. Nature 317:806–809. https://doi.org/10.1038/317806a0

DeNiro MJ, Schoeninger MJ (1983) Stable carbon and nitrogen isotope ratios of bone collagen: variations within individuals, between sexes, and within populations raised on monotonous diets. J Archaeol Sci 10:199–203. https://doi.org/10.1016/0305-4403(83)90002-X

van der Merwe NJ, Vogel JC (1978) 13C content of human collagen as a measure of prehistoric diet in woodland North America. Nature 276:815–816. https://doi.org/10.1038/276815a0

Esquembre Bebia MA, Graziani Echavarri GJ, Moltó Poveda FJ, Ortega Pérez JR (2005) Excavaciones arqueológicas en un solar de la calle Joan Planells (Eivissa). Fites 5:9–16

Fuller BT, Fuller JL, Sage NE, Harris DA, O'Connell TC, Hedges REM (2005) Nitrogen balance and δ15N: why you're not what you eat during nutritional stress. Rapid Commun Mass Spectrom 19:2497–2506. https://doi.org/10.1002/rcm.2090

Fuller BT, Marquez-Grant N, Richards MP (2010) Investigation of diachronic dietary patterns on the islands of Ibiza and Formentera, Spain: evidence from carbon and nitrogen stable isotope ratio analysis. Am J Phys Anthropol 143:512–522. https://doi.org/10.1002/ajpa.21334

García-Donas J, Langstaff H, Kranioti E (2014) Vía Púnica 34 and Joan Planells: demographic study of two cemetery populations from Ibiza. Journades D'Arqueologia De Les Illes Balears 6:285–294

Garcia-Guixé E, Subira ME, Marlasca R, Richards MP (2010) δ13C and δ15N in ancient and recent fish bones from the Mediterranean Sea. Journal of Nordic Archaeological Science 17:83–92

Garnsey P (1998) Cities, peasants and food in classical antiquity: essays in social and economic history. Cambridge University Press, Cambridge

Garnsey P (1999) Food and Society in Classical Antiquity. Cambridge University Press, Cambridge

Garvie-Lok S (2001) Loaves and fishes: a stable isotope reconstruction of diet in medieval Greece. Unpublished PhD Dissertation, University of Calgary, Calgary

Girdwood L (2012) A Comparative Analysis of Dental Non-Metric Traits in three Ibizan Populations (c. 3rd-12th centuries AD). Unpublished MSc Dissertation. University of Edinburgh.

Graziani Echavarri G (2013) Informe de la excavacion arqueologica en el solar Maymo. Inedito

Hedges REM (2004) Isotopes and red herrings: comments on Milner et al. and Lidén et al. Antiquity 78:34–37. https://doi.org/10.1017/S0003598X00092905

Hedges REM, Reynard LM (2007) Nitrogen isotopes and the trophic level of humans in archaeology. J Archaeol Sci 34:1240–1251. https://doi.org/10.1016/j.jas.2006.10.015

Iacumin P, Galli E, Cavalli F, Cecere L (2014) C4-consumers in southern Europe: the case of Friuli V.G. (NE-Italy) during early and central middle ages. Am J Phys Anthropol 154:561–574. https://doi.org/10.1002/ajpa.22553

Keenleyside A, Schwarcz H, Stirling L, Ben Lazreg N (2009) Stable isotopic evidence for diet in a Roman and Late Roman population from Leptiminus, Tunisia. J Archaeol Sci 36:51–63. https://doi.org/10.1016/j.jas.2008.07.008

Killgrove K, Montgomery J (2016) All roads lead to Rome: exploring human migration to the Eternal City through biochemistry of skeletons from two imperial-era cemeteries (1st-3rd c AD). PLoS One 11(2):1–30

Killgrove K, Tykot RH (2013) Food for Rome: a stable isotope investigation of diet in the Imperial period (1st-3rd centuries AD). J Anthropol Archaeol 32:28–38. https://doi.org/10.1016/j.jas.2006.05.006

Kulikowski M (2004) Late Roman Spain and its cities. The Johns Hopkins University Press, Baltimore

Laffranchi Z, Delgado Huertas A, Jimenez Brobeil SA, Granados Torres A, Riquelme Cantal JA (2016) Stable C & N isotopes in 2100 year-B.P. human bone collagen indicate rare dietary dominance of C4 plants in NE-Italy. Sci Rep 6(38817):1–8

Lamb HH (1995) Climate history and the modern world. Routledge, London

Le Huray JD, Schutkowski H (2005) Diet and social status during the La Tène period in Bohemia: carbon and nitrogen stable isotope analysis of bone collagen from Kutná Hora-Karlov and Radovesice. J Anthropol Archaeol 24:135–147. https://doi.org/10.1016/j.jaa.2004.09.002

Libby WF, Berger R, Mead JF, Alexander GV, Ross JF (1964) Replacement rates for human tissue from atmospheric radiocarbon. Science 146:1170–1172

Longin R (1971) New method of collagen extraction for radiocarbon dating. Nature 230:241–242. https://doi.org/10.1038/230241a0

López-Costas O, Muldner G (2016) Fringes of the empire: diet and cultural change at the Roman to post-Roman transition in NW Iberia. Am J Phys Anthropol 161:141–154

Márquez-Grant N (2005) The presence of african individuals in punic populations from the Island of Ibiza (Spain): contributions from physical anthropology. Mayurqa 30:611–637

Martinez RG (2011) Comparative analysis of dental non-metric variation between two archaeological populations of Ibiza, Spain (4th–12th centuries AD). Unpublished MSc Dissertation. University of Edinburgh

Müldner G, Chenery C, Eckhardt H (2011) The 'Headless Romans': multi-isotope investigations of an unusual burial ground from Roman Britain. J Archaeol Sci 38:280–290. https://doi.org/10.1016/j.jas.2010.09.003

Murray M, Schoeninger MJ (1988) Diet, status, and complex social structure in Iron Age Central Europe: some contributions of bone chemistry. In: Gibson DB, Geselowitz M (eds) Tribe and polity in late prehistoric Europe. Plenum, New York, pp 155–176

Nieto-Moreno V, Martinez-Ruiz F, Giralt S, Jimenez-Espejo F, Gallego-Torres D, Rodrigo-Gamiz M, Garcia-Orellana J, Orega-Huertas M, de Lange GJ (2011) Tracking climate variability in the western Mediterranean during the Late Holocene: a multiproxy approach. Climate Past 7:1395–1414

Nieto-Moreno V, Martinez-Ruiz F, Willmott V, Garcia-Orellana J, Masque P, Sinninghe Damste JS (2013) Climate conditions in the westernmost Mediterranean over the last two millennia: an integrated biomarker approach. Org Geochem 55:1–10

Nitsch EK, Humphrey LT, Hedges REM (2010) The effect of parity status on δ15N: looking for the 'pregnancy effect' in 18th and 19th century London. J Archaeol Sci 37:3191–3199. https://doi.org/10.1016/j.jas.2010.07.019

O'Connell TC, Kneale CJ, Tasevska N, Kuhnle GGC (2012) The diet-body offset in human nitrogen isotopic values: a controlled dietary study. Am J Phys Anthropol 149:426–443. https://doi.org/10.1002/ajpa.22140

Olsen KC, White CD, Longstaffe FJ, von Heyking K, McGlynn G, Grupe G, Rühli FJ (2014) Intraskeletal isotopic compositions (δ13C, δ15N) of bone collagen: nonpathological and pathological variation. Am J Phys Anthropol 153:598–604. https://doi.org/10.1002/ajpa.22459

Pate DF, Henneberg RJ, Nenneberg M (2016) Stable carbon and nitrogen isotope evidence for dietary variability at ancient Pompeii, Italy. Mediterranean Archaeology and Archaeometry 16: 127–133

Pericot Garcia L (1972) The Balearic Islands. Thames & Hudson, London

Pickard C, Girdwood L-K, Kranioti E, Marquez-Grant N, Richards M, Fuller B (2017) Isotopic evidence for dietary diversity at the mediaeval Islamic necropolis of Can Fonoll (10th to 13th centuries CE), Ibiza, Spain. J Archaeol Sci Rep 13:1–10. https://doi.org/10.1016/j.jasrep.2017.03.027

Pinnegar JK, Polunin NVC (2000) Contributions of stable-isotope data to elucidating food webs of Mediterranean rocky littoral fishes. Oecologia 122:399–409. https://doi.org/10.1007/s004420050046

Polunin NVC, Morales-Nin B, Pawsey WE, Cartes JE, Pinnegar JK, Moranta J (2001) Feeding relationships in Mediterranean bathyal assemblages elucidated by stable nitrogen and carbon isotope data. Mar Ecol Prog Series 220:13–23. https://doi.org/10.3354/meps220013

Pomeroy SB (1976) Goddesses, whores, wives and slaves: women in classical antiquity. Schocken Books, New York

Ponsich M, Tarradell M (1965) Garum et industries antiques de salaison dans la Méditerranée occidentale. Paris: Presses Universitaires de France

Prowse T, Schwarcz HP, Saunders S, Macchiarelli R, Bondioli L (2004) Isotopic paleodiet studies of skeletons from the Imperial Roman-age cemetery of Isola Sacra, Rome, Italy. J Archaeol Sci 31:259–272. https://doi.org/10.1016/j.jas.2003.08.008

Prowse TL, Schwarcz HP, Saunders SR, Macchiarelli R, Bondioli L (2005) Isotopic evidence for age-related variation in diet from Isola Sacra, Italy. Am J Phys Anthropol 128:2–13. https://doi.org/10.1002/ajpa.20094

Ramon Torres J, Lois Armada X, Rafel Fontanals N, Renzi M (2012) Protohistoric trade: on the record of the Northeastern Iberian peninsula and the circulation of lead ore in Ibiza and Baix Priorat (Tarragona province). Saguntum 43:55–81

Richards MP, Hedges REM, Molleson TI, Vogel JC (1998) Stable isotope analysis reveals variations in human diet at the Poundbury Camp cemetery. J Archaeol Sci 25:1247–1252

Rissech C, Pujol A, Christie N, Lloveras L, Richards MP, Fuller BT (2016) Isotopic reconstruction of human diet at the Roman site (1st-4th c. AD) of Carrer Ample 1, Barcelona, Spain. J Archaeol Sci Rep 9:366–374

Rutgers LV, van Strydonck M, Boudin M, van der Linde C (2009) Stable isotope data from the early Christian catacombs of ancient Rome: new insights into the dietary habits of Rome's early Christians. J Archaeol Sci 36(5):1127–1134

Salazar-García DC, Romero A, García-Borja P, Subirà ME, Richards MP (2016) A combined dietary approach using isotope and dental buccal-microwear analysis of human remains from the Neolithic, Roman and Medieval periods from the archaeological site of Tossal de les Basses (Alicante, Spain). J Archaeol Sci Rep 6:610–619

Saragoça P, Maurer AF, Šoberl L, da Conceição Lopes M, Alfenim R, Inês L, Umbelino C, Fernandes T, Valente MJ, Ribeiro S, Santos JF, Janeiro AI, Dias Barrocas C (2016) Stable isotope and multi-analytical investigation of Monte da Cegonha: A Late Antiquity population in southern Portugal. J of Archaeol Sci Rep 9:728-742

Schoeninger MJ (2010) Diet reconstruction and ecology using stable isotope ratios. In: Larsen CS (ed) A companion to biological anthropology. Wiley-Blackwell, Chichester, pp 445–464

Schoeninger MJ, DeNiro MJ (1984) Nitrogen and carbon isotopic composition of bone collagen from marine and terrestrial animals. Geochim Cosmochim Acta 48:625–639. https://doi.org/10.1016/0016-7037(84)90091-7

Schoeninger MJ, van der Merwe NJ, Moore K, Lee Thorp J, Larsen CS (1990) Decrease in diet quality between the Prehistoric and the Contact periods. In: Larsen CS (ed) The Archaeology of Mission Santa Catalina De Guale: 2. American Museum of Natural History, New York, pp 78–93

Sealy J (2001) Body tissue chemistry and paleodiet. In: Brothwell DR, Pollard AM (eds) Handbook of archaeological sciences. Wiley, Chichester, pp 269–279

Shepard J (2004) 'Mists and portals': the Black Sea's north coast. In Mango MM (ed.) Byzantine Trade, 4th–12th Centuries: The Archaeology of Local, Regional and International Exchange. Surrey: Ashgate, 421–441

Stenhouse MJ, Baxter MS (1979) The uptake of bomb 14C in humans. In Berger R and Suess HE (eds) Radiocarbon dating. Berkeley: 324–341

Tsutaya T, Yoneda M (2013) Quantitative reconstruction of weaning ages in archaeological human populations using bone collagen nitrogen isotope ratios and approximate Bayesian computation. PLoS One 8(8):e72327. https://doi.org/10.1371/journal.pone.0072327

Twiss K (ed) (2007) Archaeology of food and identity. Southern Illinois University, Chicago

Tykot RH (2004) Stable isotopes and diet: you are what you eat. In: Martini M, Milazzo M, Piacentini M (eds) Physics methods in archaeometry. Proceedings of the International School of Physics "Enrico Fermi" Course CLIV. IOS Press, Amsterdam, pp 433–444

Ubelaker DH, Parra RC (2011) Radiocarbon analysis of dental enamel and bone to evaluate date of birth and death: perspective from the southern hemisphere. Forensic Sci Int 208:103–107. https://doi.org/10.1016/j.forsciint.2010.11.013

Van Klinken GJ (1999) Bone collagen quality indicator for palaeodietary and radiocarbon measurements. J Archaeol Sci 26:687–695. https://doi.org/10.1006/jasc.1998.0385

Van Klinken GJ, Hedges REM (1995) Experiments on collagen-humic interactions: speed of humic uptake, and effects of diverse chemical treatments. J Archaeol Sci 22:263–270. https://doi.org/10.1006/jasc.1995.0028

Webb EC, Honch NV, Dunn PJH, Linderholm A, Eriksson G, Lidén K, Evershed RP (2016) Compound-specific amino acid isotopic proxies for distinguishing between terrestrial and aquatic resource consumption. Archaeol Anthropol Sci 10(1):16–18. https://doi.org/10.1007/s12520-015-0309-5

Woolf G, Gosden C (1997) Beyond romans and natives. World Archaeol 28:339–350. https://doi.org/10.1080/00438243.1997.9980352
Acknowledgements
Special thanks to Vana Kalenderian and Luis Manuel Gonzalez La Rosa for their support in the final stages of writing this manuscript. Also, we would like to thank the comments from anonymous reviewers who helped to greatly improve this article. Any faults or errors are our own.
Funding
This study received financial support from the School of History, Classics and Archaeology, University of Edinburgh; the Scotland Saltire Scholarship Foundation; and Trinity College, University of Toronto.
About this article
Cite this article
Alaica, A.K., Schalburg-Clayton, J., Dalton, A. et al. Variability along the frontier: stable carbon and nitrogen isotope ratio analysis of human remains from the Late Roman–Early Byzantine cemetery site of Joan Planells, Ibiza, Spain. Archaeol Anthropol Sci 11, 3783–3796 (2019). https://doi.org/10.1007/s12520-018-0656-0
Received:

Accepted:

Published:

Issue Date:
Keywords
Late Roman Ibiza

Gendered dietary difference

Mediterranean interaction