Abstract
The Guangala people of El Azúcar, located 25 km from the Ecuadorean coast, specialized on the production of beads and hunting for trade between approximately 150 BC and 370 AC. In this study, I analyzed the avian component of the zooarchaeological remains to examine patterns in resource use and paleoecological conditions during site occupancy. For comparison, I also identified the bird bones from three archeological sites in the Valdivia Valley, 38 km to the north. The composition of the avifauna at the El Azúcar site is highly unusual. Unlike at any other sites, including the Valdivia Village sites examined in this study, songbirds and small ground doves make up over 90% of all samples. The large number of songbirds and columbids is probably due to a combination of (1) taphonomy, (2) the use of 1/8 in. mesh for screening of sediments during excavation, and (3) local adaptations in resource use. Novel hypotheses regarding the exploitation of birds by the Guangala people of El Azúcar are presented. Most importantly, I posit that most birds were probably hunted by women and children in and around agricultural plots, perhaps by using fishing nets. The avifauna at El Azúcar and the Valdivia Village suggest that climate was variable, consistent with the expected impact of the El Niño Southern Oscillation on the Ecuadorian coast. These insights could not have been gained without the use of 1/8-in screens and species-level identifications of the zooarchaeological specimens.
This is a preview of subscription content, log in to check access.
Access options
Buy single article
Instant access to the full article PDF.
US$ 39.95
Price includes VAT for USA
Subscribe to journal
Immediate online access to all issues from 2019. Subscription will auto renew annually.
US$ 99
This is the net price. Taxes to be calculated in checkout.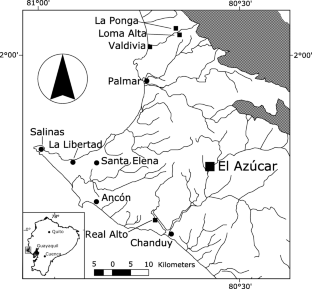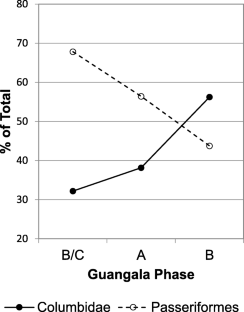 References
Athanas N, Greenfield PJ (2016) Birds of western Ecuador: a photographic guide. Princeton University Press, Princeton

Bailey RC, Aunger R (1989) Net hunters vs. archers: variation in women's subsistence strategies in the Ituri Forest. Hum Ecol 17:273–297

Binford MW, Kolata AL, Brenner M, Janusek JW, Seddon MT, Abbot M, Curtis JH (1997) Climate variation and the rise and fall of an Andean civilization. Quat Res 47:235–248

Byrd KM (1976) Changing animal utilization patterns and their implications: southwest Ecuador (6500 B.C.-A.D. 1400). Dissertation, University of Florida

Cooke R, Steadman DW, Jiménez M, Isaza-Aizpurúa I (2013) Pre-Columbian exploitation of birds around Panama Bay. In: Götz CM, Emery KF (eds) The archaeology of Mesoamerican animals. Lockwood Press, Atlanta, pp 479–530

Dodson CH, Gentry AH (1991) Biological extinction in western Ecuador. Ann Mo Bot Gard 78:273–295

Fernandes-Ferreira H, Veiga Mendonça S, Albano C, Silva Ferreira F, Nóbrega Alves RR (2012) Hunting, use and conservation of birds in Northeast Brazil. Biodivers Conserv 21:221–244. https://doi.org/10.1007/s10531-011-0179-9

Freile JF, Lesterhuis AJ, Clay RP (2016) Assessment of the distribution and status of the southern Pochard Netta e. erythrophthalma in South America. Wildfowl 66:3–21

Hames RB, Vickers WT (1982) Optimal diet breadth theory as a model to explain variability in Amazonian hunting. Am Ethnol 9:358–378

Hidalgo Nistri F (1998) Los antiguos paisajes forestales del Ecuador: una reconstrucción de sus primitivos ecosistemas, 2nd edn. Ediciones Abya-Yala, Quito

Kent AM, Webber T, Steadman DW (1999) Distribution, relative abundance, and prehistory of birds on the Taraco peninsula, Bolivian Altiplano. Ornitol Neotrop 10:151–178

Linares OF (1976) "Garden hunting" in the American tropics. Hum Ecol 4:331–349

Lupo KD, Schmitt DN (2002) Upper Paleolithic net-hunting, small prey exploitation, and women's work effort: a view from the ethnographic and ethnoarchaeological record of the Congo Basin. J Archaeol Method Theory 9:147–179

Marchant S (1958) The birds of Santa Elena peninsula, S. W. Ecuador. Ibis 100:349–387

Masucci MA (1992) Ceramic change in the Guangala phase, southwest Ecuador: a typology and chronology. Dissertation, University of Michigan

Masucci MA (1995) Marine shell bead production and the role of domestic craft activities in the economy of the Guangala phase, southwest Ecuador. Lat Am Antiq 6:70–84

Masucci MA, Macfarlane A (1997) An application of geological survey and ceramic petrology to provenance studies of Guangala phase ceramics of ancient Ecuador. Geoarchaeology 12:765–793

Moy CM, Seltzer GO, Rodbell DT, Anderson DM (2002) Variability of El Niño/southern oscillation activity at millennial timescales during the Holocene epoch. Nature 420:162–165

Pearsall DM (1988) La producción de alimentos en Real Alto: la aplicación de las técnicas etnobotánicas al problema de la subsistencia en el período formativo ecuatoriano. Biblioteca Ecuatoriana de Arqueología, vol 2. Corporación Editora Nacional, Quito

Piperno DR, Pearsall DM (1998) The origins of agriculture in the lowland Neotropics. Academic Press, San Diego

Quitmyer IR (2004) What kind of data are in the back dirt? An experiment on the influence of screen size on optimal data recovery. Archaeofauna 13:109–129

Redford KH, Robinson JG (1987) The game of choice: patterns of indian and colonist hunting in the Neotropics. Am Anthropol 89:650–667

Reitz EJ, Masucci MA (2004) Guangala fishers and farmers: a case study of animal use at El Azúcar, southwestern Ecuador. University of Pittsburgh Press, Pittsburgh

Ridgely RS, Greenfield PJ (2001a) The birds of Ecuador, volume 1: status, distribution and taxonomy. Cornell University Press, Ithaca

Ridgely RS, Greenfield PJ (2001b) The birds of Ecuador, volume 2: field guide. Cornell University Press, Ithaca

Satterthwait L (1987) Socioeconomic implications of Australian aboriginal net hunting. Man 22:613–636

Shaffer BS, Gardner KM, Baker BW (1996) Prehistoric small game snare trap technology, deployment strategy, and trapper gender depicted in Mimbres pottery. J Ethnobiol 16:145–155

Sierra R, Cerón C, Palacios W, Valencia R (1999) Mapa de vegetación del Ecuador continental. Escala 1:1′000.000. Proyecto INEFAN/GEF-BIRF, Wildlife Conservation Society and EcoCiencia, Quito

Sierra R, Campos F, Chamberlin J (2002) Assessing biodiversity conservation priorities: ecosystem risk and representativeness in continental Ecuador. Landsc Urban Plan 59:95–110

Soffer O (2004) Recovering perishable technologies through use wear on tools: preliminary evidence for upper Paleolithic weaving and net making. Curr Anthropol 45:407–413

Stahl PW (1991) Arid landscapes and environmental transformations in ancient southwestern Ecuador. World Archaeol 22:346–359

Stahl PW (2000) Archaeofaunal accumulation, fragmented forests, and anthropogenic landscape mosaics in the tropical lowlands of prehistoric Ecuador. Lat Am Antiq 11:241–257

Stahl PW (2003) The zooarchaeological record from formative Ecuador. In: Raymond JS, Burger RL (eds) Archaeology of formative Ecuador. Dumbarton Oaks Research Library and Collection, Washington, pp 175–212

Steadman DW, Tellkamp MP, Wake TA (2003) Prehistoric expoitation of birds on the Pacific coast of Chiapas, Mexico. Condor 105:572–579

Stothert KE (1997) Un sitio de Guangala Temprano en el suroeste del Ecuador, 2nd edn. Banco Central del Ecuador, Guayaquil

Stotz DF, Fitzpatrick JW, Parker TA, Moskovits DK (1996) Neotropical birds: ecology and conservation. University of Chicago Press, Chicago

Tellkamp MP (2005) Prehistoric exploitation and biogeography of birds in coastal and Andean Ecuador. Dissertation, University of Florida

Tellkamp MP (2014) Habitat change and trade explain the bird assemblage from the La Chimba archaeological site in the northeastern Andes of Ecuador. Ibis 156:812–825

Ubelaker DH (1997) Restos humanos esqueléticos de OGSE-MA-172, un sitio Guangala Temprano en la costa del Ecuador, 2nd edn. Banco Central del Ecuador, Guayaquil

Ugan A (2005) Does size matter? Body size, mass collecting, and their implications for understanding prehistoric foraging behavior. Am Antiq 70:75–89

Veintimilla CI (2000) Reconstrucción paleo-ambiental y evolución agrícola en el valle del Río Jama, Provincia de Manabí, Ecuador. Misc Antropol Ecuat 9:135–151

Zeidler JA (2003) Appendix a: formative period chronology for the coast and western lowlands of Ecuador. In: Raymond JS, Burger RL (eds) Archaeology of formative Ecuador. Dumbarton Oaks Research Library and Collection, Washington, pp 487–527
Acknowledgments
I thank D. Steadman for guidance during the study. B. K. McNab, N. Williams, S. deFrance, and M. Binford provided valuable comments throughout. Two anonymous reviewers greatly helped improve the manuscript. For assistance with archeological specimens and morphometric measurements, I am grateful to I. Ulloa and L. Bianco. I. Quitmyer was my guide through the Environmental Archeology Collection at the Florida Museum of Natural History. Finally, I would like to thank D. Steadman (Florida Museum of Natural History) and V. Remsen (Louisiana State University Museum of Natural History) for the access to comparative osteological material without which this study would not have been possible.
Additional information
Publisher's note
Springer Nature remains neutral with regard to jurisdictional claims in published maps and institutional affiliations.
This article is part of the Topical Collection on Avian Zooarchaeology: Prehistoric and Historical Insights
Electronic supplementary material
About this article
Cite this article
Tellkamp, M.P. A story told from a small-mesh screen: the importance of songbirds and ground doves to the Guangala people at the El Azúcar archeological site in coastal Ecuador. Archaeol Anthropol Sci 11, 6411–6421 (2019). https://doi.org/10.1007/s12520-018-00772-6
Received:

Accepted:

Published:

Issue Date:
Keywords
Guangala

Garden hunting

Net-hunting

Small-meshed screens

Songbirds

Ground doves

Climate variability