Abstract
Hard animal materials were key components of prehistoric daily life, with many such raw materials shaped into diverse tool types and personal ornaments. With few exceptions, outside of the far south and north of Africa, osseous artefacts have been largely understudied on the continent, with this situation particularly applying to pastoralist contexts. Well-documented worked bone, ivory, or ostrich eggshell (OES) assemblages tend to be associated with hunter-gatherers and are generally interpreted with reference to contemporary hunter-gatherer toolkits. Study of osseous and OES technologies used by ancient or modern pastoralist populations, on the other hand, remains in its infancy. In this paper, we present an analysis of 14 worked bone, ivory, and OES artefacts from the Pastoral Neolithic site of Luxmanda located in north-central Tanzania. We apply technological trace analysis to understand histories of manufacture, use, and discard and compare our findings against the corpus of osseous and eggshell technologies recovered from terminal Pleistocene through Holocene sites of eastern Africa, providing a synthesis of this region for the first time. Finally, we explore the limited record for comparable technologies in recent pastoralist communities and argue that forager/food producer distinctions based on organic technologies are neither present nor meaningful based on current evidence.
This is a preview of subscription content, log in to check access.
Access options
Buy single article
Instant access to the full article PDF.
US$ 39.95
Price includes VAT for USA
Subscribe to journal
Immediate online access to all issues from 2019. Subscription will auto renew annually.
US$ 99
This is the net price. Taxes to be calculated in checkout.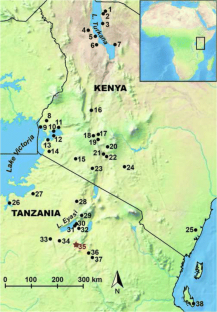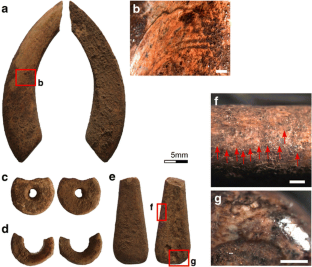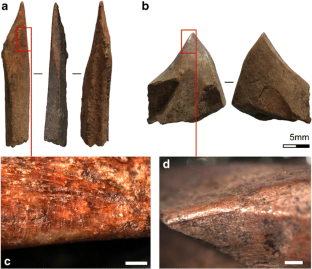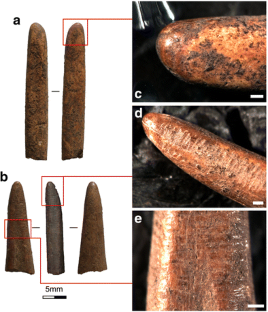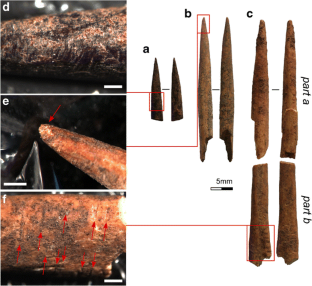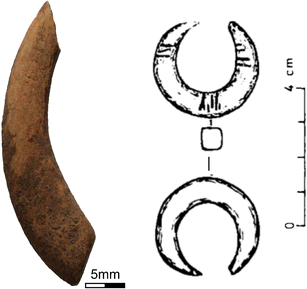 Notes
1.

"cal BP" indicates a calibrated date before present. Dates from Luxmanda were calibrated using the SHCal13 curve (Hogg et al. 2013), and uncalibrated dates are presented in Grillo et al. (in press).
References
Ambrose SH (1984) The introduction of pastoral adaptations to the highlands of East Africa. In: Clark J, Brandt SA (eds) From hunters to farmers: the causes and consequences of food production in Africa. University of California Press, Berkeley, pp 212–239

Ambrose SH (1998) Chronology of the Later Stone Age and food production in East Africa. J Archaeol Sci 25:377–392

Antonites AR, Bradfield J, Forssman T (2016) Technological, functional and contextual aspects of the K2 and Mapungubwe worked bone industries. Afr Archaeol Rev 33(4):437–463

Arkell AJ (1953) Shaheinab: an account of the excavation of a Neolithic occupation site carried out for the Sudan Antiquities Service in 1940–50. London, New York

Arndt S, Newcomer MH (1986) Breakage patterns on prehistoric bone points: an experimental study. In: Roe DA (ed) Studies in the Upper Palaeolithic of Britain and Northwestern Europe, vol 269. British archaeological reports, international series, Oxford, pp 165–173

Ashley CZ, Grillo KM (2015) Archaeological ceramics from eastern Africa: past approaches and future directions. Azania 50(4):460–480

Barthelme J (1985) Fisher-hunters and Neolithic pastoralists in East Turkana, Kenya, vol 254. B.A.R. International Series, Oxford

Beyin A, Prendergast ME, Grillo KM, Wang H (2017) New radiocarbon dates for terminal Pleistocene and early Holocene settlements in West Turkana, northern Kenya. Quat Sci Rev 168:208–215

Blackburn R (1973) Okiek ceramics: evidence for central Kenyan prehistory. Azania 8:55–70

Bleek DF (1928) The Naron: a Bushman tribe of the Central Kalahari. Cambridge University Press, Cambridge

Bower J, Nelson CM, Waibel AF, Wandibba S (1977) The University of Massachusetts' Later Stone Age/Pastoral Neolithic Comparative Study in Central Kenya: an overview. Azania 12:119–146

Bradfield J (2012a) A comparison of three Later Stone Age bone point assemblages from South Africa. S Afr Archaeol Bull 67:32–45

Bradfield J (2012b) Macrofractures on bone-tipped arrows: analysis of hunter-gatherer arrows in the Fourie collection from Namibia. Antiquity 86:1179–1191

Bradfield J, Brand T (2015) Results of utilitarian and accidental breakage experiments on bone points. Archaeol Anthropol Sci 7:27–38

Bradfield J, Choyke AM (2016) Bone technology in Africa. In: Selin H (ed) Encyclopaedia of the history of science, technology, and medicine in non-western cultures. Springer Netherlands, Dordrecht, pp 1–14

Bradfield J, Lombard M (2011) A macrofracture study of bone points used in experimental hunting with reference to the South African Middle Stone Age. S Afr Archaeol Soc 66:67–76

Bradfield J, Holt S, Sadr K (2009) The last of the LSA on the Makgabeng Plateau, Limpopo Province. S Afr Archaeol Bull 64:176–183

Buc N (2011) Experimental series and use-wear in bone tools. J Archaeol Sci 38:546–557

Buc N, Loponte D (2007) Bone tool types and microwear patterns: some examples from the Pampa Region, South America. In: Gates St-Pierre C, Walker RB (eds) Bones as tools: current methods and interpretations in worked bone studies. BAR International Series, British Archaeological Reports, Oxford, pp 143–157

Chami FA (ed) (2009) Zanzibar and the Swahili coast from c. 30,000 years ago. E&D Vision Publishing, Dar es Salaam

Choyke AM (2008) Bone technology in Africa. In: Selin H (ed) Encyclopaedia of the history of science, technology, and medicine in non-western cultures. Springer Netherlands, Dordrecht, pp 20–25

Clarke R (1968) A reappraisal of the 'worked' bones from Lanet. Azania 3:195

Collett D, Robertshaw P (1983) Pottery traditions of early pastoral communities in Kenya. Azania 18:107–125

Conard NJ (2005) An overview of the pattern of behavioral change in Africa and Eurasia. In: D'Errico F, Backwell L (eds) From tools to symbols: from early hominids to modern humans. Witwatersrand University Press, Johannesburg, pp 294–332

Crowther A, Prendergast ME, Fuller DQ, Boivin N (2017) Subsistence mosaics, forager-farmer interactions, and the transition to food production in eastern Africa. Quat Int. doi:10.1016/j.quaint.2017.01.014

d'Errico F, Backwell L (2003) Possible evidence of bone tool shaping by Swartkrans early hominids. J Archaeol Sci 30:1559–1576

d'Errico F, Henshilwood CS (2007) Additional evidence for bone technology in the southern African Middle Stone Age. J Hum Evol 52:142–163

d'Errico F, Giacobini G, Puech FF (1984) Varnish replicas: a new method for studying worked bone surfaces. OSSA Int J Skeletal Res 9(10):29–51

d'Errico F, Backwell L, Villa P, Degano I, Lucejko JJ, Bamford MK, Higham TFG, Colombini MP, Beaumont PB (2012a) Early evidence of San material culture represented by organic artefacts from Border Cave, South Africa. Proc Nat Acad Sci 109:13214–13219

d'Errico F, Backwell L, Wadley L (2012b) Identifying regional variability in Middle Stone Age bone technology: the case of Sibudu Cave. J Archaeol Sci 39:2479–2495

Dale S (2007) An archaeological investigation of the Kansyore, Later Stone Age hunter-gatherers in East Africa. Dissertation, Washington University in St. Louis

Deacon J (1984) Later Stone Age of southernmost Africa. Cambridge monographs in African archaeology 12. British Archaeological Reports, Oxford

Dobbs CM (1928) Fishing in the Kavirondo Gulf, Lake Victoria. J East Afr Uganda Nat Hist Soc 30:97–109

Dornan SS (1925) Pygmies and Bushman of the Kalahari. Seeley Service, London

Evans-Pritchard EE (1940) The Nuer: a description of the modes of livelihood and political institutions of a Nilotic people. Clarendon Press, Oxford

Fischer A, Vemming Hansen P, Rasmussen P (1984) Macro and micro wear traces on lithic projectile points: experimental results and prehistoric examples. J Dan Archaeol 3:19–46

Gabel C (1969) Six rockshelters on the northern Kavirondo shore of Lake Victoria. Afr Hist Stud II:205–254

Gifford-Gonzalez D (1998a) Gender and early pastoralists in East Africa. In: Kent S (ed) Gender in African prehistory. Walnut Creek, Altamira, pp 115–137

Gifford-Gonzalez D (1998b) Early pastoralists in East Africa: ecological and social dimensions. J Anthropol Archaeol 17:166–200

Gifford-Gonzalez D (2014) Constructing community through refuse disposal. Afr Archaeol Rev 31(2):339–382

Goldstein ST, Shaffer CM (2016) Experimental and archaeological investigations of backed microlith function among Mid-to-Late Holocene herders in southwestern Kenya. Archaeol Anthropol Sci: 1–22. doi:10.1007/s12520-016-0329-9

Goodwin A (1945) Some historical Bushman arrows. S Afr J Sci 41:429–443

Graham M (1920) The Victoria Nyanza and its fisheries. Crown Agents for the Colonies, London

Gramly RM (1975) Pastoralists and hunters: recent prehistory in southern Kenya and northern Tanzania. Dissertation, Harvard University

Grillo KM (2012) The materiality of mobile pastoralism: ethnoarchaeological perspectives from Samburu, Kenya. Dissertation, Washington University in St Louis

Heckel C (2009) Physical characteristics of mammoth ivory and their implications for ivory work in the Upper Paleolithic. Mitteilungen der Gesellschaft fur Urgeschichte 18:71–91

Helm R (2000) Conflicting histories: the archaeology of the iron-working, farming communities in the central and southern coast region of Kenya. Unpublished PhD Thesis, University of Bristol, Bristol

Hildebrand EA, Shea JJ, Grillo KM (2011) Four middle Holocene pillar sites in West Turkana. Kenya J Field Archaeol 36(3):181–200

Hivernel F (1983) Excavations at Ngenyn (Baringo District, Kenya). Azania 18(1):45–79

Hogg AG, Hua Q, Blackwell PG, Niu M, Buck CE, Guilderson TP, Heaton TJ, Palmer JG, Reimer PJ, Reimer RW, Turney CSM, Zimmerman SRH (2013) SHCal13 southern hemisphere calibration, 0-50,000 years cal BP. Radiocarbon 55(4)

Hollis AC (1905) The Masai: their language and folklore. Clarendon Press, Oxford

Ikeda J (1967) Annual report of the Antiquities Department for the year 1967, Dar es Salaam

Inskeep R (1962) The age of the Kondoa rock paintings in the light of recent excavations at Kisese II rock shelter. In: Mortelmans G, Nenquin J (eds) Actes du IVe Congrès panafricain de préhistoire et l'étude du quaternaire. Musée Royal de l'Afrique Centrale, Tervuren, pp 249–256

Jacobson L (1987a) The size variability of ostrich eggshell beads from Central Namibia and its relevance as a stylistic and temporal marker. S Afr Archaeol Bull 42:55–58

Jacobson L (1987b) More on ostrich eggshell bead size variability: the Geduld early herder assemblage. S Afr Archaeol Bull 42:174–175

Kandel AW, Conard NJ (2005) Production sequences of ostrich eggshell beads and dynamics in the Geelbek Dunes of the Western Cape, South Africa. J Archaeol Sci 32:1711–1721

Kinahan J (1995) Much ado about herding at Geduld: a response to Smith and Jacobson. S Afr Archaeol Bull 50:176–177

Kinahan J (1996) Alternative views on the acquisition of livestock by hunter-gatherers in southern Africa: a rejoinder to Smith, Yates and Jacobson. S Afr Archaeol Bull 51:106–108

Klumpp D, Kratz C (1993) Aesthetics, expertise and ethnicity: Okiek and Maasai perspectives on personal ornament. In: Spear T, Waller R (eds) Being Maasai: ethnicity and identity in East Africa. East African Educational Publishers, Nairobi, pp 195–221

Knecht H (1991) Technological innovation and design during the early Upper Paleolithic: a study of organic projectile technologies. Dissertation, New York University

Kobusiewicz M, Kabacinski J, Schild R, Irish JD, Wendorf F (2009) Burial practices of the Final Neolithic pastoralists at Gebel Ramlah, Western Desert of Egypt. Br Mus Stud Anc Egypt Sudan 13:147–174

Kohl-Larsen L (1943) Auf den Spuren des Vormenschen. Strecker und Schröeder Verlag, Stuttgart

Kratz C, Pido D (2000) Gender, ethnicity & social aesthetics in Maasai & Okiek beadwork. In: Hodgson D (ed) Rethinking pastoralism in Africa. James Currey, Oxford, pp 43–71

Kusimba C, Kusimba S (2005) Mosaics and interactions: East Africa, 2000 B.P. to the present. In: Stahl A (ed) African archaeology: a critical introduction. Blackwell, Oxford, pp 392–419

Lane P (2013) Trajectories to pastoralism in northern and central Kenya: an overview of the archaeological and environmental evidence. In: Bollig M, Schnegg M, Wotzka H-P (eds) Pastoralism in Africa: past, present and future. Berghahn, Oxford, pp 105–143

Langley MC, Prendergast ME, Shipton C, Quintana Morales EM, Crowther A, Boivin N (2016) Poison arrows and bone utensils in late Pleistocene eastern Africa: evidence from Kuumbi Cave, Zanzibar. Azania 51(2):155–177

Leakey LSB (1931) The Stone Age cultures of Kenya Colony. Cambridge University Press, London

Leakey MD (1945) Report on the excavations at Hyrax Hill, Nakuru, Kenya Colony, 1937–8. T Roy Soc S Afr 30(4):271–409

Leakey MD (1966) Excavation of burial mounds in Ngorongoro Crater. Tanzan Notes Rec 66:123–135

Leakey MD, Leakey LSB (1950) Excavations at the Njoro River Cave. Clarendon Press, Oxford

Locke M (2008) Structure of ivory. J Morphol 269:423–450

Mabulla AZP (1996) Middle and Later Stone Age land use and lithic technology in the Eyasi basin, Tanzania. Dissertation, University of Florida

MacGregor A (1985) Bone, antler, ivory and horn: the technology of skeletal materials since the Roman period. Croom Helm, Sydney

Marlowe FW (2010) The Hadza: hunter-gatherers of Tanzania. University of California Press, Berkeley

Marshall F, Grillo KM, Arco L (2011) Prehistoric pastoralists and social responses to climatic risk in East Africa. In: Miller N, Moore K, Ryan K (eds) Sustainable lifeways: cultural persistence in an ever-changing environment. University of Pennsylvania Museum of Archaeology and Anthropology, Philadelphia, pp 38–73

Masao FT (1976) The Later Stone Age and the rock paintings of Central Tanzania. Dissertation, Simon Fraser University

McBrearty S, Brooks AS (2000) The revolution that wasn't: a new interpretation of the origin of modern human behavior. J Hum Evol 39:453–563

Mehlman MJ (1989) Later quaternary archaeological sequences in northern Tanzania. Dissertation, University of Illinois at Urbana-Champaign

Miller J, Werner JJ (2017) You know the drill: a new method of differentiating stone age bead making techniques. Paper presented to the Palaeoanthropology Society Annual Meeting, Vancouver, 28–29th March 2017

Miller JM, Willoughby PR (2014) Radiometrically dated ostrich eggshell beads from the Middle and Later Stone Age of Magubike Rockshelter, southern Tanzania. J Hum Evol 74:118–122

Nakamura KM (2005) Adornments of the Samburu in Northern Kenya: a comprehensive list. Center for African Area Studies, Kyoto University

Nelson C (1973) A comparative analysis of Later Stone Age occurrences in East Africa. Dissertation, University of California-Berkeley

Nelson CM (1995) The work of the Koobi Fora Field School at the Jarigole pillar site. Kenya Past and Present 27:49–63

Newcomer MH (1974) Study and replication of bone tools from Tsar Akil (Lebanon). World Archeol 6:138–153

Odner K (1971) An archaeological survey of Iramba, Tanzania. Azania 6(1):151–198

Odner K (1972) Excavations at Narosura, a stone bowl site in the southern Kenya highlands. Azania 7:25–92

Orton J (2008) Later Stone Age ostrich eggshell bead manufacture in the Northern Cape, South Africa. J Archaeol Sci 35:1765–1775

Pargeter J, Bradfield J (2012) The effects of class I and II sized bovids on macrofracture formation and tool displacement: results of a trampling experiment in a southern African Stone Age context. J Field Archaeol 37:238–251

Parsons I, Lombard M (2017) The power of women in dairying communities of eastern and southern Africa. Azania 52(1):33–48

Pétillon JM (2006) Des Magdaleniens en Arms : Technologie des armatures de projectile en bois de cervide du Magdalenien Superieur de la Grotte d'Isturitz (Pyrenées-Atlantiques). Centre d'Etudes et de Documentation Archeologiques, Treignes

Phillipson DW (1977) Lowasera. Azania 12:1–32

Posnansky M (1967) Excavations at Lanet, Kenya, 1957. Azania 2(1):89–114

Prendergast ME (2008) Forager variability and transitions to food production in secondary settings: Kansyore and Pastoral Neolithic economies in East Africa. Dissertation, Harvard University

Prendergast ME (2011) Hunters and herders at the periphery: the spread of herding in eastern Africa. In: Jousse H, Lesur J (eds) People and animals in Holocene Africa: recent advances in archaeozoology. Africa Magna Verlag, Frankfurt, pp 43–58

Prendergast ME, Lane PJ (2010) Middle Holocene fishing strategies in East Africa: zooarchaeological analysis of Pundo, a Kansyore shell midden in northern Nyanza (Kenya). Int J Osteoarchaeol 20(1):88–112

Prendergast ME, Mutundu KK (2009) Late Holocene zooarchaeology in East Africa: ethnographic analogues and interpretive challenges. Documenta Archaeobiologiae 7:203–232

Prendergast ME, Luque L, Domínguez-Rodrigo M, Diez-Martín F, Mabulla AZP, Barba R (2007) New excavations at Mumba Rockshelter (Tanzania). J Afr Archaeol 5(2):163–189

Prendergast ME, Mabulla AZP, Grillo KM, Broderick LG, Seitsonen O, Gidna AO, Gifford-Gonzalez D (2013) Pastoral Neolithic sites on the southern Mbulu Plateau, Tanzania. Azania 48(4):498–520

Prendergast ME, Grillo KM, Mabulla AZP, Wang H (2014) New dates for Kansyore and Pastoral Neolithic ceramics in the Eyasi Basin, Tanzania. J Afr Archaeol 12(1):89–98

Robbins LH (1974) The Lothagam site. Publications of the Museum, Michigan State University, Anthropology Series, East Lansing

Robbins LH (1980) Lopoy: a Late Stone Age fishing and pastoralist settlement in the Lake Turkana Basin, Kenya, vol 3. Michigan State University Museum, East Lansing

Robertshaw P (1988) The Elmenteitan: an early food-producing culture in East Africa. World Archaeol 20(1):57–69

Robertshaw P (1991) Gogo Falls: excavations at a complex archaeological site east of Lake Victoria. Azania 26:63–195

Robertshaw P, Collett D, Gifford D, Mbae NB (1983) Shell middens on the shores of Lake Victoria. Azania 18:1–43

Russell T, Lander F (2015) 'What is consumed is wasted': from foraging to herding in the southern African Later Stone Age. Azania 50(3):267–317

Sadr K, Smith A, Plug I, Orton J, Mütti B (2003) Herders and foragers on Kasteelberg: interim report of excavations 1999–2002. S Afr Archaeol Bull 58:27–32

Sassoon H (1968) Excavation of burial mound in Ngorongoro Crater. Tanzan Notes Rec 69:15

Schrire C (1992) The archaeological identity of hunters and herders at the Cape over the last 2000 years: a critique. S Afr Archaeol Bull 47:62–64

Smith AB (1998) Keeping people on the periphery: the ideology of social hierarchies between hunters and herders. J Anthropol Archaeol 17:201–215

Smith AB, Poggenpoel C (1988) The technology of bone tool fabrication in the south-western Cape, South Africa. World Archaeol 20:103–115

Smith AB, Sadr K, Gribble J, Yates R (1991) Excavations in the south-western Cape, South Africa, and the archaeological identity of prehistoric hunter-gatherers within the last 2000 years. S Afr Archaeol Bull 46:71–91

Smith AB, Yates R, Miller D, Jacobson L, Evans G (1995) Excavations at Geduld and the appearance of early domestic stock in Namibia. S Afr Archaeol Bull 50:3–20

Smith AB, Halkett D, Hart T, Mütti B (2001) Spatial patterning, identity and site integrity on open sites: evidence from Bloeddrift 23, a pre-colonial herder camp in the Richtersveld, northern Cape Province, South Africa. S Afr Archaeol Bull 56:23–33

Straight B (2005) Cutting time: beads, sex, and songs in the making of Samburu memory. In: James W, Mills D (eds) The qualities of time: anthropological approaches, pp 267–83

Tyzzer EE (1936) The "simple bone point" of the shell-heaps of the northeastern Algonkian area and its probable significance. Am Antiq 1:261–279

van Doornum B (2007) Tshisiku Shelter and the Shashe-Limpopo confluence area hunter-gatherer sequence. South Afr Humanit 19:17–67

van Doornum B (2008) Sheltered from change: hunter-gatherer occupation of Balerno Main Shelter, Shashe-Limpopo confluence area, South Africa. South Afr Humanit 20:249–284

van Doornum B (2014) Balerno Shelter 3: a Later Stone Age site in the Shashe-Limpopo confluence area, South Africa. South Afr Humanit 26:129–155

Villa P, d'Errico F (2001) Bone and ivory points in the Lower and Middle Palaeolithic of Europe. J Hum Evol 41:69–112

Voigt EA (1983) Mapungubwe: an archaeozoological interpretation of an Iron Age community. Transvaal Museum Monographs

Walker NJ (1983) The significance of an early date for pottery and sheep in Zimbabwe. S Afr Archaeol Bull 38:88–92

Walker NJ (1994) The Late Stone Age of Botswana: some recent excavations. Botsw Notes Rec 26:1–35

Walker NJ (1995) Late Pleistocene and Holocene hunter-gatherers of the Matopos: an archaeological study of change and continuity in Zimbabwe. Societas Archaeological Upsaliensis, Uppsala

Wandibba S (1980) The application of attribute analysis to the study of later stone age/Neolithic ceramics. In: Leakey RE, Ogot BA (eds) Proceedings of the Eighth Panafrican Congress of Prehistory and Quaternary Studies. TILLMIAP, Nairobi, pp 283–285

Woodburn J (1970) Hunters and gatherers: the material culture of the nomadic Hadza. Trustees of the British Museum, London

Yaroshevich A, Kaufman D, Nuzhnyy D, Bar-Yosef O, Weinstein-Evron M (2010) Design and performance of microlithic implemented projectiles during the Middle and Late Epipaleolithic of the Levant: experimental and archaeological evidence. J Archaeol Sci 37:368–388

Yellen J (1998) Barbed bone points: tradition and continuity in Saharan and sub-Saharan Africa. Afr Archaeol Rev 15:173–198
Acknowledgements
Fieldwork at Luxmanda was conducted in collaboration with Drs. Audax Mabulla and Agness Gidna of the National Museum of Tanzania. Permits were granted by the Tanzanian Commission for Science and Technology (COSTECH 2013-196-NA-2012-50, 2015-119-ER-2012-50) and the Antiquities Division (Ministry of Natural Resources and Tourism). The 2013 season was supported by grants to MEP by the National Geographic Society (9059-12) and to MEP and A. Mabulla by the Wenner-Gren Foundation (ICRG-111). The 2015 season was supported by a Faculty Research Grant to KMG and support from the College of Liberal Studies at the University of Wisconsin-La Crosse. MEP was supported by the Wenner-Gren Foundation Hunt Postdoctoral Fellowship and by the Radcliffe Institute for Advanced Study during the writing of this paper. We are particularly grateful to our hosts in the village of Luxmanda. We thank Steven Goldstein for comments on an early draft of this manuscript and Peter Robertshaw for permission to reproduce his drawing. We gratefully acknowledge two anonymous reviewers for their constructive comments on this paper. All errors or omissions are our own.
Electronic supplementary material
About this article
Cite this article
Langley, M.C., Prendergast, M.E. & Grillo, K.M. Organic technology in the Pastoral Neolithic: osseous and eggshell artefacts from Luxmanda, Tanzania. Archaeol Anthropol Sci 11, 1–14 (2019). https://doi.org/10.1007/s12520-017-0528-z
Received:

Accepted:

Published:

Issue Date:
Keywords
Bone technology

Worked bone

Ivory

OES

Ornamentation

Projectile technology

Pastoralism

East Africa