Abstract
Dung has been a very important material in human history. To date, large portions of the world rural population continue using it as construction material, fuel, and fertilizer. A few ethnographic and archeological studies show that dung has also been used for ritual practices in domestic and sacred places. Nevertheless, finding unambiguous evidence of ceremonial use of dung in the archeological record is a major methodological challenge. In fact, the use of dung for domestic purposes such as flooring, plastering, and fueling may produce evidence similar to ritual practices. Correct contextualization of the evidence is thus paramount for the identification of the use of dung in ritual practice and resolve any equifinality derived from other activities. Ethnographic studies of domestic and ritual use of dung may provide the isolation of contextual and analytical parameters useful for the identification of ceremonial use of dung in antiquity. The aim of this paper is hence the geo-ethnoarchaeological characterization of the dung floor built according to the Tswana people tradition in the Moffat Mission Church in Kuruman, South Africa. Macroscopic and microscopic geo-archeological parameters such as erosion features, slope angle, microfabric organization, mineral and organic composition, and relative sorting and orientation of plant fragments are described. The significance of these parameters for the identification of archeological dung floors in domestic and sacred space is discussed. Particularly significant appears to be the particle size distribution and orientation of the dung fibers. In the Tswana floor, these fabric characteristics are very distinct when compared to the one described for livestock enclosure in other ethnographic and archeological contexts. Nevertheless, no clear-cut distinction between the use of dung in domestic and ritual spaces can be achieved solely through the compositional analysis. On the other hand, to be noted is the peculiar shallow-channeled topography of the church floor originated from foot traffic "channeled" along constrained pathways delineated by the immovable disposition of the church's furniture and ceremonial routines. It thus appears that the possibility of mapping erosional patterns of archeological floors (in addition to their compositional analysis) may offer archeologists an extra tool to distinguish between (dung) floors of ceremonials contexts and of domestic environments.
Access options
Buy single article
Instant access to the full article PDF.
USD 39.95
Price excludes VAT (USA)
Tax calculation will be finalised during checkout.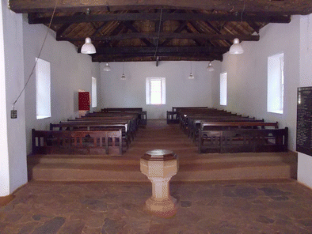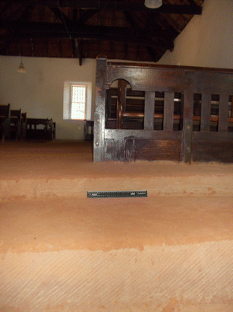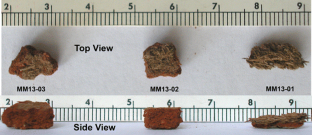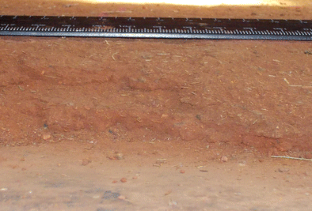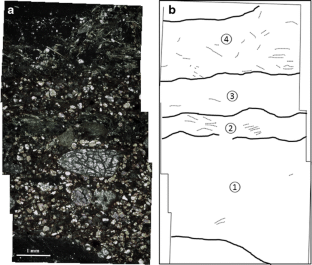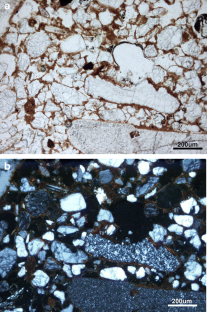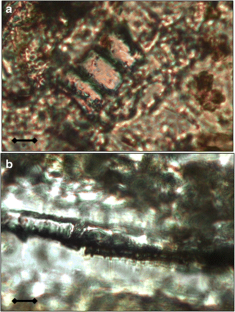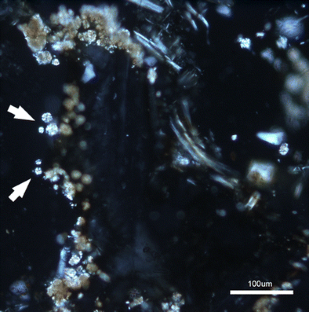 References
Albert RM, Shahack-Gross R, Cabanes D, Gilboa A, Lev-Yadun S, Portillo M, Sharon I, Boaretto E, Weiner S (2008) Phytolith-rich layers from the late bronze and iron ages at Tel dor (Israel): mode of formation and archaeological significance. J Archaeol Sci 35:57–75

Banerjea RY, Bell M, Matthews W, Brown A (2015) Applications of micromorphology to understanding activity areas and site formation processes in experimental hut floors. Archaeol Anthropol Sci 7(1):89–112

Braadbaart F, Poole I, Huisman HDJ, van Os B (2012) Fuel, fire and heat: an experimental approach to highlight the potential of studying ash and char remains from archaeological contexts. J Archaeol Sci 39(4):836–847

Bull ID, Simpson IA, van Bergen PF, Evershed RP (1999) Muck "n" molecules: organic geochemical methods for detecting ancient manuring. Antiquity 73:86–96

Canti MG (1997) An investigation of microscopic calcareous spherulites from herbivore dungs. J Archaeol Sci 24:219–231

Canti MG (1998) The micromorphological identification of faecal spherulites from archaeological and modern materials. J Archaeol Sci 25(5):435–444

Gé T, Courty MA, Matthews W, Wattez J (1993) Sedimentary formation processes of occupation deposits. In: Goldberg P, Nash DT, Petraglia MD (eds) Formation processes in archaeological context volume 17. Prehistory Press, Madison

Gilboa A, Sharon I (2003) An archaeological contribution to the early iron age chronological debate: alternative chronologies for Phoenicia and their effects on the Levant. Cyprus, and Greece, Bulletin of the American Schools of Oriental Research 332:7–80

Goren Y, Goldberg P (1991) Special studies: petrographic thin sections and the development of Neolithic plaster production in northern Israel. Journal of Field Archaeology 18(1):131–140

Friesem D, Karkanas P, Tsartsidou G, Shahack-Gross R (2014) Sedimentary processes involved in mud brick degradation in temperate environments: a micromorphological approach in an ethnoarchaeological context in northern Greece. J Archaeol Sci 41:556–567

Goldberg P, Macphail R (2006) Practical and theoretical geoarchaeology. Blackwell Publishing, Oxford, 472 pp

Gur-Arieh S, Mintz E, Boaretto E, Shahack-Gross R (2013) An ethnoarchaeological study of cooking installations in rural Uzbekistan: development of a new method for identification of fuel sources. J Archaeol Sci 40(12):4331–4347

Gur-Arieh S, Shahack-Gross R, Maeir AM, Lehmann G, Hitchcock LA, Boaretto E (2014) The taphonomy and preservation of wood and dung ashes found in archaeological cooking installations: case studies from iron age Israel. J Archaeol Sci 46:50–67

Hastorf CA, Wright MF (1998) Interpreting wild seeds from archaeological sites, a dung charring experiment from the Andes. J Ethnobiol 18(2):211–227

Huffman TN, Elburg M, Watkeys M (2013) Vitrified cattle dung in the iron age of southern Africa. J Archaeol Sci 40(10):3553–3560

Johansen PG (2004) Landscape, monumental architecture, and ritual: a reconsideration of the South Indian ashmounds. J Anthropol Archaeol 23:309–330

Jones R (ed) (2012) Manure matters: historical, archaeological and ethnographic perspectives. Ashgate, Aldershot

Kühn M, Maier U, Herbig C, Ismail-Meyer K, Le Bailly M, Wick L (2013) Methods for the examination of cattle, sheep and goat dung in prehistoric wetland settlements with examples of the sites Alleshausen-Taeschenwiesen and Alleshausen-Grundwiesen (around cal 2900 BC) at Lake Federsee, south-West Germany. Environ Archaeol 18:43–57

Lancelotti C, Madella M (2012) The "invisible" product: developing markers for identifying dung in archaeological contexts. J Archaeol Sci 39(4):953–963

Leslie J (1992) Roles and rituals for Hindu women. Motilal Banarsidass Publ, New Dehli 167 pp

Linseele V, Riemer H, Baeten J, De Vos D, Marinova E, Ottoni C (2013) Species identification of archaeological dung remains: a critical review of potential methods. Environ Archaeol 18:5–17

Macphail RI, Cruise GM, Allen MJ, Linderholm J, Reynolds P (2004) Archaeological soil and pollen analysis of experimental floor deposits; with special reference to Butser ancient farm, Hampshire, UK. J Archaeol Sci 31:175–191

Maggs TO'C (1976) Iron age communities of the southern Highveld. Council of the Natal Museum, Pietermaritzburg, 326 pp

Mason RJ (1986) Origins of black people of Johannesburg and the southern western central Transvaal AD 350–1880. University of the Witwatersrand. Archaeological Research Unit, Johannesburg. Occasional Paper 16

Matthews W (2010) Geoarchaeology and taphonomy of plant remains and microarchaeological residues in early urban environments in the ancient near east. Quat Int 214:98–113

Miller N (1984) The use of dung as fuel: an ethnographic example and an archaeological application. Paléorient 10(2):71–79

Palmer AR, Ainslie AM (2005) Grasslands of South Africa. In: Grasslands of the World, Suttie JM, Reynolds SG, Batello C (eds), Plant Production and Protection Series 34, Food and Agriculture Organization of The United Nations, Rome: 77–116

Portillo M, Valenzuela S, Albert RM (2012) Domestic patterns in the Numidian site of Althiburos (northern Tunisia): the results from a combined study of animal bones, dung and plant remains. Quat Int 275:84–96

Portillo M, Kadowaki S, Nishiaki Y, Albert RM (2014) Early Neolithic household behavior at Tell Seker al-Aheimar (upper Khabur, Syria): a comparison to ethnoarchaeological study of phytoliths and dung spherulites. J Archaeol Sci 42:107–118

Shahack-Gross R, Marshall F, Weiner S (2003) Geo-ethnoarchaeology of pastoral sites: the identification of livestock enclosures in abandoned Maasai settlements. J Archaeol Sci 30:439–459

Shahack-Gross, Finkelstein (2008) Subsistence practices in an arid environment: a geoarchaeological investigation in an iron age site, the Negev highlands. Israel Journal of Archaeological Science 35:965–982

Shahack-Gross R (2011) Herbivorous livestock dung: formation, taphonomy, methods for identification, and archaeological significance. J Archaeol Sci 38:205–218

Shahack-Gross R, Albert RM, Gilboa A, Nagar-Hilman O, Sharon I, Weiner S (2005) Geoarchaeology in an urban context: the uses of space in a phoenician monumental building at tel dor (Israel ). J Archaeol Sci 32:1417-1431

Sistiaga A, Berna F, Laursen R, Goldberg P (2014) Steroidal biomarker analysis of a 14,000 years old putative human coprolite from paisley cave, oregon. J Archaeol Sci 41:813-817

Stoops G (2003) Guidelines for analysis and description of soil and regolith thin sections. Soil Science Society of America, Madison WI - pp. 184

Stoops G, Marcelino V, Mees F (eds) (2010) Interpretation of micromorphological features of soils and regoliths. Elsevier, Amsterdam, p 720

Webley L (1986) Pastoralist ethnoarcheology in Namqualand. South African Archaeological Society Goodwin Series 5:57–61

Yellen JE (1984) The integration of herding into prehistoric hunting and gathering economies. In: Hall A, Avery G, Avery DM, Wilson ML, Humphreys JB (eds.) Frontiers: Southern African Archaeology Today. Cambridge Monographs in African Archaeology, vol. 10, pp. 53–64. BAR International Series vol. 207, Cambridge
Acknowledgements
I would like to thank the Moffat Mission management, Prof. Michael Chazan for his assistance in the field, Chris Roos for his valuable editorial comments for previous versions of this manuscript, the five very constructive reviewers, and the Canada Social Sciences and Humanities Research Council (Grant No. 430-2013-000546) for partially funding this research.
Electronic supplementary material
About this article
Cite this article
Berna, F. Geo-ethnoarchaeology study of the traditional Tswana dung floor from the Moffat Mission Church, Kuruman, North Cape Province, South Africa. Archaeol Anthropol Sci 9, 1115–1123 (2017). https://doi.org/10.1007/s12520-017-0470-0
Received:

Accepted:

Published:

Issue Date:

DOI: https://doi.org/10.1007/s12520-017-0470-0
Keywords