Abstract
This study investigates the palynological remains (both fossil pollen and charcoal) recovered from the Thundiy shell midden deposit, Bentinck Island, Gulf of Carpentaria, northern Australia, to provide a vegetation and fire record for this site, which sheds light on human occupation of the southern Wellesley Archipelago over the late Holocene. Results show that the development of a high-density shell deposit by human activities was directly responsible for pollen preservation, possibly through the creation of a moist, anaerobic environment that reduces oxidation of pollen grains. The presence of recoverable pollen from a shell midden deposit from Bentinck Island provides a valuable new proxy to provide greater context for archaeological records, particularly in terms of local vegetation information and potential insight into human land management practices.
This is a preview of subscription content, log in to check access.
Access options
Buy single article
Instant access to the full article PDF.
US$ 39.95
Price includes VAT for USA
Subscribe to journal
Immediate online access to all issues from 2019. Subscription will auto renew annually.
US$ 99
This is the net price. Taxes to be calculated in checkout.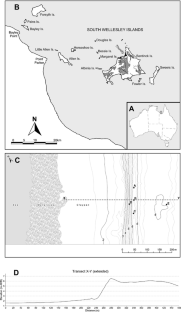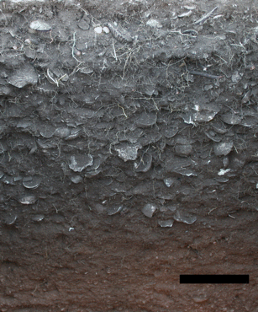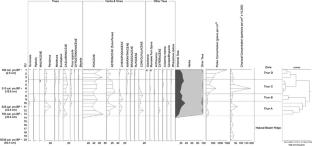 References
Attenbrow V (1992) Shell bed or shell midden. Aust Archaeol 34:3–21

Álvarez M, Godino IB, Balbo A, Madella M (2011) Shell middens as archives of past environments, human dispersal and specialized resource management. Quat Int 239:1–7

Bailey GN (1983) Problems of site formation and the interpretation of spatial and temporal discontinuities in the distribution of coastal middens. In: Masters PM, Flemming NC (eds) Quaternary coastlines and marine archaeology. Academic Press, London, pp. 559–582

Barker B (2004) The sea people: late Holocene maritime specialisation in the Whitsunday Islands, Central Queensland. Terra Australis 20. Pandanus Books, Canberra

Beaton JM (1985) Evidence for a coastal occupation time-lag at Princess Charlotte Bay (North Queensland) and implications for coastal colonization and population growth theories for Aboriginal Australia. Archaeol Ocean 20:1–20

Bird MK (1992) The impact of tropical cyclones on the archaeological record: an Australian example. Archaeol Ocean 27:75–86

Bourke PM (2003) Advent of Anadara mounds and theories on mid- to late Holocene changes in forager economic strategies—a comment. Aust Archaeol 56:42–43

Bronk Ramsey, C.B. (2009) OxCal Radiocarbon Calibration Program v4.2

Bureau of Meteorology (2016) Monthly climatic statistics for Mornington Island, Queensland. http://www.bom.gov.au/climate/averages/tables/cw_029039.shtml (accessed 14.06.16)

Cann JH, Bourman RP, Barnett EJ (2000) Holocene foraminifera as indicators of relative estuarine-lagoonal and oceanic influences in estuarine sediments of the River Murray, South Australia. Quat Res 53:378–391

Carter M, Lilley I, Ulm S, Brian D (1999) Mort Creek site complex, Curtis coast: site report. Queensland Archaeological Research 11:85–104

Claassen C (1998) Shells. Cambridge University Press, Cambridge

Clune G, Harrison R (2009) Coastal shell middens of the Abydos coastal plain, Western Australia. Archaeol Ocean 44:70–80

Cribb, R. (1996) Shell mounds, domiculture and ecosystem manipulation on western Cape York Peninsula. In Veth, P. and Hiscock, P. (Eds.), Archaeology of Northern Australia: Regional Perspectives, Tempus 4. St Lucia: Anthropology Museum, University of Queensland, 150–174.

Crowley GM, Grindrod J, Kershaw AP (1994) Modern pollen deposition in the tropical lowlands of northeast Queensland, Australia. Rev Palaeobot Palynol 83:299–327

Evans, N., Johnson, P. and Kohler, M. (1992) Kayardild dictionary and thesaurus: a vocabulary of the language of the Bentinck Islanders, North-west Queensland: University of Melbourne, Department of Linguistics and Language Studies

Faulkner P (2013) Life on the margins: an archaeological investigation of late Holocene economic variability, Blue Mud Bay, Northern Australia. In: Terra Australis 38. ANU E Press, Canberra

Grimm EC (1987) CONISS: a FORTRAN 77 program for stratigraphically constrained cluster analysis by the method of incremental sum of squares. Computers and Geoscience 13:13–35

Grimm, E.C. (2004) TGView Version 2.0.2. Illinois State Museum, Springfield

Haynes RA, Chase AK (1982) Plants, sites and domiculture: aboriginal influence upon plant communities in Cape York Peninsula. Archaeol Ocean 17:38–50

Hebda RJ, Pellatt MG, Mathewes RW, Fedje D, Acheson S (2005) Vegetation history of Anthony Island, Haida Gwaii and its relationship to climate change and a human settlement. In: Fedje D, Mathewes RW (eds) Haida Gwaii: human history and environment from the time of loon to the time of iron people. University British Columbia Press, Vancouver, pp. 59–76

Hughes PJ, Sullivan ME (1974) The re-deposition of midden material by storm waves. J Proc R Soc NSW 107:6–10

Julien MH, Bourne AS, Low VHK (1992) Growth of the weed Alternanthera philoxeroides (Martius) Grisebach (alligator weed) in aquatic and terrestrial habitats in Australia. Plant Protection Quarterly 7:102–108

Kershaw, A. E (1988). Australasia. In: Huntley, B. and Webb III, T. (eds), Vegetation history, Kluwer, Dordrecht, 237–306.

Kershaw AP, Bulman D (1994) The relationship between modern pollen samples and environment in the humid tropics region of northeastern Australia. Rev Palaeobot Palynol 83:83–96

Kershaw AP, Strickland KM (1990) A 10 year pollen trapping record from rainforest in northeastern Queensland, Australia. Rev Palaeobot Palynol 64:281–288

Lampert RJ, Hughes PJ (1974) Sea level change and aboriginal coastal adaptations in southern New South Wales. Archaeology and Physical Anthropology in Oceania 9:226–235

Lentfer CJ, Felgate MW, Mills RA, Specht J (2013) Human history and palaeoenvironmental change at site 17, Freshwater Beach, Lizard Island, northeast Queensland, Australia. Queensland Archaeological Research 16:141–164

Lourandos H (1987) Pleistocene Australia: peopling a continent. In: Soffer O (ed) The Pleistocene old world: regional perspectives. Plenum, New York, pp. 147–165

Mackenzie, L. (2016) Palaeoecology of the South Wellesley Archipelago: a history of human occupation and environmental change. Unpublished PhD thesis, The University of Queensland, St Lucia, Australia.

Mackenzie, L., Moss, P., Ulm, S. and Jacobsen, G. (in preparation) Coastal wetland development and fire regimes in the late Holocene, northern Australia

McConnell K (1998) The prehistoric use of Chenopodiaceae in Australia: evidence from carpenters gap shelter 1 in the Kimberley, Australia. Veg Hist Archaeobotany 7:179–188

Memmott P, Round E, Rosendahl D, Ulm S (2016) Fission, fusion and syncretism: linguistic and environmental changes amongst the Tangkic people of the southern Gulf of Carpentaria, northern Australia. In: Verstraete J-C, Hafner D (eds) Land and Language in Cape York Peninsula and the Gulf Country. Culture and Language Use, 18 (18). John Benjamins Publishing Company, Amsterdam, pp 105–136

Morrison M (2003) Old boundaries and new horizons: the Weipa shell mounds reconsidered. Archaeol Ocean 38:1–8

Morrison M (2013) Niche production strategies and shell matrix site variability at Albatross Bay, Cape York Peninsula. Archaeol Ocean 48(2):78–91

Moss PT (2013) Palynology and its application to geomorphology. In: Schroder JF (ed) Treastise in geomorphology. Academic Press, San Diego, pp. 315–325

Moss PT, Kershaw AP, Grindrod J (2005) Pollen transport and deposition in riverine and marine environments within the humid tropics of northeastern Australia. Rev Palaeobot Palynol 134:55–69

Moss P, Mackenzie L, Ulm S, Sloss C, Rosendahl D, Petherick L, Steinberger L, Wallis L, Heijnis H, Petchey F, Jacobsen G (2015) Environmental context for late Holocene human occupation of the South Wellesley Archipelago, Gulf of Carpentaria, northern Australia. Quat Int 385:136–144

Mudie PJ, Lelièvre MA (2013) Palynological study of a Mi'kmaw shell midden, northeast Nova Scotia, Canada. J Archaeol Sci 40:2161–2175

Nagel T, Rosendahl D, Hua Q, Moss P, Sloss C, Petchey F, Ulm S (2016) Extended residence times for foraminifera in a marine-influenced terrestrial archaeological deposit and implications for palaeoenvironmental reconstruction. J Archaeol Sci Rep 5:25–34

Nicholls N (1992) Historical El Niño/Southern Oscillation variability in the Australasian region. In: Diaz HF, Markgraf V (eds) El Niño: historical and Paleoclimatic aspects of the Southern Oscillation. Cambridge University Press, Cambridge, pp. 151–173

O'Connor S, Sullivan M (1994) Distinguishing middens and cheniers: a case study from the southern Kimberley, WA. Archaeol Ocean 29:16–28

Parr J, Carter M (2003) Phytolith and starch analysis of sediment samples from two archaeological sites on Dauar Island, Torres Strait, northeastern Australia. Veg Hist Archaeobotany 12(2):131–141

Peck, H. (2016) The application of ecological models and trophic analyses to archaeological marine fauna assemblages: towards improved understandings of prehistoric marine fisheries and ecosystems in tropical Australia. PhD thesis, James Cook University, Cairns

Prebble M, Sim R, Finn J, Fink D (2005) A Holocene pollen and diatom record from Vanderlin Island, Gulf of Carpentaria, lowland tropical Australia. Quat Res 64:357–371

Proske U, Heslop D, Haberle S (2014) A Holocene record of coastal landscape dynamics in the eastern Kimberley region, Australia. J Quat Sci 29:163–174

Reimer PJ, Bard E, Bayliss A, Beck JW, Blackwell PG, Bronk Ramsey C, Buck CE, Cheng H, Edwards RL, Friedrich M, Grootes PM, Guilderson TP, Hafidason H, Hajdas I, Hatté C, Heaton TJ, Hoffman DL, Hogg AG, Hughen KA, Kaiser KF, Kromer B, Manning SW, Niu M, Reimer RW, Richards DA, Scott EM, Southon JR, Staff RA, Turney CSM, van der Plicht J (2013) INTCAL13 and MARINE13 radiocarbon age calibration curves 0-50,000 years cal BP. Radiocarbon 55:1869–1887

Rick TC, Erlandson JM, Vellanoweth RL (2006) Taphonomy and site formation on California's Channel Islands. Geoarchaeology 21:567–589

Rosendahl D, Ulm S, Weisler MI (2007) Using foraminifera to distinguish between natural and cultural shell deposits in coastal eastern Australia. J Archaeol Sci 34:1584–1593

Rowe C (2012) Modern surface pollen from the Torres Strait Islands: exploring north Australian vegetation heterogeneity. In: Haberle SG, David B (eds) Peopled landscapes: archaeological and biogeographic approaches to landscapes. Terra Australis 34. Pandanus Books, Canberra, pp. 413–434

Rowe C (2015) Late Holocene swamp transition in the Torres Strait, northern tropical Australia. Quat Int 385:56–68

Rowland MJ (1983) A note on corrections to radiocarbon dates from the Keppel Islands. Aust Archaeol 17:134–135

Rowland MJ (1989) Population increase, intensification or a result of preservation?: explaining site distribution patterns on the coast of Queensland. Aust Aborig Stud 2:32–42

Rowland MJ, Ulm S (2012) Key issues in the conservation of the Australian coastal archaeological record: natural and human impacts. J Coast Conserv 16:159–171

Sherwood J, McNiven IJ, Laurenson L, Richards T, Bowler J (2016) Prey selection, size, and breakage differences in Turbo undulatus opercula found within Pacific gull (Larus pacificus) middens compared to Aboriginal middens and natural beach deposits, southeast Australia. J Archaeol Sci Rep 6:14–23

Sobolik KD (2003) Archaeobiology. Archaeologist's Toolkit, vol 5. AltaMira Press, Walnut Creek

Stockmarr J (1971) Tablets with spores used in absolute pollen analysis. Pollen Spores 13:615–621

Szabó K (2012) Terrestrial hermit crabs (Anomura: Coenobitidae) as taphonomic agents in circum-tropical coastal sites. J Archaeol Sci 39:931–941

Tindale NB (1962) Geographic knowledge of the Kaiadilt people of Bentinck Island, Queensland. Records of the South Australian Museum 14:259–296

Tindale, N.B. (1963) Journal of Visit to the Gulf of Carpentaria by Norman B Tindale. Board for Anthropological Research Expedition AM, 702.

Ulm S (2006) Coastal themes: an archaeology of the southern Curtis coast, Queensland. Terra Australis 24. ANU E Press, Canberra

Ulm S (2011) Coastal foragers on southern shores: marine resource use in northeast Australia since the late Pleistocene. In: Bicho N, Haws JA, Davis G (eds) Trekking the shore. Springer, New York, pp. 441–461

Ulm S, Barker B, Border A, Hall J, Lilley I, McNiven I, Neal R, Rowland M (1995) Pre-European coastal settlement and use of the sea: a view from Queensland. Aust Archaeol 41:24–26

Ulm S, Petchey F, Jacobsen G, Rosendahl D (in prep.) Pre-bomb marine carbon reservoir variability in the eastern Gulf of Carpentaria, Queensland, Australia

van der Kaars WA (1991) Palynology of eastern Indonesian marine piston cores: a late quaternary vegetational and climatic record from Australia. Palaeogeogr Palaeoclimatol Palaeoecol 85:239–302

Veitch B (1999) Shell middens on the Mitchell Plateau: a reflection of a wider phenomenon? In: Hall J, McNiven I (eds) Australian coastal archaeology. ANU Publications, Canberra, pp. 105–112

Wang X, van der Kaars S, Kershaw P, Bird M, Jansen F (1999) A record of fire, vegetation and climate through the last three glacial cycles from Lombok Ridge core G6-4, eastern Indian Ocean, Indonesia. Palaeogeogr Palaeoclimatol Palaeoecol 147:241–256

Waselkov GA (1987) Shellfish gathering and shell midden archaeology. Advances in Archaeological Method and Theory 10:93–210

Weisler MI, Yamano H, Hua Q (2012) A multidisciplinary approach for dating human colonization of Pacific atolls. The Journal of Island and Coastal Archaeology 7:102–125

Williams AN, Ulm S, Turney CSM, Rohde D, White G (2015) Holocene demographic changes and the emergence of complex societies in prehistoric Australia. PLoS One 10(6):e0128661

Woinarski JCZ, Risler J, Kean L (2004) Response of vegetation and vertebrate fauna to 23 years of fire exclusion in a tropical eucalyptus open forest, northern territory, Australia. Austral Ecology 29:156–176

Zurro D, Madella M, Briz I, Vila A (2009) Variability of the phytolith record in fisher-hunter-gatherer sites: an example from the Yamana society (Beagle Channel, Tierra del Fuego, Argentina). Quat Int 193(1–2):184–191
Acknowledgments
This project was supported under the Australian Research Council's Discovery Projects (project numbers DP120103179 and DP0663047). We acknowledge Kaiadilt traditional owners of the South Wellesley Islands as partners in this research. The Kaiadilt Aboriginal Corporation collaborated in establishing the research framework for this project. Duncan Kelly and Helene Peck assisted with the excavation of Thundiy, Square B. SU is the recipient of an Australian Research Council Future Fellowship (FT120100656), and LM received funding from AINSE Ltd. (award: John Ferris Memorial Scholar PGRA-10903). We would also like to thank the two anonymous reviewers whose suggestions greatly improved this paper.
About this article
Cite this article
Moss, P.T., Ulm, S., Mackenzie, L. et al. Robust local vegetation records from dense archaeological shell matrixes: a palynological analysis of the Thundiy shell deposit, Bentinck Island, Gulf of Carpentaria, Australia. Archaeol Anthropol Sci 11, 511–520 (2019). https://doi.org/10.1007/s12520-016-0394-0
Received:

Accepted:

Published:

Issue Date:
Keywords
Midden

Palynology

Fire

Vegetation change

Coastal

Northern Australia

Indigenous